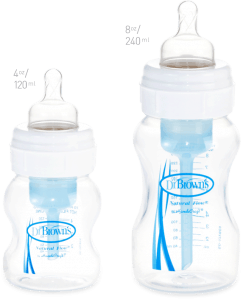 I have plenty of past experience pumping/bottle feeding when my oldest child was in daycare.  This time around, I am a stay at home mom, so really, the times we need bottles are few.  However, since I teach childbirth classes and need to be away at least once per week, the people who care for her when I am gone are VERY grateful to have a bottle to feed and soothe while I am away.
I've asked my readers what they look for in a bottle and unanimously, there were three attributes that made bottle feeding a breastfed baby a success: 1) slow flow, 2) nipple that decreases nipple confusion, 3) ease of use with breast pump.  These are the attributes I looked for when reviewing the Dr. Brown's Bottles.  Without further ado, here's what I think!
Slow Flow: Yup, the flow is slow.  My baby didn't choke or have a hard time transferring milk.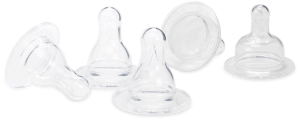 Nipple: Baby E is quite clear that the bottle nipple is not me. 😉  However, using it did not confuse her and make breastfeeding difficult.  She protested at first, but eventually she found that the bottle wasn't so bad and it was a means to an end.  The standard and wide neck bottles have different nipples as you can see in the picture to the right.
Breast Pump: I have a Medela pump and the wide neck bottles do NOT fit.  However, the original bottles do and will attach to your pump.  Perfect!  When I was pumping for my son I used Medela bottles only because they worked with my pump.  It's great to know that Medela pumpers have more bottle options, even Dr. Brown glass bottles.
The one feature that, in my opinion, sets Dr. Brown's bottles apart is their internal vent system.  In a nut shell it eliminates the vacuum/suction baby gets when drinking from a bottle which better mimics breastfeeding and preserves the nutrition of the milk.  As the occasional bottle user I wasn't able to test Dr. Brown's claim to help with digestion issues, but Miss E didn't seem to have any more reflux/digestion issues than normal.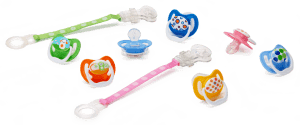 I was also given some pacifiers to try, but with much sadness I report to you that baby E does not take a pacifier. 🙁 Ugh.  I so wish she did.  We tried for two weeks, and tried many varieties, but she just gave me the most disgusted look and even gagged if I tried.  I am her pacifier, which makes for an upset tummy and lots of spit up.  Blah.  I will say a few things about pacifiers, however.  If you are breastfeeding do not use a pacifier until breastfeeding is well established.  Do not use it as a replacement for a meal, but as a tool to maybe calm baby in the car, etc.  A pacifier is a tool not a crutch!  (I have found pacifiers to be a great tool to help with overactive letdown and baby's sucking needs.)
Would you like to win an assortment of Dr. Brown's bottles and pacifiers?  Of course you would!
How to Enter to Win
1. Click this link: Dr. Brown's BPA Free Polypropylene Natural Flow Bottle Newborn Feeding Set
2. Use the Rafflecopter widget below to enter