This is a fun giveaway because I get to share with you two of my favorite companies, LuSa Organics and Ecological Babies!
LuSa is great because they make great smelling, fair trade products (for example, their Baby Wipe Juice smells delicious).
Ecological Babies is great because I know the owner (she's part of the Tallahassee Doula Co-Op and took my birth photos for me!.  I love the products she sells and how dedicated she is to her customers.  You don't need to be local to buy from her!
I used LuSa Organic's Belly Balm on my belly when I was pregnant with Eden.  If you're looking for a thick, moisturizing balm that smells like yummy lavender, you will LOVE this.  After every shower I applied this to my belly and I felt like I was pampering my body.
I'm not going to lie and tell you it prevented stretch marks (I'm pretty confident you can't do this) but it did help with dry, itchy skin especially in the third trimester when I was stretched to the max.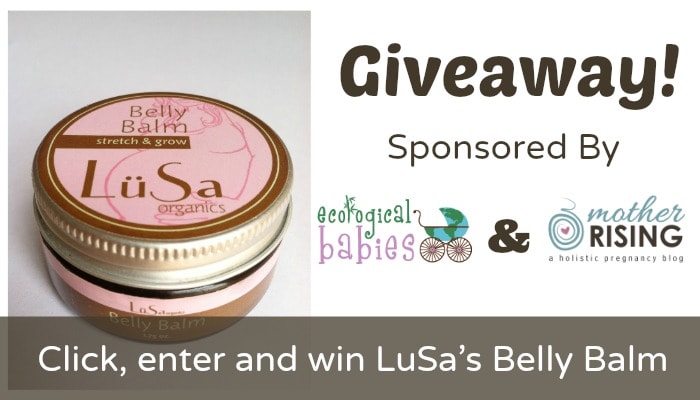 ---
You can win some yummy LuSa Organics' Belly Balm by following the instructions below. A winner will be chosen at random from the comments on 8/17/14. Winners will be contacted by email and shared on Facebook. If you're feeling unlucky, go ahead and purchase some belly balm here.
Giveaway Instructions | Many Ways to Enter!
1.  Share this giveaway on your favorite social media site. For every share leave a comment stating that you shared.
2.  Leave a comment below just because.
3.  Leave a comment below and share another product you're interested in that Ecological Babies sells.