Becoming a parent can feel daunting at times, especially when parents realize their new arrivals did not come with instruction manuals. While not quite as cute, the arrival of the coronavirus certainly did not come with a manual. Just ask China. When it comes to pregnancy and coronaviruses, there is a serious lack of information, studies and protocol of how to proceed. Many parents are wondering how this pandemic will alter their pregnancies, births, and postpartum transitions.
The following information is what I know about pregnancy and coronaviruses. Heads up – it's not much. As I gather more information, I'll be sure to continue to update this page. If you have any personal experiences with COVID-19 and pregnancy, childbirth, and/or postpartum, please leave a comment to share with others.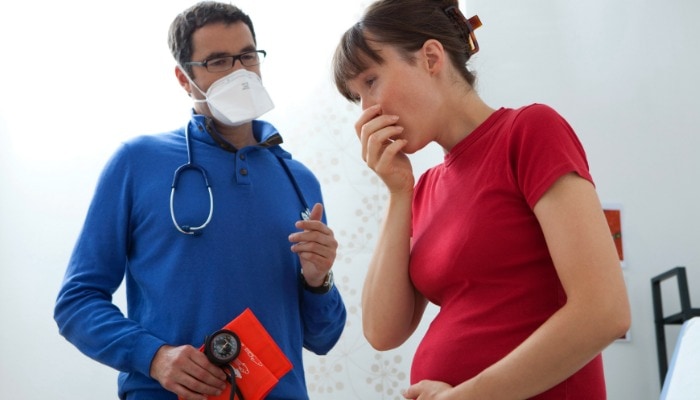 Coronaviruses (COVID-19) FAQs (SOURCE)
If you are familiar with COVID-19, feel free to scroll down to the information below specifically regarding pregnancy and coronaviruses.
What is a Coronavirus?
Coronaviruses are a large family of viruses which may cause illness in animals or humans. In humans, several coronaviruses are known to cause respiratory infections ranging from the common cold to more severe diseases such as Middle East Respiratory Syndrome (MERS) and Severe Acute Respiratory Syndrome (SARS). The most recently discovered coronavirus causes coronavirus disease COVID-19.
What is COVID-19?
COVID-19 is the infectious disease caused by the most recently discovered coronavirus. This new virus and disease were unknown before the outbreak began in Wuhan, China, in December 2019.
What are Symptoms of Coronaviruses/COVID-19?
The most common symptoms of COVID-19 are fever, tiredness, and dry cough. Some patients may have aches and pains, nasal congestion, runny nose, sore throat, or diarrhea. These symptoms are usually mild and begin gradually.
Some people become infected but don't develop any symptoms. Most people (about 80%) recover from the disease without needing special treatment.
How Can I Prevent Coronaviruses?
Regularly and thoroughly clean your hands with an alcohol-based hand rub or wash them with soap and water.

Why? Washing your hands with soap and water or using alcohol-based hand rub kills viruses that may be on your hands.

Maintain at least a 3 ft distance between yourself and anyone who is coughing or sneezing.

Why? When someone coughs or sneezes they spray small liquid droplets from their nose or mouth which may contain virus. If you are too close, you can breathe in the droplets, including the COVID-19 virus if the person coughing has the disease.

Avoid touching eyes, nose and mouth.

Why? Hands touch many surfaces and can pick up viruses. Once contaminated, hands can transfer the virus to your eyes, nose or mouth. From there, the virus can enter your body and can make you sick.

Make sure you, and the people around you, follow good respiratory hygiene. This means covering your mouth and nose with your bent elbow or tissue when you cough or sneeze. Dispose of the used tissue immediately and wash your hands.

Why? Droplets spread virus. By following good respiratory hygiene you protect the people around you from viruses such as cold, flu and COVID-19.

Stay home if you feel unwell. If you have a fever, cough and difficulty breathing, seek medical attention and call in advance. Follow the directions of your local health authority.

Why? National and local authorities will have the most up to date information on the situation in your area. Calling in advance will allow your health care provider to quickly direct you to the right health facility. This will also protect you and help prevent spread of viruses and other infections.

Keep up to date on the latest COVID-19 hotspots (cities or local areas where COVID-19 is spreading widely). If possible, avoid traveling to places – especially if you are an older person or have diabetes, heart or lung disease.

Why? You have a higher chance of catching COVID-19 in one of these areas.
Who is at Risk with Coronaviruses?
Around 1 out of every 6 people who gets COVID-19 becomes seriously ill and develops difficulty breathing. Older people, and those with underlying medical problems like high blood pressure, respiratory illness, heart problems, or diabetes, are more likely to develop serious illness.
Pneumonia is the most common complication of COVID-19, averaging around 8 days after onset of symptoms to distress.
Pregnancy and Coronaviruses – What You Need to Know
Today I listened to a call about pregnancy and coronaviruses, hosted by the CDC for clinicians and educators that serve pregnant women and children. The three presenters were Denise J. Jamieson, MD, MPH, Romeo Galang, MD, MPH, and Kate Woodworth, MD, MPH.
Here's what I learned. (SOURCE, SOURCE)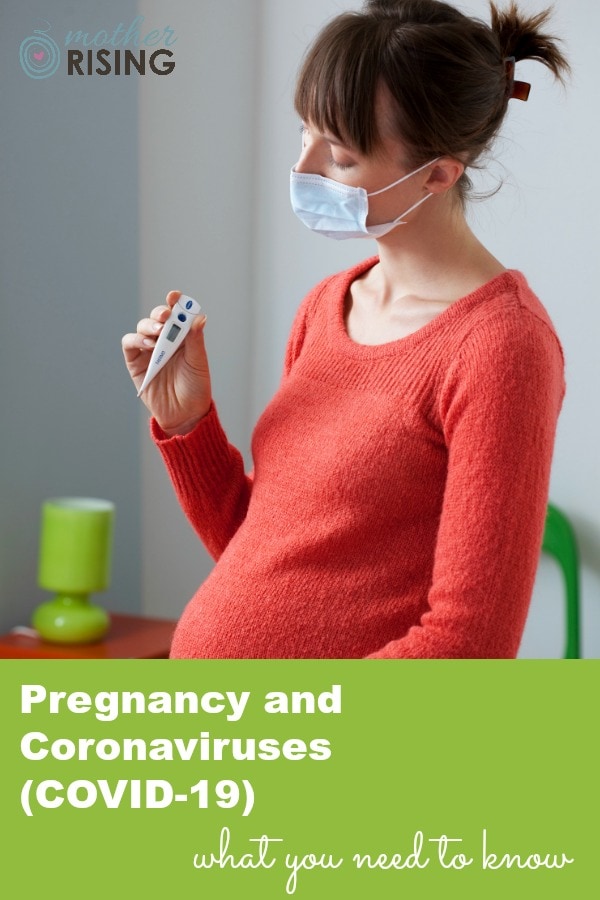 Is Pregnancy a Risk Factor for COVID-19?
Older people, and those with underlying medical problems like high blood pressure, respiratory illness, heart problems or diabetes, are more likely to develop serious complications. At this time, there is not any research indicating the pregnant population is at a higher risk of contracting COVID-19.
However, because pregnant people experience increased heart rate, oxygen consumption, and decreased lung capacity, pregnant people could be considered an at risk population. However, our focus should continue to be on prevention and management.
What About High Risk Pregnancies?
There is not enough information to know how COVID-19 impacts high risk pregnancies and what their pregnancy outcomes may be. However, we do know that high fevers in the first trimester increases the risk for birth defects. Those with high risk pregnancies should seek individualized care.
Should Pregnant People Stay Home?
Pregnant people should continue to go to their routine prenatal care appointments. Besides that, it would be wise to avoid large crowds, increase hand washing, and follow the prevention protocols listed above.
If I Contract COVID-19 Will My Unborn Baby Get It Too?
There is no research regarding pregnant women passing coronaviruses to their fetuses (vertical transmission). However, we do know that COVID-19 is transmitted via respiratory droplets. While in utero, babies do not receive oxygen via their respiratory system and therefore cannot contract coronaviruses through respiratory droplets.
We also know that from the few reports we have, women that gave birth while testing positive for COVID-19, their babies, cord blood, amniotic fluid, and breastmilk all tested negative for COVID-19. This is good news!
Labor, Delivery, and Coronaviruses
Again, there is a lack of research and information regarding COVID-19 and pregnancy, childbirth, and postpartum.
We do have reports on 34 pregnant women that gave birth while testing positive for COVID-19. Their average age was 30 years old, and typically gave birth around 30 weeks. Fever and cough were their most common symptoms at delivery. Most of these women delivered via cesarean within 13 days of the onset of their symptoms. No women have died, but two of these women did stay in the ICU.
I'm not totally clear as to why these women had cesareans at 30 weeks. It could have been because of COVID-19, but I need clarification on that before I make any conclusions. More data is needed.
Reduce Triage Visits
In an effort to minimize congestion in hospitals, experts are encouraging parents to reduce triage visits. Perhaps pregnant people could pursue triaging symptoms with a care provider over the phone or in their doctor's office.
If you are experiencing symptoms of COVID-19, contact your care provider or hospital before arriving at an office appointment or hospital to ensure proper infection control measures can be implemented.
Visitor Limitations and Labor Support
On today's call there was no mention of limiting visitors to labor and delivery, or postpartum floors. In my opinion, during this pandemic, it would make sense to continue to offer the support and care that each family needs, including birth doula support.
Infants and Coronaviruses
Again, there is limited information from studies in regards to how the coronaviruses impact children.
As of February 2020, 2% of coronavirus infections were in people under the age of 20. In around 50-80% of infected children, the most common symptom was a fever. There have been no deaths in China in children under 10 years old. There have been 9 infants that have had mild upper respiratory infections, some with a fever and some with a cough. So far, it seems like COVID-19 is generally mild on children.
At this time, it is unknown how the coronaviruses impact infants. Infants born to infected mothers are considered persons under investigation (PUI) and it is recommended to isolate the infant in a separate room away from the mother. Also, it is suggested to limit baby's visitors to only the other healthy parent or caregiver.
Obviously, separating a baby from its mother is an extreme intervention and should be discussed extensively with a woman's care team.
If isolating baby from mom is not an option because of a parent's choice or lack of hospital space, it is then recommended to use a curtain to separate baby from the infected mother and stay at least six feet away. If an infected parent decides to care for the infant themselves, proper infectious control methods should be implemented.
COVID-19 and Breastfeeding
Coronaviruses do not enter into breastmilk. It's actually thought to be quite the opposite! With SARS, antibodies to SARS virus were detected in cord blood and breast milk. (SOURCE) Breastmilk is incredible!
If an infected mom would like to breastfeed her baby, an option is to express her milk via a pump. It is recommended to wash hands prior, use a face mask during, and to be sure to disinfect the pump and pump parts after each pumping session.
If mom is caring for her baby herself because of her choice or because of a lack of help or space, she should exercise proper hand hygiene and also use a face mask.
What About Experimental Drugs and Coronavirus?
At this time, there are no antiviral drugs for the coronavirus. There are clinical trials underway with experimental medications, but pregnant and breastfeeding people are excluded from these trials. The best way to prevent COVID-19 is through the non-pharmacological interventions discussed above.
Pregnancy and Coronaviruses – What You Need to Know
There are a few main themes from today's CDC call.
There is a lack of research and information regarding pregnancy and COVID-19.
The virus is thought to spread mainly from person-to-person through respiratory droplets.
The best way to prevent illness is to avoid being exposed to the virus.
Again, as I gather more information, I'll be sure to update this page.
If you have any personal experiences with pregnancy and coronaviruses, please leave a comment to share your story with others.