I have decided to start a weekly series called Wisdom on Wednesdays where I hope to share with you some random trivia that I've learned during the week. It may not have anything to do with pregnancy, childbirth or newborns, but it will be interesting…
Let's start off with something everyone has wondered about at some point in their lives.
Do chickens lay eggs out their anus, their vagina, or is it some special egg hole?
Stephanie from Mama And Baby Love discussed this with me last week. The conversation started when I mentioned that we'd gotten a chicken that Gabriel had named Bobby. Other than being fairly confident that it needs food and water, I know almost nothing about chickens.
We talked about chicken foods, watering systems, eggs, and yep, (maybe because we both are birth junkies?) what type of hole does the egg come out of.
I mean… is it the chicken's butt? If so, that is a seriously bad design because chicken poop smells like rotten cigarette butts. I decided that it couldn't be the butt, because I know that chicken eggs are sterile when laid. We decided to consult Google on the matter. Oh yes, we found answers, but I felt that this time ignorance may really have been bliss.
Chickens DO lay eggs out of their anus! But, it's not as bad as you think.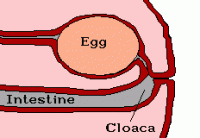 The egg, poop and urine (which for a chicken isn't a liquid) exits out of the same hole (aka, the vent, as you can see above).
BUT, when an egg comes out, the chicken's Cloaca is turned inside out so that the egg cannot come in contact with the intestines (fecal matter nastiness).
Here's a link for the whole story.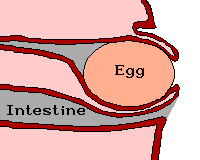 I'm happy to report that egg laying is not a bad design.
Chicken poop does not come in contact with eggs, unless a chicken decides to walk in it and then put her talons (that makes me think of Napoleon Dynamite) on her eggs.