"Elderberries are tasty cold and flu fighters. They contain compounds that inhibit the enzyme flu viruses from penetrating our cell membranes and also prevent the virus from invading respiratory tract cells. Taken early enough, as a tea or tincture, you may be able to head off an upcoming illness before it becomes a full-blown flu. They are especially good for bronchitis, colds, coughing, and influenza. Also contains substances that ease inflammation and pain and soothe the intestines, thus making them useful in all inflammatory bowel diseases. It is known to have a gentle laxative action, and their mild tonic action helps to arrest diarrhea." ~Bulk Herb Store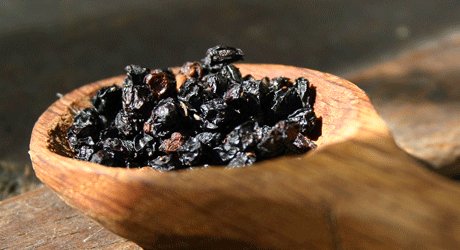 I decided to make some elderberry syrup for my family to have on hand at the first sign of sniffles and as an overall immune booster. I'm not big on pharmaceuticals, but when your little one is sick it's so frustrating that there's technically nothing you could give them except Tylenol. However, Tylenol does not help with sniffles. My 2.5 year old has a cold right now, and it's nice to be able to do something.
Below are the step by step instructions so you can do it too!
NOTE: If you are looking to make elderberry syrup in the instant pot, head on over here.
Elderberry Syrup Recipe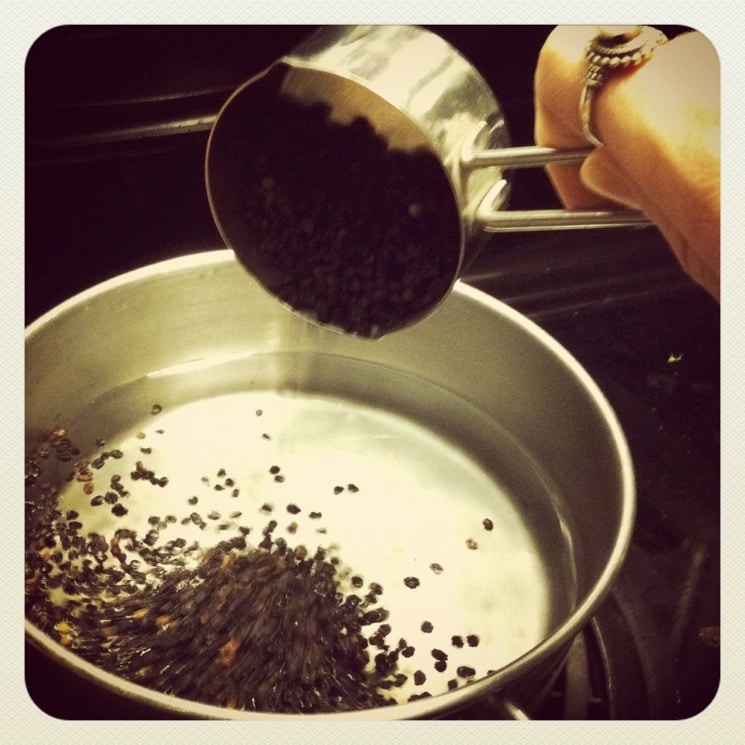 Ingredients:
Step 1: Pour elderberries and water in to a pot of water. Bring to a boil.
Step 2: Reduce heat to medium or medium low so that the berries are no longer boiling but simmering. Keep on the stove for about an hour. Notice how the water is evaporating – that's what you want to have happen! While the berries are simmering, stir occasionally and with a spoon mash berries on the side of the pot so that it gets really mixed up.
Step 3: Carefully pour the liquid through a strainer into a glass jar. Mash the strained berries to get all the liquid out and down into the jar.
Step 4: Slowly pour the honey into the jar. Since the berry liquid is hot the honey should mix easily.
Storage: Store the syrup in the refrigerator up to three months. Use daily for maximum benefit.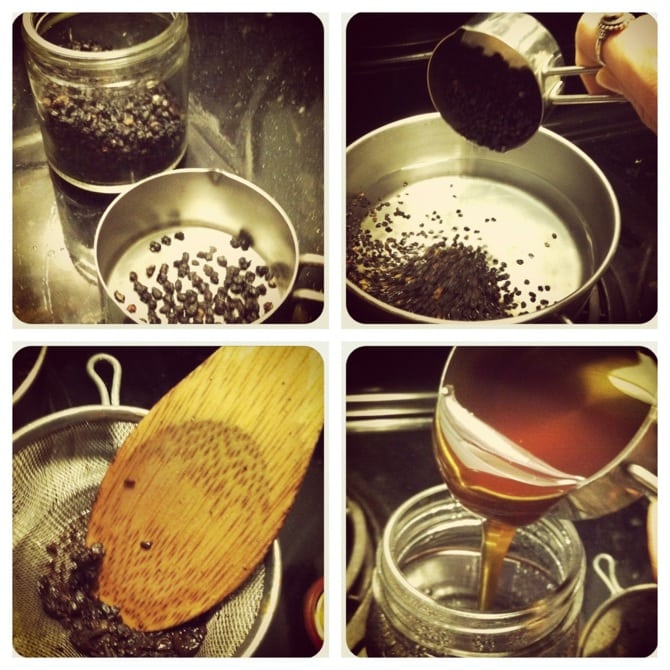 Elderberry Syrup Recipe Dosage Instructions
For Daily Maintenance: Adults: Take 2 teaspoons daily, Children: Take 1 teaspoon daily.
For Intensive Use: Adults: Take 1 tablespoon four times daily, Children: Take 1 tablespoon two times daily.