HePer Baby Center, during week 11 my baby is the size of a fig. The first and last time I ate a fresh fig was when I was in college, so this photo will have to substitute for any memory of the size of figs.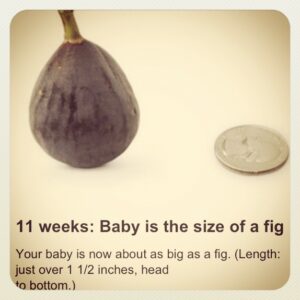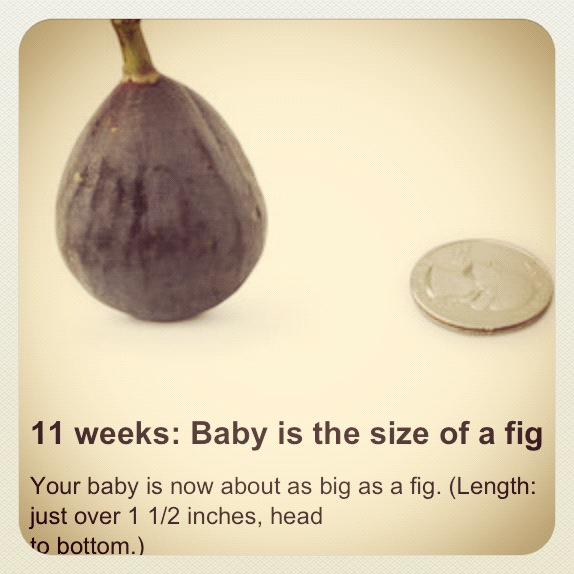 Spotting While Pregnant
My biggest challenge this week has been dealing with spotting. Spotting while pregnant is so stressful.
For me, it could mean very bad things or very normal things so for the fourth time this pregnancy I'm in limbo wondering if my baby died.
It's a tad more stressful because I just outed myself on Facebook and this blog so in addition to the obvious reasons, I would really prefer not to have another miscarriage.
11 Weeks Pregnant Symptoms
So far I have gained about three and a half pounds.
My second biggest challenge so far is my body image issues. Right now I feel so pudgy. My clothes don't fit, and my maternity clothes with bands accentuate my flab/love handles/muffin top I have going on.
I'm in that in-between stage where I don't look like my normal self, but I don't look pregnant. I look like I ate two dozen doughnuts.
Needless to say, it's a challenge to stay positive about the way I look. It seems like I'm constantly thinking about my pudge!
I am working on creating an exercise routine and healthier eating habits to combat these negative feelings I am dealing with.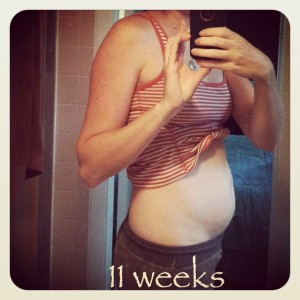 Below are belly pics from a previous pregnancy. RIP abs. 😉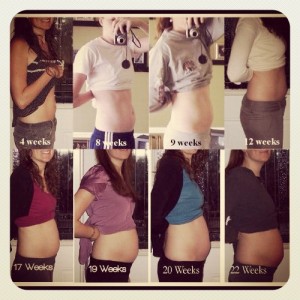 Morning Sickness 11 Weeks Pregnant
Morning sickness and fatigue have not been that bad. However, today it was bad. This morning I puked wretched up bile, but for the most part I feel pretty darn good for being 11 weeks pregnant and a stay at home mom to an almost three year old.
I'm trying to be grateful that this pregnancy's sickness is not as terrible as Gabriel's was… but again, I am still paranoid that the lack of extreme symptoms means I am miscarrying.
After having three miscarriages, I can't help but be paranoid.
Since it seems as if this whole post is all about worrying, I decided to post a bible verse that brings me peace. Maybe I'll make it a weekly thing?
Jeremiah 29:11 "For I know the plans I have for you," declares the Lord, "plans to prosper you and not to harm you, plans to give you hope and a future."
I guess that's all for week 11. If you have any questions, please comment and I'll answer them next week. Talk to you soon!