I'm A Worrier
My mom had gestational diabetes (diabetes caused by pregnancy) while she was pregnant with me so I've always been a little bit nervous about the glucose screening during pregnancy. I tend to worry about stuff like that.
When I was pregnant with my son I got so worked up and worried about it that by the time I had my finger pricked to check my glucose levels I was nauseated with worry and convinced I was nauseated because I was diabetic. Le sigh.
I'm really good at making myself nervous about stuff. This pregnancy was completely different. I really had no reason to think I was diabetic – I felt great and healthy so I had no worries this time.
Glucose Screening During Pregnancy
Since I am using a homebirth midwife, instead of the typical sugary drink I had the option of eating a healthy breakfast. Both methods spike your sugar in the same way, but the meal contains protein and carbohydrates representing a typical meal.
I find this to be much more of a realistic scenario, instead of fasting and then basically drinking a big 'ol sprite. Doing that has to make any pregnant lady feel like turd.
Glucose Screening Alternatives
Starting at midnight I was to start fasting – no eating, but drinking water was OK. By 8:45 am I was to take my last bite, and my midwife would be at my home by 9:30 am to prick my finger and check my blood sugar levels.
Here's what I ate and drank: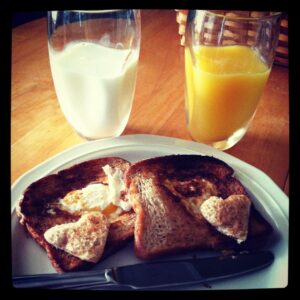 8 ounces of milk

8 ounces of orange juice

two pieces of whole wheat toast

two eggs

1 tablespoon of butter
When my super cool midwife arrived at my home and pricked my finger, my blood sugar levels were at 104. She said it needed to be below 150 which means I passed!
If it were higher I would probably have to go do the three hour blood glucose test as opposed to the one hour glucose screening during pregnancy which I did.
In other news, Diana said my baby was head down (woot!), I've gained 18 pounds (woot?) and I'm almost in my third trimester (holy woot crap).
What About You?
How much weight did you gain by the end of your second trimester?
And did you get to eat a meal or did you drink "the drink"?
Were you aware of your baby's position at 27 weeks?