I'm Feeling Anxious
I'm getting closer and closer to meeting this new baby… and the whole thing freaks me out a little bit. I'm a little bit worried about having two children and all the responsibilities that go along with that (and being a stay at home mom!).
I wouldn't say I am afraid of birth, but I have some pre-birth jitters going on. I would compare them to the feelings I used to get before a lacrosse game in high school – I didn't know exactly how it would play out, I knew I had a lot of work to do, and until it started I would have these pre-game anticipation jitters.
That's how I'm feeling now.

Spirituality is Grounding
I typically mention in my childbirth classes how a mom's spirituality can be very grounding before and during birth (and any time really). This is especially true with me. The bible verse for birth that keeps running through my mind is Isaiah 43:1-3.
Bible Verse for Birth
"Do not fear, for I have redeemed you; I have summoned you by name; you are mine. When you pass through the waters, I will be with you; and when you pass through the rivers, they will not sweep over you. When you walk through the fire, you will not be burned; the flames will not set you ablaze. For I am the Lord your God, the Holy One of Israel, your Savior."
(I wrote this bible verse for birth on my chalk board in my bedroom. I love seeing it all day long!)
How it's Helpful
One thing I like about these verses is that it says you WILL walk through a river and walk through a fire. You won't escape the hardship of the journey ahead. However, while I am making this journey I will never be alone and I won't be burned.
While I was in college I had a short stint in RUF (reformed university fellowship) and the one and only song I remember from our gatherings had that exact bible verse in it. As I get closer and closer to meeting this new person, I cannot, thankfully, get this song out of my head.
30 Comforting Bible Verses for Labor and Delivery
Be sure to check out these 30 comforting bible verses for labor and delivery over here!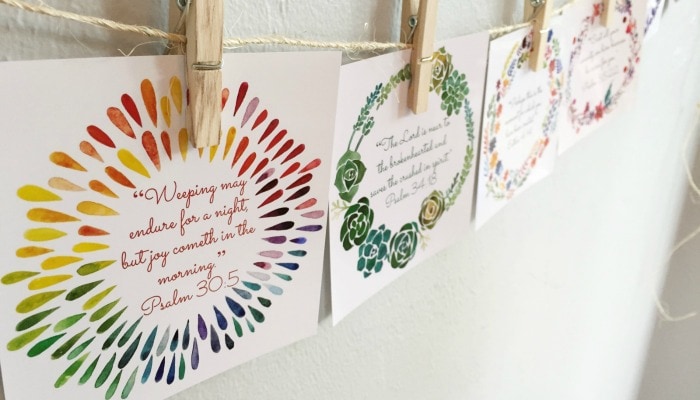 43 Powerful Bible Verses for New Moms
And also these!