I've had enough.
I've had enough of looking frumpy. Of not spending time on my outer appearance. My clothes tend to be an afterthought, ill-fitting and make me feel awkward.
And so, I did what any reasonable adult would do… I complained to my friends on Facebook. I have the most resourceful friends because you know what they recommended? Stitch Fix!
Mom Style with Stitch Fix
Apparently, Stitch Fix is an online personal stylist service that sends you outfits when you ask for them with no strings attached. Yes, you can totally buy what they send but you're only billed unless you don't send them back.
Also, Stitch Fix has a referral program which totally appealed to me. I was able to use my friend's referral link and therefore give her $25 (in Stitchfix credit) once my "fix" is ships to me. Now I have my own referral link that I can pass on to you!
But back to the main point…I've had enough!
Origins of Bad Mom Style
My whole life my clothes have filled a basic utilitarian function – they need to be comfortable and cover my nakedness. As a young girl I was very happy wearing a jean skirt and white Keds. As a teenager I typically woke at the last second, threw on whatever I could find (shorts and a t-shirt?), put my hair in a ponytail and walked out the door. As a mother I don't sleep in anymore, but the time I spend on "getting ready" is still under five minutes.
Lately on Instagram I have been posting pictures of my outfits using the hashtag #lindseyhasnostyle. It's been cracking me up, but also making me more aware of what I'm wearing and maybe areas where I can improve. What I've realized so far is that
1) I don't know how to accessorize
2) I need some new shoes
3) A lot of my clothes don't fit me correctly.
What's the Point?
Don't get me wrong, me not being happy with my clothes is not reflecting my unhappiness with me as a person. In fact, I believe my clothes aren't reflecting the true me. Almost as if they're doing a disservice or giving others a negative first impression of me. I really would like my clothes to reflect who I really am, you know?
One of the biggest things I think learning how to style my clothes will do for me is make me feel more like an adult. For some reason, I often dress as if I still were a teenager and you know what? People think I am really young. I'm 32! So yeah, I'm ready to look closer to my age. Not too close, but closer. 😉
Stitch Fix Details
My Stitch Fix ships at the end of the month and I am really looking forward to it. I'm even going to try to get my oh-so-talented mommy friend to be my stylist. Her name is Megan Fradley-Smith, is a mom of two and also has this amazing handmade jewelry business called Tiny Treeline Jewelry. I'm really excited to support another momtrepreneur AND fix my style problems. Stitch Fix for the win!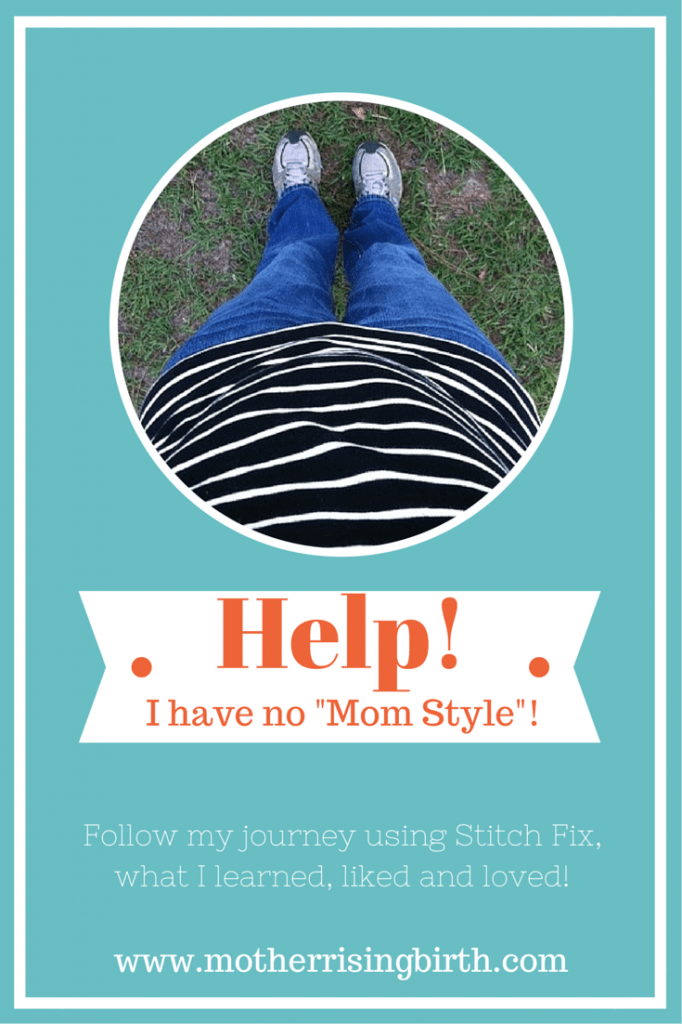 If you are like me and have clothes styling issues you should totally try out Stitch Fix and see how it's helpful. Stitch Fix is PERFECT for moms since we are so busy! I honestly don't have time to go shopping, and to try to figure out what is "stylish" and what's not. It seems so simple for someone to just send me something that works right to my door!
Here are some more details you'll probably be interested in:
How the Fix Service Works:
1) Create Your Style Profile
2) Get Five Hand-picked Items
3) Keep What You Like. Send Back the Rest.
Online Women's Personal Styling: The Stich Fix stylists will pick out items they think you'll love – sometimes a little out of your comfort zone, but that's part of the fun.
• At Home: Try it on at home with your own wardrobe.
• Styling Tips: Each item comes with styling tips on how to dress it up or down.
• Free & Easy Returns: Drop off returns in the prepaid envelope at any USPS mailbox.
• Better Over Time: The more feedback you give your stylist, the better they are at finding clothes you'll love.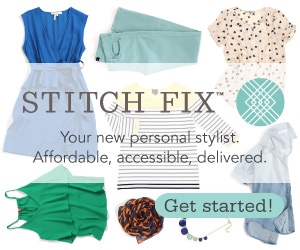 Oh, and sure the clothes might be pricier than my typical clearance rack finds, but you know what? I'm at the place in my life that I'd rather have 10 expensive outfits than 50 cheap outfits that I don't like, don't fit me well or fall apart quickly.
Help Me Choose
I will definitely keep you posted, show you the outfits and I'll likely need your help deciding on what I'm going to keep.
If you are interested in giving Stitch Fix a shot please use my referral code. Once you sign up, give your referral code to your friends and family and get Stitch Fix credit of your own!