HALO generously provided me a HALO® Bassinest™ Swivel Sleeper Essentia Series in exchange for a review!
Blogging does have some perks!
Below is my HALO Bassinest Review.
Five Things I love About the HALO Bassinest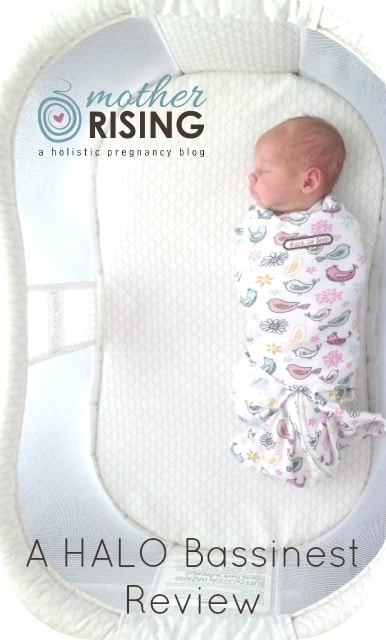 It's Toddler Proof
As a mom to three kiddos, a six year old, two year old and a newborn, one of my most important tasks is to prevent my kids from inadvertently killing themselves or a fellow sibling. My two year old, if left alone with the newborn, would surely kill the baby (with love and good intentions) and then accidentally poison herself (out of curiosity). I'm being dead serious… It's like something Shakespeare could have written.
One of my most favorite things about the HALO Bassinest is that it is extremely heavy and sturdy. The way the base is engineered makes it very hard for a two year old to have access to the newborn. She cannot accidentally tip it over nor could she easily climb in. I know that if I walk to the bathroom and leave the baby in the Bassinest my toddler will not inadvertently injure the baby. I'm calling this a win.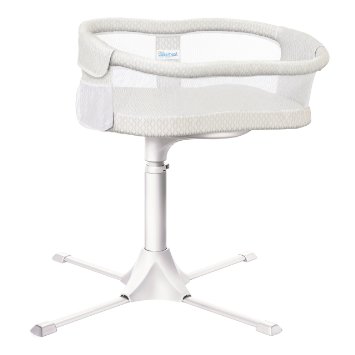 Mesh Sides
Which leads me to the second thing I love about the HALO Bassinest. Since the toddler cannot tip it over or climb in, I'm really happy that the sides of this bedside bassinet are mesh thus allowing overzealous toddler to see and talk to her precious baby. Minor side bonus, I can see my baby while I am sleeping in my bed right next to her. In theory, I could shimmy the Bassinest right up to the side of my bed so we could breathe the same air or I could sing her a song.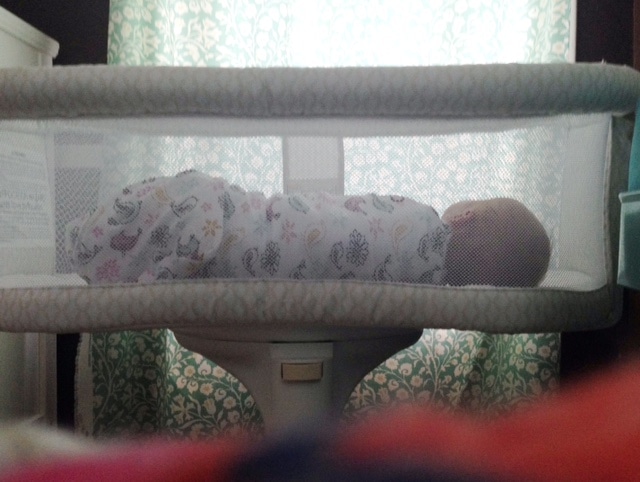 The Swivel
Speaking of shimmying, one of the best things about the Bassinest is how it swivels. The base/stand of the Bassinest stays in one spot (it's very heavy) but the actual bassinet can go backwards, forwards and even turn to be facing different directions. This is very handy when you want baby close to you at night, but maybe you need to get up to pee and don't want to awkwardly climb around the bassinet and out of your bed just to go to the bathroom. One of the most convenient times this feature will come in handy is immediately after childbirth while recovering from any kind of delivery. No new mama needs to be doing acrobatics after giving birth. Simply push the bassinet out of the way, hop (or ease yourself carefully) out of bed and carry on with your day.
Looks Good
I almost feel vain for saying that the way the Bassinest looks is important to me. However, if I need to look at baby gear every day, multiple times per day for months on end, I think that I deserve a little eye candy, no? My bedroom has dark brown walls and I use a lot of white décor which creates a very soothing color palette. My bedroom is my sanctuary and getaway, and the Bassinest has not hindered this venture in any way. If anything it blends in well and adds to the ambiance. I love the way it looks!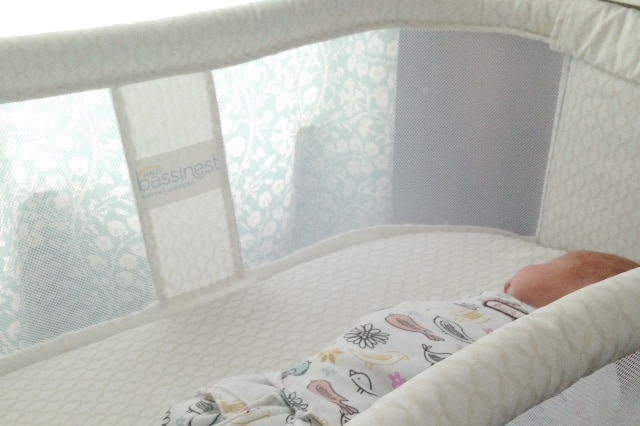 Safe Co-Sleeping
Of course, one of the best features of the HALO Bassinest is how it offers parents a safe but at the same time an extremely convenient way of co-sleeping. One of the reasons I don't bed share is because my bed is not flat or firm, but extremely padded with hills and valleys. I love my bed and my bed loves me, but it isn't a safe place for my baby to sleep. That being said, I feel confident putting my baby in the Bassinest at night knowing she is safe. HALO is committed to making products that provide for safe sleep for babies and their Bassinest is an amazing addition to their product line.