So far in my mothering career I have used three highchairs – a Fisher-Price Space Saver highchair, a Classic Eddie Bauer wooden highchair and more recently a Chicco Stack 3-in-1 Multi-Chair. In this review I will be comparing my experiences with the first two against the new Chicco chair.
I bought the Fisher-Price chair before I had my first child. I liked the price and that it didn't take up much space. After experiencing a toddler in the chair, there are definitely some things that I liked and didn't like. I didn't like the seat cover because it was hard to clean. It wrapped around the seat and made it a pain to clean under. I definitely could not clean the actual seat with one hand (moms need to do things with one hand). My kids found it easy, however, to collect food under there. (How are they so good at making these impossible messes?) As I imagined, I did end up liking how it didn't take up much space because we were able to secure it to one of our kitchen table chairs.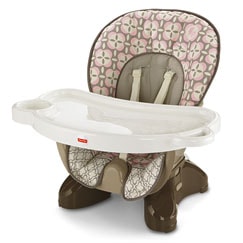 After I had my second child I realized that I actually needed that regular chair for a regular sized person and that the space saver high chair was taking up valuable real estate at the table. I decided that I needed to take the highchair out of the regular chair so that we could use it for bigger people. I put the space saver highchair in storage and got a regular highchair.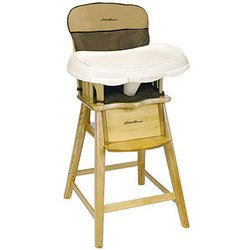 I then got a wooden Eddie Bauer highchair. This thing was really pretty to look at. Other than that, I didn't really like it… My daughter was a genius at getting out of the chair, which made the whole point of the high chair (being able to secure them in the seat while they ate) pointless. I did, however, like that I freed up a space at the table.
Now that I have had a third child, I got a Chicco Stack 3-in-1 Multi-Chair. This chair is the most amazing high chair I've ever owned and here's why.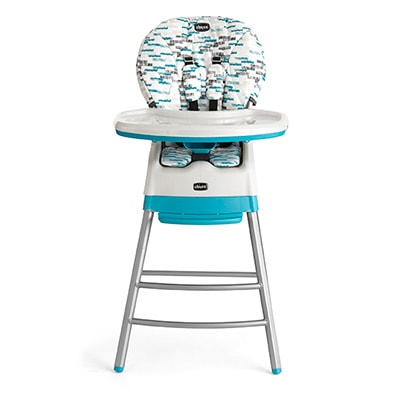 What I Liked:
The tray fits in my dishwasher.
Other trays I have owned have NOT been able to fit in my dishwasher. I love not having to hand wash everything.
The top part of the tray comes off for easy cleaning (which can be put in the dishwasher) without removing the whole tray.
Need to wash the tray real quick? Pop off the top, clean it, and pop it back on. So simple.
What I Loved:
I can remove the tray with one hand.
Seriously, other than how versatile this high chair is, this is one of my favorite parts. I am an extremely busy mama, and I typically have a baby in my arms. It is so helpful to be able to get my toddler out of the chair without having to put the baby down. Thank you engineers who obviously have had children and understand a real mama's needs. Amen!
The colors.
All three of this chair's colors would match my home décor. Obviously, I'm a fan.
When not in use, the tray can be stored on the back of the chair's legs.
Don't need the tray today? Simply click it in on the back of the chair to the legs for simple storage. How cool is that??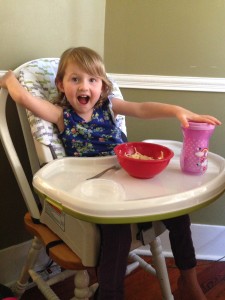 The Best Part: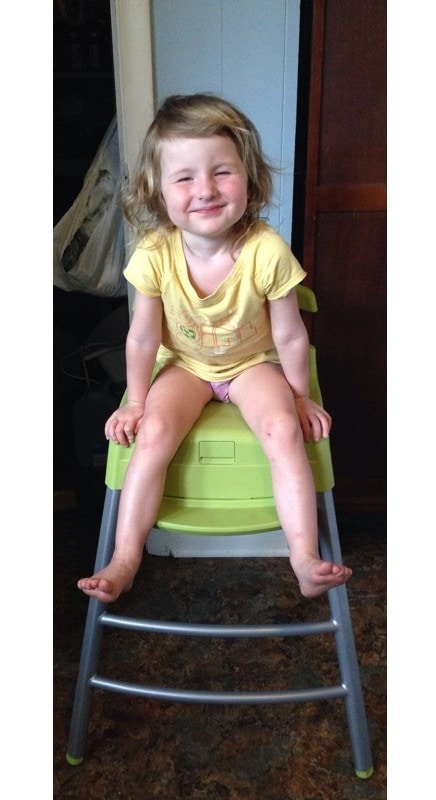 The best part about this chair is how it adapts to the growing child's needs at the dinner table. This chair is all three of these things all in one package:
Highchair: For infants learning to sit and enjoy first foods
Booster: For toddlers who are ready for a seat near the table
Stool: For big kids who need a seat that's just the right size
If I need the space, I can use the top of this highchair as a "space saver" chair. Simply unclick the top part and then secure it to the kitchen chair. Easy peasy and extremely versatile.
While it's being used on a chair I can use the bottom part as a stool for my bigger kid or my favorite, in the kitchen as a place to sit.
Or, I can put all the pieces together and have a normal looking highchair that has been engineered from a mother's perspective. I'm lovin' it.
Conclusion:
Hands down, this is the best highchair I've ever owned. It's versatile, practical and easy on the eyes. At $130 you will get your money's worth.