Whether you've never given birth, currently pregnant or expecting multiples there is a book for you on this list of the best breastfeeding books.
FYI: Breastfeeding is the healthiest, ideal way to feed your baby. If you are looking for books on formula feeding you will likely be unhappy with the information presented in this list of the best breastfeeding books. The best way to maintain your milk supply is to feed on demand and be close to your baby, which many of these books state. If this approach will not work for you, you might not find these books working for you either. If you find a breastfeeding book that is geared more toward bottle feeding and supplementing with formula, please let me know! I'd love to add it to this list as I think many mothers would find it helpful.
The Best Breastfeeding Books
The following is a list of the best breastfeeding books for any parent no matter where they finds themselves on their breastfeeding journey.
If I had to recommend only breastfeeding book resource, The Ultimate Breastfeeding Book of Answers would be it. Some of the focus of the book is on the history of breastfeeding which is so helpful and validating when women are wondering why breastfeeding is such a challenge.
The other portions of the book are "how-to's" which is really helpful, especially in the beginning, when you're trying to get a good latch. If you have time, check out the author's videos online. They're really helpful about showing you what a good latch looks like.
The Womanly Art of Breastfeeding has extremely helpful information in it like preparing to breastfeed, common problems, solutions, starting solids, going back to work, etc.
If you are planning on a natural childbirth, not formula feeding, and staying home with your child instead of going back to work you will find this book very encouraging. Otherwise, you might find this book to be a little biased in that direction. If you can look past that you will LOVE the information presented.
This book is affiliated with La Leche League International and will encourage you to take advantage of the in-person support that these smaller groups offer.
Bestfeeding is different because it has many AMAZING pictures of HOW to breastfeed.
Lots of books talk about the benefits of breastfeeding (which this book does in length) but when they get to the actual "showing you what to do" a lot of mamas still feel confused. Not after reading this book!
The pictures of how to get your baby to latch and what to look for while they're feeding will be so incredibly helpful. Especially when you're sleep deprived and hormonal!
Hundreds of years ago women learned how to breastfeed by watching their family members, which sadly doesn't happen anymore. I believe that this book is the next best thing!
Breastfeeding Special Care Babies reads as a textbook for nurses and other care providers who work in NICUs taking care of tiny babies with special needs. This book is not a breastfeeding book written to moms.
If you are ok with that, then this book will be very helpful.
The Breastfeeding Book is one of many in the "Sears Library" (The Birth Book, The Pregnancy Book, The Vaccine Book, etc.). The Sears' are well known for their attachment parenting style so if that is something that won't work for you, you probably will be unhappy with this book.
I wouldn't call myself an attachment parent, per say, but I do lean more toward mommy and baby friendly practices. Therefore, I LOVED this book. You can use it as a reference book, meaning you can look up almost anything and they'll have an answer for you. However, it is interesting enough to read cover to cover.
If you are hoping to breastfeed but need some encouragement this book will definitely leave you feeling empowered!
The Complete Book of Breastfeeding is helpful for the new mom that needs basic education on why breastfeeding is the best choice and how to get started on the right food.
Many women like this book better than other books because it is less "breastfeeding pushy" and covers additional topics such as pumping, bottle feeding, going back to work and medications in length whereas other books are not as detailed.
This book even has information about exercising while lactating, what to wear while breastfeeding and much more.
I think this book is an excellent companion to a reference style breastfeeding book.
If you are looking for a breastfeeding back that won't attempt to inspire you to want to breastfeed… because you have already made that decision, this book is for you!
Instead of spending time reading about why you should breastfeed, The Nursing Mother's Companion gets right to the point and tells you how.
I would definitely recommend reading this book before you give birth, as reading with a newborn becomes a bit more challenging.
Many women have found the section that discusses drugs and drug interactions to be extremely valuable.
Working and Breastfeeding Made Simple is an amazing resource for the working, breastfeeding, pumping mother.
After reading this book you will understand how your body produces breastmilk and how to get the most breastmilk pumped while you are away from your baby. If you are interested in HOW to keep breastfeeding despite being separated from your baby this book is for you. UnlikeNursing Mother, Working Mother this book focuses more on breastfeeding when you go back to work and less of your legal rights to do so.
One of my favorite things about this book is that it gives unique information to moms at different stages. For example, the advice for a mom going back to work at six weeks postpartum is going to be significantly different than 6 months postpartum.
Nursing Mother, Working Mother is full of information about nursing, going back to work and maintaining the attachment with your baby. The thing is, when you are away from your baby it can be very difficult to maintain your milk supply and keep up with the demands of breastfeeding.
This book will guide you through the process of acquiring a place to pump at work (including all the legal mumbo jumbo to help you do just that). It will also teach you how to talk with your employer about your needs all while maintaining the close relationship with your child.
This book is geared more towards the white collar working mom that practices attachment style parenting.
Are you breastfeeding a child and recently found out you were pregnant? Has your doctor, friends or family told you to stop nursing child #1 while you prepare to have child #2? Are you totally confused? Adventures in Tandem Nursing has your answer.
One of my favorite parts about this book is the stories of other women who have nursed while pregnant or tandem nursed their babies after birth. This section will be so encouraging to those who want to keep nursing their oldest but think it to be a daunting task.
I don't think this book sugar coats tandem nursing as it explains what your struggles and joys might be. Also, it will help you weigh the pros and cons of weaning. This book is definitely will be helpful for the woman who finds herself in this scenario. Truly a one of a kind book!
For the women out there who are considering adoption or surrogacy and would like more information on breastfeeding this book is a one of a kind resource. We all know that breast milk is best, but how can you make that happen if you don't give birth?
Breastfeeding Without Birthing explains the different methods that induce lactation and help you to choose one that will best fit your needs. Hopefully this book will begin your breastfeeding journey with your new little one!
The Best Breastfeeding Books
To recap, the following are some of the best breastfeeding books out there, no matter where you find yourself on your breastfeeding journey. Enjoy!
If you are also a visual learner, Cindy & Jana's Simply Breastfeeding online course is PERFECT for new parents! I've personally taken this course and LOVE it!
Why learn about breastfeeding?
Breastfeeding is natural but it takes time to learn. New mothers say:
"I never imagined breastfeeding would be so hard and so time consuming."
"They don't really prepare you for how overwhelming breastfeeding can be."
Parents who wait until their baby is born to learn about breastfeeding feel overwhelmed. The learning curve is steep, especially when also dealing with exhaustion from the birth and overrun with company.
I've seen plenty of tears and heard families' frustrations over not knowing how often to feed, whether their baby was getting enough milk, or how to avoid breastfeeding pain.
It doesn't have to be this way!
You can feel confident breastfeeding your new baby. Spend time snuggling instead of frantically googling. Cindy and Jana have helped thousands of new families and can help you as well.
Simply Breastfeeding is an indispensable resource which takes you step by step through the things you will need to know about breastfeeding. Your subscription never expires; you can refer back when you have questions and learn at home at your own pace. Pause, rewind and replay as often as you like.
As Registered Nurses and Lactation Consultants with over 20 years experience, Cindy and Jana's goal is to help you discover the real expert for your baby — YOU! ——>>>> CHECK IT OUT!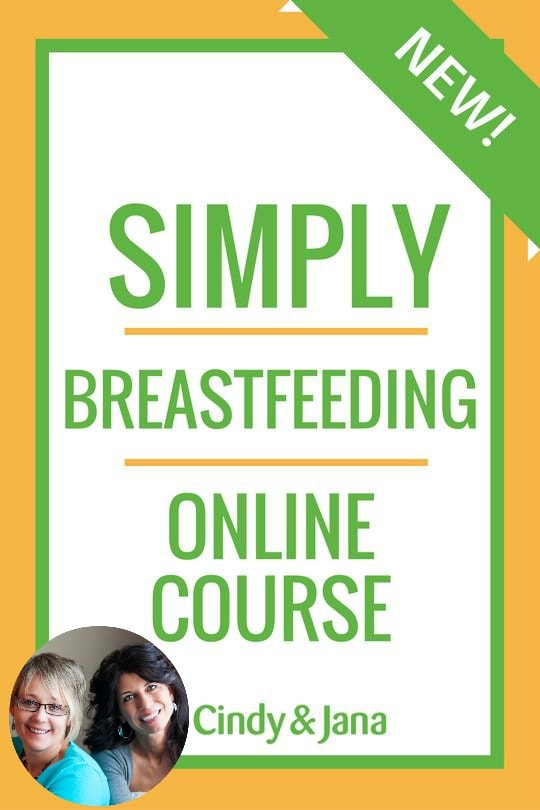 Did I Miss Anything?
If you know of a resource that needs to be added (or deleted) to the best breastfeeding books list, please leave a comment!