Walmart has not paid me to write this. All thoughts and opinions are mine… But seriously, Walmart, feel free to pay me for writing this Walmart Grocery Pickup review. Ahem.
A Walmart Grocery Pickup Review
I first heard about the Walmart Grocery Pickup this year via the internets. I quickly went online to see if the service was offered in my area… and it was not. Through Walmart's website I signed up to get notifications once the service was available in my area.
This month, Walmart Grocery Pickup emailed me and let me know that it was available in Tallahassee. Woohoo! They even gave me a $10 off $50 coupon. Even better, right?
Here is my Walmart Grocery Pickup review, which includes a play-by-play of my experience using the service for the first time. It was not what I expected!
Login
The first thing you need to do is login or create an account. While doing this you'll also verify that this service is offered in your area.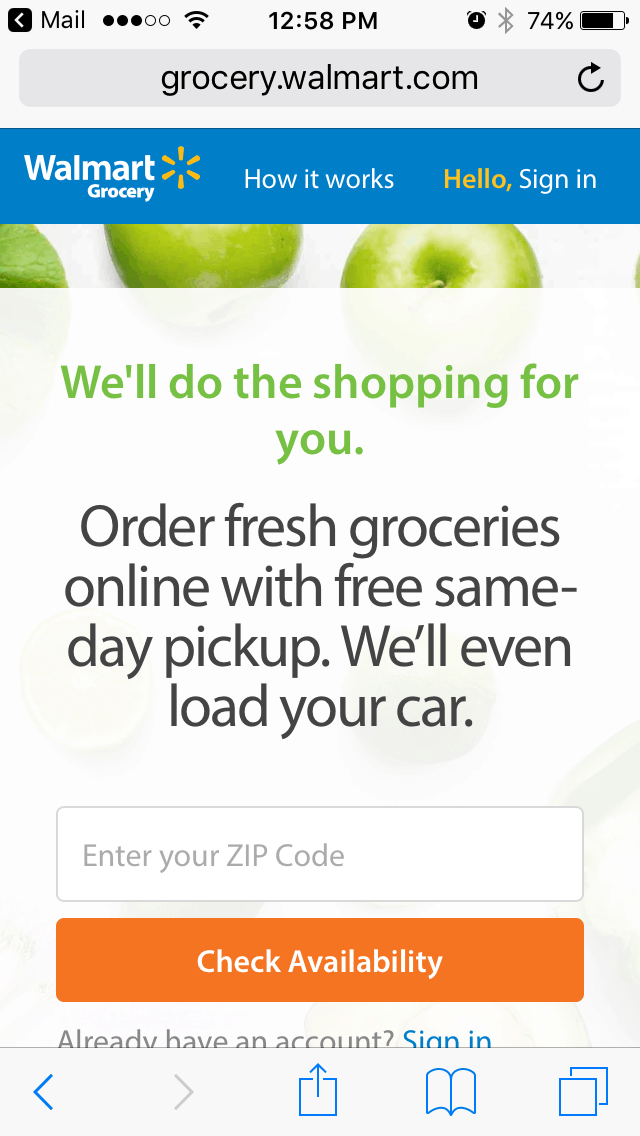 Add Groceries to Cart
The next thing you need to do is add groceries to your cart. It's pretty simple.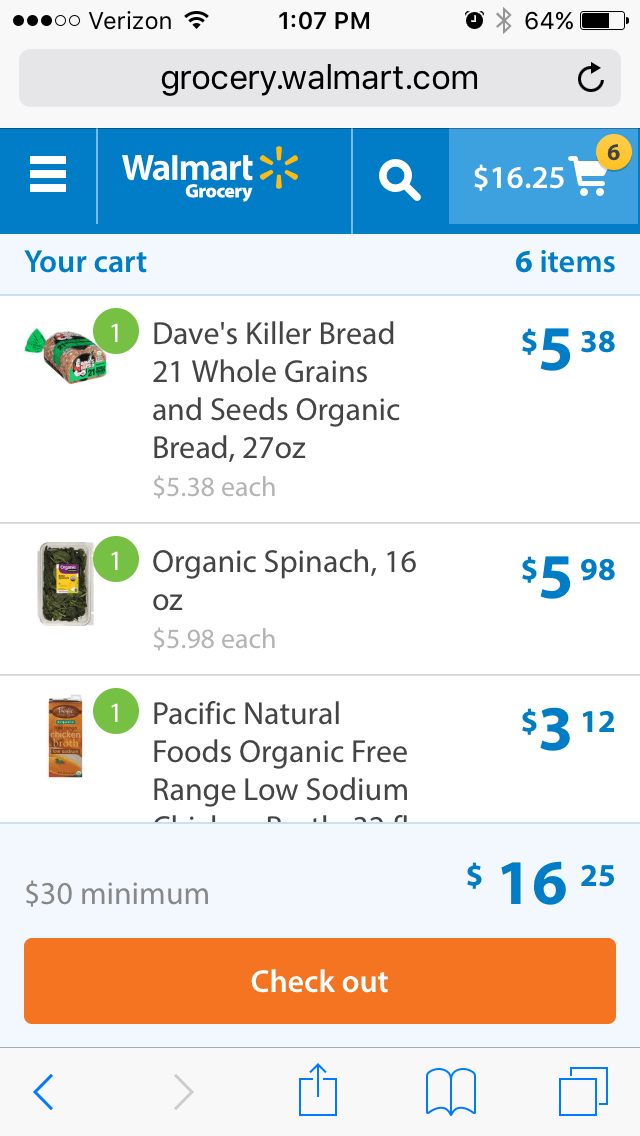 Go nuts.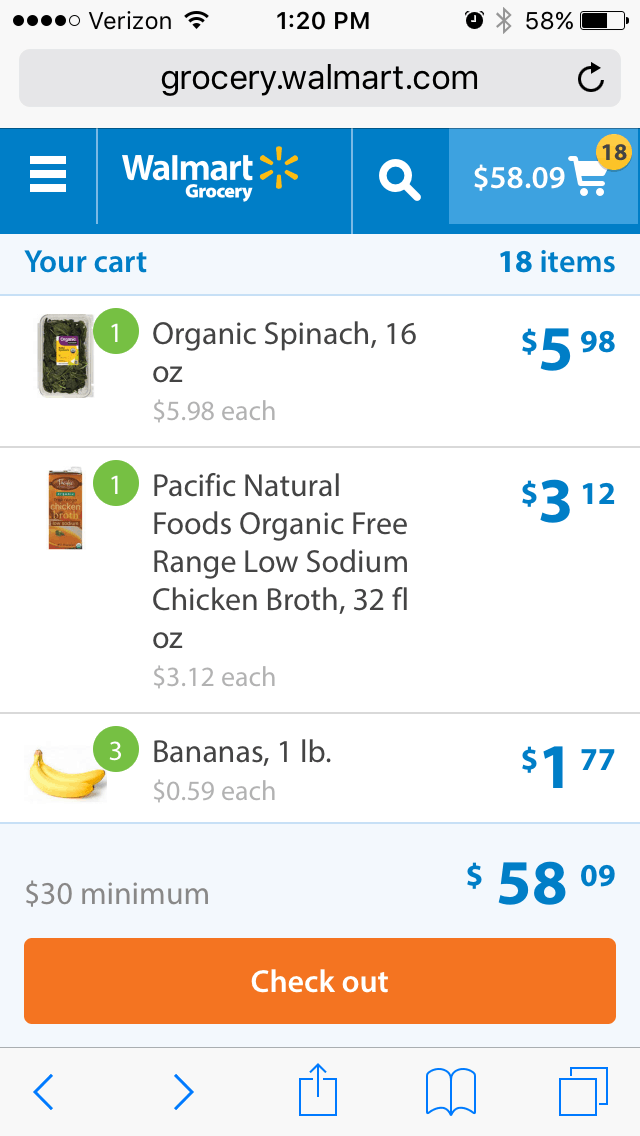 Checkout
After you've added all the food and other miscellaneous to your cart (I bought a hose and hairclips) click on "Check out".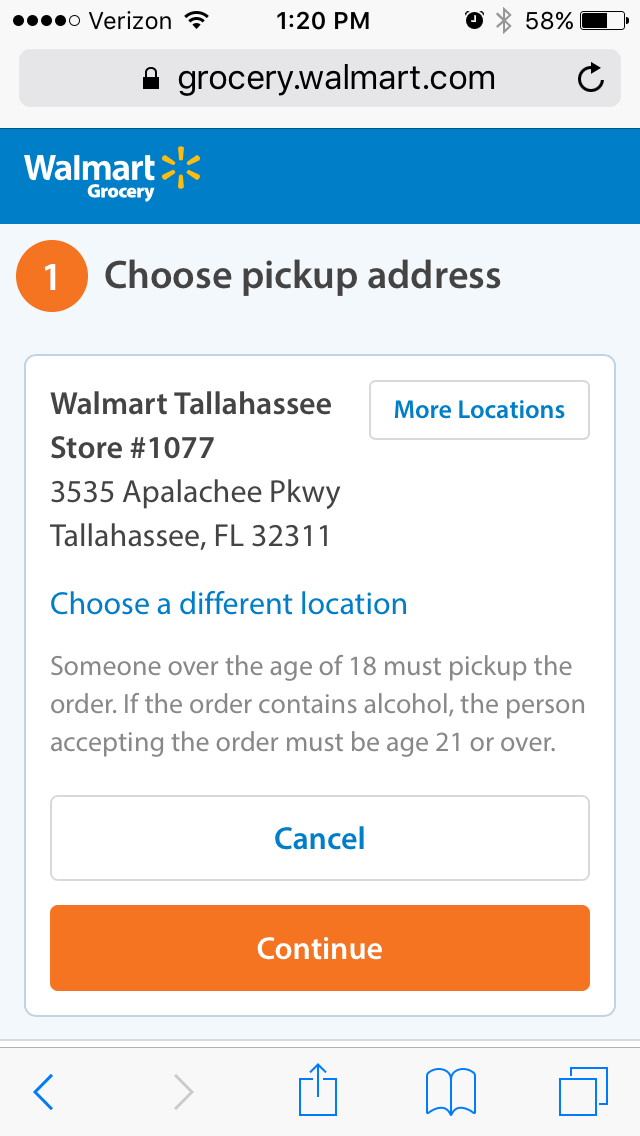 Choose your pickup location and pickup time.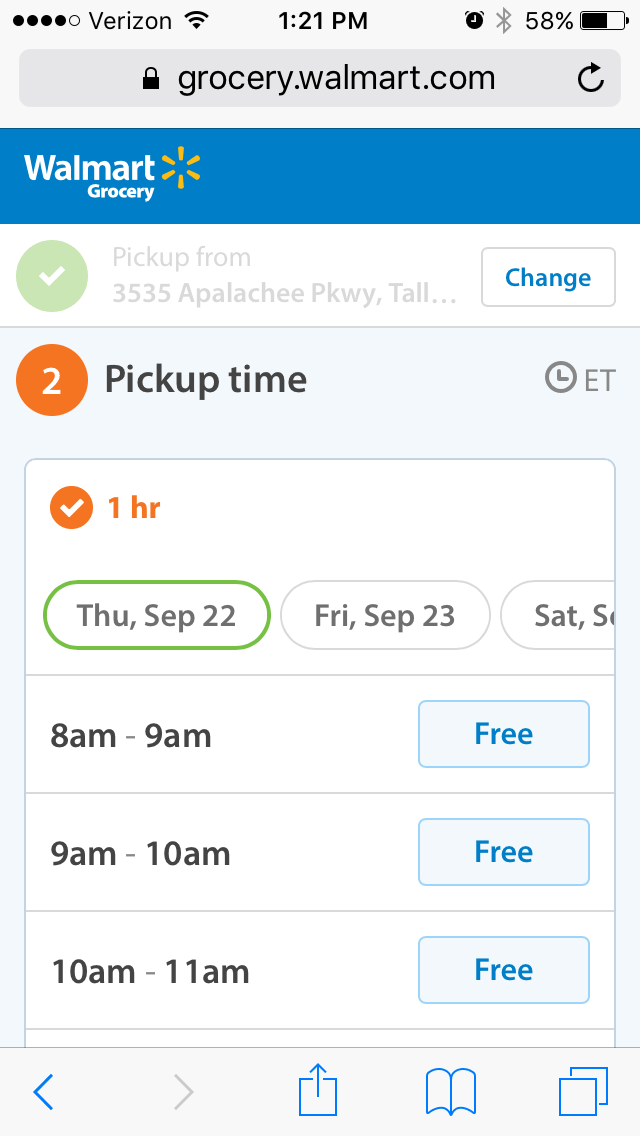 Review and Choose Substitutions
Here's where next time I would do things differently…
See those green checks to the right of each item (in the photo below)? What that means is that if they are out of that particular item they will choose a substitution for me.
Three things were substituted in my order – cherry tomatoes, chicken broth and hairclips.
The morning of my pickup day I got a call from a Walmart associate apologizing that they were out of a particular item and asking if xyz was ok instead.
For my cherry tomatoes, instead of the organic I ordered they gave me conventional, but yellow, cherry tomatoes.
For the chicken broth, instead of the organic Pacific Natural Foods brand, they gave me 2 Sams Choice organic bone broths (for the price of one).
The haircips actually looked the same to me, so I'm not sure what went on there.
*If they do substitute something they will always have you pay the least expensive price.
If I were to do it again, I think I would just not have them do substitutions. I think that will keep things simpler.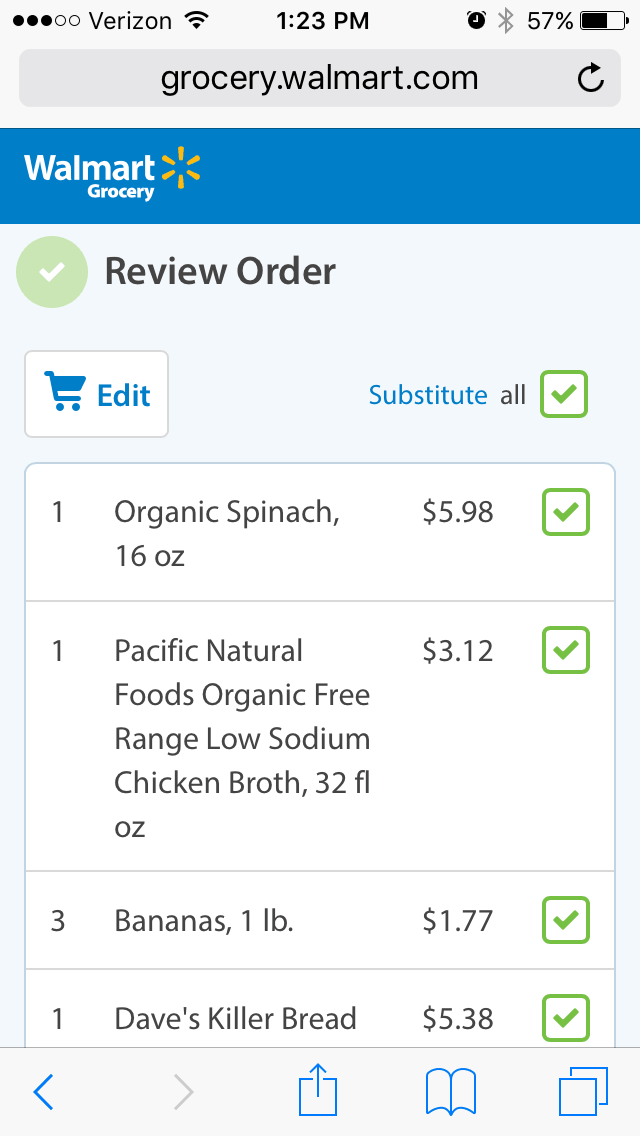 Referral Code
Before you check out make sure you put in your promo code for $10 off!
My referral link is: http://r.wmt.co/lWAWy
If you use my referral code I'll get another $10 off my next order when you place your first order. Thank you!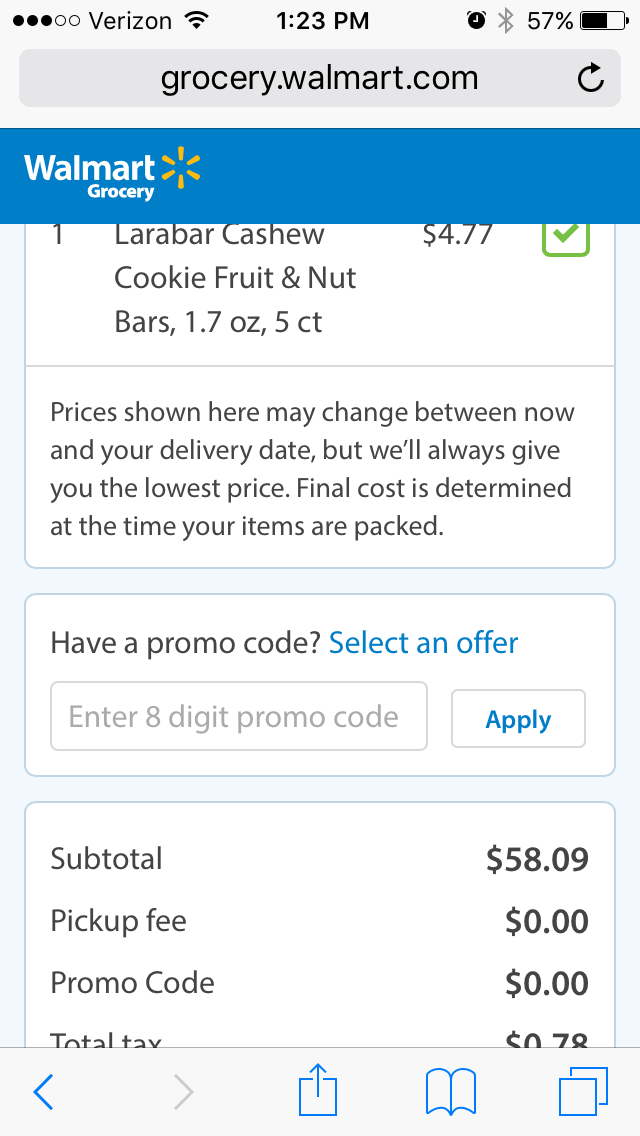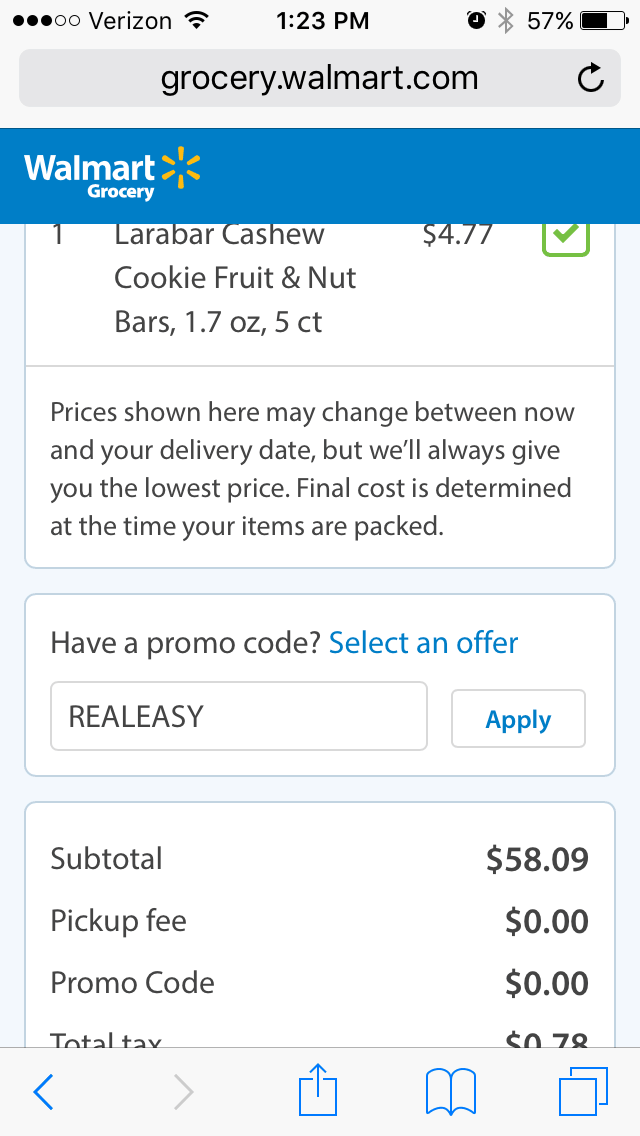 Pickup Day
Pickup day was exciting for me! I tried to get my kids excited about it too. My seven year old thought I was being weird.
Me: Son, aren't you excited about going to Walmart and the workers doing the grocery shopping for us??
Kid: Sure.
Thanks, kid.
That afternoon I got a call reminding me about pickup instructions and to let me know my groceries would be ready to be picked up at the scheduled time. They wanted me to call them about 15 minutes before I arrived.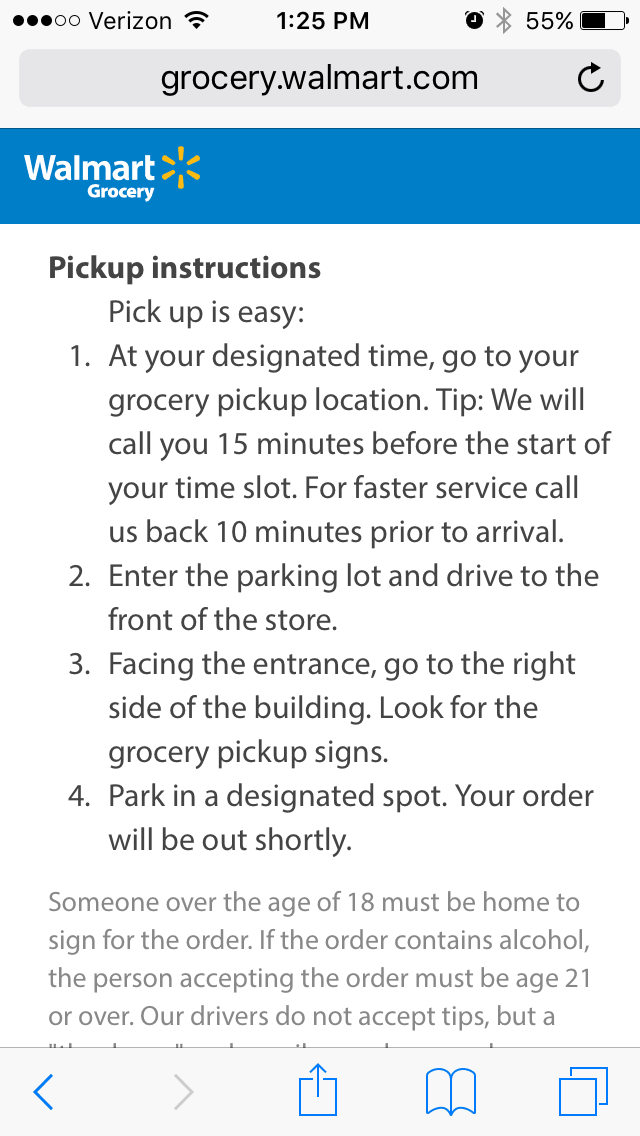 I chose my pickup time to be 3 – 4 pm. I chose that because I have to pickup my son at 3 pm and I knew that right after that I could easily swing by Walmart. Normally, I wouldn't go grocery shopping right after pickup but I thought I could manage having someone do it for me. 😉
Here we are in the pickup line. My daughter was excited! She didn't know why though!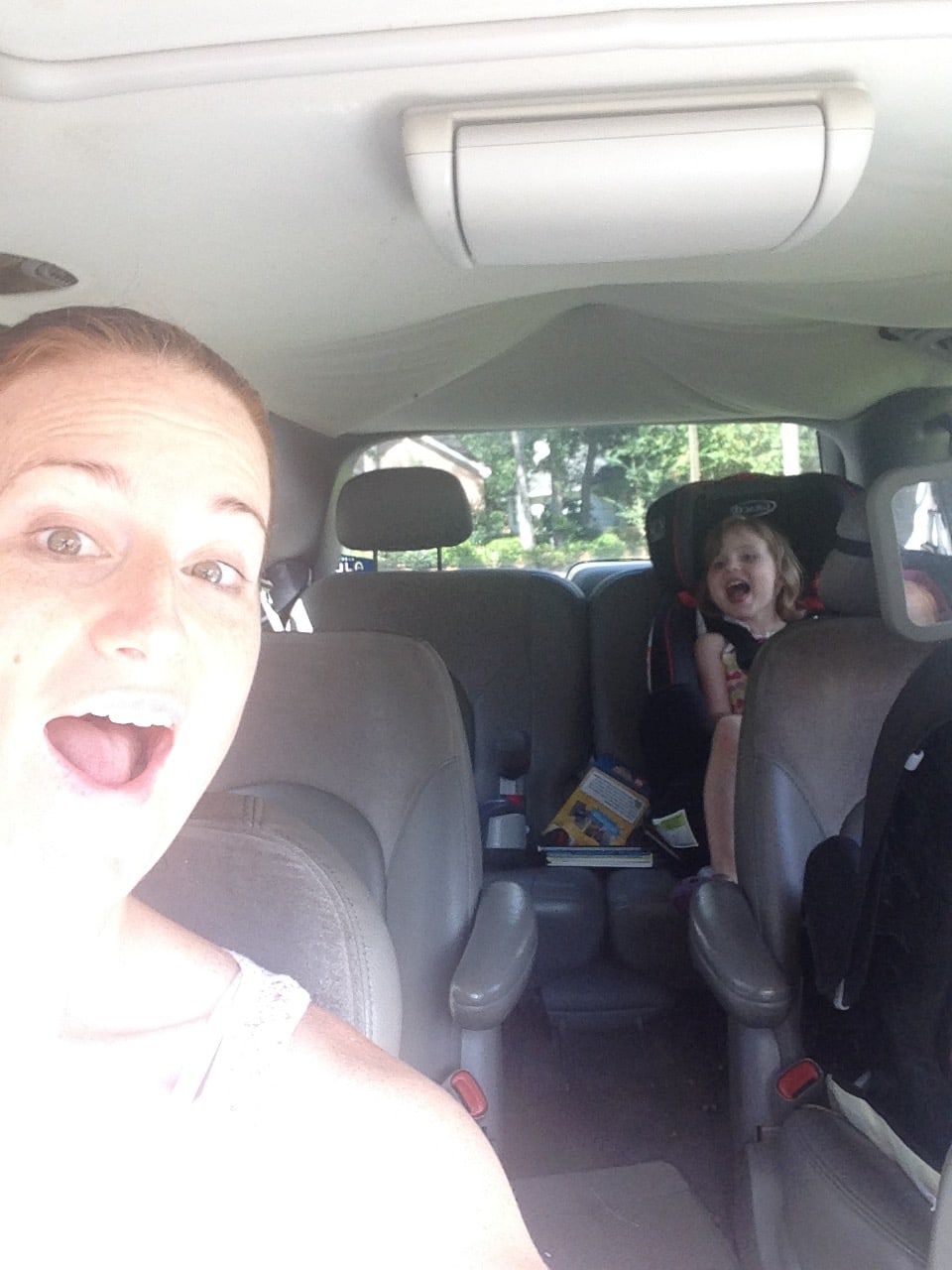 So after I got my son I called Walmart and told them I was on my way. They were super overly-polite on the phone. If my northern relatives heard them, they would be suspicious. They were SO polite and SO gracious.
While I was driving to Walmart I was wondering exactly how easy it would be to figure out where to go. I pulled into the parking lot and what do I see? Orange signs telling me which way to go. Easy! I like easy.
I followed the signs to the side of the building. I parked in one of the parking spots.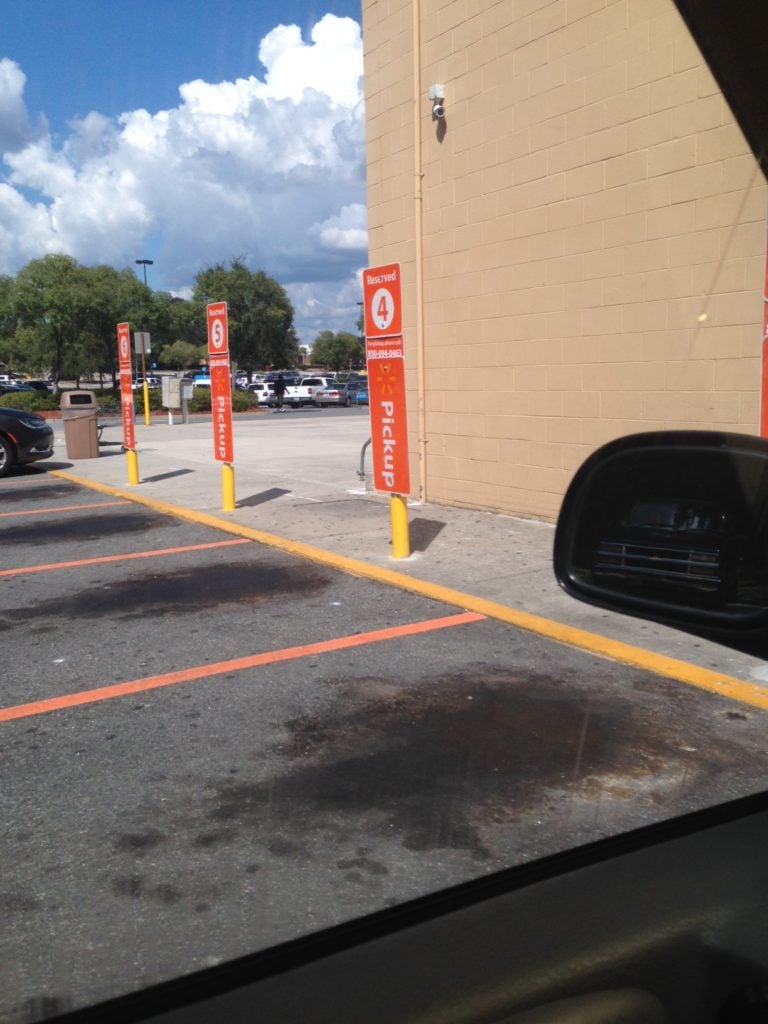 After I parked I called the number (the same number I called to let them know I was on my way) and let them know I was here and where I was parked. Not that anybody else was in this parking lot with me. But, I thought I'd just try to be helpful.
And then I waited about 3 minutes. And I found myself getting impatient. And then I thought how ridiculous I was being because someone was about to bring my groceries out to my car for me. 'Merica.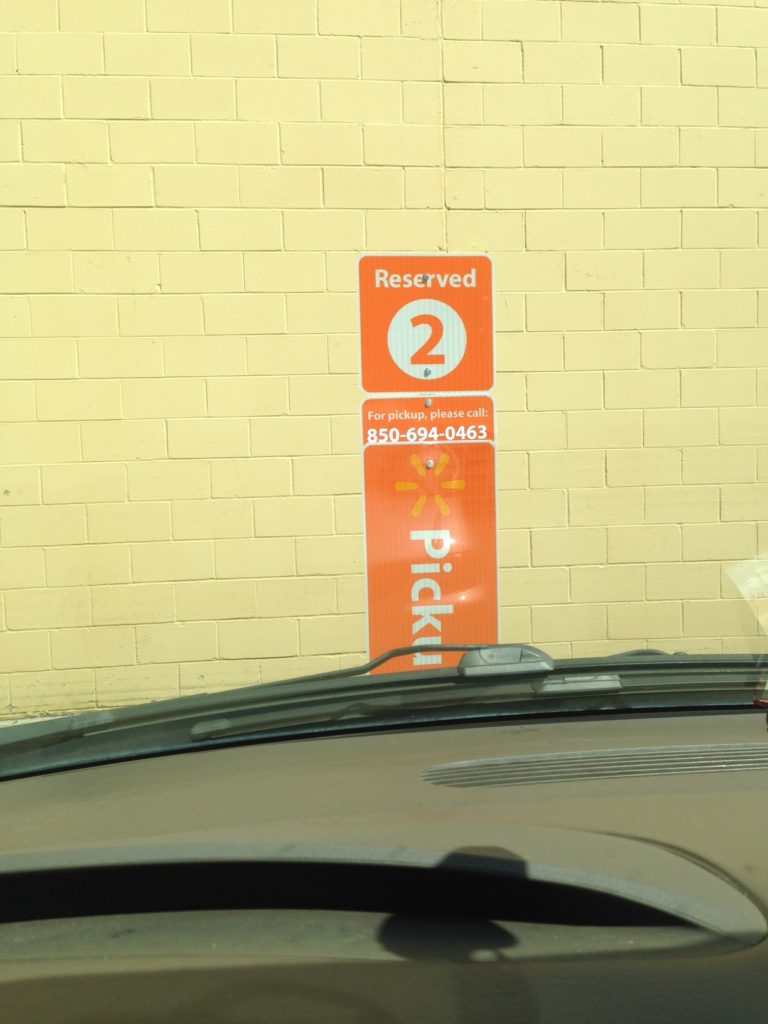 And then this blue vested angel showed up at my window bearing gifts. He brought a cold water and random food samples I would never normally eat or buy.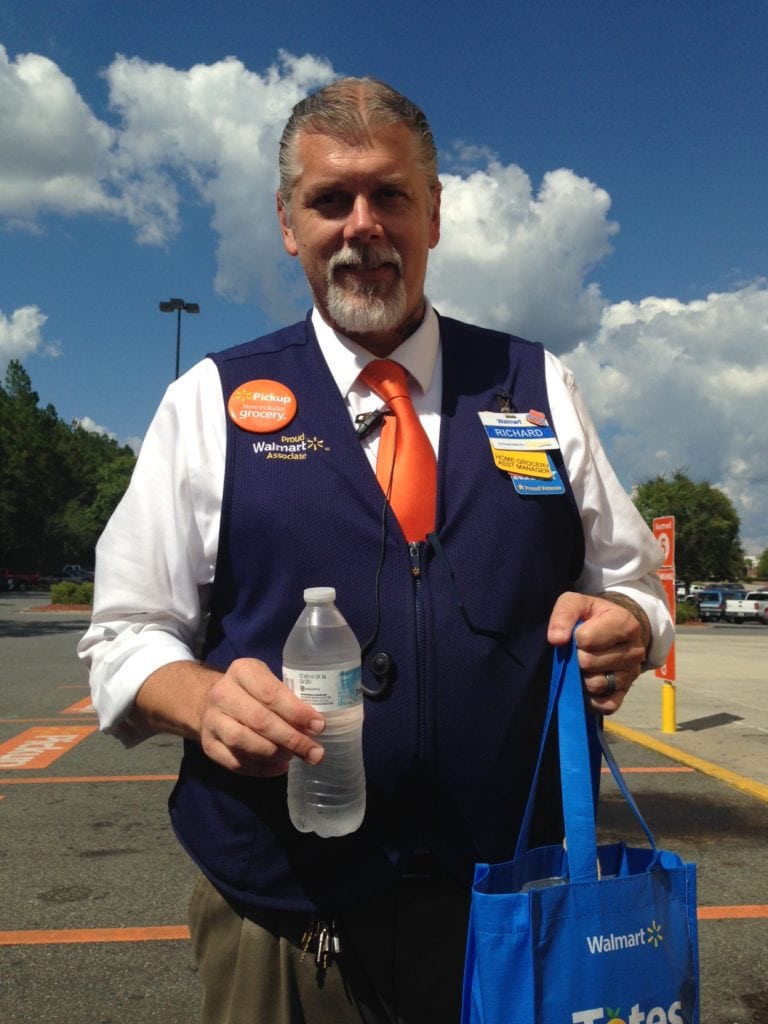 My son thought the samples were amazing. By giving him snacks they won him over. However, I bet when we come next time and there are no gift-snacks, he'll feel disappointed. LOL!
(Side note: In my bag of samples there was this seemingly random can of chickpeas. I laughed when I saw it. A can of beans? How weird! Turns out it is for this hummus mix that you put in a blender or food processor. Ooohhhh.)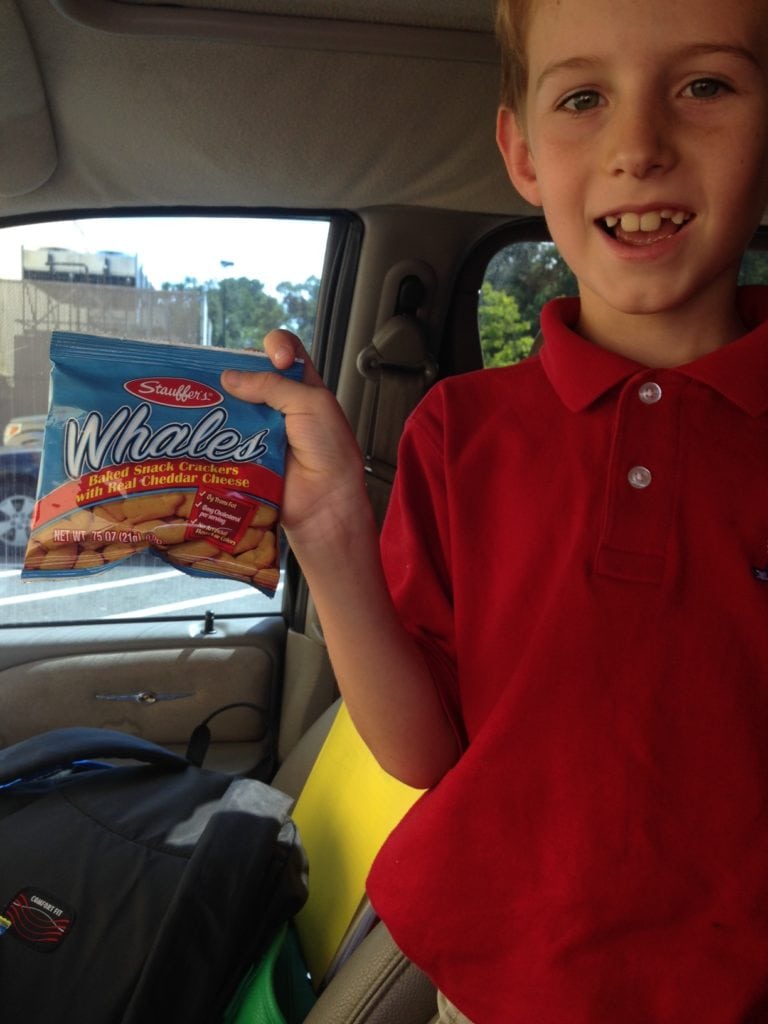 After I explained my weird behavior (taking his picture) to this blue vested angel (that I'm a blogger and will be blogging about my experience) he disappeared into Walmart and reappeared only to give me more gifts.
Flowers? What is this Walmart-blue-vested magic spell I've been put under?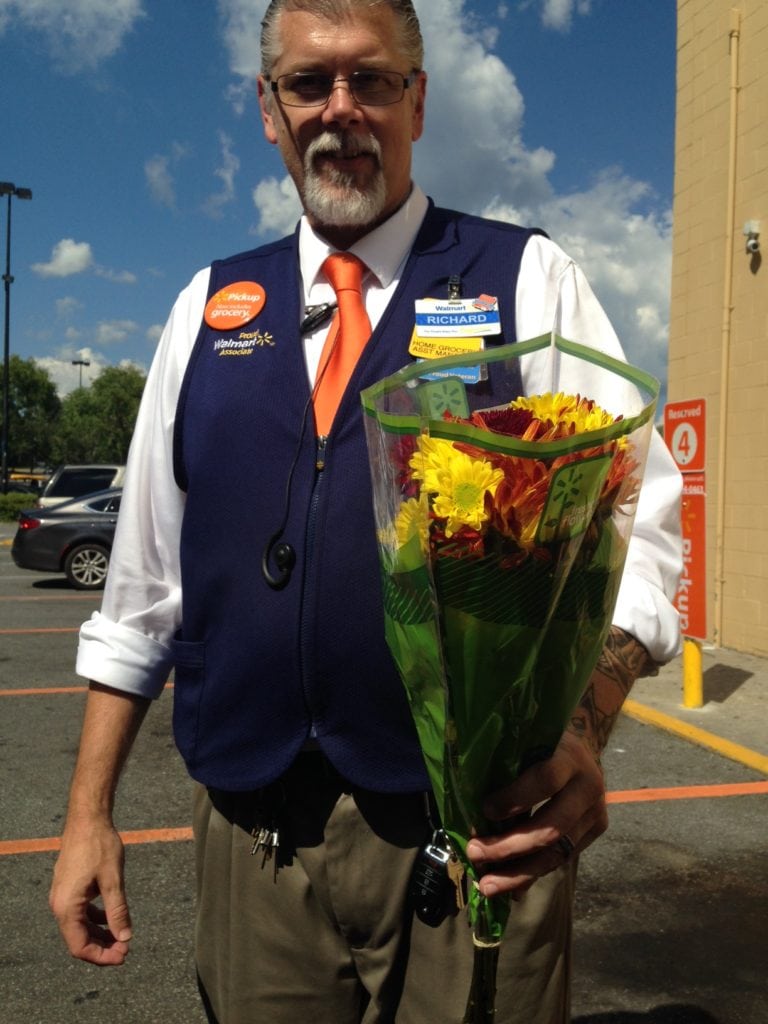 Meanwhile, my daughter fell asleep and missed this whole experience. If I was actually going grocery shopping I would have had to wake her up. And we all know how well grocery shopping works after you wake up a three year old from too short of a nap. (Thank you Walmart Grocery Pickup for preventing a public meltdown! Woohoo!)
While he was waiting, my son read some of his book he's reading for school. Yay!
The baby, on the other hand, whined the whole time. She was probably the least happy about the curbside service. (See? I'm not the only one feeling impatient while someone else grocery shops for me AND loads it in my vehicle. LOL!)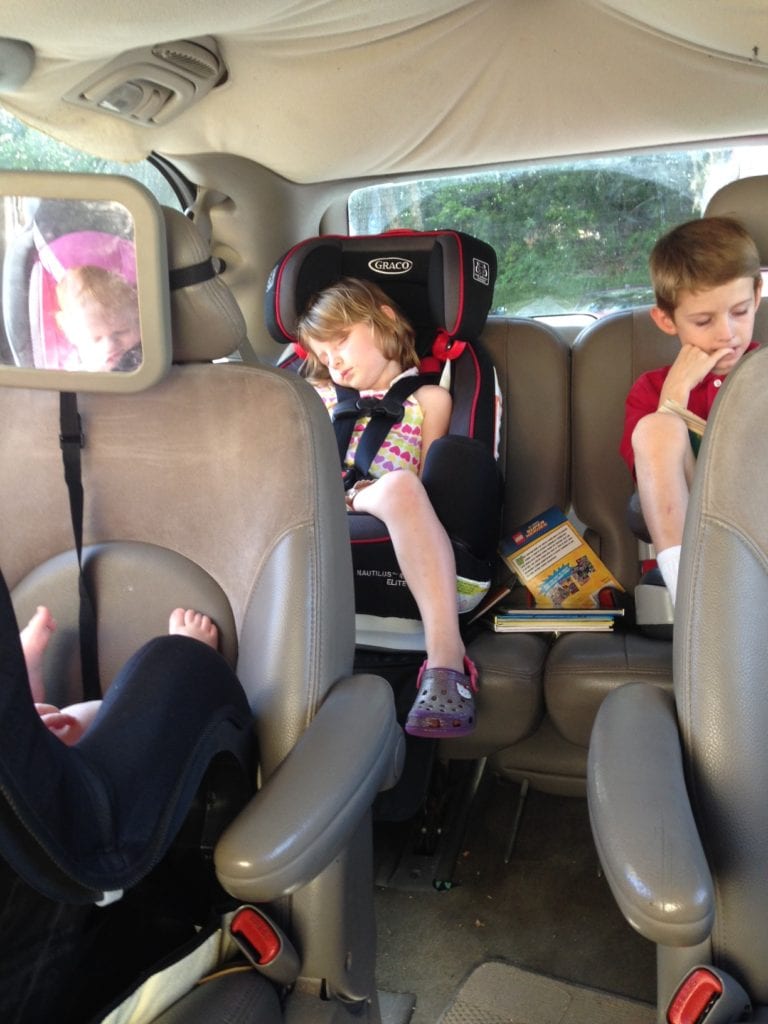 This is the lady that shopped and loaded my groceries (see below). I forgot to get a picture of her face. She's probably grateful.
And whoa… did you see Richard's tattoos? He's so cool. We're best friends now. Except he wouldn't tell me his last name. He said his name was "just Rich".
*FYI you are not allowed to help Walmart employees load the groceries in your vehicle. (I've totally done this though and nobody stopped me.)
*FYI you are not allowed to tip Walmart employees for loading the groceries in your vehicle.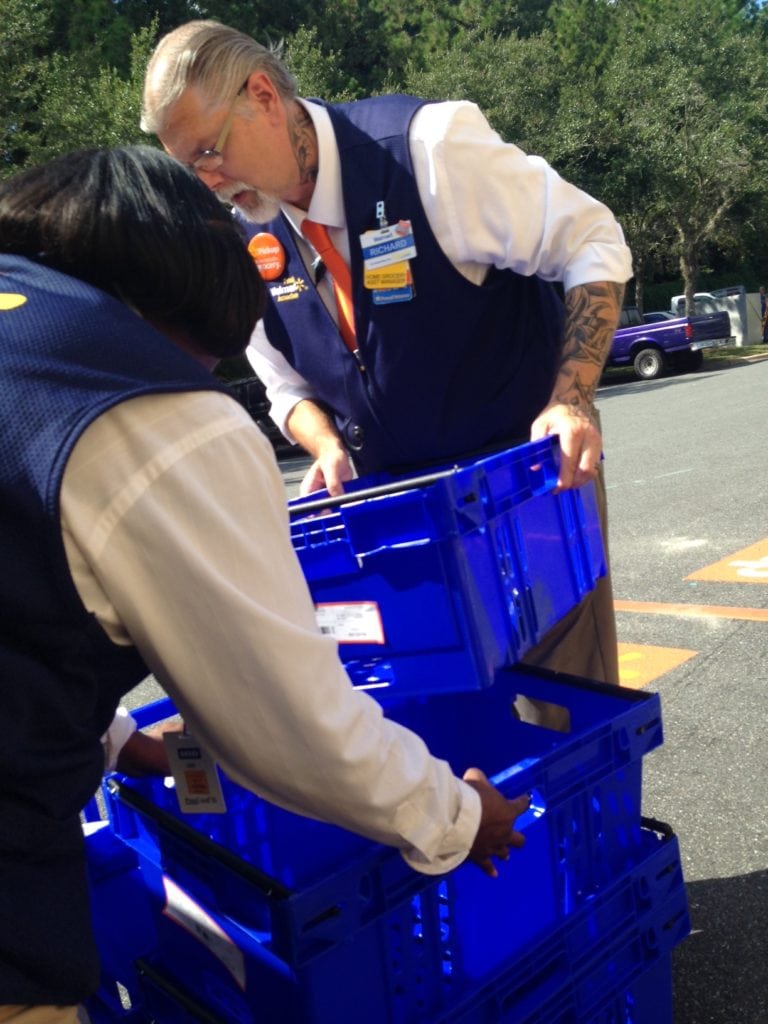 Rich said that they hand picked everything to make sure it was the best. He also said that if I wanted my bananas to be more or less green next time to just let them know. They were perfectly yellow. Not brown or green.
After they loaded everything up, they gave me a receipt on regular paper, were overly thankful and polite (I'm not complaining… it was really sweet!) and I headed on home.
At Home
Once I got home, I brought everything inside and checked things out.
(But first, I ran to the bathroom and peed. And while I was there I thought to myself that if I actually went grocery shopping I would have had to drag all three kids to the bathroom with me. And that by using the Walmart Grocery Pickup service I avoided the whole "Walmart bathroom" experience. I'm so grateful.)
Some bags had stickers on them that said "substitution" or "fragile". The bread was labeled fragile and the items substituted were labeled too.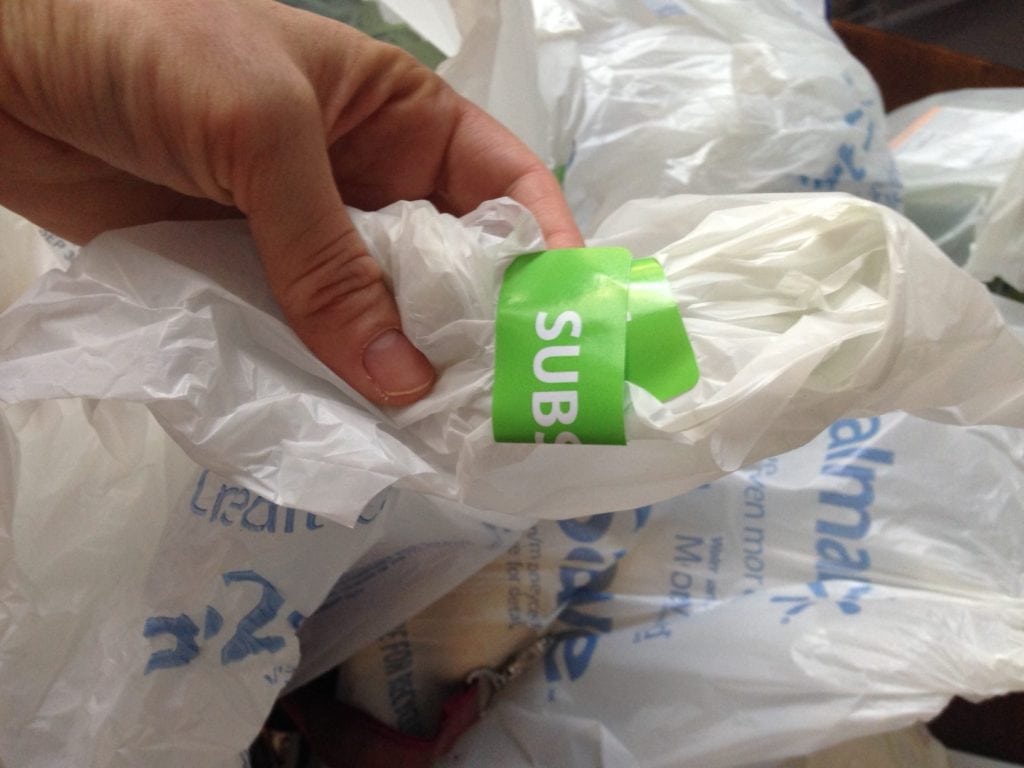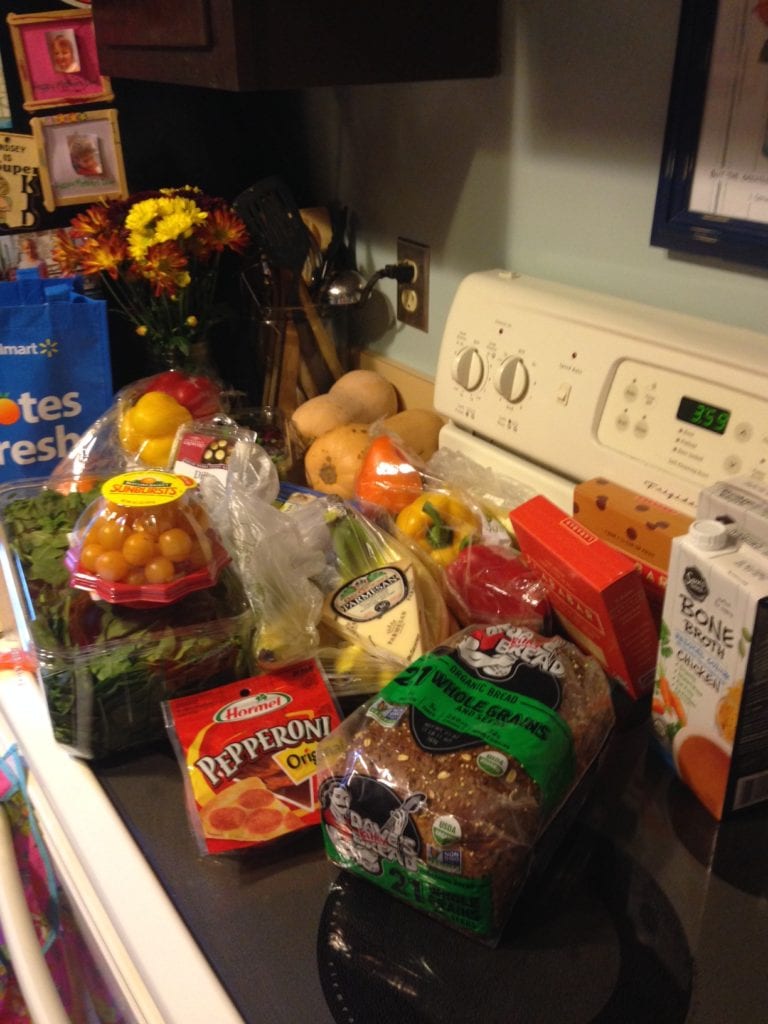 Here's most everything I bought, except for the hose and hairclips. The butternut squash isn't from Walmart… just ignore that. Hiding in the pile is a thing of spring mix, fresh dill and mushrooms. I paid $48 after my $10 coupon. What a deal!
Here's my order summary, but not necessarily what I got (because of substitutions).
Order summary:

Qty
Item
Substitutions
Price
1
Larabar Cashew Cookie Fruit & Nut Bars, 1.7 oz, 5 ct
$4.77
1
Larabar Peanut Butter Chocolate Chip Fruit & Nut Bars, 1.6 oz, 5 ct
$4.77
1
Hormel Original Slices Pepperoni, 6 oz
$2.77
2
Mixed Bell Peppers (colors may vary), 3 count
$6.24
1
Fresh Dill, 0.75 oz
$1.78
1
Expert Gardener 50′ Light-Duty Garden Hose
$7.94
1
Goody Hair Claws, 6 Ct
$2.43
1
Pre-Cleaned White Sliced Mushrooms, 8 oz
$1.74
1
Bel Gioioso Parmesan Cheese, 8 oz
$3.98
1
Marketside Organic Half & Half Mix Salad, 5.5 oz
$2.56
1
Organic Grape Tomatoes, 1 pint
$2.86
1
Dave's Killer Bread 21 Whole Grains and Seeds Organic Bread, 27oz
$5.38
3
Bananas, 1 lb.
$1.77
1
Pacific Natural Foods Organic Free Range Low Sodium Chicken Broth, 32 fl oz
$3.12
1
Organic Spinach, 16 oz
$5.98

Subtotal*:
$58.09

Pickup

fee:
FREE
eVouchers:
$10.00
Total tax:
$0.78
Total fee:
$0.00
Order total*:
$48.87
Walmart Grocery Pickup Review
I LOVED the Walmart Grocery Pickup service. LOVED it. I would do it again in a heartbeat.
It was so simple, saved me at least an hour of time, allowed me to avoid public restrooms with my three kids AND my three year old got to take a nap which she desperately needed (but refused to do at home).
I will absolutely use this service again. I even will buy my meat there (Costco! Get on board with this pickup thing, ok?) because they have grass-fed beef and free range chicken.
Walmart Grocery Pickup has forever changed my life. Hallelujah and amen.
(Side Note: I think this curbside pickup service would be PERFECT for going on vacation. "Grocery shop" online while driving to the destination, schedule a pickup time and bam, vacation grocery shopping is done. More time at the pool and less time at Walmart. Perfect.)
UPDATE 5/2018
I've used this service a bajillion times since I wrote this post. I'm still generally pleased with this service. Here are some thoughts…
The "search" function on walmart.grocery.com needs some help. For example, if I type in "organic" not everything they sell that's organic pops up. Walmart, you're missing out here.
Product photos are small which makes it difficult to decide to buy a product or not. Walmart, you could do so much better!
I've used this service when out of town on vacation. Other stores have more products than mine. Ignorance is bliss, I guess.
A few times I've rejected an item at pickup, but was charged for it on my final bill. I called customer service at (800) 924-9206 and they resolved the issue quickly. Wait times were negligible. One time, for my inconvenience, they even gave me a $15 coupon for a future order!
Sometimes even if I choose "no substitutions" I am given a substituted item anyways. Sometimes I'm ok with it, sometimes I'm not. I'm happy with that because sometimes I'm pleasantly surprised with that they give me.
I love that they give me the lower price if an item is substituted. Sometimes I come out majorly winning in these scenarios. 😉
Leave a Comment
Have you used this service? Leave a comment with your own Walmart Grocery Pickup review and let us know how it went for you!