Pregnancy books in the second trimester should be devoted to:
General Childbirth Education
Childbirth Methods
Building your Birth Team
Birth Stories and
Fitness
(Here is a list of the best first trimester books. And another list of the best books for the third trimester.)
Pregnancy Books in the Second Trimester
Here are 10 of the best pregnancy books you must read in the second trimester.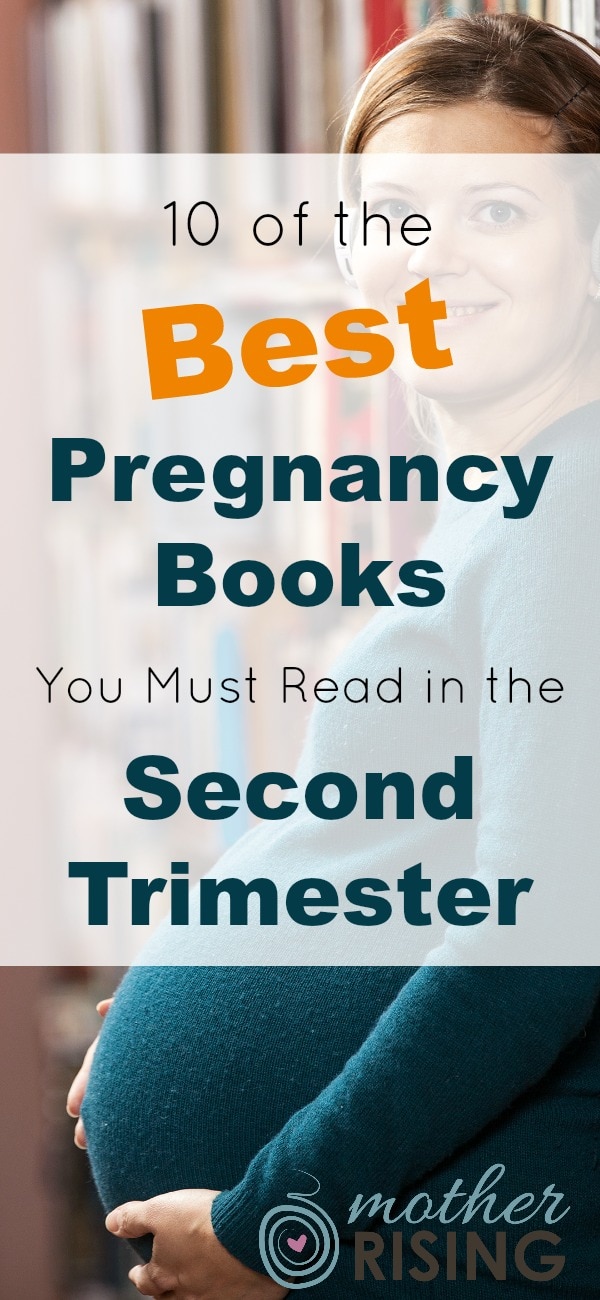 General Childbirth Education
The Birth Book gives a fantastic overview of the entire birth process, how to cope through labor pain and common interventions and complications… but it's much more than that. Written by a mom (R.N.) and a dad (M.D.) you will hear their stories and what they learned from their birth experiences. Also, they tell an interesting narrative about the history of birth which helps you to understand why things are the way they are right now.
After reading this book you will have a good idea of what is important to you when preparing for your birth and general information of the entire birth process.
Gentle Birth Choices was the first pregnancy book I ever read, besides the obligatory What to Expect When You're Expecting. I was surprised to learn that there were actual side affects to drugs and epidurals and how using those tools would create a different type of birth altogether.
I learned about the hormones of birth – like oxytocin and endorphins – and how they work symbiotically in labor. I also learned about water birth, and well, that just blew my mind. If you're curious about natural childbirth, this book is a great place to start.
Childbirth Methods (and classes)
Natural Childbirth the Bradley Way
Before I became pregnant the one and only childbirth class method I knew about was the Bradley Method. The Bradley Method is an exhaustive 12 week (hello!) childbirth class that covers everything from exercise, nutrition, pregnancy, birth and postpartum.
If you are wanting the benefits from a natural childbirth – less complications, faster recovery, etc., then Natural Childbirth the Bradley Way is for you.
*Please note that this book is somewhat dated with the photos and hospital information, but you will absolutely find the labor and coping information invaluable.
Birthing From Within is a refreshingly holistic approach to childbirth preparation. Instead of simply learning a list of obstetrical facts, the book aims to speak to the whole person – the mother and father – who are becoming parents.
Birth art, pain coping and doing "the next best thing" are common themes throughout the book. If birth art is not you're thing, skip that part and come back to it later. The rest of the book is amazing, and it is one of the best selling pregnancy books out there. You won't be disappointed!
If you are interested in learning relaxation techniques through hypnosis and self-relaxation this is what Hypnobirthing is all about. The attached CD is an easy way to hear and implement the information presented in this book. Many women rave about this method, their audio tracks and as a doula I have definitely seen women become very relaxed and cope beautifully through labor.
My one and only issue with this method is that if there is a change in the birth plan, most hypnobirthing women have a hard time coping during that experience and during postpartum. My advice? If this method is appealing to you read it, but also read other literature as well. Don't put your eggs all in one basket!
Building your Birth Team
Curious about what a doula is and how one can help you during your birth? The Doula Advantage details just that. Every aspect of a doula is covered in this book from how doulas work with dads, epidurals, in hospitals, at home and even how to find and hire a doula. The book goes on to explain what a postpartum and antepartum doula does, how one could be helpful for you and how to find one in your area.
Literally, every aspect of a doula is covered in this book. It is so detailed that it is often on the required reading list for new doulas.
If your husband or partner is interested in being a very hands on birth partner, The Birth Partner is a perfect choice. Just like The Doula Advantage, The Birth Partner is required reading for most doulas.
In this book you will learn how to support a pregnant woman through every aspect of birth. Even if you don't read much of the book ahead of time, or if plans change, this book is easily navigated to access information RIGHT NOW.
My favorite part? I love the illustrations, especially the pictures of labor positions. These pictures are helpful even when supporting someone in labor! I have cracked this book open multiple times when at births which was helpful when trying to come up with new ideas.
Birth Stories
Just like Birthing From Within, this book is one of the best selling pregnancy books out there. Why? Ina May's Guide to Childbirth helps women feel empowered through the birth stories of other women coupled with excellent childbirth education (without using fear based tactics). That is a combination for birthing success!
The first half of the book is childbirth education information… like you've never read before. The second half is birth stories of all kinds. One of them is even my very own midwife's VBAC birth story! You can see pictures of her in Eden's birth story.
Spiritual Midwifery is great if you are needing a morale boost about your upcoming birth. Every person I know who has read this book has felt encouraged, inspired and screamed, "I AM WOMAN HEAR ME ROAR!". Ok, maybe not quite that dramatic, but you get the idea.
This book is filled with stories of women who gave birth in the woods, in buses… if they can do that, by golly we got this! Just a warning, this book has changed many a woman's life. It may very well change yours. You have been warned!
Fitness
Fit & Healthy Pregnancy is perfect for an athletic individual who has found herself pregnant and wants to keep exercise a part of her life. It is broken down by trimesters, which is really helpful because you will need a different set of information in the first trimester than you would the third. If you're looking for a book to explain how to stay in shape during pregnancy, this book is it.
Please note that if you are more of a "cross fit" type of gal, you'll get more out of a book like The Pregnant Athlete. If you are not an athletic person at all, you will probably be very happy with Yoga for Pregnancy, Birth and Beyond.
Pregnancy Books in the Second Trimester
To recap, here are the best pregnancy books to read in the second trimester:
What pregnancy books in the second trimester did you read? Leave me a comment and let me know!