Knowing childbirth education is a critical step, many parents wonder when to take childbirth classes, especially when expecting their first child. In this post we will discuss when to take childbirth classes for the best results – a happy and healthy mother and baby!
When to Take Childbirth Classes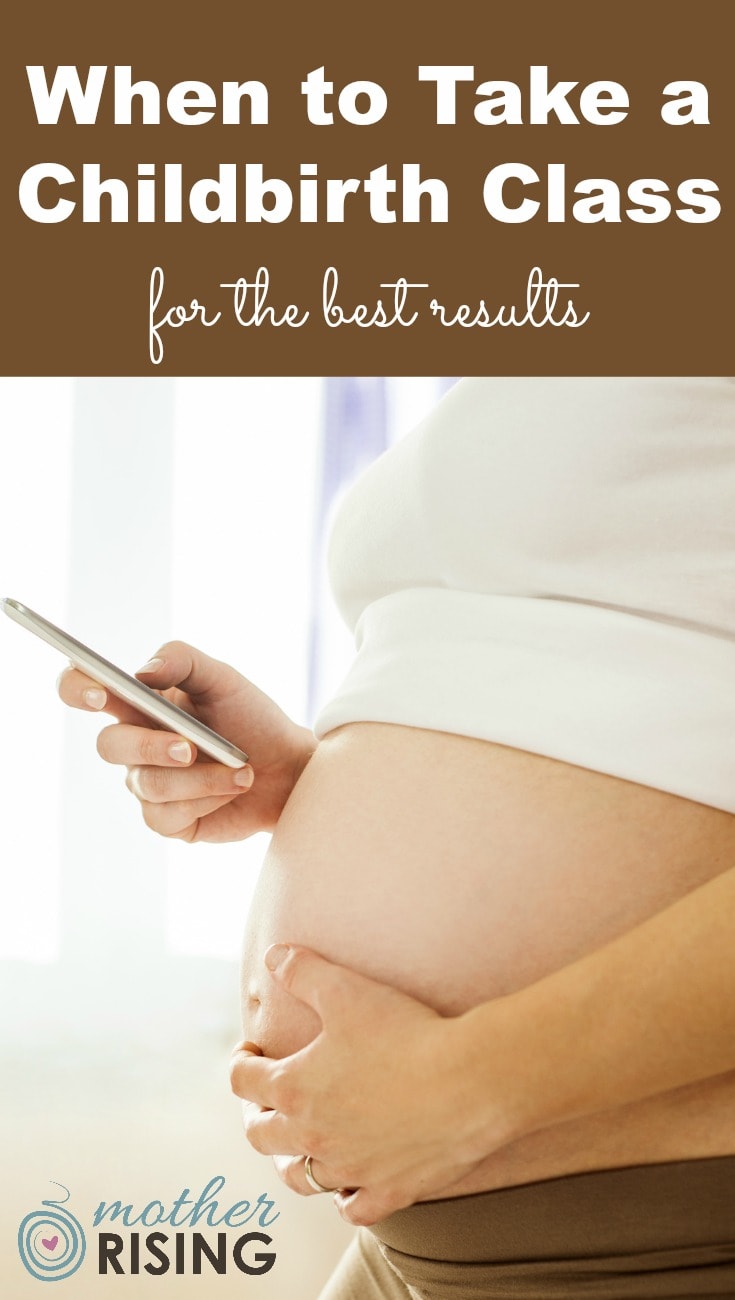 When Not to Take a Childbirth Class – The First Trimester
I teach childbirth classes in two locations – a six week class at a birth center and four week generic class at a local hospital. Because I teach so many classes, I have a bit of experience on when one should take a class, when it would be too early and also when it would be too late.
In my experience, it is too early to take a comprehensive childbirth class in the first trimester. At this point in early pregnancy the belly has not expanded and the birth experience seems extremely abstract and hypothetical. The motivation to learn pain coping practices, for example, is not as great as when the belly is large and birth is a month or two away.
Taking a childbirth class this early on will make it difficult to remember pertinent information when the time comes, since months will pass before it's time for labor and delivery.
Also, since the chance of miscarriage is higher in the first trimester, it makes sense to wait until the pregnancy is deemed viable. I feel like having attended a childbirth class would make processing through a miscarriage even more difficult than it already is.
However, sometimes taking a childbirth class in the first trimester can be the next best option. For example, I've had a couple take my class very early on, but they did it because that was the only time they could do it together. Later on in the pregnancy his schedule was more complicated (I believe he was being deployed for a short period of time) and taking a class together would not be an option. In this case, taking an early class, as abstract as it may have been for them, was their next best thing.
First Trimester Childbirth Education
Even though a childbirth class may not make sense during the first trimester, a woman should still be thinking about childbirth education. In fact, my first trimester reading list contains two resources that help formulate future childbirth education choices and birth options.
Many first time moms have never heard of this documentary, but for mothers who have "been there, done that" this film is a common household name. This film is a documentary about how the maternity healthcare system in the US works (or doesn't work). It covers the history of maternity care to better explain why our healthcare systems operates the way it does. With this resource, viewers have a better idea of choices in prenatal care and childbirth. Most who have watched this film learned a thing or two. You won't regret it!
The Thinking Woman's Guide to a Better Birth
Want evidence based research to help formulate opinions on birth and the medical options that accompany the process? This book is for you. Need the information in an easy to read narrative with the citations at the end of the book? You're in business. This book teaches its readers something new – guaranteed! It covers cesareans, breech babies, inducing labor, electronic fetal monitoring, rupturing membranes, coping with slow labor, pain medication, episiotomy, vaginal birth after a cesarean, doulas, and deciding on a doctor or midwife.
When Not to Take a Childbirth Class – The Last Month
Before we discuss when to take childbirth classes, I'd like to talk about another time to not take childbirth classes. For whatever reason, I am often contacted by women well into their third trimesters looking for a last minute class. Sometimes I can squeeze them in a class that just so happens to have a spot but that barely gets them finished by their due date. Unfortunately more often than not, I can't make it work.
Some of these women likely assumed that midway through the third trimester (33-35 weeks pregnant) is the best time to start searching for a childbirth class. However, I bet most of them didn't know that they wanted to take a childbirth class, that they had any interest in learning about the birthing process… until it was too late.
This is why it is so important to begin researching information and options early in pregnancy and even before conception. The third trimester is often too late to find an available, quality, childbirth class.
How Long Are Childbirth Classes?
Another aspect to consider when determining when to take childbirth classes is how long each particular method of childbirth class is. Some classes are significantly longer than others, require more of a scheduling commitment and therefore more advance planning.
A Bradley Method childbirth class is a whopping 12 week long class. If you are hoping to take this class, allow for enough time to finish a month or so before the estimated due date. Ideally, one would begin a Bradley class by 24 weeks pregnant and finish at 36 weeks pregnant. However, depending on class offerings, especially for long 12 week classes, hitting that sweet spot can be near impossible.
For example, there were two 12 week Bradley Method childbirth classes available during my first pregnancy. The first began during my first trimester and ended in the middle of my second trimester. But the other option started at 28 weeks, and ended a few days after I was 40 weeks pregnant.
I chose the latter option, because I knew I needed the end of pregnancy motivation. If birth was right around the corner, I would be more apt to pay attention (and so would my husband!). Taking a class more towards the end of pregnancy outweighed the disadvantages of potentially not making the last class or two. (I attended all the classes, by the way. The last class was after my due date but I still showed up. I had my baby a few days later.)
Generic Hospital Childbirth Class
If you are hoping to take a generic 4 week hospital childbirth class, you will likely be able to hop in on a class and complete it without too many scheduling conflicts and therefore could begin a class in the third trimester with no problem.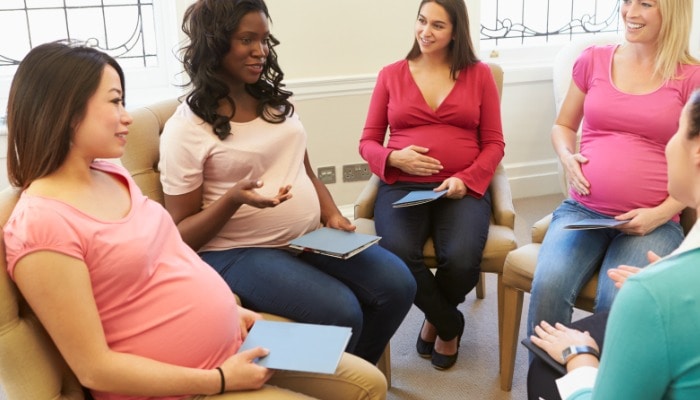 When to Sign up for Childbirth Classes
However, don't wait until the third trimester to sign up! Since these 4 week inexpensive, short, generic classes are quite popular, they also fill up quickly. Make sure to sign up for a class before your second trimester is completed.
The best time to sign up for childbirth classes is in the second trimester, around 20 weeks pregnant.
At 20 weeks pregnant you will have had time to research all available options and determine which childbirth class is best for your particular needs. At the same time, by signing up at 20 weeks pregnant you will be able to take your pick of whatever class you desire, as they will not be full.
When to Take Childbirth Classes
Another benefit of signing up for a childbirth class at 20 weeks pregnant is that you will be able to sign up for a class scheduled at the perfect time for your pregnancy.
The best time to take a childbirth class is in the third trimester making sure that class ends about a month before the estimated due date.
Depending on the length of class, this would put the start date anywhere from 24 to 32 weeks pregnant and ending the class at 36 weeks.
What Was Your Experience?
Did you take a childbirth class? If so, leave a comment and let us know how you planned for it (or didn't).
Did you wait to long?
Did you plan ahead?
Were you happy with the timing of when it started and ended?