The title of this book is what caught my attention, which is exactly why, I'm sure, it was given that title. I mean, a homebirth in the hospital sounds like the best of both worlds, right? If women could make that happen they would be able to have their cake and eat it too. Sounds great, right?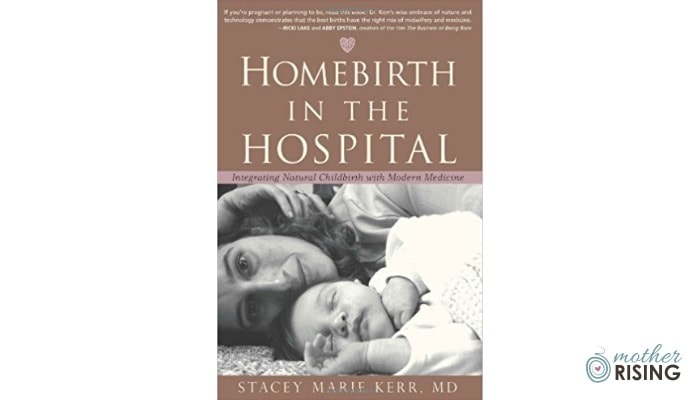 Many women cannot or choose not to have homebirths, but still want the good experiences and outcomes that homebirths are known for. By now, lots of women have now all seen the documentary The Business of Being Born, know about homebirths, their benefits and have atleast considered the idea at some point. However, for whatever reason, for them a homebirth is off the table.
Enter the homebirth in the hospital. Is this possible? What does this even mean? These ideas (and lots of birth stories!) are what was discussed in the book Homebirth in the Hospital.
Before I begin my review let me just clarify one HUGE thing. I'm sorry to say but it is impossible to have a literal homebirth in the hospital. I have had a homebirth and attended many homebirths as a doula and a birth assistant. I hate to break it to you, but you just can't perfectly re-create all that is a homebirth in a hospital. You just can't.
I think that a more honest title would have been A Guide for Women Wanting the Awesomeness of a Homebirth but for Whatever Reason They're at the Hospital.
"The first intervention in birth that a healthy woman takes is when she walks out the front door of her home in labor. From that first intervention, all others will follow." – Michael Rosenthal, OB/GYN
However, oddly enough I have actually had a "homebirth in the hospital" birth experience. My third birth was a planned homebirth but I ended up transferring to the hospital. That's what this particular birth needed. The hospital birth experience was not totally like my homebirth, but so much of it was. I believe that in this book you will learn what about a homebirth can be brought to a hospital birth and how to make it happen.
Author: Stacey Marie Kerr, MD
Published: 2008
What I loved:
I really loved about Homebirth in the Hospital is how the author gave specific, concrete tools to use in order to achieve "some of the awesomeness that is a homebirth in a hospital". When you think about it, some of the major reasons women want homebirths is because they want birth to be on their terms, they want to be a part of the decision making process, they want to have a care provider that they literally trust with their life, and they want someone to be with them throughout their entire pregnancy and birth (ie – they want to know really know the person who will be at their birth and it not be a game of Russian roulette).
It's so helpful that these "Five C's" were plainly spelled out – Choice, Communication, Continuity, Confidence, and Control of Protocols. Going into a pregnancy and using these tools as a guide will absolutely help create a better pregnancy and birth. And can I just say, it would be amazing if more women believed in these "Five C's" and themselves (found their voice, stood up for themselves, etc.).
Also, I really loved all the birth stories. I think they are pretty honest, accurate depictions of hospital births.
What I liked:
I liked that the author, Stacey Kerr, lived on The Farm for a time and had a baby in a birth center and another at The Farm. I feel like her formal training, coupled with her out of hospital experience personally and professionally, made her a great author for a book such as this. Also, I think she really "gets it" – what women are wanting. Sure, we all want to be healthy and have healthy babies but there's more to it than just that. If I had to have a baby in the hospital she would be a wonderful choice in care provider.
What I learned:
Compromise is a part of life… and birth. Even with a home birth, you're compromising access to instantaneous technology (which totally has its place!). No care provider is perfect. Nope, not one. One of the chapters in particular really stuck out to me when Dr. Kerr shared her fears of an upcoming high risk birth. It helped me to remember, really, that nobody is perfect, we are all very human and doing our best.
Also, giving up control (of certain things) is part of birth. It was nice to be reminded of that. So often us women try to control our births… which is literally impossible.
What this book is:
Homebirth in the Hospital is a great book for someone who is definitely having a hospital birth but would love to plan for a natural experience. This will give her the tools to do one very important thing – choose a care provider (which may not be the same person you see for GYN!). It will help her to know what to look and plan for beyond a particular birth outcome.
What this book is not:
Homebirth in the Hospital won't give you a magical formula or a guarantee for a particular birth outcome. In fact, nobody has a guarantee for a particular kind of birth or outcome. But what this book does is show you what to look for in a birth experience and care provider so you are most satisfied in the end no matter what the outcome.
Buy Your Copy Today!
If this book sounds appealing to you, head on over to Amazon and get your copy shipped to your home today.