Placenta Encapsulation Supplies
I created this article for the placenta encapsulator who is new to the business. When I first started encapsulating placentas I was overwhelmed and confused about what to buy and from whom… it seemed as if everybody had their own opinion of what placenta encapsulation supplies were necessary!
DIY Placenta Encapsulation
I also created this article for the woman who is interested in DIY placenta encapsulation. Whether there is no placenta specialist in her area, or you are an avid DIYer, this list will be extremely helpful.
Placenta Encapsulation
To learn more about encapsulation and to have your questions answered please visit my other post about placenta encapsulation.
Placenta Encapsulation Cost
Below this paragraph is the list containing all the placenta encapsulation supplies I used to start my business and what I currently use to maintain my placenta encapsulation business.
Today, when I added all these items to my cart it was less than $600. I charge between $175 – $200 per placenta (before sales tax) so you would almost be covering your startup costs after three encapsulated placentas. Not bad!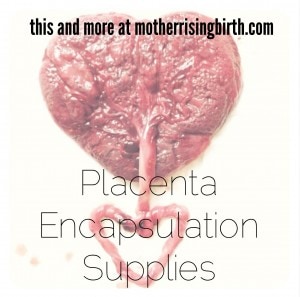 Placenta Encapsulation Instructions
Below is the list of all the placenta encapsulation supplies I needed to start my business but it also includes instructions describing what I used each item for and why. You will find that explanation extremely helpful as it will walk you through how to encapsulate a placenta.
This post may contain affiliate links which won't change your price but will share some commission.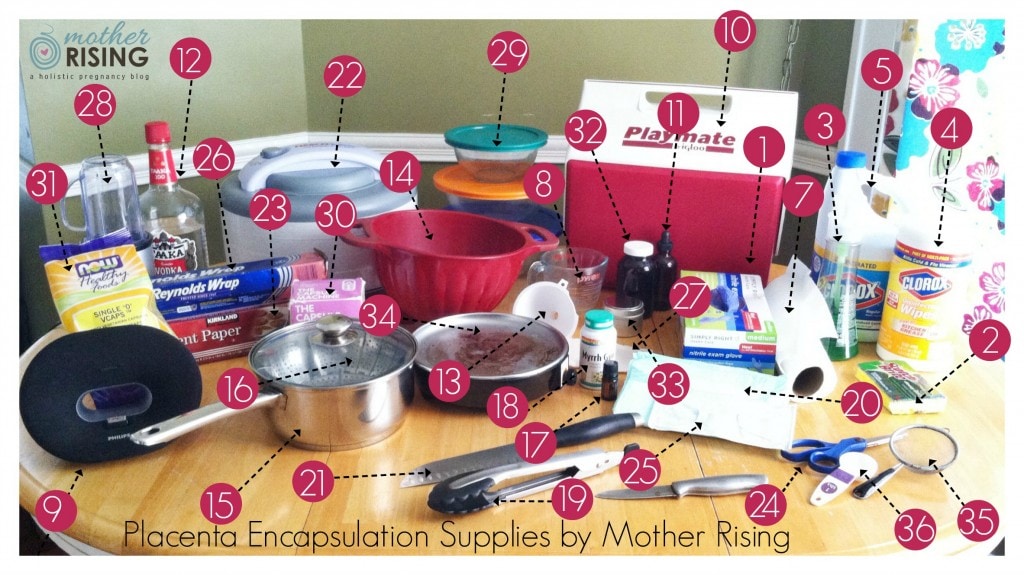 My placenta encapsulation kit includes:
Step 1: Set Up
1. SafeTouch Nitrile Exam Gloves, Non Latex, Powder Free, Medium, Box/100
"Gloves are an important part of your placenta encapsulation supplies. The gloves are protecting your body from potential blood born pathogens and harsh chemicals. I put gloves on when I start the cleaning process."
2. Scotch-Brite Heavy Duty Scrub Sponge, 21 Count by 3M
"Every placenta gets its own sponge! To start the cleaning process I use very hot water and antibacterial soap to clean my counters, sinks and drains."
3. Dawn Ultra Antibacterial Hand Soap Dishwashing Liquid, Green, Apple Blossom Scent, 24 Ounce (Pack of 2) by Dawn
"Antibacterial soap is an integral part of the cleaning and disinfecting process. Also, this is the soap to wash your hands with."
4. Lysol Disinfecting Wipes Value Pack, Lemon and Lime Blossom, 240 Count by Lysol
"I use a ton of these when cleaning and disinfecting my kitchen. Can't get enough!! After you wash your kitchen with hot soapy water, I wipe everything down with disinfecting wipes."
5. Clorox Concentrated Regular Bleach 121 oz. (Pack of 3) by Clorox
"I use A LOT of bleach for every placenta I encapsulate. I submerge all my supplies in a water/bleach mix after they are washed in antibacterial soap. Also, I make a spray bottle bleach/water solution to spray the surfaces in my kitchen."
(Not Pictured) Delta Sprayers 82413-32 24oz 3pk Spray Bottles
"This is the spray bottle I use to hold my bleach/water mix for disinfecting the surfaces in my kitchen."
7. Sparkle Paper Towels, 24 Giant Rolls, Pick-A-Size, White
"I use paper towels to dry my disinfected and cleaned placenta encapsulation supplies. I also use them to dry my hands after washing them with antibacterial soap."
8. Pyrex Prepware 1-Cup Measuring Cup, Clear with Red Measurements
"I use this to measure the correct amount of bleach for my bleach/water disinfecting solutions."
9. Philips DS3205 Charging Speaker Dock for iPhone 5/iPod with Lightning Dock by Philips
"This is the iphone speaker and docking station I use while encapsulating placentas. I listen to lots of podcasts and music while I am working! One of my favorites is the "Smart Passive Income Podcast"."
10. Igloo 6-Can Capacity Mini Playmate Cooler (Red)
"This is how the placenta is transported and where it sits, on ice, until my kitchen is disinfected and I am ready to encapsulate."
(not pictured) American Tourister Luggage Splash 25 Upright Suitcase
"I store all my encapsulation supplies in a large rolling suitcase (except for my dehydrator). A rolling suitcase makes it really handy to move my supplies from my closet to the kitchen without having to do any heavy lifting. Also, if I were to encapsulate a placenta in another person's home having my supplies mobile is amazing."
Step 2: Create a Placenta Tincture
11. 12, Amber, 2 oz Glass Bottles, with Glass Eye Droppers
"These amber glass tincture bottles are what I use to create a placenta tincture. Simply cut a thumb sized piece of raw placenta into small pieces, put it into the glass bottle and fill with vodka. After six weeks remove the placenta pieces.."
12. Vodka – Visit your local liquor store.
"You will need to buy 100 proof vodka."
13. TEKTON 6093 Funnel Set, 4-Piece
"Use the funnel when adding vodka to the bottle. Spilling is no fun!"
Step 3: Prepare the Placenta for Dehydration
14. Kitchenaid Classic 5-Quart Colander, Red by Lifetime Brands
"I use this colander for placenta encapsulation when I am rinsing the placenta after the initial inspection. I like that it's red because you can't see the blood on it. 😉 After the placenta is rinsed and steamed and while it is still in the colander I cut off the cord and amniotic sac and place both in the dehydrator."
15. WearEver A8342465 Cook and Strain Stainless Steel Dishwasher Safe Sauce Pan with Glass Straining Lid Cookware, 3-Quart, Silver by WearEver
"This is what I steam the placenta in. I like the stainless steel because it's easy to scrub and clean. Also, this is wide enough to fit the placenta for steaming. I gently steam the placenta on very low heat over ginger, a hot pepper and a sliced lemon."
16. Norpro 175 Stainless Steel Vegetable Steamer by Norpro
"When I don't use a lemon/pepper/ginger to steam the placenta I use this. Make sure to wash the steamer and pot immediately after removing the placenta. While the placenta is cooling go ahead and start scrubbing. If you wait you will be scrubbing for hours!"
UPDATE: I now prefer using a steamer pot with a glass lid like this one.
17. Frankincense Essential Oil
"I add a few drops of this healing essential oil to the water in the pot during the steaming process if the mother has had a traumatic (physically) birth. Tearing, bruising, etc would indicate using frankincense oil. Do not put the oil on the placenta, but underneath in the water that the lemon/ginger/pepper is in. Make sure you use a high quality essential oil."
18. Nature's Way Myrrh Gum, 100 Capsules
"I add a few capsules during the steaming process if the mother has had a traumatic (physically) birth. Tearing, bruising, etc. would indicate using Myrrh Gum. Open the capsule and put the myrrh powder in the water just as you did the Frankincense. "
19. OXO Good Grips 12-Inch Stainless-Steel Locking Tongs
"These are the tongs I use to pick up the steamed placenta and then place it on the chux pads."
20. Dynarex Disposable Underpad, 17 inches X 24 inches, 100 Count by Dynarex
"I use these to place the placenta on before and after steaming. Cleanup is so simple with a chux pad! Just fold it up and toss it. After the steaming process I am able to squeeze a lot of excess fluids into the absorbent underpad. I love these things!"
21. Ozeri Elite Chef Black Ceramic 3-Piece Knife Set
"A sharp knife is essential when you are slicing a placenta. The thinner the pieces you can cut, the faster your dehydrating time will be."
(not pictured) Catskill Craftsmen 16-Inch Tempered Glass Cutting Board with Padded Feet
"A glass cutting board is nice because you can reuse it again and again, without worry of not being able to clean it well enough like you would a wood or plastic cutting board."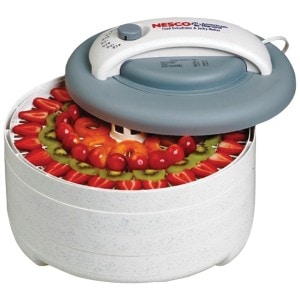 22. Nesco American Harvest FD-61WHC Snackmaster Express Food Dehydrator All-In-One Kit with Jerky Gun
"This is the dehydrator I use every time I encapsulate a placenta. It is perfect! It's not too expensive and most importantly you have the ability to adjust the temperature which comes in handy when you encapsulate via the raw method (118 degrees)."
23. Wilton Parchment Paper by Wilton
"I use this to line my dehydrator trays. It makes clean up a breeze!"
24. Fiskars 8 Inch Softgrip Scissors Straight, Stainless Steel (01-004761) by Fiskars
"I use scissors to cut the parchment paper to fit my dehydrator. I keep a pair in my placenta encapsulation supplies so it never gets lost or tampered with."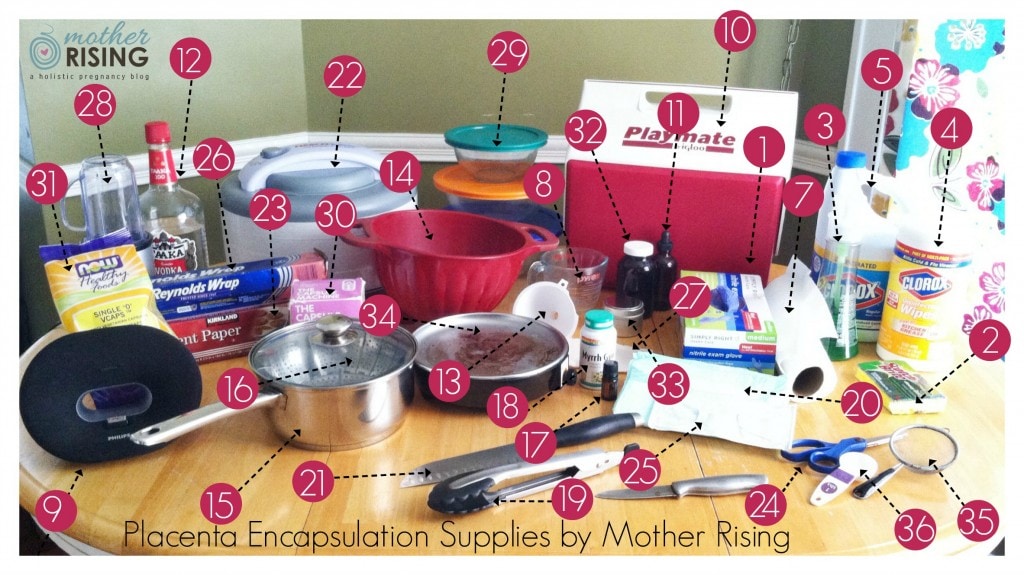 Step 4: Encapsulate Placenta
25. Dynarex Medical Surgical Face Masks 50pk
"Using a face mask during the encapsulation process reduces the chance of breathing in placenta dust."
26. Reynolds Consumer Produ Aluminum Foil 30 Sf Roll 08031
"Before I begin to grind the placenta I line my counters with foil. This helps me to be able to see clearly any placenta powder that has fallen on the counter. I always make sure to use every spec of placenta powder!"
27. Cotton Drawstring Muslin Bags, 3″ X 5″ – Pack of 25 by Unknown
"I put the dehydrated cord in these bags."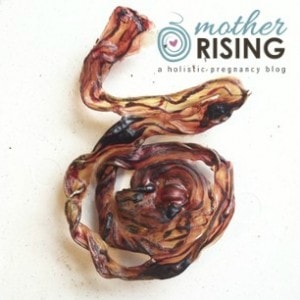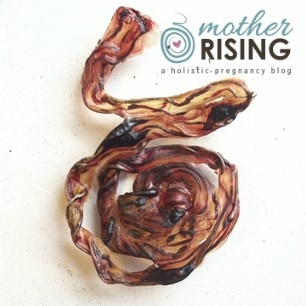 28. Magic Bullet MBR-1701 17-Piece Express Mixing Set by Magic Bullet
"I use this to grind the dehydrated placenta into a fine powder."
29. Pyrex Smart Essentials 6 Peice Mixing Bowl Set
"I use three glass bowls for placenta encapsulation. I prefer glas because it's easy to clean. 1 bowl holds the placenta powder, another holds empty capsules and the third holds the filled capsules."
30. CAPSULE FILLER MACHINE FOR SIZE "0"
"I prefer using a capsule machine for faster filling. I also prefer size "0" because pills are smaller which are easier to swallow. Also, when the pills are smaller it's easier to adjust dosing."
31. Now Foods Vcaps '0' Empty Capsules, 300-Count by Now Foods
"Vegetarian capsules are the way to go! I prefer size "0" because pills are smaller which are easier to swallow. Also, when the pills are smaller it's easier to adjust dosing."
32. Large Amber Glass Jar by Glass Vials Bottles and Jars
"These large jars are perfect for storing the encapsulated placenta pills."
(not pictured) Craft Gift Bags – Brown Paper 1 dozen by Fun Express
"These are the kraft bags I deliver the placenta pills in."
Step 5: Create a Placenta Salve
33. 2 oz. Round Favor Tins – pack of 12 (2in. in diameter)
"This is the perfect size container for a placenta salve. I also like the look of tin."
34. Aroma AHP-303 Single Hot Plate, Black
"If I am using a pre-made salve, I use this hot plate to slowly melt it down so I can add placenta powder to it."
35. RSVP Endurance Conical Strainer, 3″
"Before putting the placenta powder into the salve I sift it through this strainer to remove and larger pieces."
36. Tablecraft 721 Stainless Steel 4-Piece Measuring Spoon Set
"I use this to measure out the amount of placenta powder to put in the salve."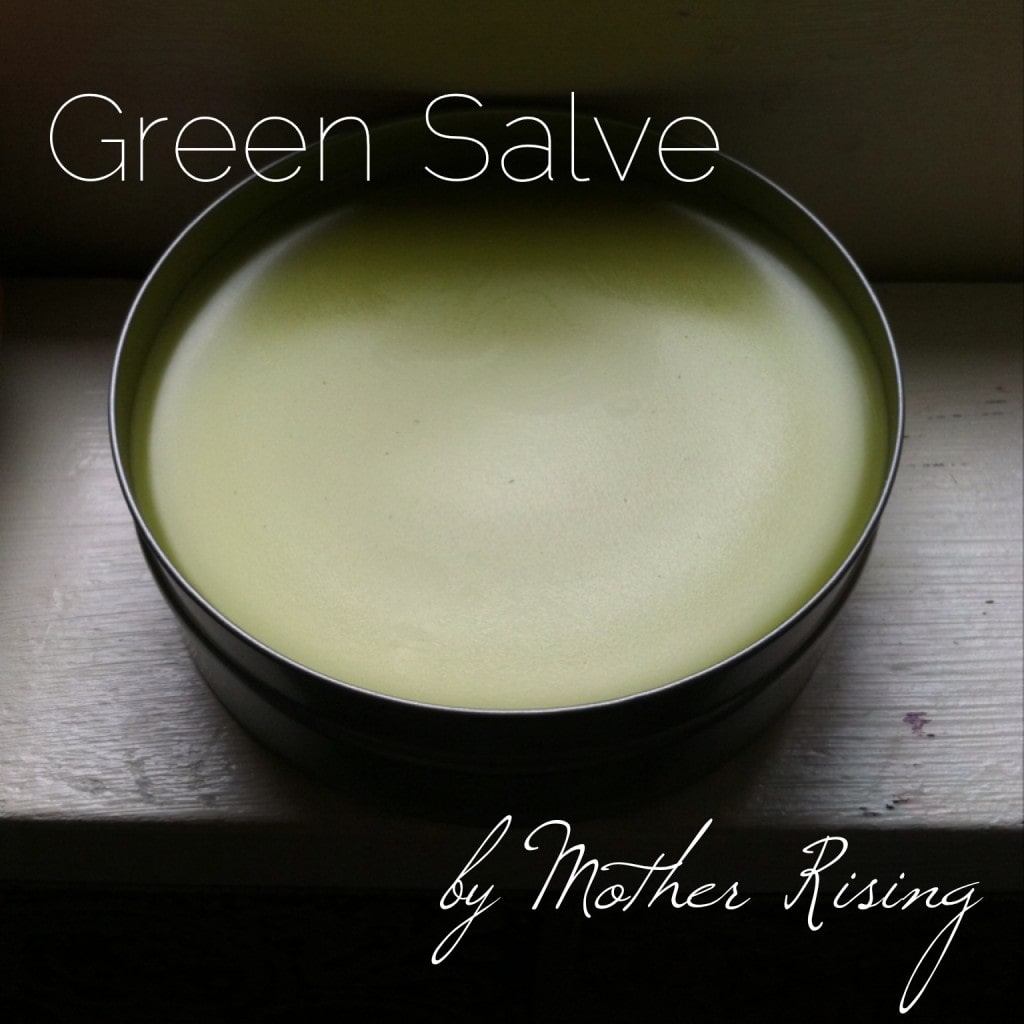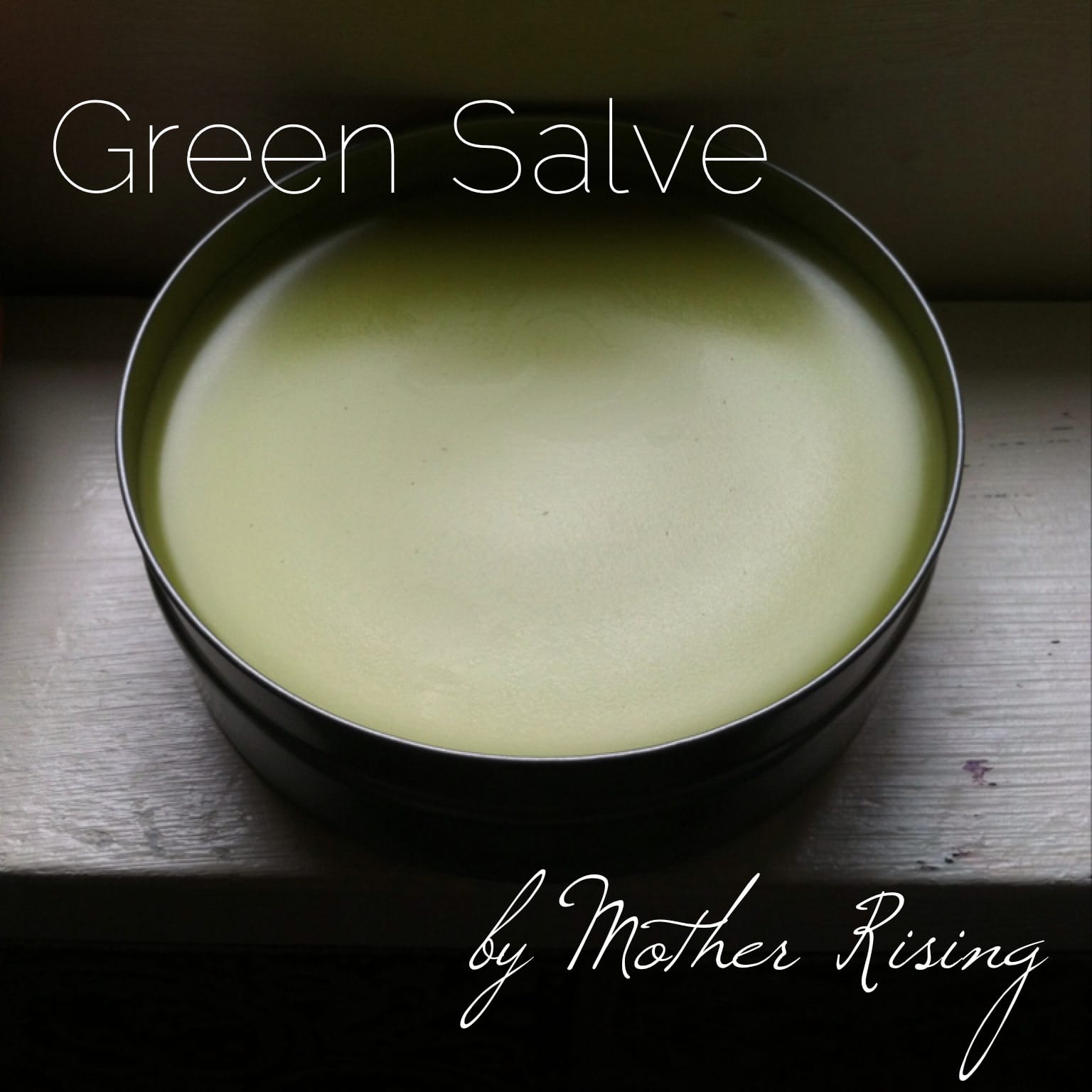 Step 6: Clean Up
Wipe everything down with hot soapy water, then the Lysol disinfecting wipes and then finally with a bleach solutions. Use papertowels to finish the job.
You're done! Congratulations you just made a placenta salve, tincture and pills.
Placenta Cookbook
PS: If you're looking for recipes that do well with placenta, look no further than 25 Placenta Recipes – Easy and Delicious recipes for cooking with placenta!