I love making Dr. Bronner's Laundry Detergent.
It all started in 2009 when I was pregnant with Gabriel and I was in hyper-nesting mode.  By golly, when I had that baby I was NOT going to run out of laundry detergent.  And every time I used up one of my 10-15 bottles of laundry detergent I would almost panic and look for deals on the internet so I could get more.
Everything changed when I watched a Duggar Episode, jaw to the floor, as they explained how they make their laundry detergent at home in industrial sized tubs (because, of course, they do a crap ton of laundry).  I thought that was pretty cool, however, I never attempted it because I wasn't into having a slop bucket of laundry detergent hanging around my house.  The slop factor turned me off.  I have to keep up appearances, people!
Almost a year after Gabriel was born I was at a friend's home and a mutual friend mentioned how she made her laundry detergent, but instead of using that stinky Felsnapthacrap soap that smells so strong, she uses Dr. Bronner's delicious smelling castile soaps (Thanks, Lauren for the great idea!).  I REALLY love this laundry detergent.  It works well and smells really good.  The Dr. Bronner's soap does cost a little bit more, but the laundry detergent is still significantly cheaper than the typical store bought brand.  Here's how I make my laundry detergent.
 DIY Dr. Bronner's Laundry Detergent
1 cup of 20 Mule Team Borax, Natural Laundry Booster
1 cup of Arm & Hammer Washing Soda
1 bar of your favorite Dr. Bronner's Castile Magic Soap, finely shredded
To finely shred bar soap I use a zester like the one below.
For every load of laundry I use around 2 TBS of laundry detergent.  The coffee tablespoon scoop, like the one below, would do the trick!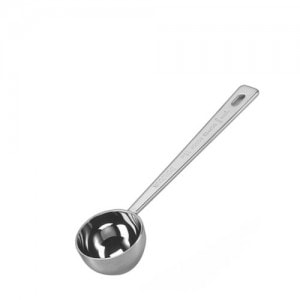 *I shred the soap using the fine side of a cheese grater, or a zester like the one below.

*Yes, the finished product looks a bit like butter and sugar mixed together.
*I store my soap in a glass container that has a lid.
*When I scoop out laundry detergent I try to make sure I get a good mixture of the white powder and the shredded soap.
*This soap isn't going to sud.  Sudsing doesn't get your clothes clean, it's the ingredients that do the work.  Trust me!
*I've never used this soap to wash cloth diapers, so I cannot guarantee it won't make your diapers repel.
Final Product