At dinner parties I like to tell stories about my backwards (retroverted, tipped, or tilted) uterus.
Just kidding.
What is a tilted uterus?
According to the ultrasound technician that discovered my retroverted uterus, this is a normal abnormality because as many as one in three women have a uterus that tilts towards their spine instead of the bladder.
The cause of a tilted uterus is genetic, and many women may never know they have this condition. Some women, however, will find out at a most inopportune moment – when they go to their midwife or obstetrician in the first trimester and hope to hear the heart beat of their new little one.
My Tilted Uterus Story
My first prenatal appointment was scheduled for ten weeks and one day at our local birth center. I was so excited and very nervous. I had been feeling depressingly nauseous and tired, and I was looking forward to hearing the heartbeat of my baby. I thought that hearing the rhythmic beats would make my pregnancy more real because other than being sick I had nothing to show for it.
After going through the standard paperwork and Q&A of the first appointment, my moment was here. I reclined on the examining table and let the student midwife try to find the heartbeat with her handheld doppler.
Silence.
More silence.
Negative thoughts crowded my mind. My husband later remarked that I had a very serious look on my face. The midwife took over for the student and still more silence. My heart sunk. "I probably just wasn't pregnant," I thought to myself.
No heartbeat = no baby?
My supportive midwife encouraged me and said that many women do not hear the heartbeat at ten weeks and to try again the following week. The next week, at eleven weeks and four days gestation, I stopped in again for a heart tone check. This time I was with a different midwife who was determined to help me hear my baby's heartbeat. I climbed back up on the examining table and she went to work.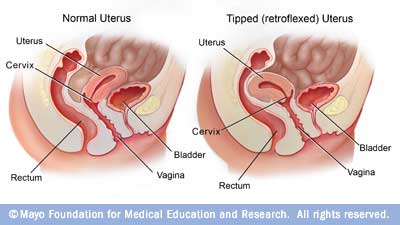 After another failed attempt to hear a heartbeat, and while fighting the thought that "I probably just am not pregnant anymore" I told my midwife that a few years ago an ultrasound technician told me that I had a backwards uterus.
Taking Matters In Our Own Hands
She then told me that she could manually move my uterus forwards via a vaginal exam which would put my baby closer to the doppler. I agreed and we began.
It was not very fun or comfortable, but my midwife's hard work paid off and I heard the heartbeat of my baby!
A Baby!
It was a faint sound, but I definitely heard a strong rhythmic 150 beats per minute. I was so overwhelmed and happy! My husband gave me a kiss and I walked out of that appointment knowing for sure that "I was definitely pregnant".

When Did My Tilted Uterus Flip Forward?
At some point at the end of the first trimester or the beginning of the second, the pregnant uterus will right itself and "flip" forward towards the bladder and the abdominal wall. However, at eleven, almost twelve weeks gestation my uterus obviously had not done that. W
hen I was fifteen weeks pregnant I started feeling these stretching, full, stabbing pains in my uterus. This lasted a short while, and then it stopped. I concluded that my uterus must have "flipped" forward, but a visit to my midwife would determine if that were true.
At sixteen weeks gestation I had my second prenatal visit and the handheld doppler was again used to listen to heart tones. This time was completely different. We heard the heart beat immediately – strong and loud at 145 beats per minute. I was right – my uterus had flipped.
If you've enjoyed this post, please check out my other post about my backwards uterus in my other pregnancy!
Love,
Your Fertility Guru