Two nights ago I attended a dear friend of mine's bridal shower. My friend is very kind, intelligent and simply a beautiful woman. I am so pleased that she found someone to love and to partner with on the journey of life.
One of the gifts I gave to her was one of my favorite books, Taking Charge of Your Ferility (TCOF) by Toni Weschler.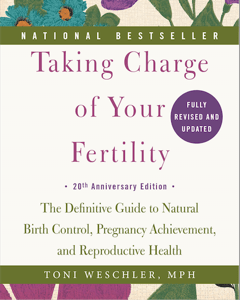 Fertility Awareness Method
This book changed my life. Literally. And I have told countless friend after friend of its benefits – I call it FAMgelizing. FAM = Fertility Awareness Method, and that is what this book teaches.
FAM is not your grandmother's rythmn method… because it actually works.
Matt and I effectively and naturally prevented conception using this method. We also have since used it to conceive.
Reading this book was like turning on a light in my mind, allowing me to see and understand the inner-workings of my body. God didn't make my body to be a mystery, but instead I have come to see that it is beautifully and intelligently designed.
It's Empowering
FAM is also highly beneficial for all women who want to educate themselves about their bodies. Even if you have no interest in using the method for avoiding or achieving pregnancy, it is an empowering means of taking control of your gynecological health.
Here's an excerpt from the TCOF website…
The Fertility Awareness Method is NOT the Rhythm Method. The Rhythm Method is nothing more than an obsolete, ineffective guessing game that uses past cycles to predict future fertility. The Fertility Awareness Method, on the other hand, is a scientifically-validated, effective, and natural method that involves charting three primary fertility signs on a daily basis, so that a woman's fertility can be accurately determined.

The three primary fertility signs are waking temperature, cervical fluid, and cervical position. The method is based upon the functioning of estrogen, progesterone, luteinizing hormone, and the corpus luteum. Unlike the Rhythm Method, whose contraceptive effectiveness cannot be taken seriously, the Fertility Awareness Method, when used properly, is 98% effective.
Fertility Awareness Method PROS and CONS
This isn't a post about how to chart, or how to avoid or conceive children. I am writing this post to tell you the pros and cons of the fertility awareness method so you can see if it your cup of tea.
FAM PROS
You will know when to expect your period within a day or two, even if you are "irregular".
You will know if you are pregnant without taking a home pregnancy test.
You will be able to arrive at an extremely accurate due date and can tell your midwife or doctor your estimated due date instead of the other way around.
It is easier to avoid an unnecessary induction for being "over due" when you are 100% certain of your estimated due date as opposed to a pregnancy dating wheel choosing your fate (which can be off quite a bit).
You will become aware of infertility issues quickly instead of just waiting it out for the first year, as most doctors recommend.
You have the opportunity to self-treat infertility issues before seeing a specialist.
FAM is all natural which means there are no synthetic hormones wreaking havoc on the body.
You will never wonder if FAM caused an abortion (because it can't) unlike the pill and how it was designed (abortifacient).
When used correctly, FAM is just as effective as the birth control pill.
FAM won't effect your milk supply or get into your baby's system as the pill does.
There is hardly a cost to this method. No prescriptions, refills, or need to see a doctor for permission.
You can start and stop FAM as you wish, without waiting for it to "get out of your system".
You will never be that person who didn't know they were pregnant.
FAM CONS
You will never be that person who didn't know they were pregnant (sometimes it's nice to be surprised).
There is a tendency to become obsessive with charting, especially when trying to conceive (TTC). There is a thing as knowing too much and it if you let it, it can become stressful.
FAM is as effective as the method of birth control (abstinence, condoms, withdrawal, prayer, spermicide) you use during your fertile phase. If you are lackadaisical during your fertile phase, a surprise baby is more likely.
Sticking to a regular wake-up time is necessary to have an accurate and interpret-able chart. If you have a baby or a toddler that wakes you up periodically throughout the night, your wake up times and temperatures may vary, which will skew your chart.
This method may be not be suitable for certain religious or spiritual convictions. Even if this method is not used for TTA (trying to avoid), I still think parts of this method may be helpful for dating and planning purposes.
FAM is ingrained in my mind, and it's something that I cannot forget. Sometimes, I am envious of women who find out they are pregnant a month or two into pregnancy because a surprise is nice and it almost seems as if it makes the pregnancy shorter.

When I became pregnant with Gabriel I knew. Exactly. What. Was. Going. On.
What About You?
So, would you be interested in using FAM? Do you already use FAM?

I'd love to hear what you think.