When I was pregnant with my first, I did prenatal yoga at home. For me it was the next best thing to a real yoga studio since going to a class in town was a bit difficult for me to schedule. Little did I know, that scheduling something like prenatal yoga with a toddler will be much more difficult – I should have made a point to go when I had the chance!
Prenatal Yoga DVD Review
For those that are like me and are too lazy for a rigid schedule or that live too far away from a yoga studio, here is the yoga DVD that I did at home. I bought it off of Amazon and it's called ZenMama with Rainbeau Mars: Prenatal Yoga Workout. I think it was about $20.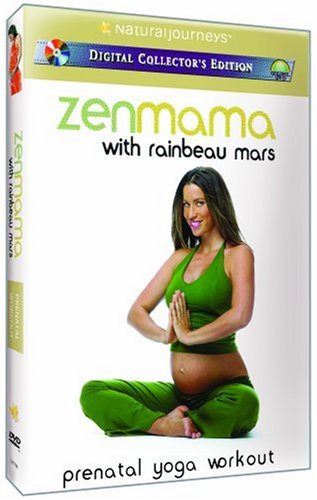 Gentle Flow Yoga
I liked this DVD because it was an easy workout.
Previously, I borrowed a friend's prenatal yoga DVD and it was this hardcore workout which I wasn't expecting. I couldn't even finish the whole workout! I felt like a wimpy pregnant lady, so after that I stuck to Ms. Mars' workout.
Trimester Modifications
Other than the workout being gentle flow, I liked that there were three women doing the exercises – each in a different trimester.
So, as I got bigger I could adjust my movements accordingly. Another thing I liked was that it spent a lot of time doing squats and kegels simultaneously. I really wanted to strengthen my body to be able to squat in labor, and hey, why not do a kegel while you're there!
So, this was the one DVD I did while I was pregnant.
UPDATE: Every time I was pregnant, I came back to this same prenatal yoga dvd. I loved it every time throughout the years! It was gentle, yet challenging. And I really appreciated the demeaner and personality of Rainbeau. She almost became a sort of friend to me. I give this prenatal yoga dvd review a two thumbs up.
Prenatal Yoga DVD Review
What DVD did you use? I'd love to hear your recommendations.