What Are We Looking For?
Am I the only one that gets overwhelmed when seeing and reading the 8 million blog posts, facebook updates and social media posts all about how to have a good birth?
I start asking myself, "What is it that we are really looking for?"
It seems to me that most of these things are about how to do this or that thing better, more efficiently, the right way.
We Want to Get It Right
What is it that we want? We all want to get it right.
If what we want is to get it right, does that mean we're all striving for perfection?
If so, we'll never get it right.
I can't be pregnant perfectly, nor birth perfectly, and I definitely cannot parent perfectly. I cannot keep my house in perfect order.
Birth Story Processing
For example, the birth of my son was honestly quite the ideal, but with the mindset and goal of perfection I have unknowingly nitpicked the experience to death…
"I should have coped better."

"I can't believe she said that to me. That was so insensitive." and

"Next time I should do it this way, and that will make it much better."
A New Focus
However, after daydreaming here and there I've come to the conclusion that in order to see clearly, our focus should not be on perfection at all, but instead love.
By loving our babies, ourselves and those around us our lives will come in to crystal clear focus.
By loving, we have the freedom to forgive others, because we are not holding them to the standard of perfection but seeing a person needing to love and be loved.
With the eyes of love I can see my toddler as a little boy, completely enthralled with life.
With the eyes of love and forgiveness I can look at my birth experience and know I was doing my best, loving my baby and husband the best I knew how at that moment. Birth story processing with love can now become healing and energizing!
With the focus of love and not perfection, my daily goals shift from getting my house into perfect order to loving those that mean the absolute world to me. To valuing the relationship over things.
Practical Application
Ahhh… I can already feel my body relaxing into these thoughts. My shoulders have dropped and my jaw is loose.
In order to carry my new intention into the next days, I've written out my new deepest question. My deepest question is what I'm really looking for, what's in the deepest parts of my mind and soul.
I've written it out on an envelope and I'm going to put it on my fridge so I can see it throughout my day.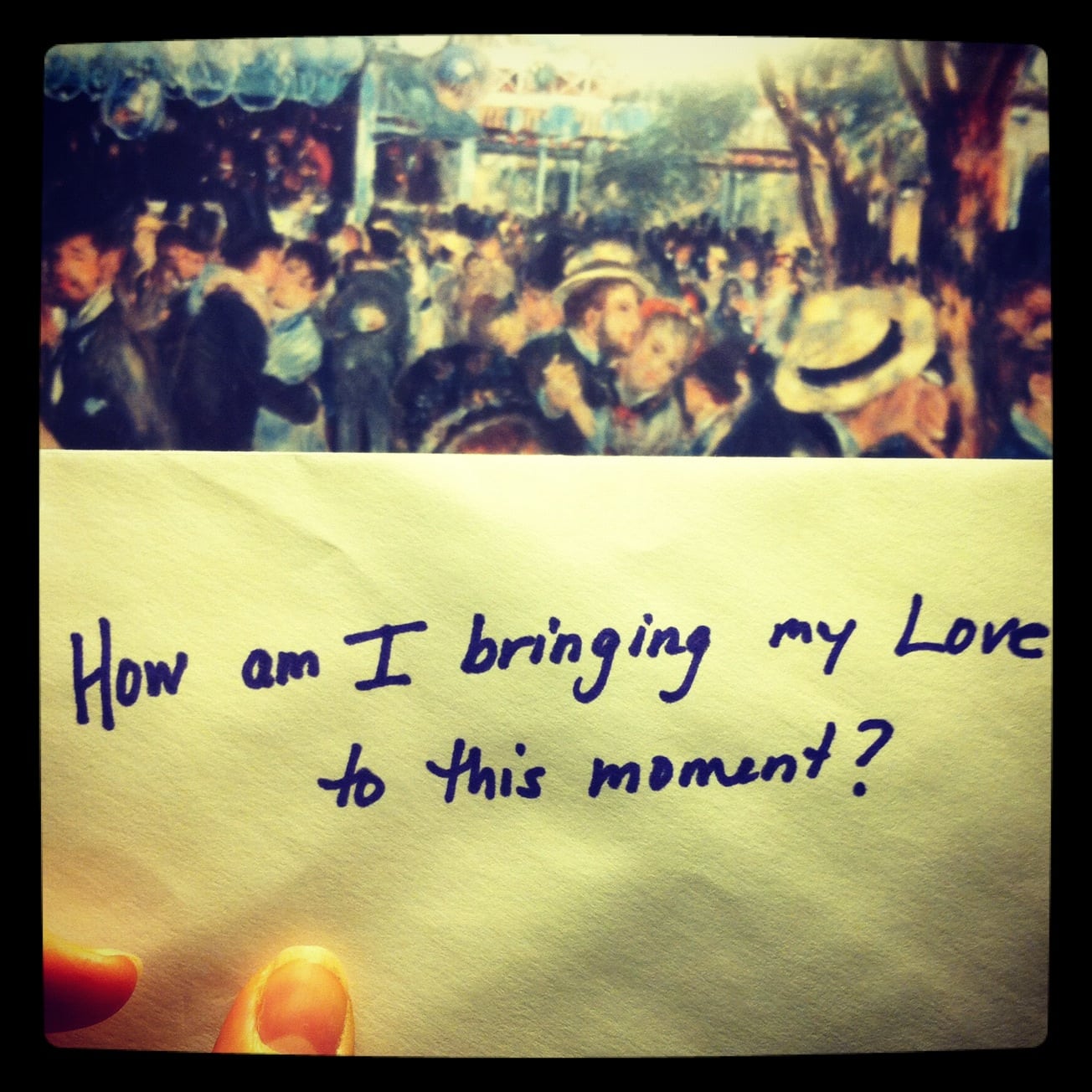 How am I bringing my love to this moment?
To accompany my new intention I've also listed some amazing bible verses, all about love. I hope you find them encouraging.
"This is my commandment, that you love one another as I have loved you. Greater love has no one than this, that someone lays down his life for his friends."
"We love because he first loved us."
"Love is patient and kind; love does not envy or boast; it is not arrogant or rude. It does not insist on its own way; it is not irritable or resentful; it does not rejoice at wrongdoing, but rejoices with the truth. Love bears all things, believes all things, hopes all things, endures all things."
"If I speak in the tongues of men and of angels, but have not love, I am a noisy gong or a clanging cymbal. And if I have prophetic powers, and understand all mysteries and all knowledge, and if I have all faith, so as to remove mountains, but have not love, I am nothing. If I give away all I have, and if I deliver up my body to be burned, but have not love, I gain nothing."