My uterus has flipped forward!
For those that don't know the dirty details of my reproductive organs, I have what is called a retroverted, flipped or tilted uterus.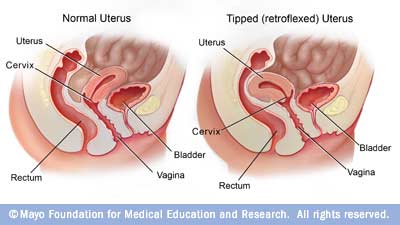 What is a Tilted Uterus?
You see, the majority of women have a uterus that is normally facing forward to their bladder or belly. I, on the other hand, have a uterus that faces towards my back.
This is a normal abnormality, however, because as many as 1 in 4 or 5 women have this. Most just don't know.
However, if you've had an ultrasound with a chatty tech, you might have found out you're one of the "special ones" with a backwards uterus.
My Tilted Uterus Story
Anyways, last week at 15 weeks, I started to feel this really full, crampy, pressure feelings in my uterus. Lots of pelvic pressure too.
It was enough to make me do inversions in hopes that everything would right itself.
(The Daily Essentials video by Spinning Babies demonstrates (in detail) inversion techniques, and over an hour of priceless and practical ways you can move your baby into a more optimal position. Not only will it relieve the tilted uterus pregnancy discomfort, but it can ease pain in delivery and make for a quicker and more straightforward birthing experience.)
The techniques in this Spinning Babies video helped my uterus flip forward! I needed to alleviate this discomfort, and I had an idea that my uterus was possibly trying to move forward because during my son's pregnancy, it seemed like it had happened around 15 weeks as well.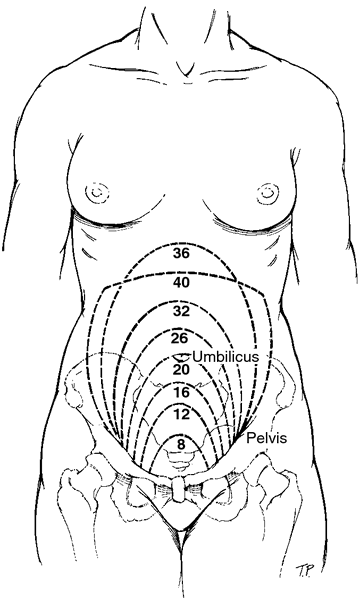 My Pregnant Tilted Uterus Contributed to Spotting
The body is truly amazing. You see, for those that follow my blog know that I was recently complaining that my cervix was really, really low. Like 1-2 knuckle lengths up there. You also know that I have been spotting a lot. What I think was happening was that my uterus was getting heavier, and since it was falling backwards, a lot of the pressure and weight was forcing my cervix to go low. And since my cervix was way low, it was making it much easier to bleed.
SO, since I had those crampy feelings last week and NO spotting for the last few days, I decided to check my cervix yesterday (16 weeks) and guess what? My cervix was more posterior (facing my back) and about a whole finger's length up there! I am so happy!
I Can Now Feel My Fundus/Uterus
After I did my happy dance I decided to see if I could feel my fundus/uterus. And, I finally can! It's a little bit below where this diagram to the right says it should be. I'm a happy camper.
Everything is going according to plan. *insert evil laugh here*