This is my second post about nesting. The second can be found here.
When it comes to pregnant nesting people fall into two groups.
Group One
1) The first group is prone to type A, anal and neat freak tendencies and they tend to nest throughout their entire pregnancies. They use label makers, deep clean their homes and scrub random things like the insides of their washer machines.
Group Two
2) The other group is more relaxed, creative and might nest by sewing or creating something lovely to wear or look at. The cleaning and organizing is not priority one, but instead, knitting those adorable baby hats.
I would fall into the first category.
Pregnant Nesting: Second Round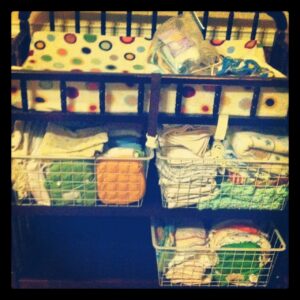 My nesting has gone into hyper drive, folks.
I have rearranged furniture in every room of the house 2-3 times already and each time I did that I would clean the floors and walls.
I have written down (aka inventoried) what baby clothes I have in particular sizes and types.
I have pulled out all my cloth diapers and inventoried them as well.
I have quite a few lists going at the same time, and each day I am plagued with this self-imposed pressure to have everything done by the time baby comes.
What do I need to have done exactly? I'm not sure, but it's in the category of everything and anything.
Pregnant Nesting: First Round
When I was pregnant with my son I stocked up on paper towels, toilet paper and laundry detergent.
I had an ungodly amount of laundry detergent when he was born. It lasted me throughout his first year.
What About You?
Did you nest while you were pregnant? Did/do you fall into my two categories? Is there a 3rd or 4th I don't know about?
I am seriously hoping that someone comments on this post and gives me new inspiration in my anal nesting tendencies. What shall I clean/organize next?
Follow me on pinterest and we can get organized together! Or crafty. Either way.
Pray for me, 😉