The third trimester of pregnancy can be a special few months in a mom-to-be's life. It is a time when she will start frantically cleaning the home from top to bottom in preparation for the little one. Her visits to her care provider will start to be more frequent, and at some point, it will become apparent that her baby is coming. And soon!
A Babymoon?
One thing that many pregnant women can do for themselves and their partners is to take a babymoon, or one last vacation before baby comes. This may seem like an extravagance to some, but a getaway can be feasible on any budget – especially if you think outside the box and can be a little bit flexible.
The Third Trimester Vacation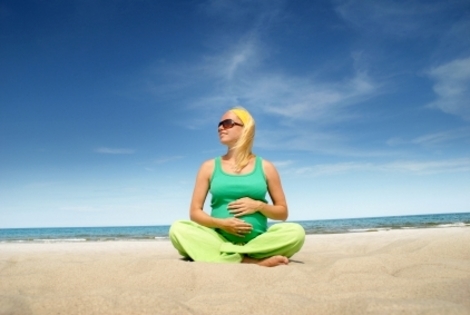 You may think that it will be too exhausting to travel, or maybe you're concerned about traveling while pregnant. Have a chat with your midwife or obstetrician and barring special circumstances you will probably be cleared to travel until 36-37 weeks gestation. Once you get the green light, consider the following ideas to have a fun and inexpensive babymoon.
Say YES to out-of-town weddings and other family vacations.
My husband and I traveled by car from Tallahassee, Florida to New Orleans, Louisiana for a family wedding. I was determined to make the seven-hour trip for many reasons, but at 34 weeks pregnant I knew this would be one of the last times I could go on a vacation as just the two of us. If money is tight, share a hotel room with a family member. That might sound a bit odd, but if you spend most of your time out of your room, it won't seem like such an inconvenience.
Since it was hot and humid in NOLA, and I was very pregnant, we decided to do activities that wouldn't cause me much discomfort. We went to the aquarium (air conditioned) and to the IMAX theater (air conditioning AND a place to sit). We did a little bit of sightseeing, especially if food was involved. We tried to eat what New Orleans does best – dirty beans and rice, seafood, and jambalaya. Make sure to pack some antacids!
Have a night out on the town.
Once baby comes, it is much more effort to go out with friends at night because that is when baby is asleep. And trust me, babysitters are expensive and it's not worth it to wake a sleeping baby to take them with you.
Watch a Movie
Before your baby arrives make the time to see a movie with your partner or friend. Make sure you don't see a violent or scary movie because when pregnant you are emotionally vulnerable and you won't walk away from the movie feeling very good. A romantic comedy or a drama will be good picks.
A Nightclub?
If you're feeling adventurous go to a nightclub or a bar because you won't be seeing the inside of those places in a long time! If you do go out, make sure you take a long nap ahead of time so you can have the stamina to enjoy your night out.
Make Memories
Whatever you choose, make sure you do something to commemorate the impending change your family is going through. Make it fun and be sure to take pictures. Children love to hear stories and see the fun things you did "when I was in mommy's tummy".
Here's what I did during my second pregnancy for our "babymoon".
What About You?
What did you do to "get away" during those last few months? Comment below and share!