How much is good sleep worth to you?
I don't know about you but I like my sleep. And I will buy products that help me (and my baby) do it.
For example, I swear by the swaddling blanket called The Miracle Blanket. It's very difficult for babies to get out of this blanket. If you've tried swaddling but your baby always finds a way out, this blanket is for you.
It's totally worth the $30 price tag.
When to Stop Swaddling a Baby
At some point, however, swaddling a baby becomes slightly sketchy (aka unsafe) when the developmental milestone of rolling over begins, which typically coincides with the 4 month sleep regression.
Perfect timing.
One day I heard Mercy crying in her crib. I came in and little miss was face down, swaddled and VERY upset.
UGHHHHHH
I was so enjoying our swaddled sleep and not looking forward to weaning from the swaddle. Obviously, I was grateful she was alive (ha) and I knew we needed another sleeping solution, but I wasn't that happy with my options.
How to Stop Swaddling
When weaning from a swaddle there are only a few options.
Cold Turkey
The first method of swaddle weaning is to go cold turkey. Apparently this method is effective, but only after days of super-awful-crappy sleep. Simply put baby to bed in a sleep sack OR commando (just pjs) and go from there.
I did this with one night with Mercy. She ended up in bed with me and she slept pretty good.
Did I sleep well? Nope.
Because I held my fussy baby all night long.
Leave an Arm Out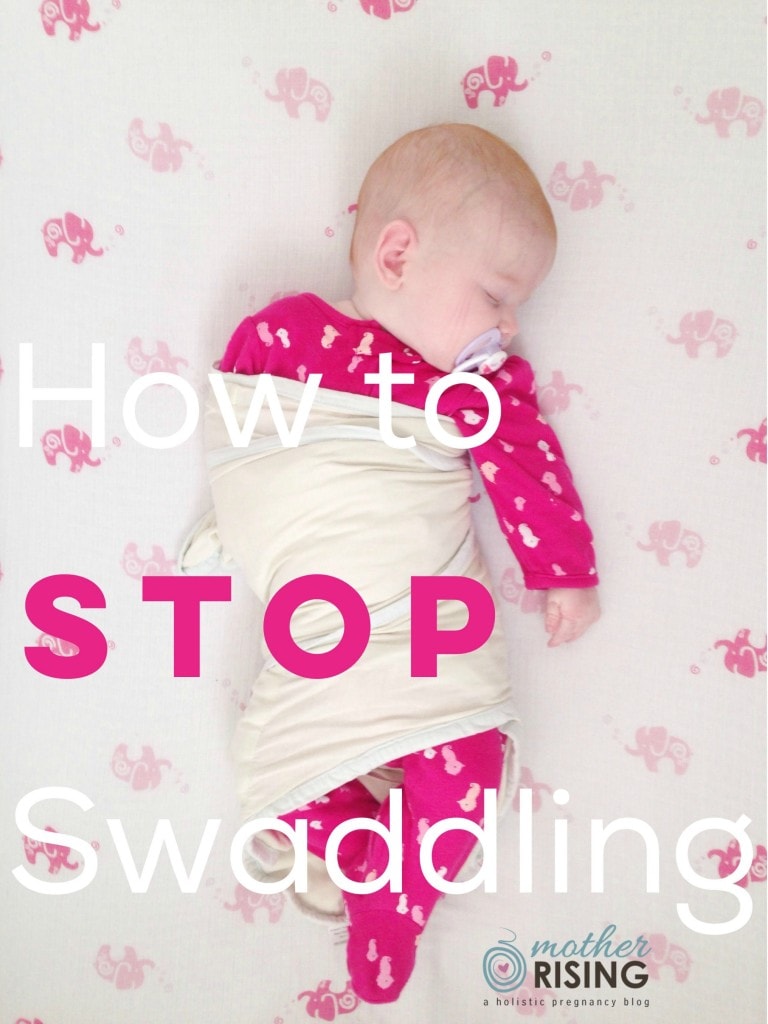 The second method of swaddle weaning is to leave one arm out of the swaddle and allow baby to adjust to freedom of movement one appendage at a time.
Once baby adjusts to one arm out try taking both arms out. Eventually, remove the swaddle blanket entirely.
I did this with Mercy for a nap. She woke up quickly and I gave up quickly. I swaddled her back up as usual and watched her like a hawk on my video monitor.
Give Up
Another option is to just give up.
Confession: I did this with daughter #1. I just didn't have it in me to go through the sleep deprivation of swaddle weaning with her. However, one day I remember walking into her room after she woke up from a nap and she had pulled/was standing up holding on to the crib rail with the swaddle blanket wrapped haphazardly around her body. I quickly did the cold turkey method with her after that. Oh my. Mommy fail.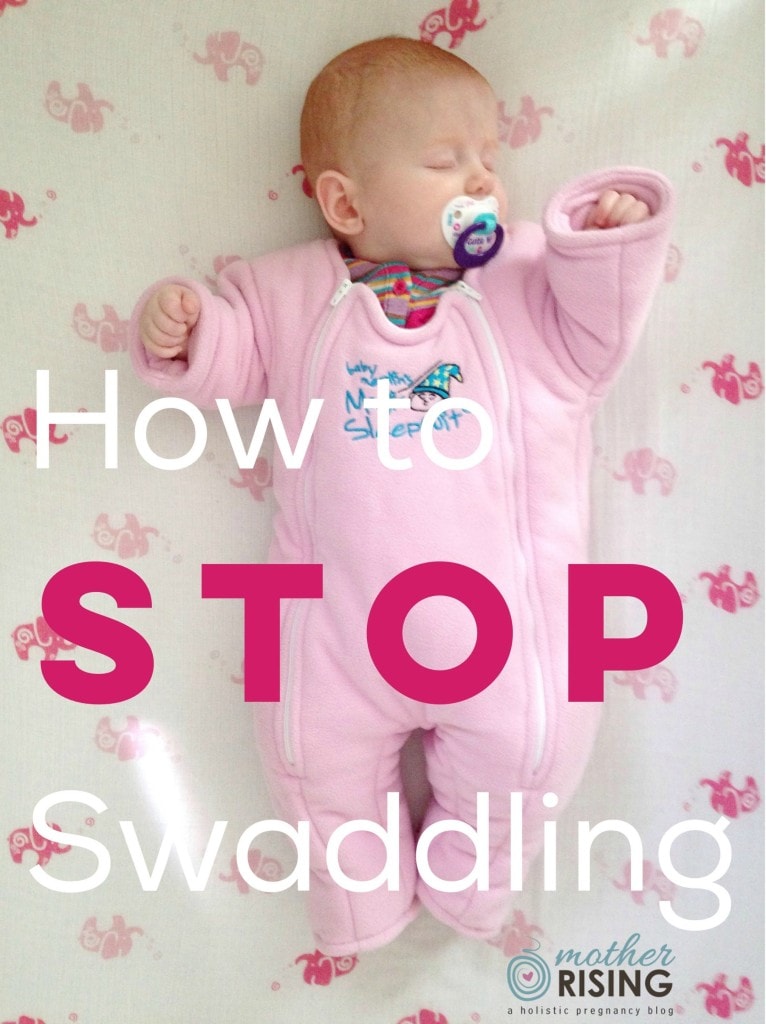 The fourth, and best option, is to use this amazing "snowsuit"/"marshmallow suit" baby apparatus called the "Baby Merlin's Magic Sleepsuit".
The sleepsuit allows more freedom of movement than a swaddle blanket, getting them ready for a sleepsack (or nothing) in the future, but still keeps them nice and cozy like a swaddle blanket used to.
This suit is the perfect thing for when your baby is too big for a swaddle blanket (aka rolling over), but not big enough for total freedom of movement (because they're still little and like to be cozy and swaddled up). A baby can't roll over in this thing.
The blanket is not weighted, but made from a thick puffy fleece material that inhibits baby's moro reflex. It stifles any movements that would normally startle a baby, just like the swaddle blanket would.
It's like a nice big warm hug tailored to your baby's body.
Pros
Baby can't roll over in it.
It's great for keeping baby warm at night
It works.
Cons
It's not that cute.
Because it's thick, you have to pay close attention to what your baby is wearing underneath it. The temperature is constantly fluctuating here in Florida so every sleeping outfit throughout a day might have to change. If you keep your home at the recommended 68-72 degrees Fahrenheit you won't have this issue. NOTE: They also make a cotton version of the sleepsuit. I didn't choose this option because in North Florida it actually gets cold in the winter so the fleece seemed like a perfect choice and wouldn't make my baby too hot.
Takes awhile to dry after washing.
How to Stop Swaddling: The Magic Sleepsuit Works
I've been using it for about a month now, and I use it all the time. Looking back, transitioning out of the swaddle blanket has been seamless. (I need to pack up my miracle blankets. Which makes me sad.)
Will it make your baby sleep perfectly? No.
Will it make your baby sleep through the night? No.
Will it allow your baby to sleep just as good/bad as he/she was while swaddled? Yes.
Boom.
Another Review
My sister-in-law, Carli, also tried out the Magic Sleepsuit. Her baby is 7 weeks older than mine and used the fleece/size large. When she got her suit she had already transitioned out of the swaddle blanket and into a sleepsack, but was curious to see if it would facilitate better sleep. Because sister wasn't sleeping that good. Here's what she thought…
What I Liked
1. I loved how the first night that we used the magic sleep suit, my baby slept through the night. This never happens! Unfortunately it hasn't happened again. She has slept better overall when wearing it, but it is no match for teething.
2. I like that it keeps her from rolling around and flailing her arms, this keeps her from waking herself up.
3. I love how wonderful it is for taking to grandma's house. Lydia never naps well when we are away from home, but the magic suit helped her feel like she was asleep in her own bed!
What I Disliked
1. My baby is pretty mobile and she doesn't like being "contained" by the suit. She is more likely to fall back to sleep when she's wearing a sleep sack than when she's in the magic sleep suit. We have more successful sleep transfers when she's not wearing the magic sleep suit. I've noticed when she's wearing the sleep sack she sometimes rolls onto her side to sleep, and that's not possible for her in the sleep suit. She also likes her hands near her face, which is difficult in the suit.
2. Blame Florida if you will, but the fleece sleep suit is very warm for us, even in the winter. I'm sure we would do better with a cotton suit all year. I basically have to dress Lydia in a diaper and the sleep suit so that she's not too warm. This is pretty hard to do if the baby falls asleep unexpectedly. It's a bit easier to slip her arms into a sleep sack and zip it up when she's asleep. The magic sleep suit takes more planning, which I've gotten better at, because the suit is magical.
3. I wish the suit came in more neutral colors or prints with a more subtle logo. I would just adore a grey or linen color. When it comes to baby items, function and style are both important to me!
Carli and I both agree that the Magic Sleepsuit needs a makeover.
However, I guess it's not completely necessary if the product is HELPING PARENTS AND BABIES SLEEP BETTER.
Baby Merlin can do whatever Baby Merlin wants.
Want to Buy One?
If you need one right now you can buy it either on Amazon or order straight from the Baby Merlin store.