In my childbirth classes, on the night we talk about pushing, a very important topic ALWAYS comes up. "How to Prevent Tearing During Birth" – An important topic!
Want to know how to prevent tearing during birth? Of course you do. #savetheladybits
UPDATE: Head on over here to learn the latest information about how to prevent tearing during birth.
Whether you're planning for a natural birth or a medicated birth, here are 5 surprising ways to prevent tearing that will change the way you give birth. (For more tips like this one about how to have a natural birth and decrease your pain, head on over here.)
How to Prevent Tearing During Birth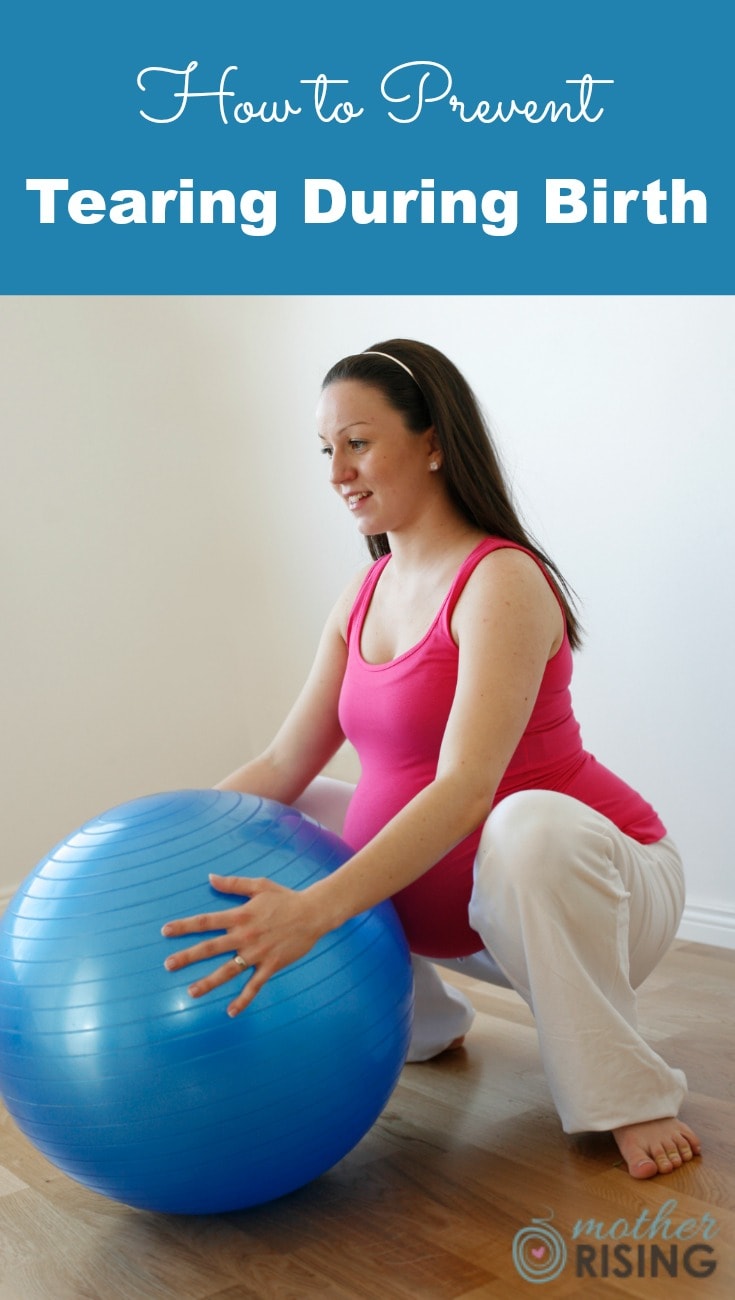 1. Rethink Birthing Positions
Squatting to Push Increases Tearing
The first thing we need to talk about is squatting. When in the squatting position, compared to being flat on the back, a woman's pelvis will open 20-30% larger than it would otherwise. Isn't that amazing?! A greater outlet = an easier birth.
So of course, us Americans should squat and push our babies out just like in this video below, right?
Eh, maybe not.
You see, according to
this study
(and many of the midwives I know),
pushing in the squatting position greatly increases the chance of tearing
. Squatting, using birth stools or even squatting with a squat bar all lead to more genital tract damage.
Nobody talks about this! And many sources on the internet will even say to squat during pushing to avoid tearing.
In a nut shell, if you are a typical sedentary woman, you probably should re-think squatting during pushing. Unless you're like the 1970s Southern Brazilian Indian women in the above video who SQUAT TO REST, your body likely can't handle squatting during birth.
However, if you're up to the challenge, go visit Katy Bowman and teach your body to squat. Because I promise you, you don't know squat. 😉
Side-Lying, Kneeling or Hands and Knees Decreases Tearing
Positions associated with a reduced risk of perineal damage are lateral positions like a kneeling or hands and knees position.
Midwife Thinking says,"I have noticed that when women are left to birth instinctively they will often move from a squatting position – if they got into one – into a hands-knees position just before the head crowns."
(That's exactly what I did for my births. At some point in all my labors I squatted but Gabriel was born in the side-lying position, Eden was born in the kneeling position and Mercy was hands and knees.)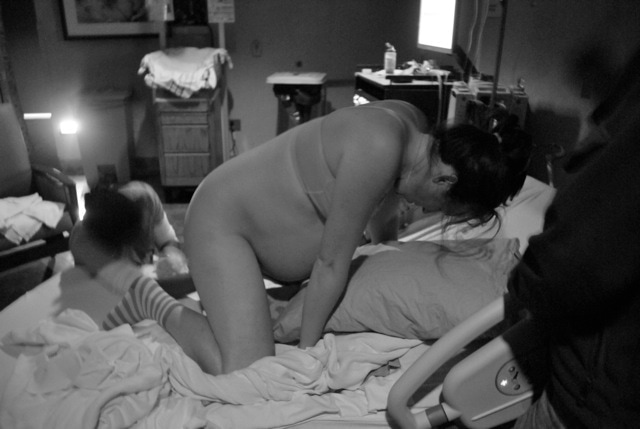 So if you really want to squat in labor, go for it, maybe just move to hands and knees before crowning.
2. Rethink Waterbirth
I have some sad news, ladies. It seems that waterbirth, although safe for mom and baby, has an association with tearing (aka genital tract trauma).
I talked with my midwife, and she didn't disagree with this. She definitely sees tearing happen with waterbirths.
When I gave birth in water I did tear, but it didn't require stitches, so a waterbirth isn't necessarily a death sentence to your vulva, but it's definitely something to take into consideration if you would like to decrease your risk factors of tearing during birth.
UPDATE – I spoke with Barbara Harper, the waterbirth guru, about this and here's what she had to say.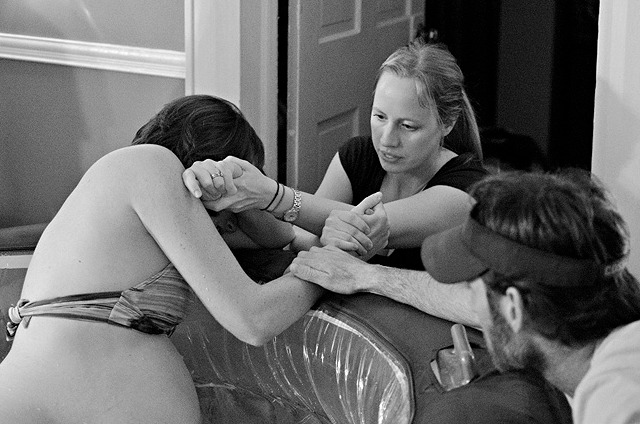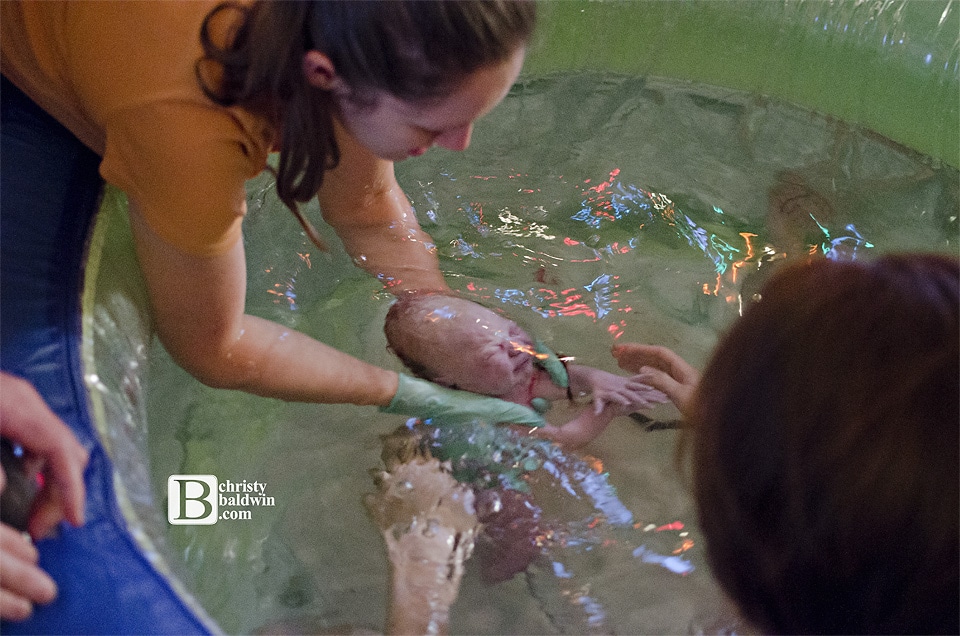 This picture is way cool, right?
3. Rethink Perineal Massage
Perineal Massage: For First Time Moms During Pregnancy
So, what about perineal massage? You know, "massaging" the vulva/vagina/perineum during pregnancy to pre-stretch mom's perineum before birth?
The evidence says that perineal massage during pregnancy will help a first time mom decrease the chance of her receiving an episiotomy. So, if you think you're at risk of receiving an episiotomy (from my experience this is based mainly on who your care provider is) perineal massage might help you there.
To be honest, I'm not sure how the one helps the other. Maybe the moms who educated them on protecting the perineum were more active in their pregnancies and the birth process leading to less episiotomies? I don't know…
How to do Perineal Massage
Curious about how to do perineal massage? Hop on over here for a tutorial. And remember, it's not really a massage. 😉
Hands Off!
So, what about perineal massage during pushing?
The evidence says that perineal massage during pushing has little effect. And that being "hands on" (aka actively slowing, holding, stretching, pushing… basically being VERY involved in the crowning process) shows an increase in tearing, episiotomy and postpartum perineal pain. (See image below.)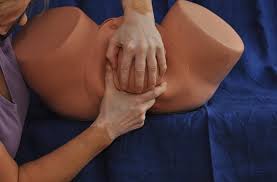 Instead of being "hands on" it's suggested that "hands poised" is a safer alternative.
VENT:
Alright ladies, I need to vent about this. Over the years, I have seen this approach used in hospitals by doctors, nurses and midwives. Honestly, at the time I didn't really know about the research saying that it wasn't helpful.. but EVERY TIME I saw this happening these internal alarm bells would start to go off. It really bothered me to watch this technique.
Here's what happens… The doctor (or whomever) sits at the bottom of the hospital bed on their stool, all gowned up with gloves on, then they put their outstretched and open hand towards the nurse, the nurse then squirts lubricating jelly on their fingers and then they would go to town with a lot of "perineal massage".
They take two lubricated fingers, place them in the vagina and push down and to the sides. Over and over again.
It looked so uncomfortable, almost painful. If not painful, then by golly it's gotta be totally distracting! Sometimes these moms would have 30-60 minutes of this! Their vulva looked swollen. It made me sad. I just wanted to scream, "Leave them alone! You're not helping!"
If questioned about this technique, I bet the doctors would say that they were helping to prevent tearing… but ironically they're always suturing immediate postpartum! One doctor told me once that a second degree tear is normal for a first time mom. ???!!!
And what really makes me sad is that nurses will do this technique as well, when it's just the nurse and mom (before they call the doctor because the baby is beginning to crown). The nurses are learning this from doctors, assuming it's an evidence based practice.
The hands on approach to supporting a perineum is one of the biggest pet peeves I have about hospital births.
4. Warm Compresses to Prevent Tearing
So far what we've learned is that squatting and lying on our backs increases tearing, but a side-lying, kneeling or hands and knees position decreases tearing. We've also learned that perineal massage is mostly worthless.
So what else can we do to prevent tearing during birth?
Warm compresses have been shown to help decrease the incidence of tearing, which is wonderful news because using warm compresses is SO SIMPLE.
How to use Warm Compresses at Birth
Supplies Needed: All you need is very warm water and washcloths. Here's a 24 pack of washcloths for only $15. A crockpot can help keep the water warm. Here's an inexpensive 3 quart one that's only $16.
Instructions: Take the washcloth, submerse it in the very warm water, wring it out and then place it on the perineum to support mom while her baby is crowning.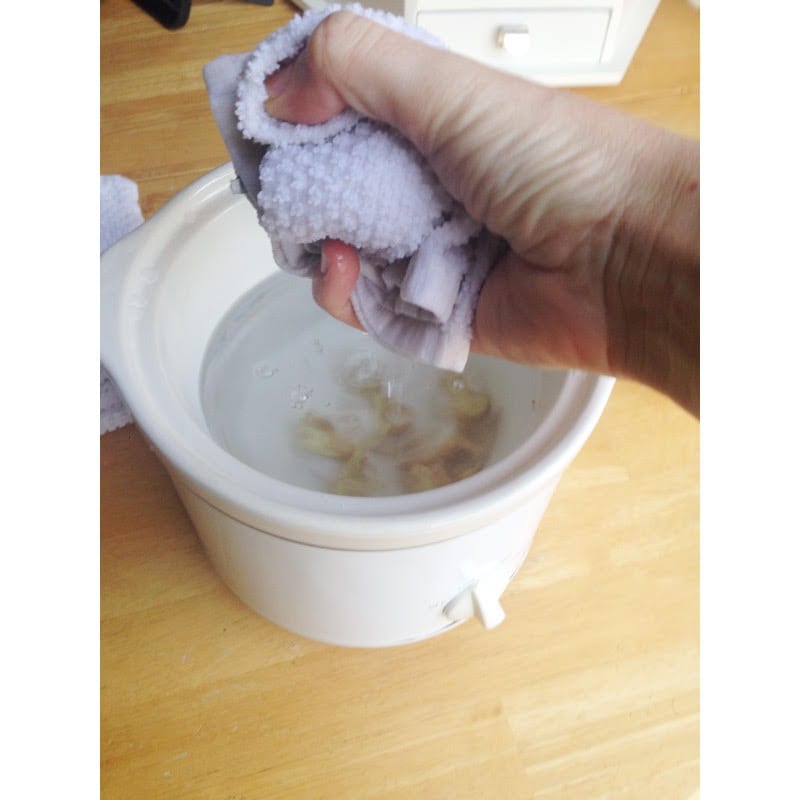 Warm Compresses at a Hospital Birth
I've seen this done in the hospital once and it was the OB's idea (awesome!). He asked the nurse to grab a basin, fill it with warm water and get a stack of washcloths. It took about 2 minutes to setup and mom was so grateful for the extra support.
Ginger Compresses for Pushing
Using warm compresses to support the perineum is standard protocol at out of hospital births. At homebirths you will often find a crock-pot filled with warm water (with a few pieces ginger in it) simmering, in preparation for the pushing stage.
Ginger helps reduce inflammation and smells great too!
Once pushing and crowning begins, the crockpot is brought to wherever the mom is (bathroom, bedroom… wherever) to be used to prevent tearing. Obviously this doesn't work with waterbirths. A midwife can't support a perineum very well while mom is in the water.
TIP: Make sure the water isn't hot. Once it reaches the desired temperature keep the crockpot on the warm setting. If it's burning your hands when wringing out the washcloths, it's too hot for mom's perineum.
BONUS TIP: Keep a stack of washcloths handy. If a washcloth becomes soiled, you'll have a fresh one right there. 5-10 washcloths will be plenty.
5. What Would Ina May Do?
Finally, we've come to the fifth and last way on how to prevent tearing during birth. As usual, Ina May Gaskin is going to expand our thinking.
In the video below, she explains how a chimpanzee, obviously without inhibitions, was using its hand/fingers to arouse itself while it was pushing its baby out without tearing. Ina May believes that if we get the blood from our head, and move it to our vulva we won't tear because we'll get REALLY BIG.
In one of her books she says, "I've never seen a woman tear that was kissing her way through pushing."
Basically if you were to become sexually aroused, your likelihood of tearing would drastically decrease.
I've never seen this attempted. I'm not sure I could masturbate or passionately kiss my husband while I pushed a baby out.
If someone mentioned this idea to me during pushing I would have either ignored or yelled at them. Probably yelled. In fact, I typically am yelling at that very end pushing part anyways – it's so intense!
Nevertheless, I feel that I wouldn't be telling you the whole story on how to prevent tearing during birth if I didn't mention Ina May. I totally believe her. I just don't believe her advice is very practical for the modern woman.
For the sake of tearing, would you allow yourself to become sexually aroused during pushing? A lot would have to change to make this happen.
Tips for How to Prevent Tearing During Birth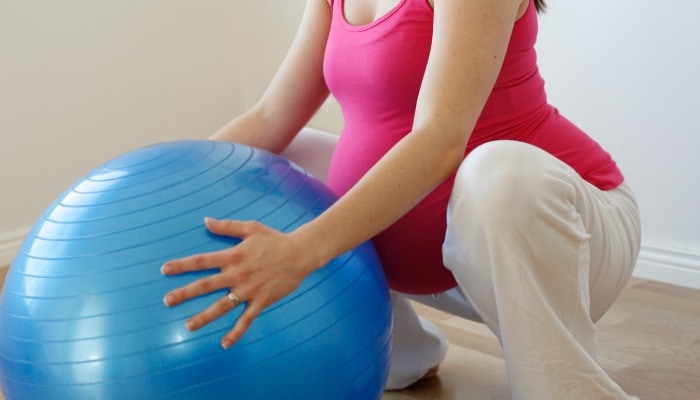 Tearing during birth is a common fear of expectant mothers, with good reason, as a local OB once told me that the average first time mother experiences a second degree tear.  It would seem that the use of perineal massage during pushing, the preferred method to prevent tearing during birth at the hospital, is not working.  So then, what does work?

Prep Time 15 minutes

Active Time 15 minutes

Additional Time 5 minutes

Total Time 35 minutes

Difficulty Easy
Materials
wash cloths
basin or crockpot
Instructions
Choose helpful positions.
Relax the body.
Push slowly, with great strength.
Eat healthy foods throughout pregnancy.
Choose an amazing care provider.
Avoid perineal massage during pushing.
Use warm compresses.
After the head is born, wait for the next contraction.
Notes
Perineal massage, when done during pregnancy, has been shown to reduce the risk of an episiotomy with first time moms. However, in my experience, this risk is drastically reduced by choosing the right care provider. Have a talk with your care provider and ask them about their episiotomy rates.
Recommended Products
As an Amazon Associate and member of other affiliate programs, I earn from qualifying purchases.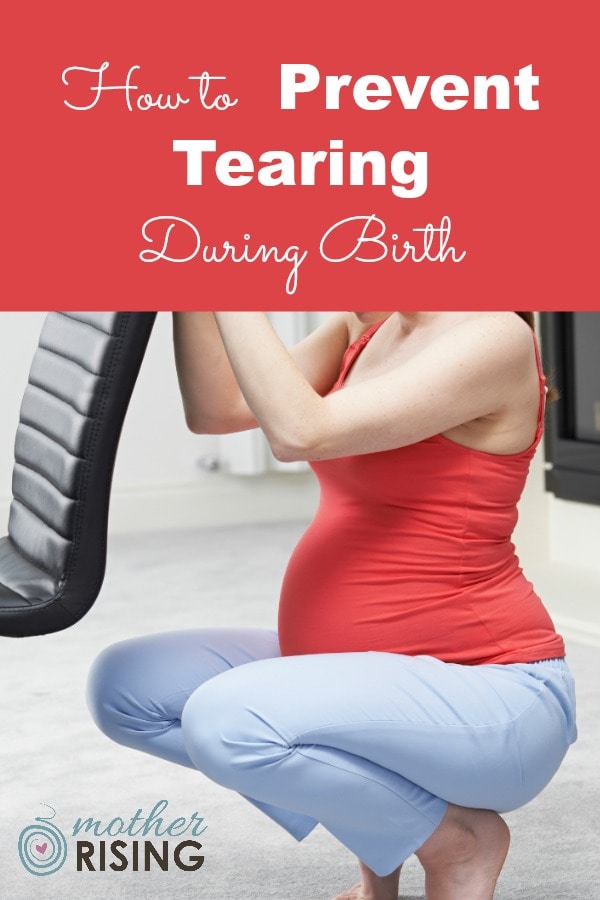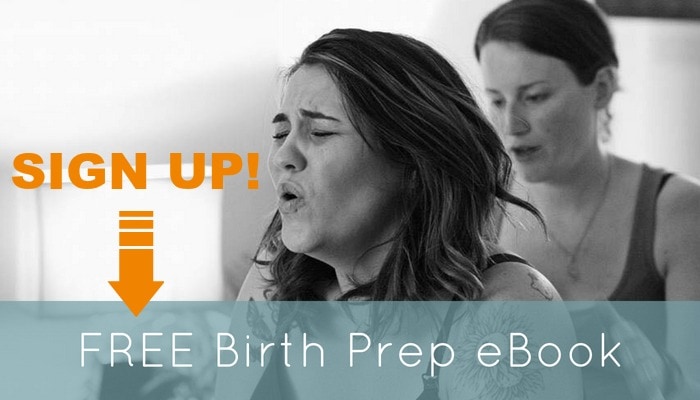 Check out my NEWEST eBook: A Simple Guide to the Hard Parts of Labor! What's inside? ---->> ALL of my best information about getting through the hard parts of labor. Want a copy? Simply click the image above, follow the prompts, and it will be delivered to you today!
Mother Rising is a participant in the Amazon Services LLC Associates Program, an affiliate advertising program designed to provide a means for sites to earn advertising fees by advertising and linking to amazon.com. This post contains affiliate links.