Sometimes when making natural home remedies, the results can be subpar.
For example, I have had a few friends make their own mascara and let's just say, they're better off not wearing mascara at all if that's what it's going to look like.
Or sometimes it takes hours upon hours to create at home what would cost $1 in the store. What a waste of time!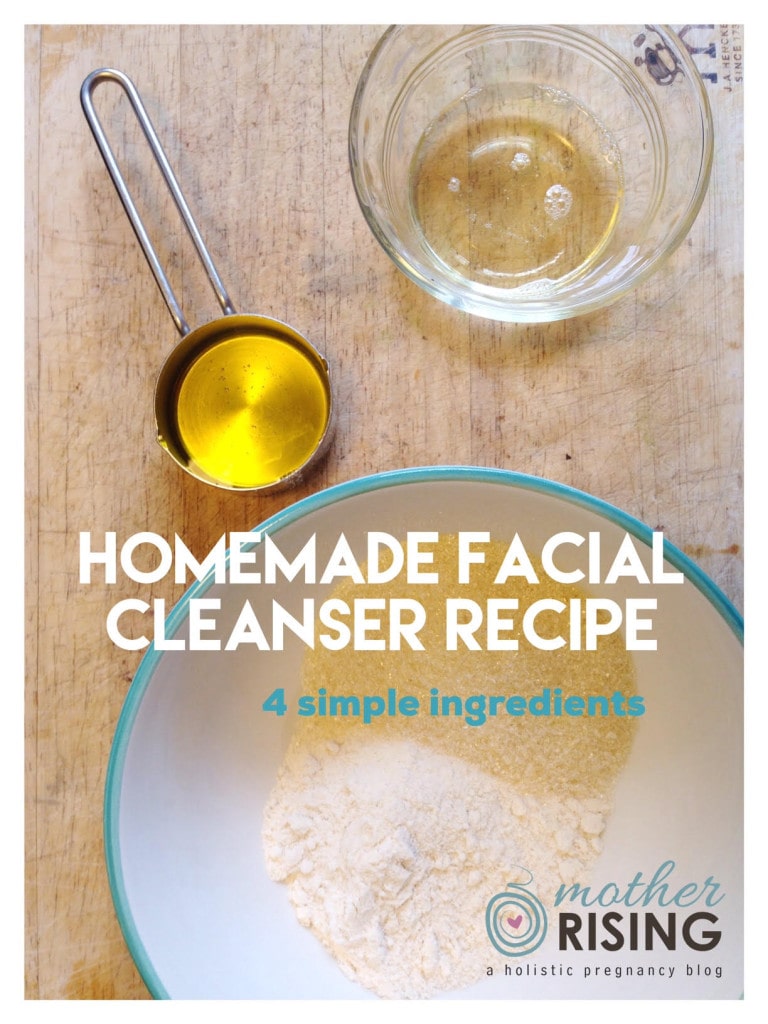 But we keep making these natural, home remedies because they are a healthier and safer alternative to store bought products (my herbal remedy for pregnancy anemia, elderberry syrup and Aveda Tea are great examples!).
Store bought products need to have a shelf life and along with that comes additional chemicals and preservatives that I would like to avoid.
I know I can't eliminate all of these things from my life, but if I can make something on my own that works well and doesn't require too much of my time I am completely on board.
Homemade Facial Cleanser Recipe
After taking an online botanical facial care class with Vintage Remedies I have formulated an amazing exfoliating facial cleanser recipe that I am so excited to share with you. (Actually, I am very hesitant to share this recipe with you. I am feeling very protective of it as if it were an heirloom recipe from my grandmother!)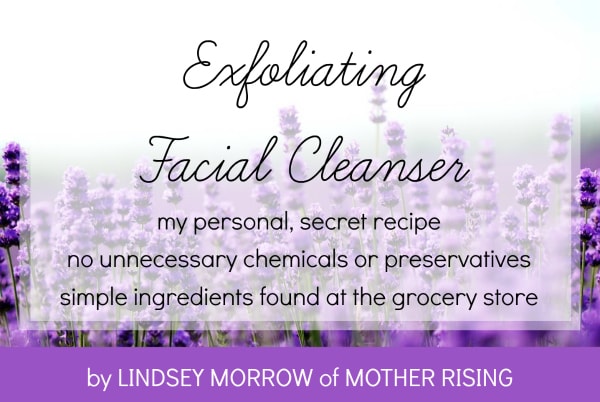 It's Amazing
And when I say amazing, I literally mean amazing. This is the best exfoliating facial cleanser I have ever used. I refuse to buy store bought facial cleansers again because honestly, I prefer mine. I consider that a huge win.
It's Fast
But that's not all. This facial cleanser only takes just a few minutes to make. Your time will be spent measuring a few ingredients and them mixing them together with a spoon. It's so easy.
It's Simple
The best part of all this? All ingredients can be found at the grocery store or health food store. Even if you don't have access to a nice grocery store you can absolutely get these things online. It's that simple.
Give It To Me!
Description: This is a lipid based cleanser that is ideal for all skin types. It gently removes dirt, excess oil and makeup from the pores, preparing it for follow up with toners or serums.
Shelf Life: 24-30 months


Ingredients
¼ cup apricot kernel oil
2 Tbs unscented castile soap
¼ cup organic sugar
¼ cup rice flour
Directions
1. In a small bowl mix all ingredients together until mixture is a thick, even consistency.
2. Place exfoliating facial cleanser in a small glass jar(s).
3. Dampen face and massage cleanser into skin. Dampen a washcloth and press into the skin and wipe away, ensuring the product has been completely removed.
4. Follow with toner and serum.
That's it! I hope you enjoy it as much as I do. I will NEVER buy facial cleanser from the store again. My homemade facial cleanser is awesome!