If you haven't read my first post about Stitch Fix and why I decided to try it out go ahead and read that first. If you're all caught up, here's my stitch fix review for my very first fix!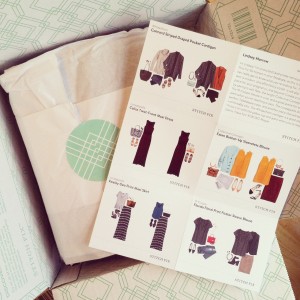 I have to say, opening the pretty box that came in the mail was very exciting. Even my husband and kiddos were interested to see what was inside! The box was smaller than I had envisioned, but the contents didn't disappoint.
Just as I mentioned in my previous post Megan Fradley-Smith, a friend of mine, was my stylist. It's so fun to actually know the person who sent you the clothes.
Without further ado, here's what I got. Please leave a comment and help me pick what I should keep!
Stitch Fix Review October 2014
1. The first outfit is a cute maxi dress. When I pulled it out of the box I loved it! It is super soft, extremely comfortable and even looks sorta fancy. The color goes perfectly with living in Tallahassee. 😉
However, when I put it on I was sad that it didn't fit me correctly in the top. Dangit for having small boobs! The Itty Bitty Titty Committee struck again. I really loved this dress. I wish I could keep it! (Maxi Dress $44)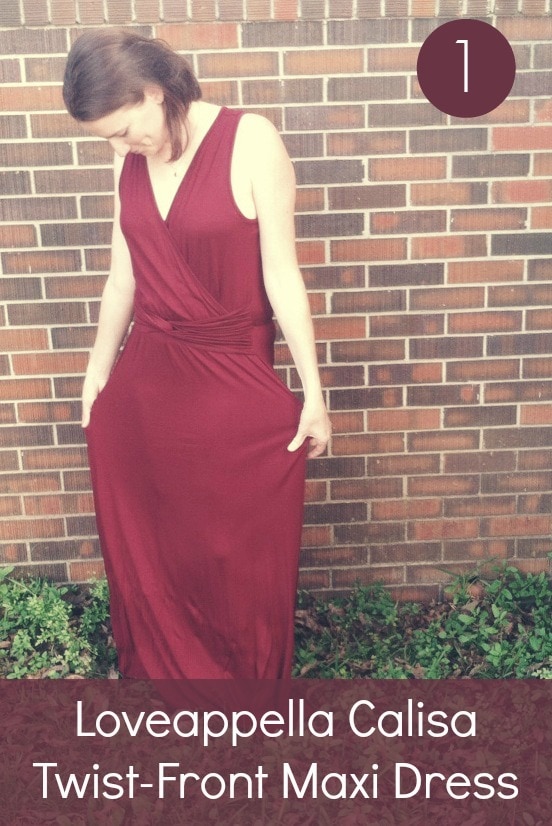 2. The second outfit is SO different than anything I would have even fathomed to try on. I really like the blouse, it fit me well. The color… oh the color. I'm not sure about the color! I think I like it! But I own nothing in this color and it's totally out of my comfort zone. What do you think? I really need some input here. (Sleeveless Blouse $54)
The maxi skirt is really great. I love everything about it. I mean, can you really go wrong with a maxi skirt? The length is perfect (I often have a hard time finding long enough skirts for my long legs), the fabric is soft and stretchy, and the pattern is great. I love it. What do you think? (Maxi Skirt $58)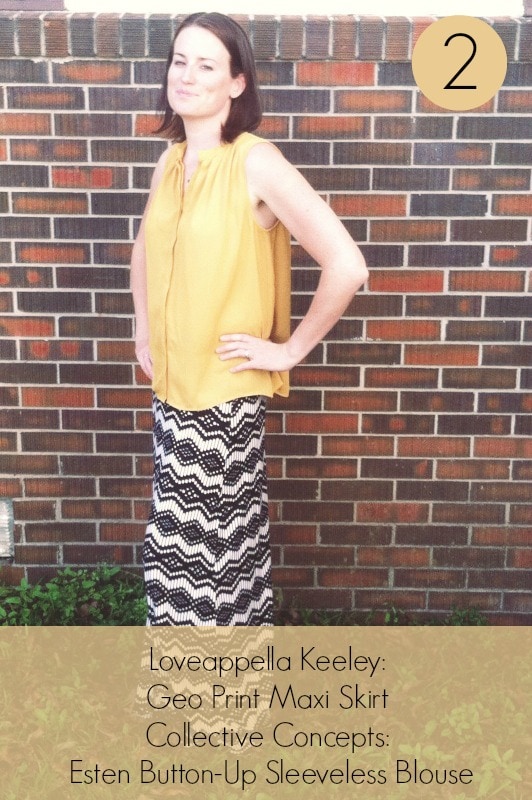 3. The third outfit is the same blouse, my jeans but this really comfortable sweater thingy. I could really see myself liking this cozy sweater. It has these big pockets on the side that were just asking to be snuggled into. 😉 I like it! Bonus? The green tones look great with my coloring. (Cardigan $58)
4. Last, but certainly not least, my favorite top of them all. This top fit me perfectly. It could easily go with jeans or a skirt. What do you think? (Sleeved Blouse $64)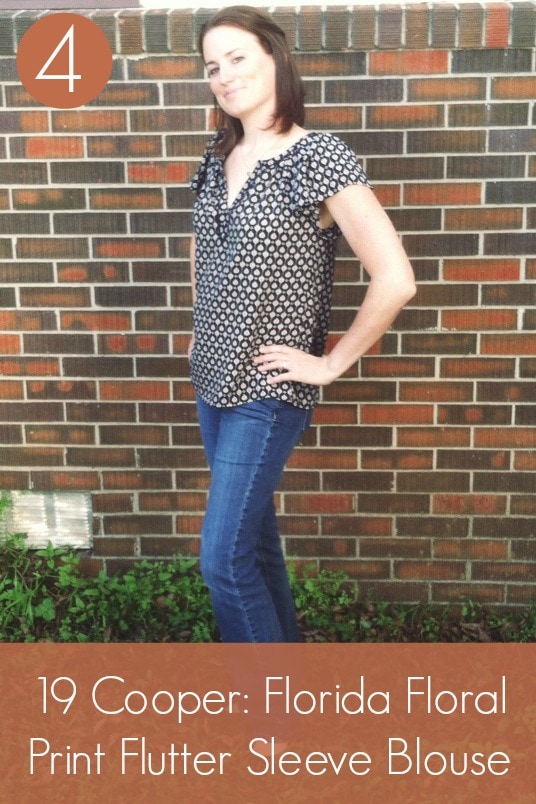 Why I love Stitch Fix
I don't have a lot of time to peruse the racks of clothes like I did before I had kids. This is an easy way to get stylish clothes to my front door without wasting time (that I don't have) searching. If you have lots of time you probably won't enjoy Stitch Fix as much as I do!
It's nice to have someone with a sense of style pick out clothes for me. Seriously, left to my own devices I don't seem to be doing myself any favors. The pictures I took in my new clothes look SO much better than what I usually wear!
Trying on clothes in my own home is way more fun than taking my kids with me in the dressing room. 'Nuff said.
It's FUN!!
They have a referral program and if you send someone their way and sign up for "a fix" you get $25 in credit. Sweet deal!
Feedback Please!
Ok, so I need your help. What do you think? Leave a comment and let me know what you thinks should stay or go.