If you've been following my search for some sense of fashion you'll be excited to hear I got my second "fix"! This was a unique fix for me because I was in my second trimester – 15 weeks pregnant – when I tried these clothes on. I was curious of what they would send me the second time around, if it would work for my pregnancy, how long it would work in this pregnancy and if I could use them as postpartum clothes/my normal mom clothes.
I am happy to report I had another successful fix from my stylist friend Megan. Yay Megan! Without further rambling let me show you what I got.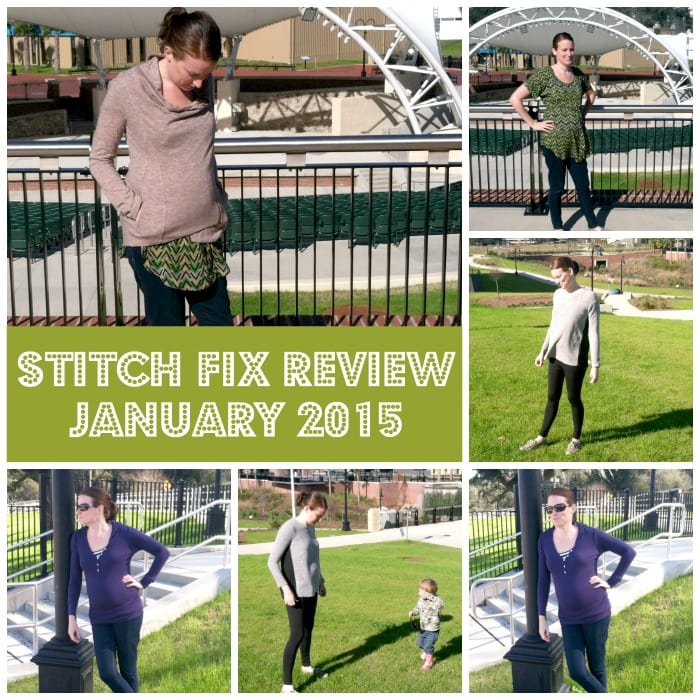 *disclaimer – I didn't do my hair. My husband was taking the pictures while our two kids were running around like crazy people. It was 40 degrees. It was very sunny. I had only one pair of shoes and no accessories. Whatever.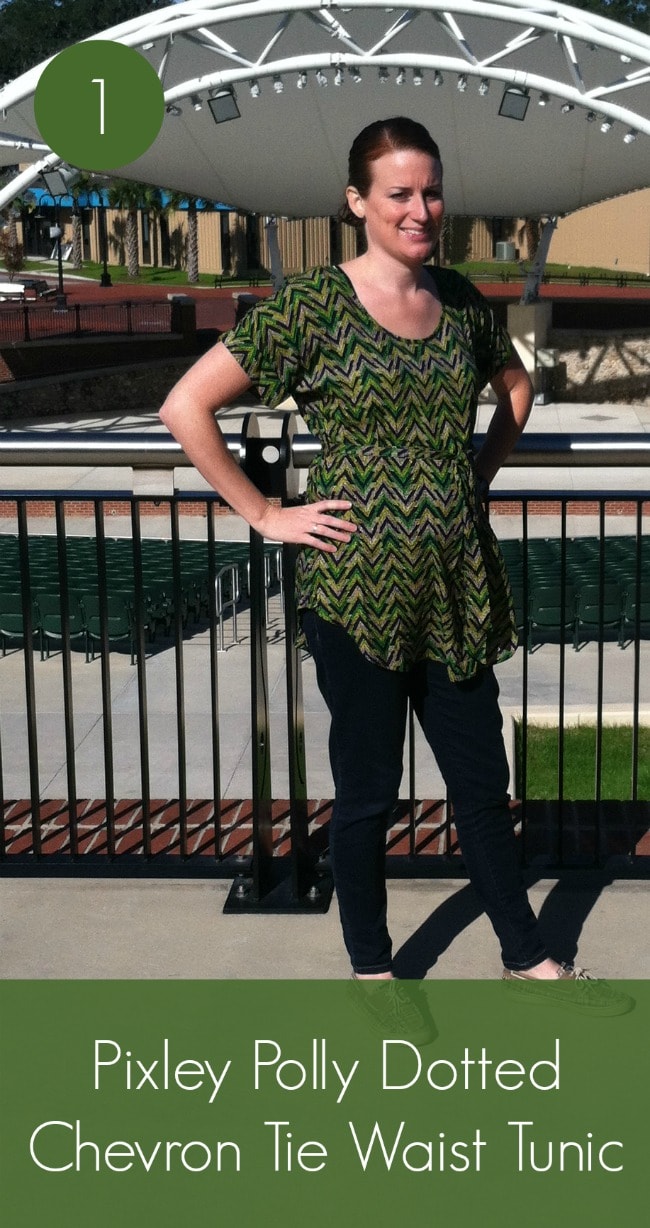 My first shirt was my favorite. I loved the colors, I loved the fit and I'm pretty confident I would not have tried such a thing on if it weren't for Stitch Fix. The style of the shirt is great for pregnancy and I'm convinced for postpartum clothes too. No need to suck in your stomach with this shirt! Imagine some cute boots with a pretty necklace and it would be cute for one of my semi-annual dates. 😉 I think I could even wear this while I'm teaching childbirth classes. $54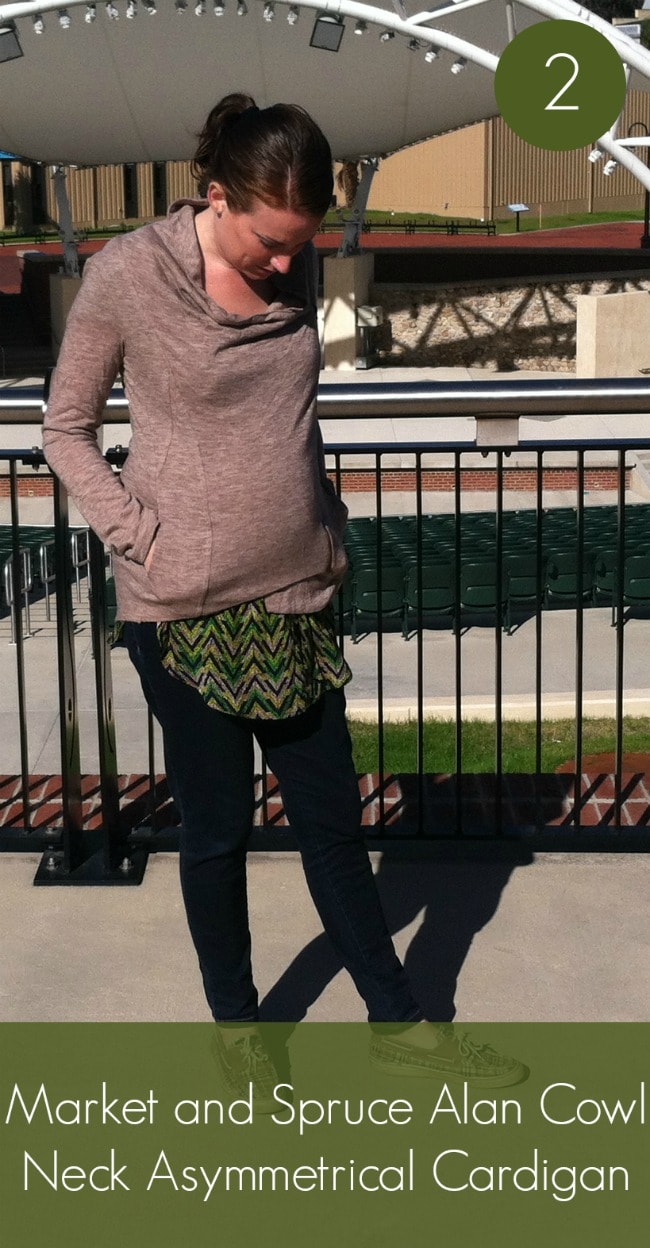 The next item was my husband's favorite. He liked this sweater/cardigan because it was unique and fit me well. I loved it too! The zipper was a bit tricky at first, but Matt showed me that it just needed to be "broken in". He was right! $58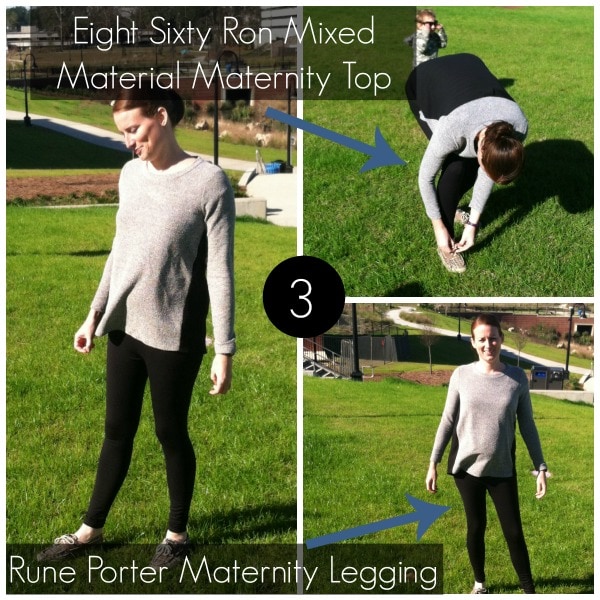 I feel like the pictures don't do justice to this mixed material maternity top. Also, I didn't really dress it up like I fee like it deserved. The picture below is what was suggested to me with this piece. I wish I would have tried it on with some cute flats at least! Alas…#momlife. $78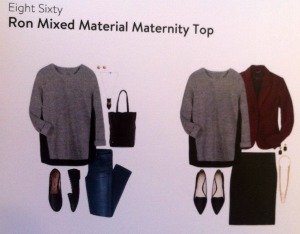 With the grey/black top I am wearing these awesome Rune Porter Maternity Leggings which I loved. I really feel like these would be an amazing staple to have in any maternity wardrobe. And… if you don't tell anybody they're maternity, you could continue wearing them after you have your baby. 😉 I didn't keep them because I already have something really similar. $58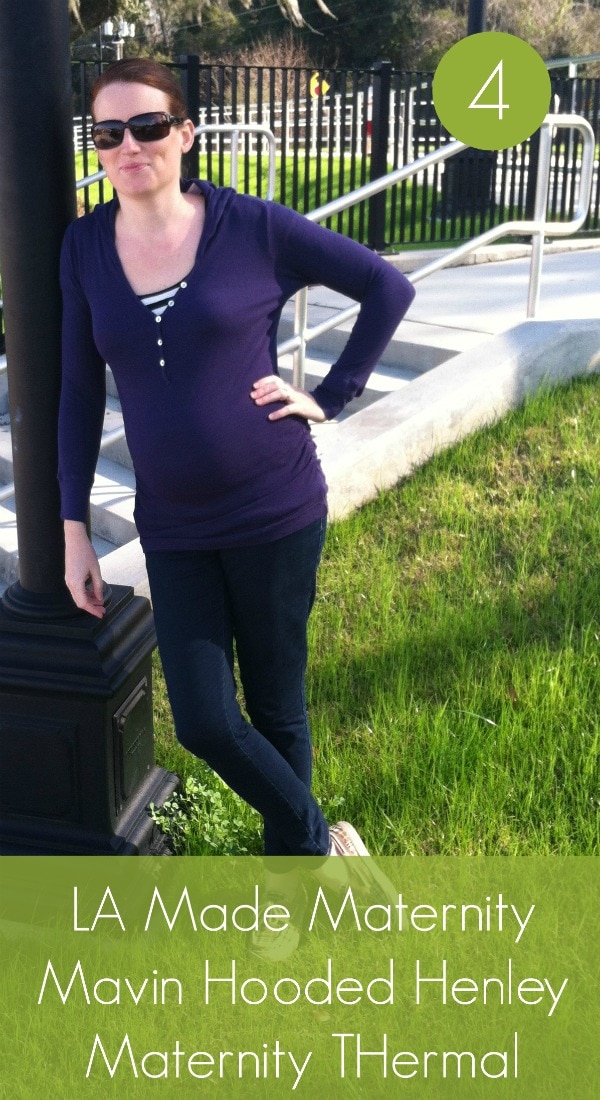 The last piece I got was the blue hooded maternity thermal. I actually own something like this in my maternity wardrobe so yup, this is my style! I didn't keep it because of that and also because it was a little snug. I couldn't see myself wearing this much further into my pregnancy. $58
I ended up keeping the chevron tie waist tunic which was listed as $54 but I didn't pay anything for it since I had stitch fix credit. Thank you ladies for signing up under me! I love that perk of Stitch Fix! The total for all five pieces was $296 and if I bought all five I would have received a $69 discount. I also had a $55 credit so my total would have only been $172 which is really an amazing deal for the use of a stylist and clothes shipped to your house.
If you are curious about Stitch Fix you should totally give it a try, especially if you are a mom and/or expecting! Stitch Fix did a great job of accommodating my growing belly, which to be honest with you I was quite skeptical about. I thought Stitch Fix would only work for bodies that were not fluctuating in size! Also, their referral program is really handy to help offset the cost – you might end up getting something for free like me!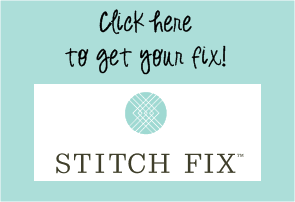 What do you think of these clothes I got? What was your favorite?
~Lindsey