You had a baby! Congratulations! Baby has the best clothes – beautiful ruffles, gingham, monograms… but you? Your postpartum clothes may or may not consist of an ex-boyfriend's oversized hoodie coated in dried breastmilk, spit up, and crusty food (if you are lucky enough to find time to feed yourself).
The thing is, the path to a happier postpartum necessitates taking care of the mind, body, and soul. You know how flight attendants instruct passengers to place the oxygen mask on yourself before assisting others? If an airplane is having difficulty, I could see how it would be challenging to not put on your child's oxygen mask first. You love your child and want them to be ok! But what good is a mother to her child that's passed out due to lack of oxygen? Postpartum is kinda like that.
One way to take care of the post-baby body is to wear clothes that make you feel and look good, but aren't complicated either. Enter the postpartum clothes capsule wardrobe.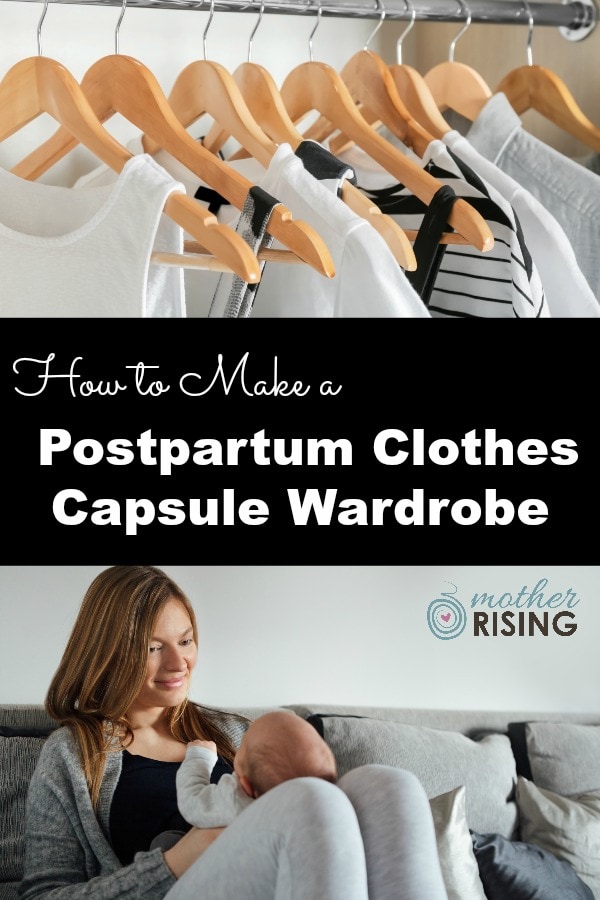 What is a Capsule Wardrobe?
A fun way to take care yourself as a new mother is to create a capsule wardrobe. A postpartum clothes capsule wardrobe contains pieces that make a new mother feel and look great, but are simple and versatile at the same time. It's important to pick quality items that you LOVE but won't go out of style quickly.
Want to get started? The following are some basic pieces to create a capsule wardrobe for the postpartum season!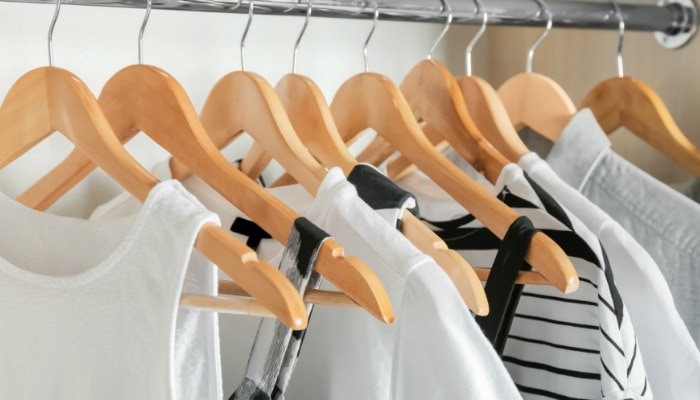 How to Make a Postpartum Clothes Capsule Wardrobe
The postpartum clothes capsule wardrobe can be broken up into four parts.
Tops
Bottoms
Dresses
Accessories
Loose Fitting, Basic Tops
When looking for tops, find something that looks good, conceals new postpartum curves, and provides easy access for nursing.
The t-shirt tunic is a perfect choice for new moms because it's long, but not tight, which helps hide the ever-changing postpartum midsection. I like these tunics because they're extra long and stretchy.
Below, Delightfully Impatient rocks the flowy tunic tee.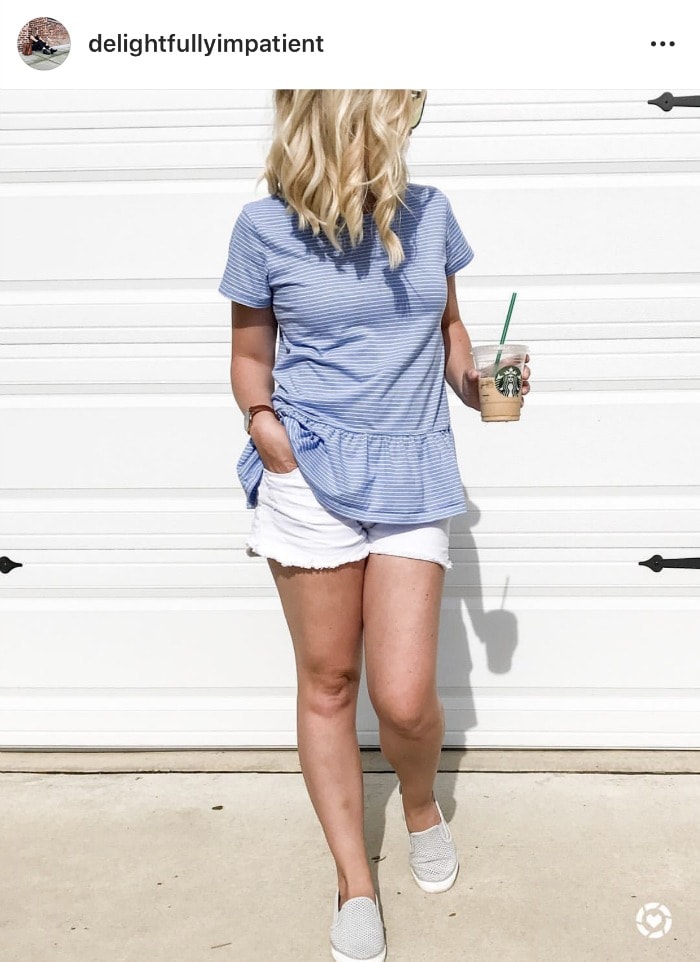 Next up is the casual short sleeve t-shirt. Again, Delightfully Impatient nails the cute "Coffee." t-shirt. Love it. I also love this one on Amazon.

Kimonos and Cardigans
This is where things start to get fun. New moms, let me introduce you to kimonos and cardigans. They are your new best friends.
These fun pieces step up the game of any basic leggings or skinny jeans and tee. They also really add some flare to a simple t-shirt dress.
See what Katie Rose did (below)? She took a basic outfit (tank and skinny jeans) and spiced it up with that gorgeous, neutral, textured cardigan. It even has pockets! This one is super cute and has pockets too!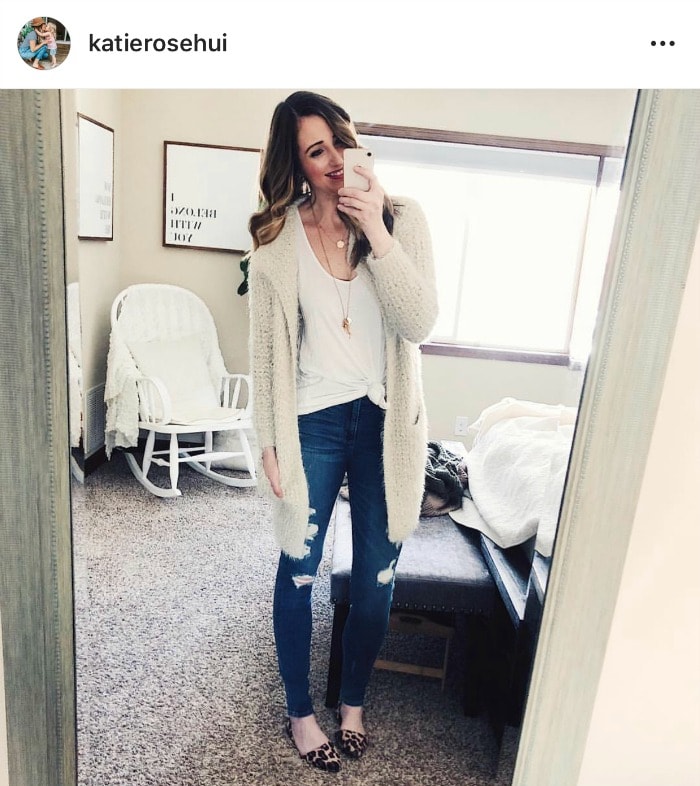 Little Southern Wife pretty much nailed the kimono look with her postpartum clothes. From what I can tell, she has at least two. 😉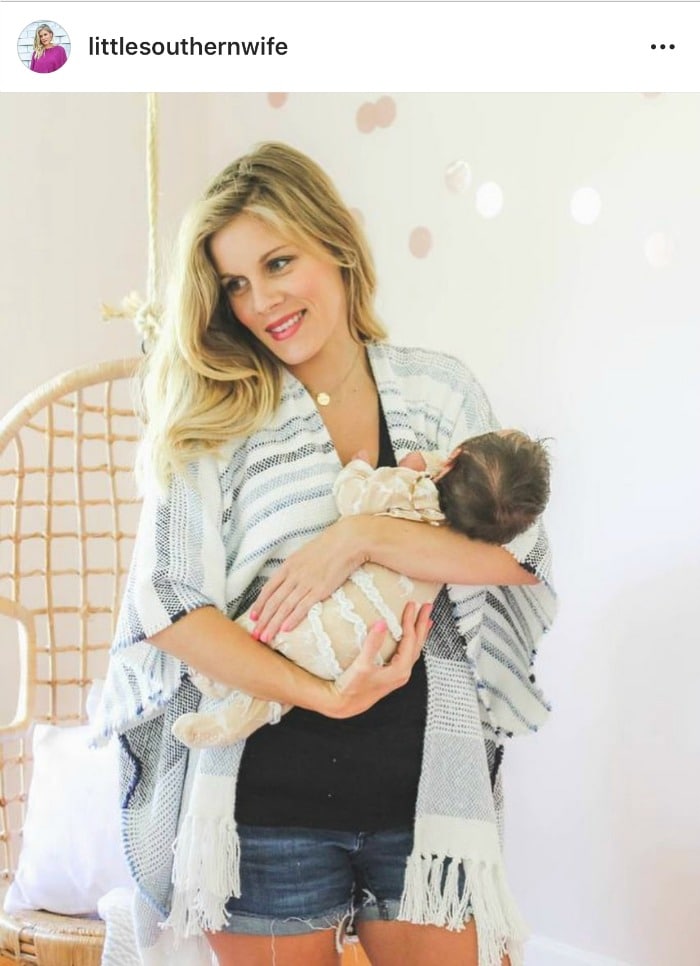 I really like the fun print on the kimono below. And of course, I really like how she's baby wearing her newborn. Mamas, you can be fashionable AND wear your babies at the same time! They're not mutually exclusive.
Here's a fun set of kimonos to choose from on Amazon.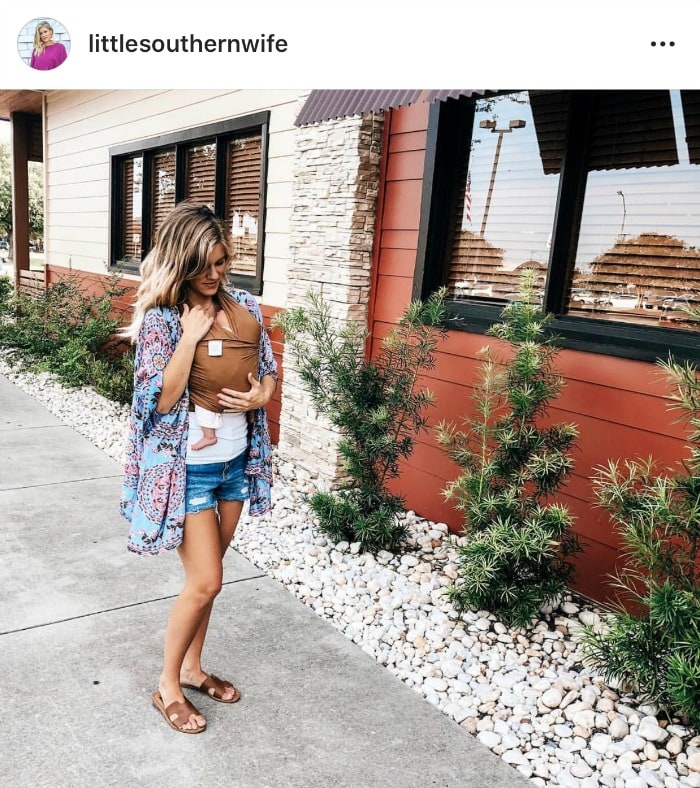 Now, look again at some of the photos you've already seen. What are these new moms wearing underneath their cardigans and kimonos? A basic tank.
Make sure to buy a few basic tanks in neutral colors for layering.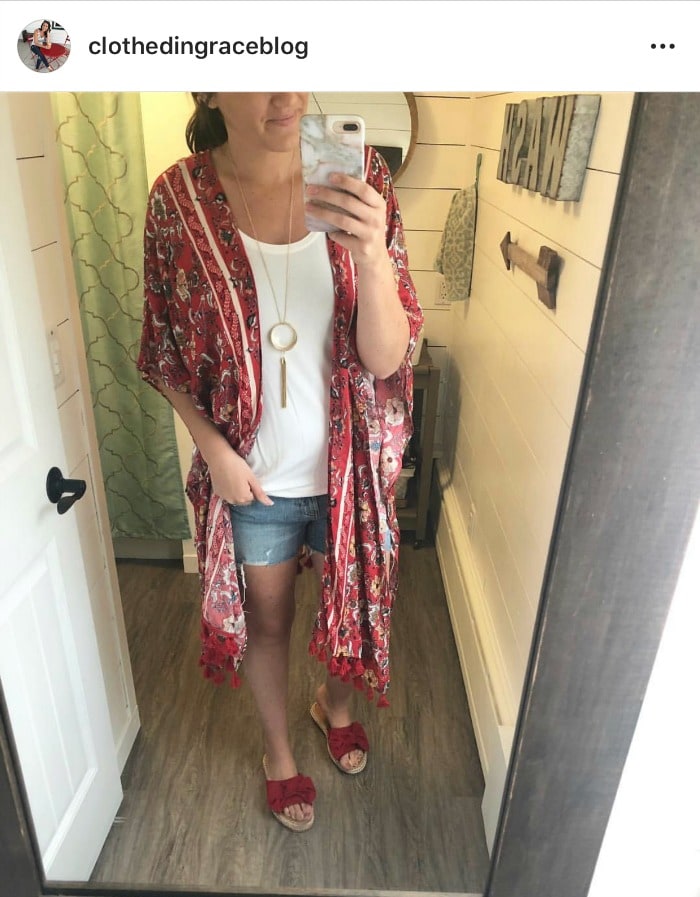 Stretchy Bottoms
Next, choose some bottoms that have good stretch. Postpartum sizes can change quickly, so don't over invest in bottoms that may not fit for long. Choose comfortable styles that can be put together in flattering combos.
Get at least one great pair of jeans. You need to feel like yourself postpartum, so get one pair of stretchy jeans that you feel great in. (Little Southern Wife, below, is like my new fashionista bff (but she just doesn't know it yet).)
These jeans on Amazon are super cute and a must have for the postpartum clothes capsule wardrobe. MUST. HAVE.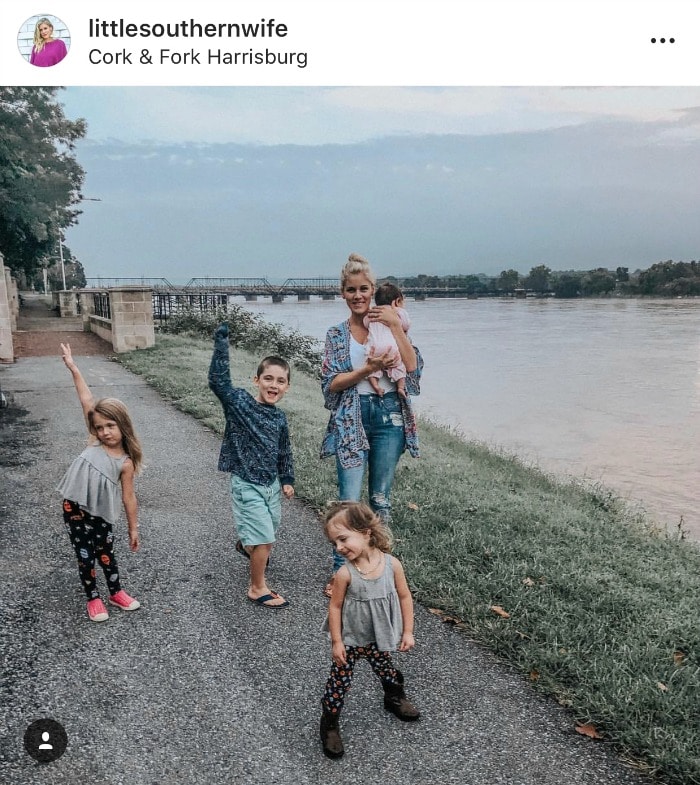 Also, get a pair of these comfy french terry jogger pants. They're amazingly comfortable, but cute too.
SIDE NOTE: It's become apparent that the standard postpartum clothes capsule wardrobe requires a coffee shirt. That makes sense. #postpartum #momlife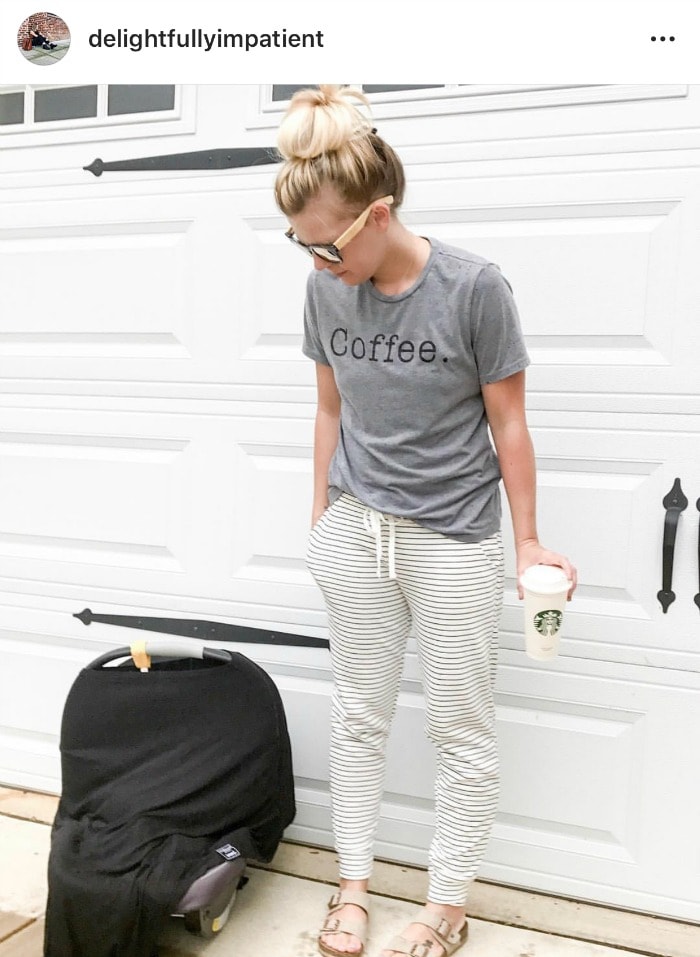 If you don't already own a pair of basic, black leggings, I ask you, how exactly did you survive pregnancy? How did you live?
Seriously though, you should have a pair of leggings. They're forgiving, comfortable, and go with so much.
See how Kate (below) looks so cute with the leggings and a baby? Be like Kate. Get you some leggings.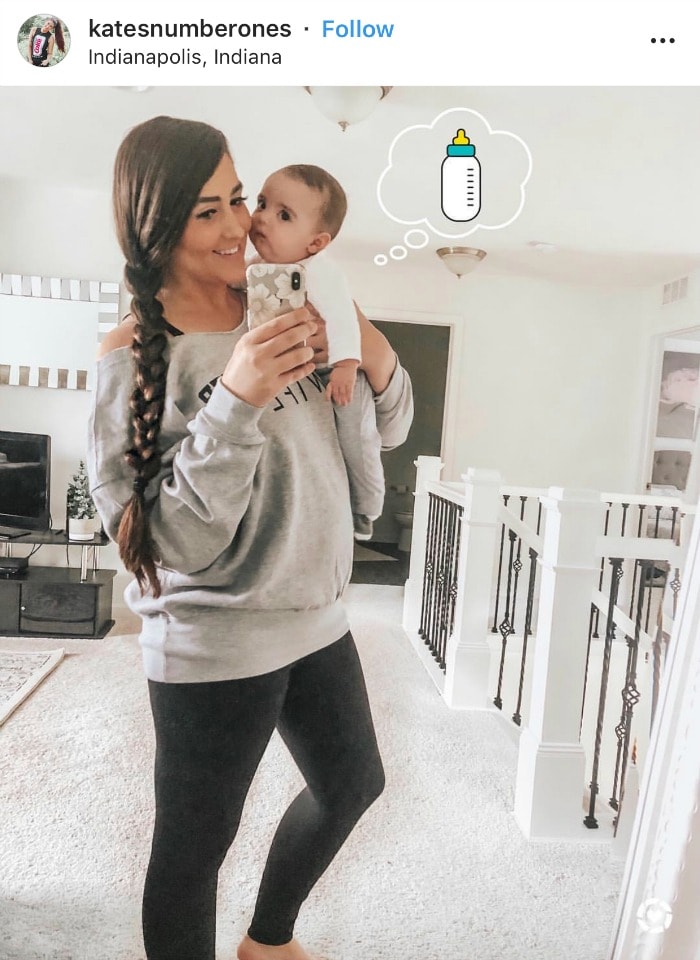 Shorts with a drawstring are cute and forgiving. Little Southern Wife (below) nails this look with coffee in hand. As cute as her shorts are, however, I really like these shorts on Amazon by Roxy much better.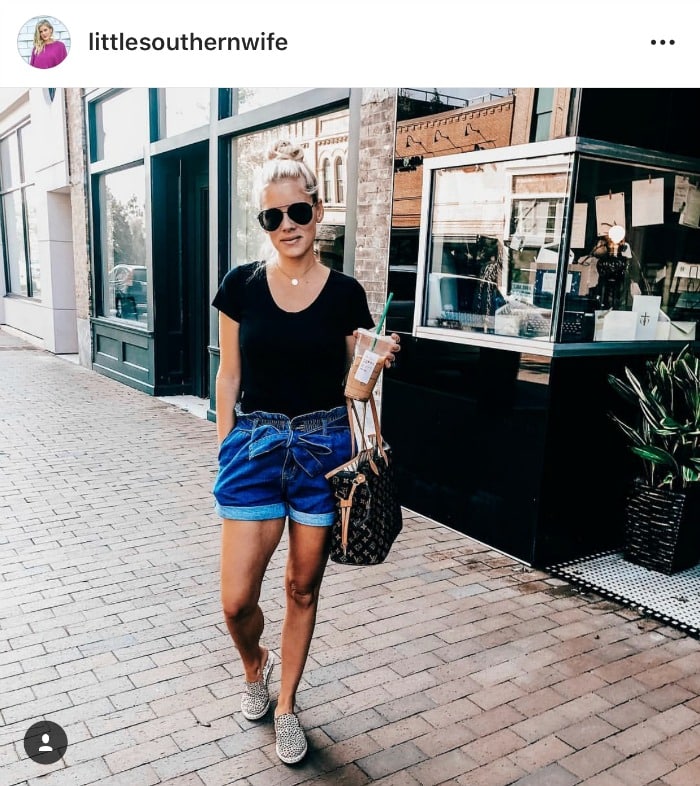 For dresses, choose something stretchy with a crossover neckline to allow for nursing access. An A-line style will be more forgiving as well. These deep v-neck dresses are super cute and comfortable!
Little Southern Wife raved about the dress she had on below. It's gorgeous and works well with the postpartum body!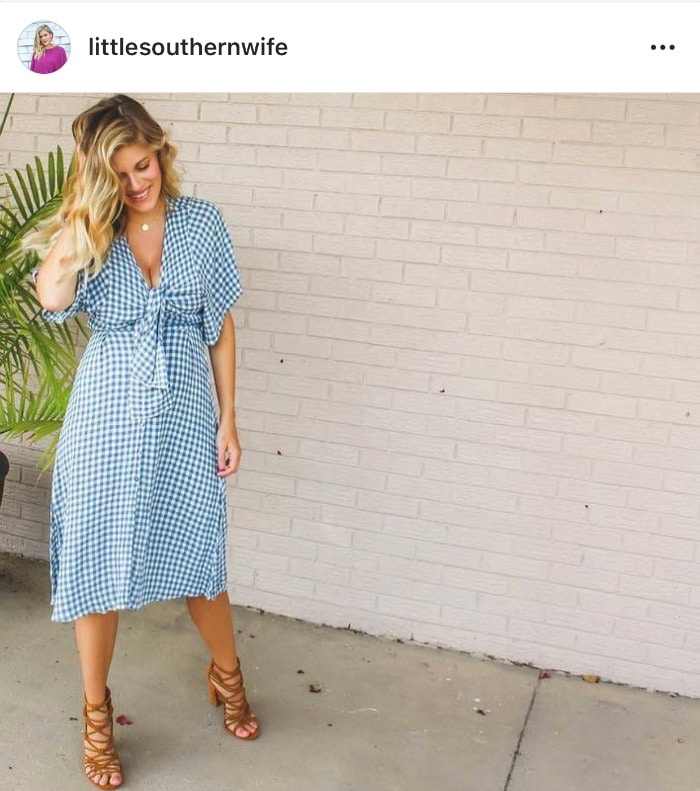 Feeding Frenzy Nursing Wear makes some pretty cute stuff, although I'm not sure I'm completely on board with the zipper in the front (below). What do you think about that zipper? One thing I do know is that nursing would be a breeze with a front-zippered dress!

Accessories for a Postpartum Clothes Capsule Wardrobe
The following are accessories that are important to have when rounding out the postpartum clothes capsule wardrobe.
New moms need a pair of comfortable shoes that don't scream new mom, am I right? Choose a slip on sneaker that can work well with shorts, jeans, and leggings.
Also, an easy place to go trendy is with sunnies! Choose a fun pair that hides dark circles and makes you feel fun and young in the season of new motherhood.
Surprise, surprise, Delightfully Impatient nails the sunnies and sneakers!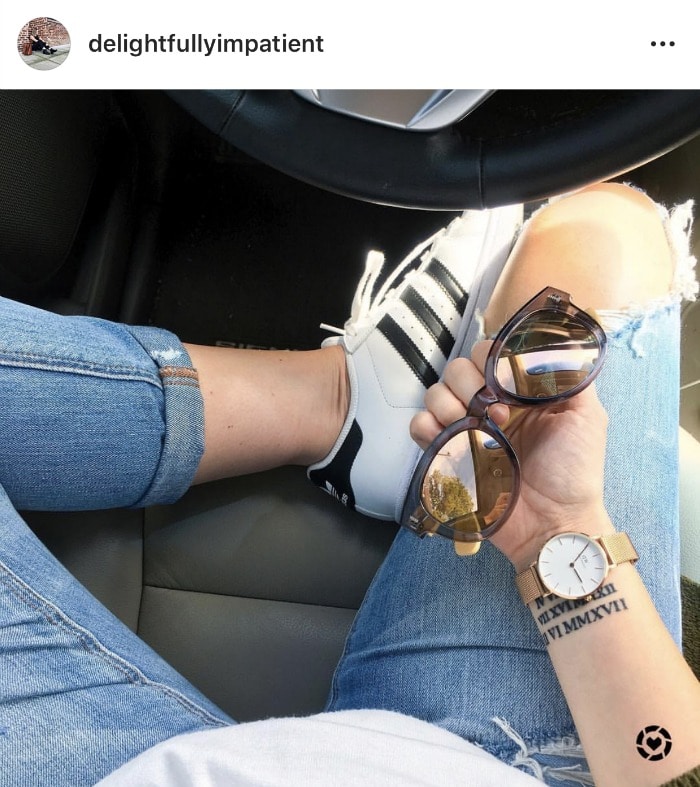 Don't forget a cute baseball cap for those days when there isn't time to fix up your lovely locks. A messy pony tail and a hat can buy you a day when hair washing time is at a premium! I really like these ones on Amazon.
Also, Tiny Trucker Co (below) makes the most adorable hats!
While washable nursing pads are not exactly a fashion statement, they will help protect your fabulous new clothing finds. Bamboobies makes a wonderful product that moms rave about.
NOTE: If you're breastfeeding, check out my list of breastfeeding supplies for new moms to get more ideas of what you may need (like nursing tanks and nursing bras).
Nursing Cover
Some women like to use a cover when breastfeeding, some don't. Some use a cover only in the early days, some don't. If you find yourself in the nursing cover camp, a personal favorite is this modern take on the nursing cover that doubles as an infinity scarf and carseat cover.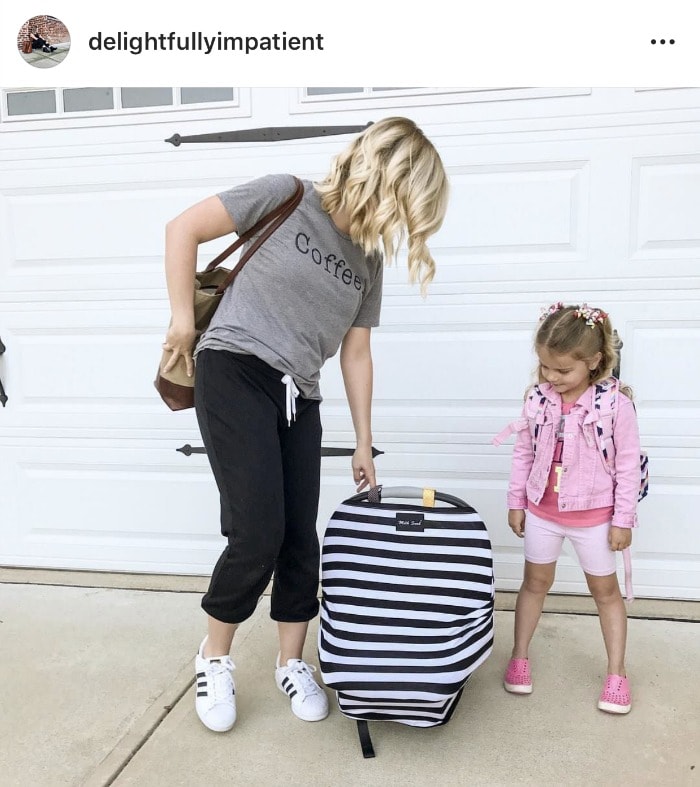 How to Make a Postpartum Clothes Capsule Wardrobe
To recap, a postpartum clothes capsule wardrobe contains pieces that make a new mother feel and look great, but are simple and versatile at the same time. It's important to pick quality items that you LOVE that won't quickly go out of style.
Again, here are the pieces that were mentioned in this post.
Scroll back up, look at the photos again, and figure out what postpartum clothes you need and love to complete your look during the transformative postpartum period. Pin your favorite photos to Pinterest. There's a "pin it" button right there.
And remember, have fun!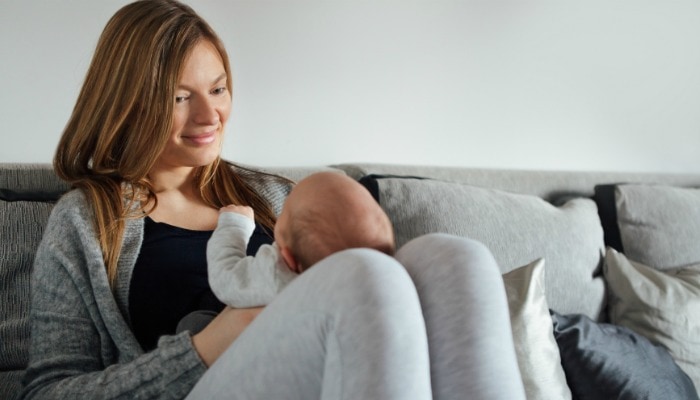 Leave a Comment
What did you wear postpartum? What made you feel "more human"? If you were to do it again, what would you do differently? Leave a comment and let me know. I'd love to hear from you!