Aromatherapy and Herbal Remedies for Pregnancy, Birth, and Breastfeeding by Demetria Clark
Ladies, this book was written just for us. Demetria came over to my house, we shared some tea, and I told her what needed to be in the table of contents. She said ok, wrote the book and got it published.
Ok, not really, but it SEEMS like it was written just for us.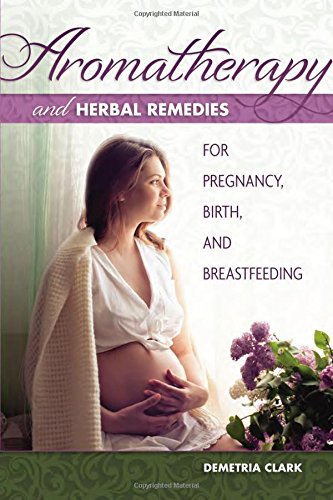 This book is a reference book that should be on every natural mama's nightstand.
This book is great for someone who is new to herbal remedies. Demetria explains everything carefully from the ground up and makes the world of natural remedies so simple. Using herbal remedies does not need to be confusing or difficult!
It's also great for someone who is familiar with herbal remedies. Personally, I would never be able to remember each and every herb that is contraindicated for childbearing mamas, which is why I will use this book as a reference.
Also, I'm excited to try a lot of the recipes. Demetria has three herbal recipes for anemia in pregnancy!
In my opinion, this book is better than Susun Weed's book, Wise Woman Herbal for the Childbearing Year because:
It has very clear lists of herbs and essential oils that are or are not safe for pregnancy, labor and postpartum.
It has many, many more recipes than Susun's book
It covers essential oils, which Susun's book does not and
Demetria seems more mainstream than Susan, compared to Susun who is perceived more of a "hippy" (not that there's anything wrong with that!) and may seem less relatable to the average woman.
One of my favorite parts of this book is the section that explains what essential oils are safe for pregnancy, labor and breastfeeding… especially breastfeeding. Breastfeeding and essential oils are like an unknown topic on the internet. To get some solid advice is reassuring.
All in all, I'm calling this book a win.