My Favorite Pregnancy Tea Recipe
I love herbal remedies, especially teas. Teas are so nice to drink, and I really love them when they're piping hot.With every sip of this pregnancy tea recipe I know I am nourishing my body with the vitamins and minerals that it needs (unlike how I feel when I take regular vitamins, which aren't as bio-available as herbs are).
This tea is very nourishing for pregnant women, but really, it's so tasty I drink it when I'm not pregnant. Use this pregnancy tea recipe to satisfy some of your daily water intake requirements for pregnancy!
Red Raspberry Leaf is known as a herb that is great for women, especially in the childbearing year. It has the ability to strengthen the uterus, preparing it for birth, and assisting in the postpartum recovery.
Alfalfa is known to be VERY nutritious, which is exactly what a woman needs when she is growing a baby. This herb is added to this tea for its nutritional value. It is high in calcium and protein, among other things. Think of alfalfa almost like a prenatal vitamin.
Nettle, similar to Alfalfa, is another nutritious herb. "It contains calcium, iron, magnesium, potassium and vitamins A, B, and C." – Aromatherapy and Herbal Remedies for Pregnancy, Birth and Breastfeeding by Demetria Clark.
Peppermint tastes great and is what I believe makes my children LOVE drinking this tea. I serve it hot without cream or sugar and they love it! Peppermint also is helpful with digestion.
Mother Rising's Pregnancy Tea Recipe
Ingredients (I buy my herbs in bulk here.):
Red Raspberry Leaf 1 cup
Alfalfa 1/3 cup
Nettle 1/3 cup
Peppermint 1/3 cup
(optional) If you wanted to sweeten this tea naturally, you could add Stevia or even honey. I like drinking it unsweetened.
Instructions: Combine herbs in a bowl and store in a quart size glass mason jar. Label it with the ingredients and the date made. It's that simple.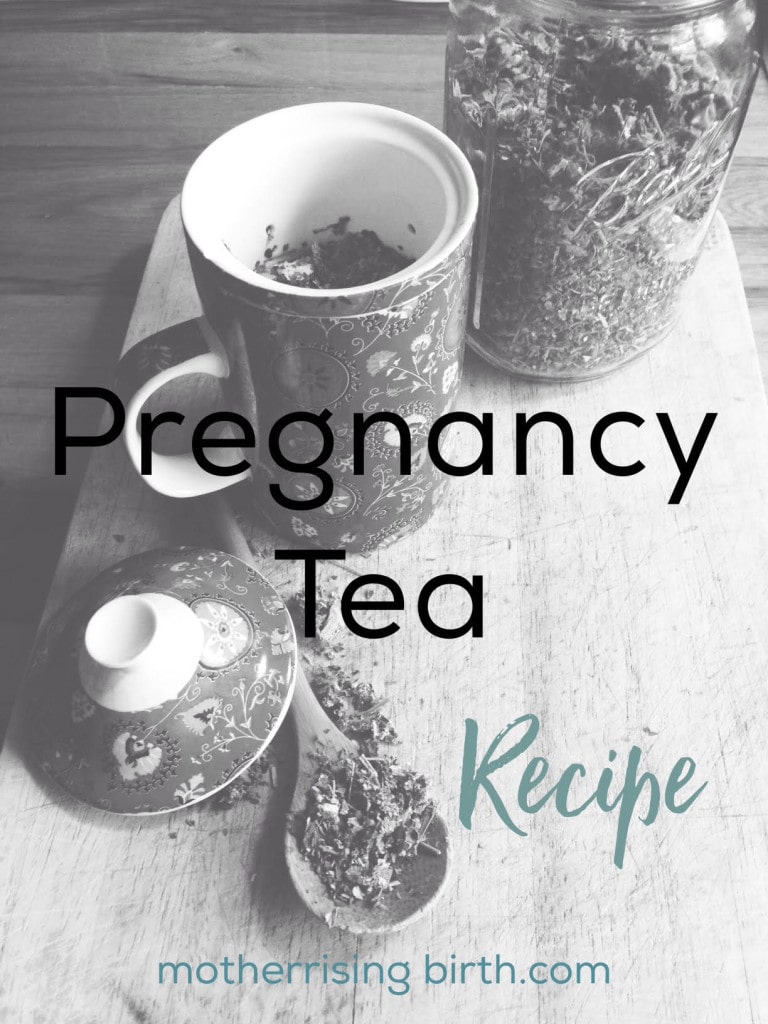 One Cup of Pregnancy Tea
When I want a hot cup of tea I use my tea cup that is also a strainer (it's the red cup in the photos). I got it at World Market (which has a lot of great tea paraphernalia by the way).
1) First, I heat up some water. Ideally I use my tea kettle, but when I'm in a rush (I have three people who call me mom… see our family photo below) I microwave the water in my tea cup, just the bottom part.
2) Second, I put around 1 TBS (packed tight) of "Mother Rising's Pregnancy Tea Recipe" from my mason jar into the straining basket (the top part). This isn't rocket science so feel free to use more or less depending on your taste.
3) Third, I either pour very hot (not boiling) water over the herbs OR I place the straining basket into the microwaved water making sure the herbs are fully submerged.
4) Fourth, I let the herbs steep for a few minutes. Sometimes this becomes an hour because #momlife.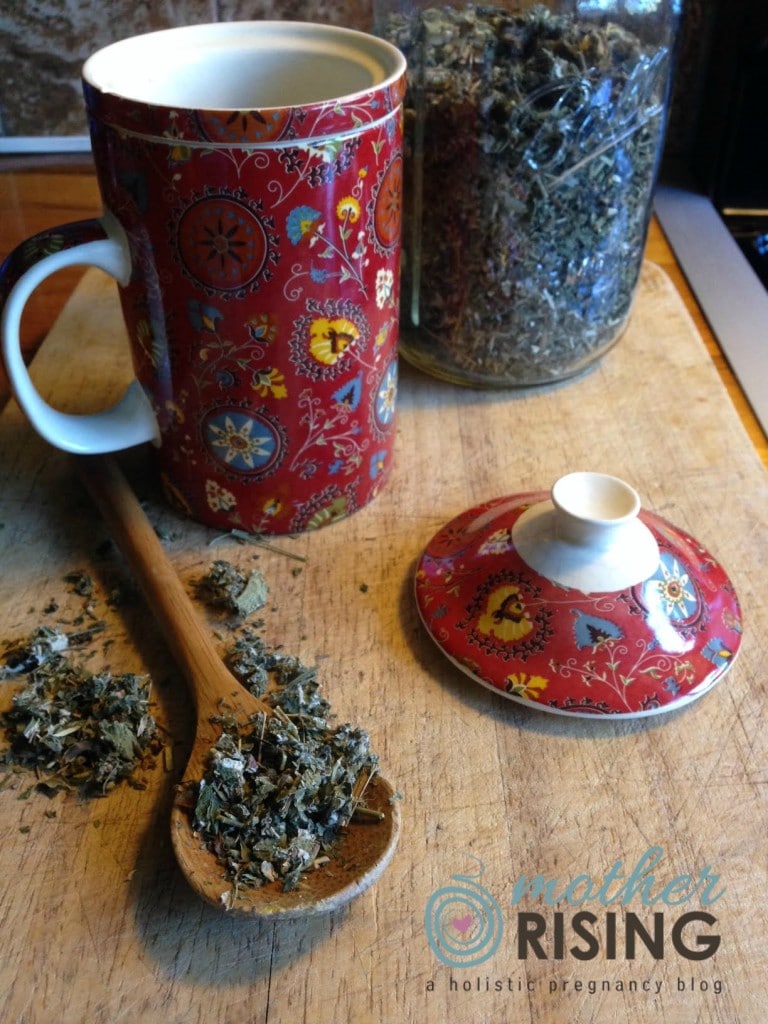 1 Gallon of Pregnancy Tea
You could easily make a gallon of this tea and drink it cold (hello delicious iced tea!) throughout the week. Instead of 1 TBS for a cup of tea, use 1 cup of packed herbs for every gallon. Again, adjust this to taste.
1) Fill up the tea kettle and boil your water.
2) Place 1 cup of packed "Mother Rising's Pregnancy Tea Recipe" in a pitcher.
3) Pour very hot (not boiling) water over herbs.
4) Let it sit for awhile.
5) Strain the herbs using a fine mesh strainer and pour into a second pitcher.
6) Add more water to make a gallon of pregnancy tea.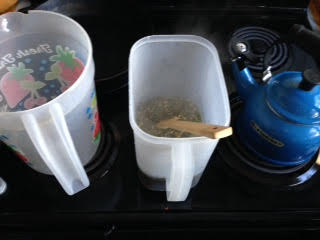 Here is a photo of my tea kettle, the hot water steeping with the loose herbs and the third and final pitcher on the left waiting for the strained herbs. I forgot to put my strainer in the photo but I use this one. If you don't want to shell out the cash for that one the dollar tree has cheap strainers that will do the job.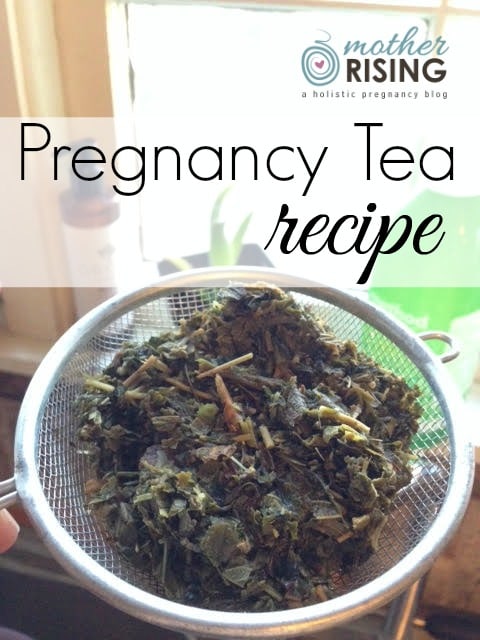 Here is the strained tea using the Dollar Tree strainer.
Where to Buy
I buy a lot of my essential oils and tea from Mountain Rose Herbs. They are a quality company you can trust. (In fact I buy my beeswax and tins to make green salve and all the ingredients I need to make my facial cleanser, all from Mountain Rose Herbs.)
Have any questions? Enjoy your tea ladies!
~Lindsey
PS – Here's my family Christmas photo for this year. LOL!