Becoming a father, especially for the first time, can be overwhelming and hard to conceptualize. A good way to move through these barriers is by reading the best pregnancy books for dads and partners.
The following is a list of the best pregnancy books for dads that if read in completion, they will really help any dad or partner "get it", be more involved during pregnancy, be helpful in the delivery room, know what to say and not say during childbirth and an invaluable rock during the vulnerable transition of postpartum.
The Best Pregnancy Books for Dads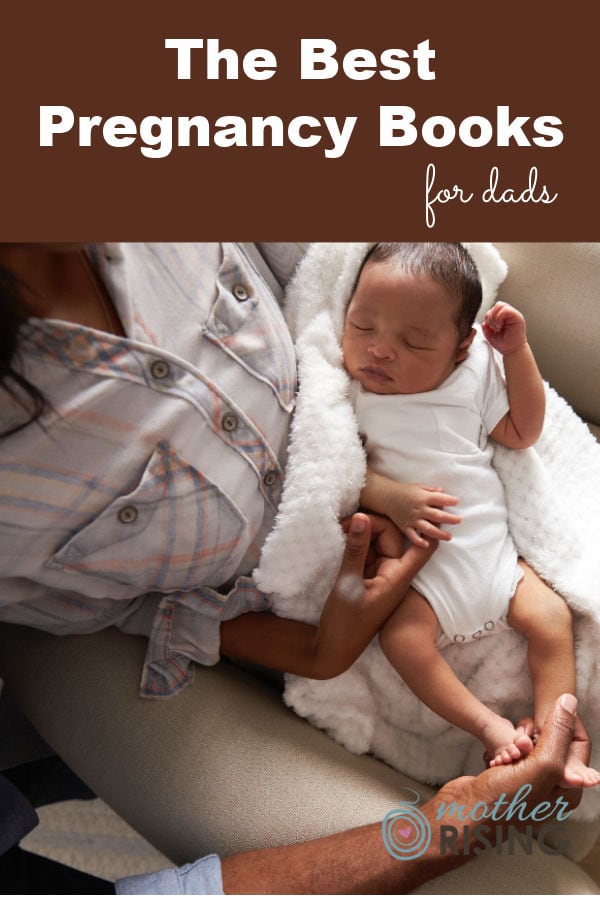 So far, The Dad's Playbook to Labor and Birth is one of my favorite pregnancy books for Dads. First of all, I'm pretty sure this adorable baby on the cover wearing a knitted football hat would make anybody crack it open and see what's inside. People judge books by the cover for a reason! Yes, the cover is cute but that is only where the awesomeness begins!
This book begins with motivating dads to learn about their upcoming birth experience by giving detailed and diverse stories/scenarios. I felt the author did a great job of helping a man conceptualize what's in store for them. I think a lot of men believe they'll just "ride it out" and "wing it" (women have been having babies for thousands of years, right?) but this book explains that at least in the current culture men are expected to perform (and do it well!).
By motivating dads by helping them understand what supporting a woman through birth could be like, I feel like men reading this book will realize they need to spend time preparing for labor and birth. Trust me, buy this book for your man!
NOTE: If your guy doesn't like sports or sports analogies I think one of the books below would be a better fit.

The Expectant Father is a very practical guide for every father-to-be as it seems to cover EVERY topic that might arise including infertility, pregnancy month-by-month, changes in the relationship with your partner, childbirth education and current research. Because of that, it's a very handy resource and you are likely to find lots of information that you need in this book. However, it won't cover every topic in depth.
This book comes from the perspective that dads and moms share an equal role in conception and therefore pregnancy, birth and parenting. If this describes your intentions for parenting, you'll likely find this book a great fit.
Also, I can see this book inspiring many conversation between mom and dad about the transition to parenthood. This is a must read and one of the best pregnancy books for dads.

Ina May's Guide to Childbirth, which is also on my top ten pregnancy books list, is broken down into two sections – practical information and birth stories. I have met people who have only read/liked one section or the other, but in my opinion they are symbiotic.
Ina May, a world renown midwife, explains the birthing process in a way that will make sense, motivate you to carefully choose your birth team and even make the process exciting!
The birth stories leave you thinking that "we can totally do this".

If you're looking for a straightforward "how to" on supporting a woman through childbirth, The Birth Partner is where it's at. This book, which is also on my top ten pregnancy books list, is easily navigated for wherever you find yourself in the narrative – pregnancy, childbirth, immediate postpartum or even emergency childbirth!
If you are looking to be a very "hands on" birth partner you will find this book to be invaluable. This book is so thorough it's even part of required reading for doulas.
My favorite part of this book are the illustrations of different laboring and birthing positions. I have often refered to these photos for inspiration while at births (I am a doula). Speaking of which, I would absolutely pack this book in your hospital bag and refer to it when in labor. It's easily navigated and designed to be read on the fly so you will have great success reading it before labor, but also when the big event is actually happening.

This tongue-in-cheek book is a small collection of vivid illustrations on how a woman craves to be treated postpartum. Or any time, for that matter.
It's hilarious seeing each new page – the handsome man wearing his baby in a carrier while offering to make dinner, or the male model drawing a bath and offering to take care of everything else.
At minimum Porn for New Moms will give the guys and partners ideas for easing the transition to parenthood. Or a chuckle. It's a great coffee table book!

Be Prepared is written to the man who wants to use his Boy Scout training on into fatherhood. It is one of the best pregnancy books for dads because it describes many scenarios a new father might find himself and how preparedness will make everything easier.
If you're overwhelmed or feeling uneasy about becoming a parent, this book will definitely simplify things and help you to laugh a little. It will get straight to the point and give you the information that you need now, now.
This is definitely one of the best pregnancy books for Dads!

Do you have a man that is afraid of babies? Ok, maybe afraid is not the best word, but at the very least unsure of himself caring for an infant (or infants!). If so, A Dude's Guide to Babies will be very helpful!
Many men don't have an opportunity to care for children, especially babies, before they themselves become parents. Taking care of a baby is a completely foreign concept!
This book will guide your man on the ins and outs of not only caring for a baby, but parenting one. Tips on taking a baby to the doctor, how to hold a newborn and circumcision care. Even the best of babysitters don't know these things!
A Dude's Guide to Babies would be a great baby shower gift or maybe even a way to tell him you're pregnant. Get your copy today!

The Best Pregnancy Books for Dads
Just to recap, here are the best pregnancy books for dads.