Despite prodromal labor not being mentioned in the most common pregnancy books, you'll still hear it frequently being discussed among friends, with care providers and in online communities. Because of this discrepancy, it makes sense that there is confusion and frustration surrounding the topic. In this post I hope to define prodromal labor, but more importantly offer solutions and encouragement if you find yourself experiencing this frustrating phenomenon.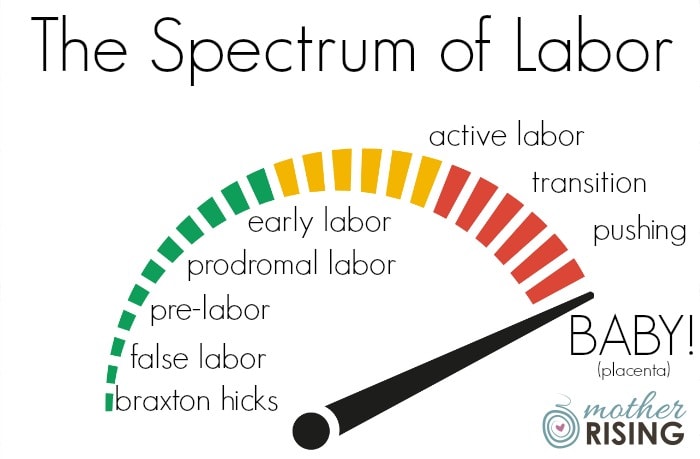 The reason why prodromal labor is not mentioned in pregnancy books is because it is more commonly known as pre-labor or even misnamed as false labor. It seems as if our birthing culture uses these three terms interchangeably.
Prodromal Labor 101: What It Is, What It's Not and How to Cope
By definition, the word prodromal means the symptoms one experiences before the onset of the actual condition. For example, if you're about to get the flu, your prodromal symptoms may include a mild sore throat, runny nose, fatigue, etc. During pregnancy, prodromal labor will include early signs of labor (ex: mild to strong contractions) that unfortunately aren't progressing into a normal labor pattern or significantly dilating the cervix… YET. Prodromal labor is your body's way of slowly preparing for labor.
Braxton Hicks Contractions
Prodromal contractions are different than the common braxton hicks contractions that most women experience during the latter half of pregnancy. Braxton hicks contractions feel mild, sometimes on only one part of the uterus, and do not become longer, stronger and closer together. Braxton hicks contractions can be stopped by rest, sleep, hydration and/or a warm bath or shower. These contractions tend to have an irregular pattern to them.
Compared to braxton hicks, prodromal labor contractions feel more like labor contractions – they're stronger and can't be stopped by rest, sleep, hydration and/or a warm bath or shower.
Does Prodromal Labor Dilate the Cervix?
Prodromal labor can sometimes change the cervix (soften it or move it from a posterior to an anterior position) but does not produce contractions that become longer, stronger and closer together that significantly dilate the cervix and deliver a baby.
If you are experiencing a long, slow start to labor and your cervix has dilated up to 6 centimeters, you are actually experiencing early labor and not prodromal labor. This is a good thing! Woohooo!
Prodromal Labor or Early Labor?
Prodromal labor is a variation of early labor. The difference between that and early labor is that the contractions of early labor get longer, stronger and closer together but also dilate the cervix up to six centimeters.
Some women may never experience prodromal labor, but most will have some form of early labor.
Prodromal Labor Signs and Symptoms
If you are experiencing the following signs of labor, you may be experiencing prodromal labor symptoms.
Timeable contractions
Contractions that are not getting longer, stronger and closer together OR
Contractions that are very, very slowly getting longer, stronger and closer together
Lack of significant cervical dilation
Contractions that continue despite rest, hydration, bath and/or a shower
Difficulty sleeping because of contractions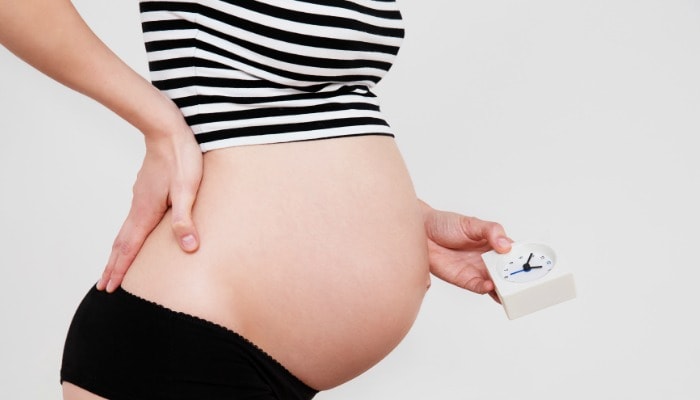 Prodromal Labor or False Labor?
Since the terms prodromal labor, false labor and pre-labor are used interchangably in our culture, it can be confusing to know what's really going on, what it means and how to respond.
As a doula and childbirth educator, I've never used the term false labor with any of my clients. What a woman experiences at the end of pregnancy, no matter what it feels like or means, is not false. Using the term false labor with a woman can be extremely disheartening.
False labor is the end of pregnancy contractions that are stronger than braxton hicks and can be easily mistaken for early labor, especially with women who have never experienced childbirth or been around someone in labor. False labor contractions do not get progressively longer, stronger and closer together and will go away after rest, hydration, bath or a shower.
TIP: The best thing to do in this frustrating time is to go about your normal life as much as possible. Make rest priority number one and stay well hydrated and fed. Don't try to "be in labor" but accept this state of being as part of the end of pregnancy. I promise it will end!
Prodromal Labor or Pre-Labor?
Sometimes the symptoms of labor aren't as black and white as we would prefer, but instead fall on a spectrum. For example, pre-labor is stronger than false labor, prodromal labor is stronger than pre-labor and so on.
In my experience, if you are experiencing strong, sometimes irregular, but noticeable and timeable contractions every evening for a week straight, but things fizzle at night and you eventually get to sleep, this is pre-labor.
On the other hand, if this same situation happens but things don't fizzle and continues on into the next day (or two or…) and
contractions fluctuate in strength
contractions do not happen in regular intervals
struggle to rest and sleep
experience little cervical change
… this is likely prodromal labor.
I'll say it again. Strong, irregular, and noticeable contractions, that don't get stronger, go away, or cause any cervical change is likely prodromal labor.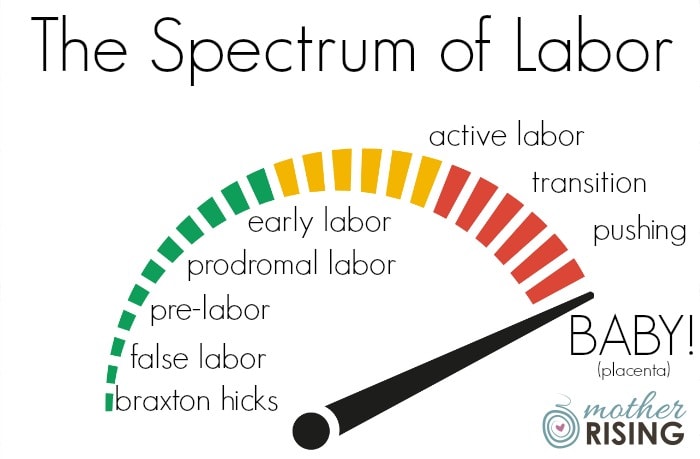 Looking at the above image of the spectrum of labor can help us to see how things generally progress. Some women experience very little of the "early stuff" and cruise right on into active labor (or transition!). For these women it's pretty straightforward what's happening.
On the other hand, some women may spend a little (or a lot) of time in the "early stuff" which can be confusing and challenging, to say the least.
No matter what you're experiencing, it is real, difficult and a normal part of the end of pregnancy. I promise that it won't last forever and will end sooner rather than later. You can do it!
SIDE NOTE: The night before my daughter was born I experienced pre-labor. I even had my midwife come over to my house because I thought it was the real deal! In the blog post I wrote that what I experienced was prodromal labor. See? These terms are thrown around with no care. HA! I think what matters most here, however, is that she was born soon after. Babies come out!
How Long will Prodromal Labor Last?
Because prodromal labor cannot be stopped by rest, hydration, or a warm bath or shower, it does not go on for weeks and weeks (as I've heard some women say). Maybe days but not weeks.
Again, rest is the number one priority in these situations. Rest always trumps "trying to be in labor" unless there are other factors at play (like a ruptured amniotic sac aka your water breaking).
Can You Speed Up Prodromal Labor?
As your virtual childbirth educator, I encourage you to spend your time and energy on resting, eating and drinking rather than on ways to speed things up. Assuming you are prioritizing these things, you may find success with the following ideas to progress prodromal labor.
Nipple stimulation (I've found this to be most effective to strengthen labor rather than start it.)
The Miles Circuit (Sometimes baby is not in a favorable position or baby has not dropped.)
Can Stripping the Membranes Cause It?
I believe that stripping the membranes could cause any of the "early stuff" to happen, prodromal labor included.
Why Does It Happen at Night?
Women generally begin their labor experience at night. If a woman is experiencing prodromal labor and it seems as if she just needs a little bit of a nudge to get things going, odds are that the next night things will pick up. I believe that we are more likely to go into labor at night because our bodies are more relaxed, we're "in our nest", we feel safe and ready to give birth naturally.
How to End Prodromal Labor?
The best way to end prodromal labor is to have a baby. 🙂
Ok, that answer is not that funny or helpful. Sorry… I couldn't resist!
The best way to end these frustrating symptoms is to be patient, stay relaxed and remind yourself of the truth —-> Prodromal labor means that you're in the home stretch and you get to meet your baby soon. What you're experiencing is normal and there's nothing wrong with you or your baby. You can do it!
Is Prodromal Labor Painful?
Yes, prodromal labor contractions can be painful. However, I think the bigger challenge in these scenarios fatigue rather than pain. Sleep and rest are priority number one, followed by nourishing the body with food and water. If a woman can meet the basic needs of her body in this way, challenges will be easier to overcome.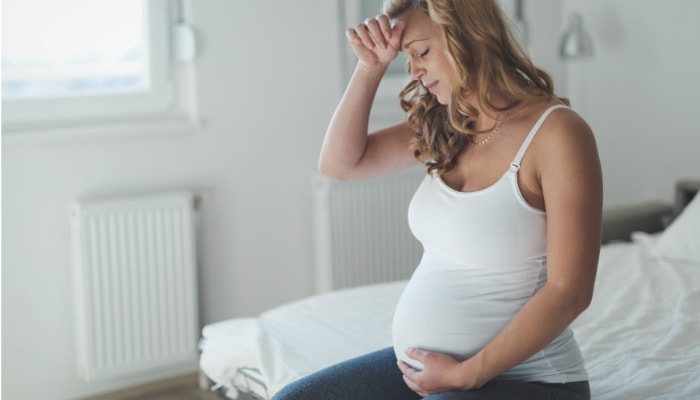 The Mucus Plug
Some women lose their mucus plug while experiencing prodromal labor. Losing the mucus plug doesn't necessarily indicate how much longer labor will last, but it does mean you'll be having your baby "soon."
Hang in there! You can do it!
NOTE: Curious about what mucus plugs look like? The rest of us are too. Head on over here to see pictures of mucus plugs.
Vomiting
Unfortunately, some women also experience vomiting alongside prodromal labor. In these circumstances it's important to be communicating with your doctor or midwife as dehydration makes things worse.
Check out my post about how to stop throwing up in labor for some good ideas on how to feel better. You got this!
A Posterior Baby
I believe that prodromal labor can sometimes be caused by a malpositioned baby. A stopping and starting again, but never fully going away sort of labor could be your uterus's way of trying to reposition a baby.
Spinning Babies has a lot of good information about this, but The Miles Circuit, a similar technique, is easy to implement without wading through a pile of information. Sometimes when dealing with challenging labors, easy is what's best and what actually gets done.
VBAC
A woman planning for a VBAC is not exempt from this challenging situation. From what I can tell, prodromal labor does not increase a woman's risk of uterine rupture.
Will I Have a Shorter Labor?
There's no evidence to support this, but many women report short, quick and to the point labors after experiencing prodromal and pre-labor symptoms. This anecdotal information can be extremely encouraging to those in the middle of this frustrating experience. If that is the case, then I'm on board.
Yes, prodromal labor means a shorter labor once labor gets going. 😉 Make sure your hospital bag is packed so you can grab it quickly on your way to labor and delivery!
Therapeutic Rest
Because rest is priority number one but also extremely difficulty to achieve, some women, alongside their care providers, choose medicine to help cope through this frustrating time. The following are some of the medications women take to cope through prodromal labor.
Morphine
Demerol
Nubain
Phenergan
Ambien
Vistaril
For those that need to rest but can't, but also don't want to take the above medications, sometimes find success with a warm bath and a glass of wine.
Prodromal Labor 101: What It Is, What It's Not and How to Cope
Prodromal labor is a normal abnormality. It does not mean that anything is wrong with you or your baby. It does not mean that your uterus is broken or that your body does not know how to go into labor. Nor does not mean that your body has failed and that medical intervention is the only way out.
What this means is that you're at the end of pregnancy and you get to meet your baby very soon. Remember, make rest and nourishment your number one priority. You can do this!
Leave a Comment
Leave a comment and let me know your experience with prodromal labor. What worked or didn't work for you? What would you do differently next time?