If you're new to making popcorn on the stove, or if you're an old hat, you'll want to check this recipe out.  By using my step-by-step instructions you will have perfectly popped coconut oil popcorn made on the stove with minimal (if not zero!) unpopped kernels.  Life goals, people!  Let's get started.
How to Make Perfect Coconut Oil Popcorn on the Stove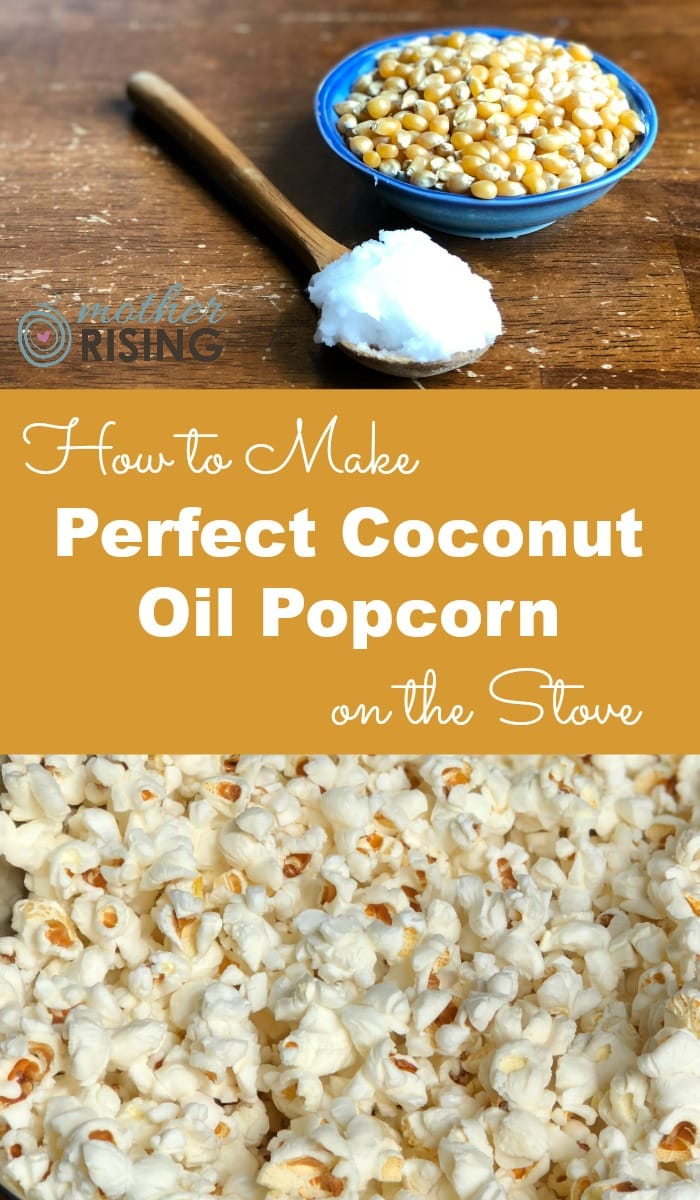 Gather Ingredients and Supplies
First off, gather together the long list of ingredients. 😉 To make this coconut oil popcorn on the stove you'll need:
Next, find a pot with a lid.  A glass lid is fun, as it allows viewing of the popcorn popping, but it's not necessary.  I used a 4 quart saucepan for this recipe.
TIP:  If you're making this coconut oil popcorn for just one person, cut this recipe in half.  This recipe makes  enough for me and my three small children.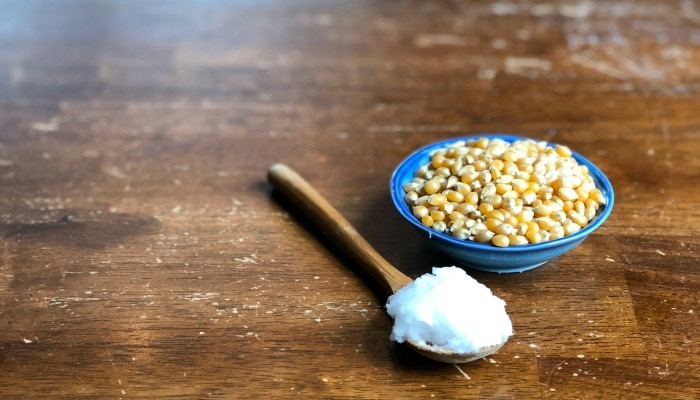 What Makes Perfect Coconut Oil Popcorn?
Have you ever made popcorn on the stove, or in the microwave for that matter, and when all was said and done a good portion of the popcorn kernels never popped?  Even worse, maybe some of the popcorn even burned. Awful!
I'm not lying when I say that this is the recipe for perfectly popped coconut oil on the stove.  If you follow my instructions to a T, I guarantee you'll make the best popcorn you've ever made.  There will be minimal unpopped popcorn kernels.  Promise!
Why Coconut Oil?
Unrefined, organic, unrefined, coconut oil is one of my favorite ways to ingest healthy fats.  It's delicious and so versatile.  In fact, it's in most recipes on this website.  Here are some of my favorites:
Plantain Pancakes Made in a Blender
No-Bake Energy Bites for Pregnancy and Postpartum
Coconut Curry Butternut Squash Soup (made in an InstantPot)
And if you learn anything extra from this blog post, let it be this.  Coconut oil makes the immunity properties of breastmilk even stronger.  It's amazing!  (I'm like the father on My Big Fat Greek Wedding with Windex, except for me it's coconut oil. I digress.)
STEP 1:  Heat the Oil
The first thing to do when making coconut oil popcorn is to heat the oil to the right temperature.  This is also one of the most important steps, so pay attention.
Turn the burner to medium heat, add the coconut oil, and ADD ONLY FOUR KERNELS of popcorn.  Cover with the lid and let the oil get hot.
IMPORTANT:  Do not skip ahead and add the whole half cup of popcorn kernels, or you will be missing the entire point of this recipe – to make perfectly popped coconut oil popcorn on the stovetop.  It's important to get the coconut oil to the right temperature first before adding all the kernels.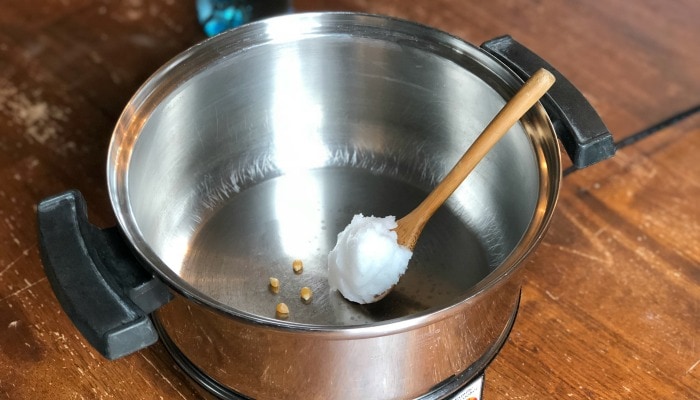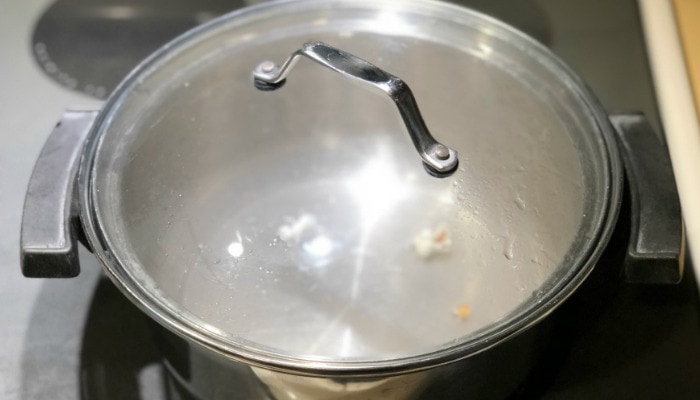 The reason why we are adding only four kernels is because they are the way to know that the oil is hot enough.  Once they pop, it's time to add the rest of the popcorn kernels.
But wait, there's another really important step.
STEP 2:  Add Popcorn to Hot Coconut Oil
Once the four kernels have popped, it's time to add the remaining popcorn kernels.  Remove the saucepan from the heat, take off the lid, and add the kernels.  Place the lid back on saucepan.
IMPORTANT:  For the next 30 seconds, shake the pan back and forth off the hot stove.  This important step brings the remaining kernels of popcorn to the perfect temperature – the temperature of the coconut oil.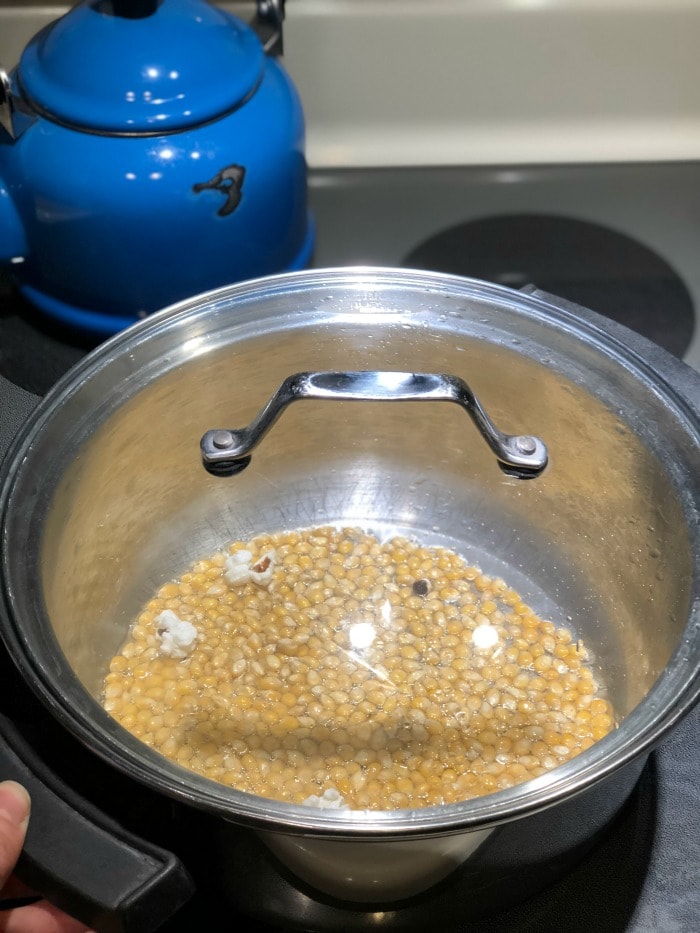 STEP 3:  Put Back on Heat and Watch 'em Pop
After 30 seconds of shaking and heating the kernels, place the pot back on medium heat.  It's hands off at this point.  Watch (or listen) to your popcorn pop!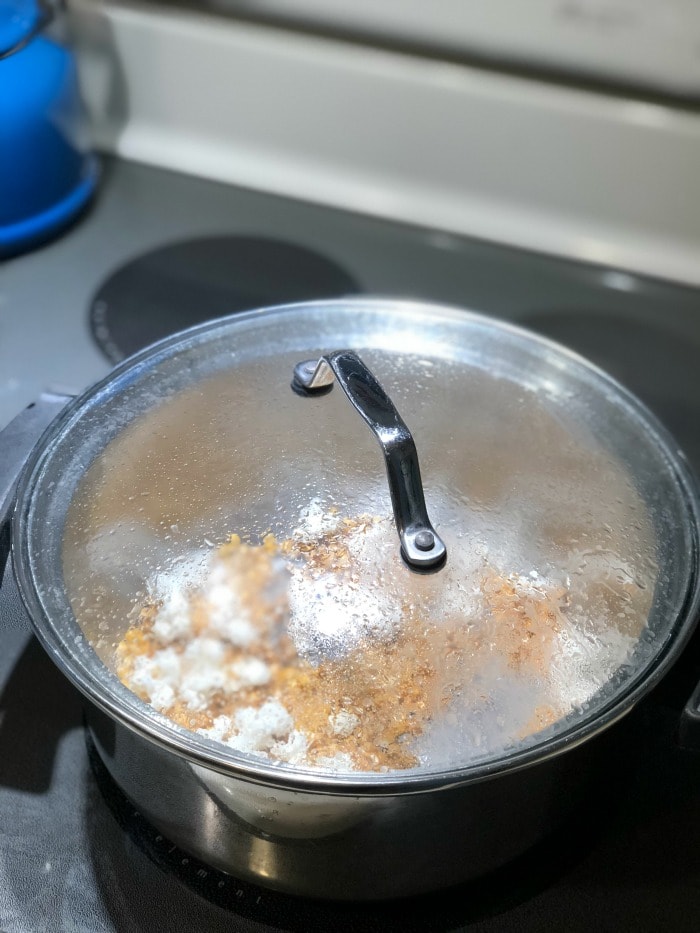 STEP 4:  Remove from Heat
At some point you'll notice the sound of the popcorn popping get less and less frequent.  This is good!  This means that your popcorn kernels are popping and it's almost done.
Once the pops have become less frequent, maybe 3-4 seconds in between pops, remove from heat.  We don't want the popcorn to burn, so at this point pay attention closely.
Voila!  You are done!  Congratulations, you just made the best coconut oil popcorn all by yourself.  Woohoo!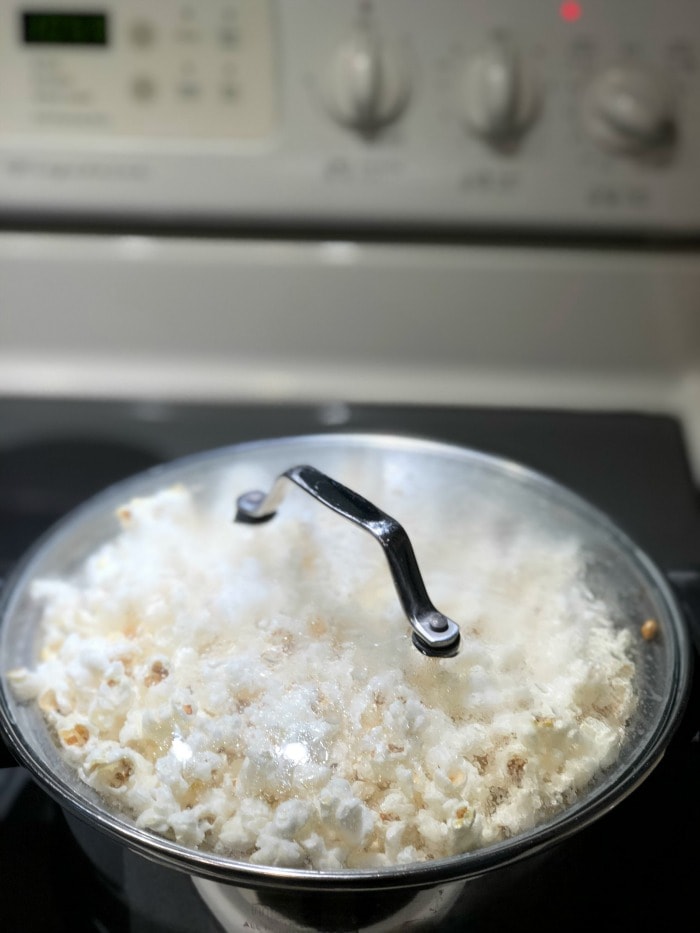 Perfect Coconut Oil Popcorn on the Stove
Ingredients:
1/2 cup popcorn kernels
2 Tbsp coconut oil
Directions:
On medium heat, add coconut oil and 4 popcorn kernels to saucepan.  Cover with lid.
Once the kernels pop, remove from heat and add the remaining popcorn kernels.  Cover with lid.
For 30 seconds, shake the saucepan back and forth in order to heat the popcorn kernels to the temperature of the coconut oil.
After 30 seconds, place saucepan back on medium heat.
Allow popcorn to pop.
Remove from heat when all kernels have popped.
Enjoy right then and there or save for a delightful treat later.
Makes enough popcorn for 2-3 people. Keep leftovers in an air tight container in order to enjoy another day.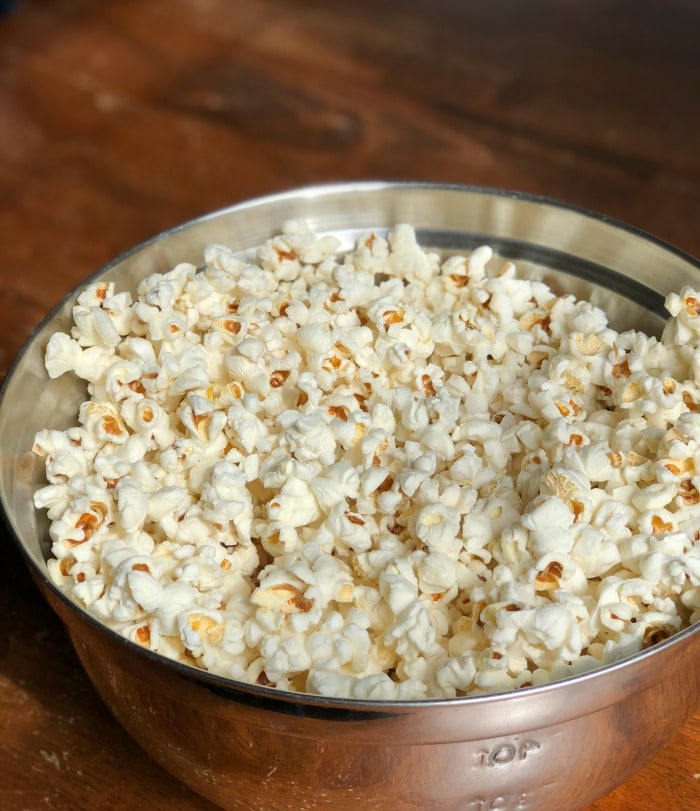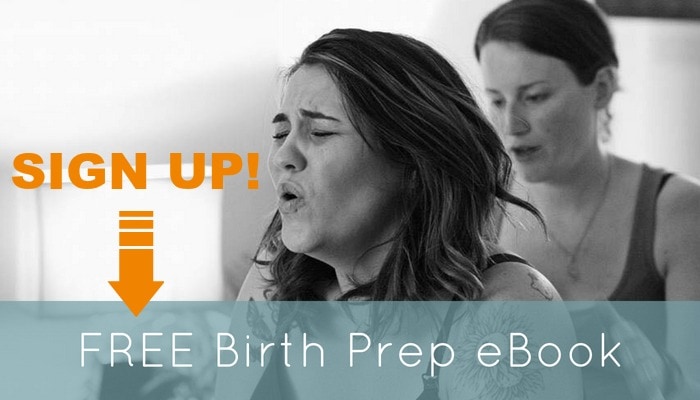 Check out my NEWEST eBook: A Simple Guide to the Hard Parts of Labor! What's inside? ---->> ALL of my best information about getting through the hard parts of labor. Want a copy? Simply click the image above, follow the prompts, and it will be delivered to you today!