Pregnancy and childbirth are a rollercoaster ride into becoming a parent, even for the most prepared. I think God uses experiences like pregnancy to deepen our walk with him, increase our faith, and develop our character. Thankfully, God has given us a roadmap of sorts to journey with us – the bible (his words!). Use the following bible verses for pregnancy throughout all three trimesters for a more peaceful, transformative, and holistic experience. Let's get started!
PS – If you don't like the translation or paraphrase I've used, just look it up at home or on your phone. They're wonderful verses, so just read the translation you like best. 🙂
TIP: Pick one or two verses for each trimester and memorize them as you go. You can do it!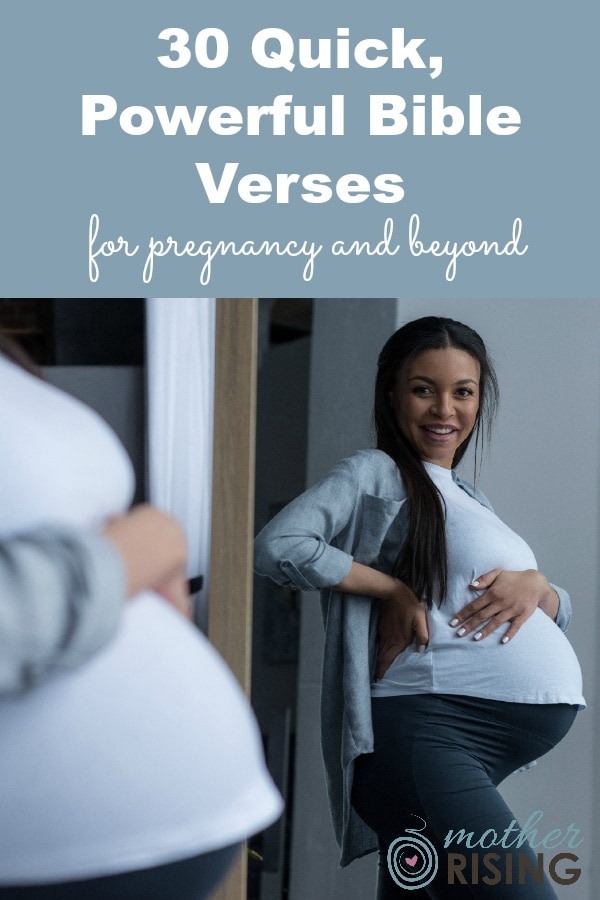 30 Quick, Powerful Bible Verses for Pregnancy and Beyond
Make sure you pop on over to my Etsy shop to see my gorgeous bible verses for pregnancy that you can print at home TODAY!
For more bible verses, check out the following posts.
30 Comforting Bible Verses for Labor and Delivery
43 Powerful Bible Verses for New Moms
Also, make sure to stop by and read this simple and beautiful prayer for pregnancy.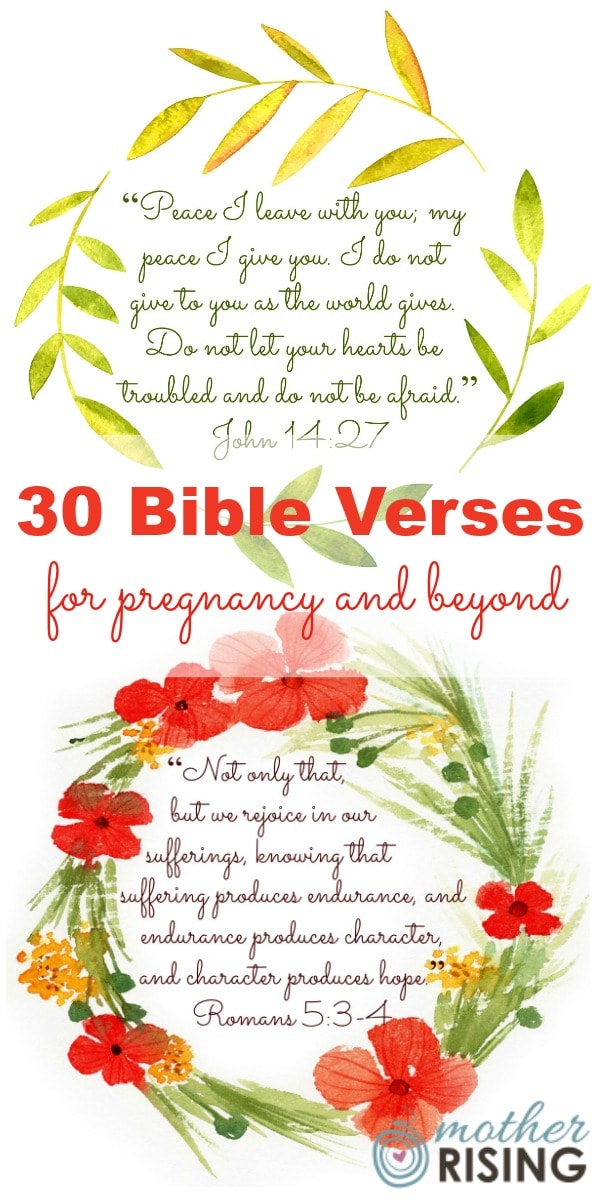 The First Trimester
The first trimester of pregnancy can be thrilling, overwhelming, nauseating, daunting, and so much more. Morning sickness, a shock to many parents, can leave even the most excited of parents feeling down in the dumps.
Unplanned pregnancies can overwhelm parents with feelings of fear, and perhaps even a little bit of wonder. Sometimes a subsequent pregnancy can even dig up traumatic memories from a previous pregnancy or delivery. The first trimester is no joke!
With all these intense thoughts, feelings, and physical manifestations of pregnancy, it's important for parents to stay focused on God's words and promises.
The following first trimester bible verses for pregnancy guide parents through the ups and downs, the fears and wonder, and the uncertainty and physical changes that every new pregnancy brings. Enjoy!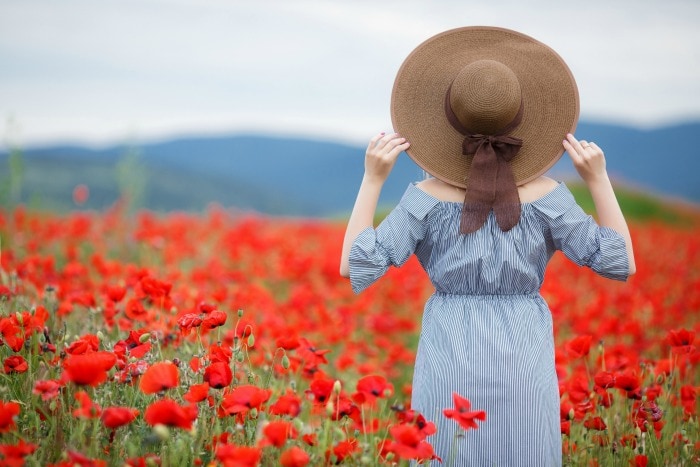 (I wish the first trimester felt like this photo looked.)
1st Trimester Bible Verses for Pregnancy
Old Testament
"But blessed is the man who trusts me, God, the woman who sticks with God. They're like trees replanted in Eden, putting down roots near the rivers— Never a worry through the hottest of summers, never dropping a leaf, serene and calm through droughts, bearing fresh fruit every season." Jeremiah 17:7-8 (MSG)
"Delight yourself in the Lord, and he will give you the desires of your heart." Psalm 37:4 (ESV)
"Be still, and know that I am God." Psalm 46:10 (ESV)
"A joyful heart is good medicine, but a crushed spirit dries up the bones." Proverbs 17:22 (ESV)
New Testament
"Give your entire attention to what God is doing right now, and don't get worked up about what may or may not happen tomorrow. God will help you deal with whatever hard things come up when the time comes." Matthew 6:34 (MSG)
"Peace I leave with you; my peace I give you. I do not give to you as the world gives. Do not let your hearts be troubled and do not be afraid." John 14:27 (NIV)
"We rejoice in our sufferings, knowing that suffering produces endurance, and endurance produces character, and character produces hope, and hope does not put us to shame, because God's love has been poured into our hearts through the Holy Spirit who has been given to us." Romans 5:30 (ESV)
"We destroy arguments and every lofty opinion raised against the knowledge of God, and take every thought captive to obey Christ." 2 Corinthians 10:5 (ESV)
"Beloved, I pray that all may go well with you and that you may be in good health, as it goes well with your soul." 3 John 1:2 (ESV)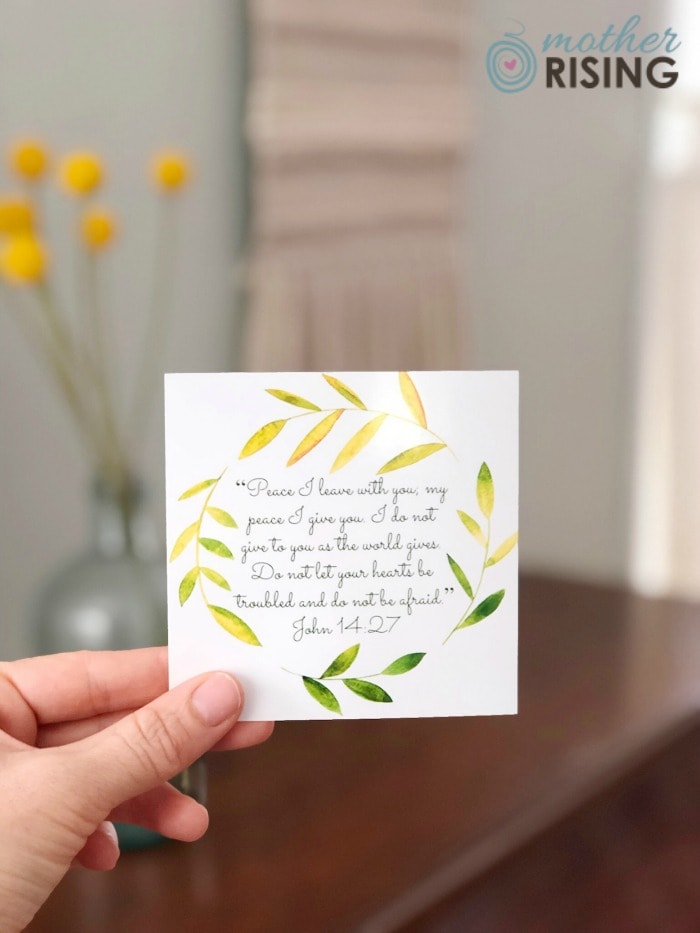 The Second Trimester
The second trimester is when parents make a lot of decisions regarding pregnancy testing, care providers, childbirth classes, hospital tours, doulas, and more. Wisdom is is a hot commodity in the second trimester!
It's also a time where, if it hasn't already, self-care needs to become a priority. Self-care is a way of loving oneself, but doesn't usually happen all on its own. It's a discipline!
As you and your baby grow into the second trimester, I pray that the following bible verses for pregnancy will minister to your soul.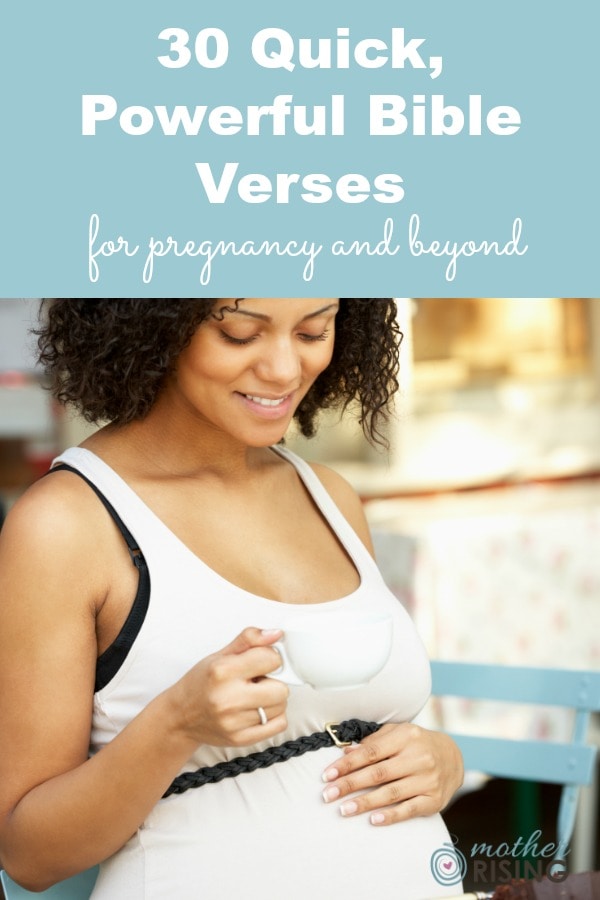 2nd Trimester Bible Verses for Pregnancy
Old Testament
"Blessed are those who find wisdom, those who gain understanding." Proverbs 3:13 (NIV)
"The wise woman builds her house, but with her own hands the foolish one tears hers down." Proverbs 14:1
"As iron sharpens iron, so one person sharpens another." Proverbs 27:17
New Testament
"For I am sure that neither death nor life, nor angels nor rulers, nor things present nor things to come, nor powers, nor height nor depth, nor anything else in all creation, will be able to separate us from the love of God in Christ Jesus our Lord." Romans 8:38-39 (ESV)
"Now may the God of hope fill you with all joy and peace in believing, so that you will abound in hope by the power of the Holy Spirit." Romans 15:13 (NASB)
"Love is patient, love is kind is not jealous; love does not brag is not arrogant, does not act unbecomingly; it does not seek its own, is not provoked, does not take into account a wrong, does not rejoice in unrighteousness, but rejoices with the truth; bears all things, believes all things, hopes all things, endures all things." 1 Corinthians 13:4-8 (NASB)
"But the fruit of the Spirit is love, joy, peace, patience, kindness, goodness, faithfulness, gentleness, self-control; against such things there is no law." Galatians 5:22 (NASB)
"But if any of you lacks wisdom, let him ask of God, who gives to all generously and without reproach, and it will be given to him." James 1:5 (NASB)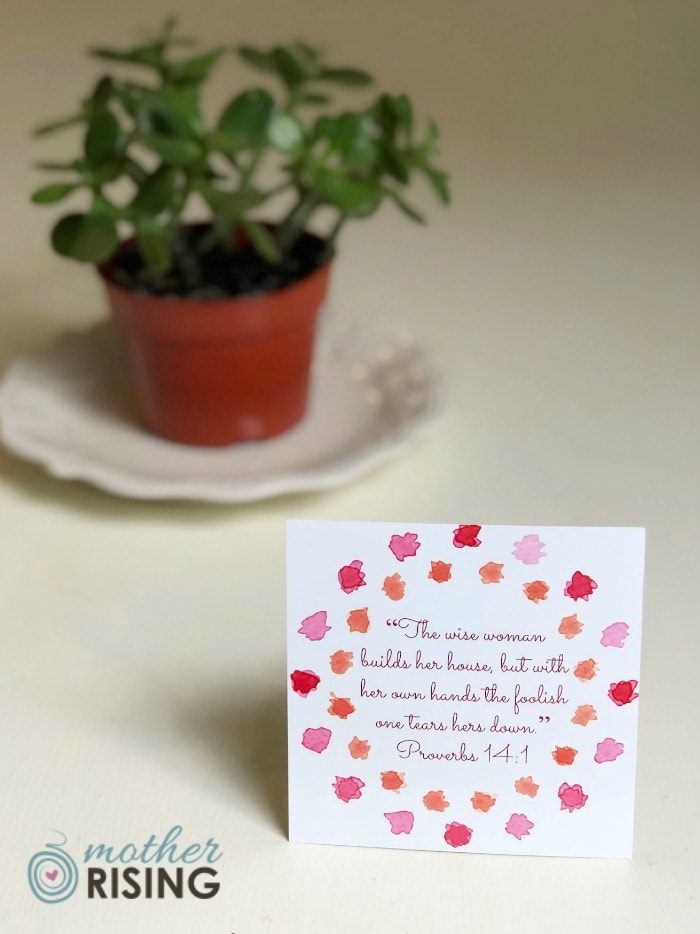 The Third Trimester
The third trimester typically feels like an eternity, but at the same time comes suddenly! "I thought we had more time!" and "I'm going to be pregnant forever!" 😉
This trimester is the final opportunity to discuss birthing plans with care providers, switch care providers, and create a rock star birth team, all while simultaneously feeling D.O.N.E. with pregnancy.
During the last few months of pregnancy I remember thinking to myself "I just have to get through today" in order to cope with the intense discomforts and sleep deprivation was experiencing.
Take heart. These difficulties are temporary, but also have eternal significance. Use the following bible verses for pregnancy to guide you through the final stretch. God's got you.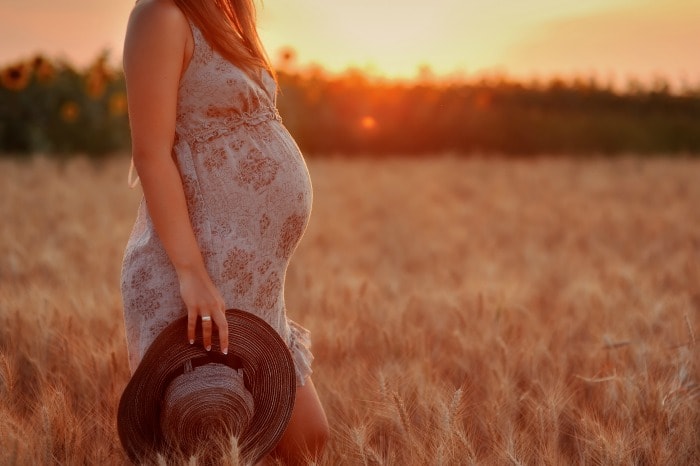 3rd Trimester Bible Verses for Pregnancy
Old Testament
"Better is a handful of quietness than two hands full of toil and a striving after wind." Ecclesiastes 4:6 (ESV)
"Trust in the Lord with all your heart and do not lean on your own understanding. In all your ways acknowledge him, and he will make straight your paths." Proverbs 3:5-6
"For I know the plans I have for you, declares the Lord, plans for welfare and not for evil, to give you a future and a hope." Jeremiah 29:11
New Testament
"Then he said to them all: "Whoever wants to be my disciple must deny themselves and take up their cross daily and follow me. For whoever wants to save their life will lose it, but whoever loses their life for me will save it. What good is it for someone to gain the whole world, and yet lose or forfeit their very self?" Luke 9:23-25 (NIV)
"I have said these things to you, that in me you may have peace. In the world you will have tribulation. But take heart; I have overcome the world." John 16:33 (ESV)
"Not only that, but we rejoice in our sufferings, knowing that suffering produces endurance, and endurance produces character, and character produces hope." Romans 5:3-4 (ESV)
"That's why I don't think there's any comparison between the present hard times and the coming good times. The created world itself can hardly wait for what's coming next. Everything in creation is being more or less held back. God reins it in until both creation and all the creatures are ready and can be released at the same moment into the glorious times ahead. Meanwhile, the joyful anticipation deepens." Romans 8:18-21 (MSG)
"So we're not giving up. How could we! Even though on the outside it often looks like things are falling apart on us, on the inside, where God is making new life, not a day goes by without his unfolding grace. These hard times are small potatoes compared to the coming good times, the lavish celebration prepared for us. There's far more here than meets the eye. The things we see now are here today, gone tomorrow. But the things we can't see now will last forever." 2 Corinthians 4:17 (MSG)
"Blessed be the God and Father of our Lord Jesus Christ, the Father of mercies and God of all comfort, who comforts us in all our affliction, so that we may be able to comfort those who are in any affliction, with the comfort with which we ourselves are comforted by God." 2 Corinthians 1:3-4 (ESV)
"Let us not become weary in doing good, for at the proper time we will reap a harvest if we do not give up." Galatians 6:9 (NIV)
"You need to persevere so that when you have done the will of God, you will receive what he has promised." Hebrews 10:36 (NIV)
"Friends, when life gets really difficult, don't jump to the conclusion that God isn't on the job. Instead, be glad that you are in the very thick of what Christ experienced. This is a spiritual refining process, with glory just around the corner." 1 Peter 4:12-13 (MSG)
"And after you have suffered a little while, the God of all grace, who has called you to his eternal glory in Christ, will himself restore, confirm, strengthen, and establish you." 1 Peter 5:10 (ESV)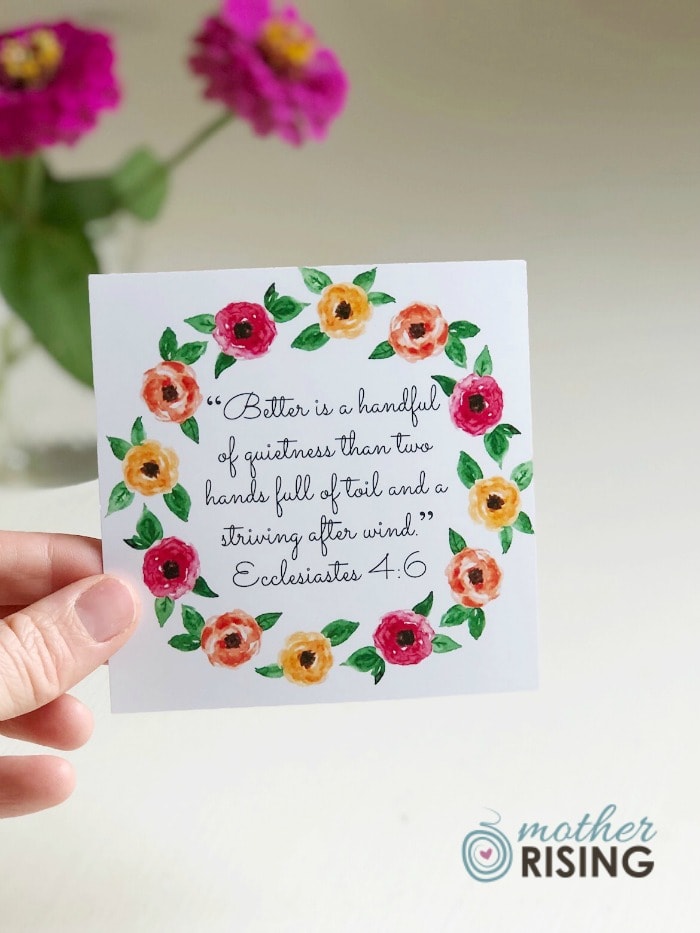 Printable Bible Verses for Pregnancy and Beyond
How will you use your favorite bible verses for pregnancy? If you're anything like me, printing them out in an aesthetically pleasing way sparks so much joy!
Hop on over to my Etsy shop to view these bible verses for pregnancy, and other gorgeous digital prints you can use TODAY in your own home.