I love bible verses for kids that teach children about who God is, who they are according to their creator, and their purpose in life.
Who Am I?
The children we give birth to are not born knowing who they are. The only way for our babies to know who they are is to teach them more about their creator and who their creator says they are. We need to point our children to the source of life!
A wonderful way to accomplish this task is to read and teach children bible verses. Believe it or not, it can also be quite fun!
"All Scripture is breathed out by God and profitable for teaching, for reproof, for correction, and for training in righteousness, that the man of God may be complete, equipped for every good work." 2 Timothy 3:16-17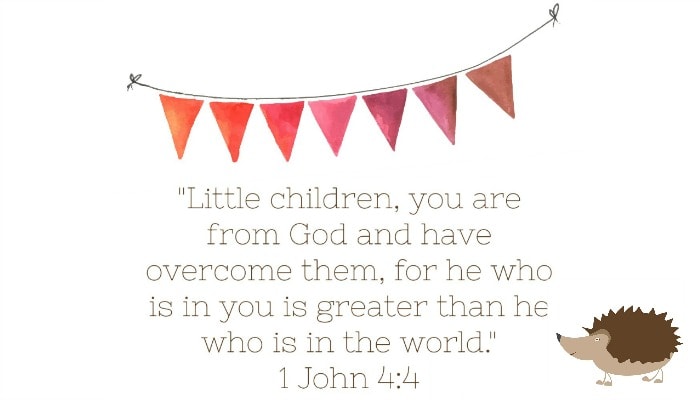 30 Powerful Bible Verses for Kids About Who They Are
The following 30 bible verses for kids focus on who God is and who he says his people are. These aren't the typical bible verses that are taught to young children. Of course, many scriptures are appropriate to teach our children, but I think this group of verses and its purpose is uniquely transformative.
I hope that when these verses are spoken over our children, over and over, our children will have a better understanding of who God is, who they are, and their purpose in life. This is such a wonderful thing!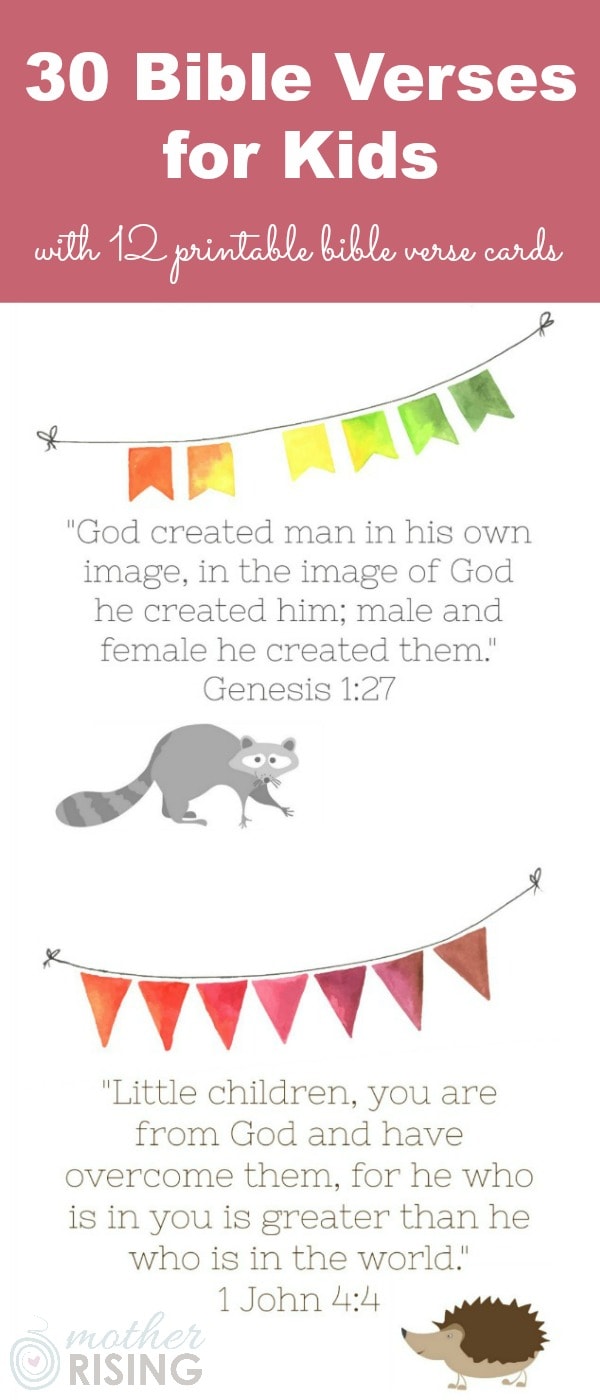 Old Testament Bible Verses for Kids
The following bible verses for kids are taken from the old testament of the bible. All verses are from the English Standard Version (ESV).
The coolest part? The verses with an asterisk (*) are included in Mother Rising's 12 printable bible verse cards for kids. Check them out!
(For more printables from Mother Rising, check out the following links.)
Bible Verses for Labor and Delivery
Printable Positive Birth Affirmations
The ABCs of the Third Trimester (Funny Printable Pregnancy Affirmations)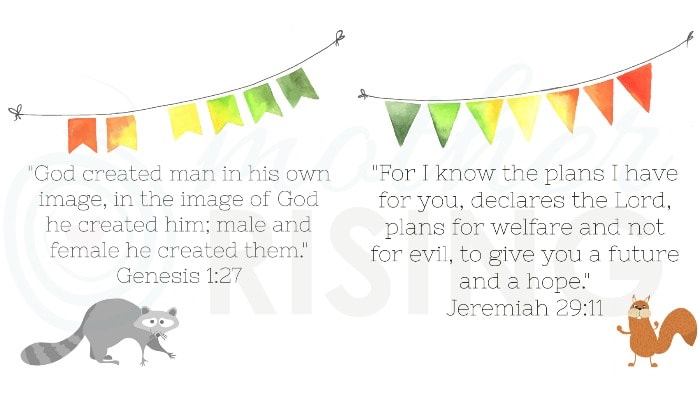 * "God created man in his own image, in the image of God he created him; male and female he created them." Genesis 1:27
* "The beloved of the Lord dwells in safety. The High God surrounds him all day long, and dwells between his shoulders." Deuteronomy 33:12
"Have I not commanded you? Be strong and courageous. Do not be frightened, and do not be dismayed, for the Lord your God is with you wherever you go." Joshua 1:9
"O Lord, you have searched me and known me! You know when I sit down and when I rise up; you discern my thoughts from afar. You search out my path and my lying down and are acquainted with all my ways. Even before a word is on my tongue, behold, O Lord, you know it altogether." Psalm 139:1-4
"Can a woman forget her nursing child, that she should have no compassion on the son of her womb? Even these may forget, yet I will not forget you. Behold, I have engraved you on the palms of my hands." Isaiah 49:15-16
* "Before I formed you in the womb I knew you, and before you were born I consecrated you." Jeremiah 1:5
* "For I know the plans I have for you, declares the Lord, plans for welfare and not for evil, to give you a future and a hope." Jeremiah 29:11
"The steadfast love of the Lord never ceases; his mercies never come to an end; they are new every morning; great is your faithfulness. "The Lord is my portion," says my soul, "therefore I will hope in him." Lamentations 3:22-24
* "The Lord your God is in your midst, a mighty one who will save; he will rejoice over you with gladness; he will quiet you by his love; he will exult over you with loud singing." Zephaniah 3:17
New Testament Bible Verses for Kids
The following bible verses for kids are taken from the new testament in the bible and are also from the English Standard Version (ESV). Again, the verses with an asterisk (*) are included in Mother Rising's 12 printable bible verse cards for kids.
Head on over here to take a peek.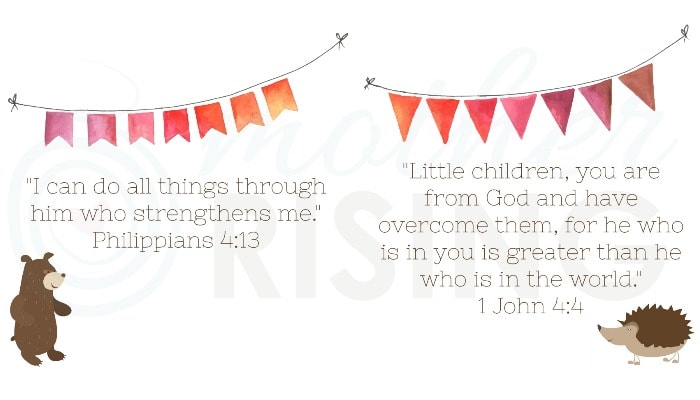 "You are the light of the world. A city set on a hill cannot be hidden." Matthew 5:14
* "But to all who did receive him, who believed in his name, he gave the right to become children of God." John 1:12
"No longer do I call you servants, for the servant does not know what his master is doing; but I have called you friends, for all that I have heard from my Father I have made known to you." John 15:15
"What then shall we say to these things? If God is for us, who can be against us? He who did not spare his own Son but gave him up for us all, how will he not also with him graciously give us all things?" Romans 8:31-32
"Or do you not know that your body is a temple of the Holy Spirit within you, whom you have from God? You are not your own, for you were bought with a price. So glorify God in your body." 1 Corinthians 6:19-20
* "But if anyone loves God, he is known by God." 1 Corinthians 8:3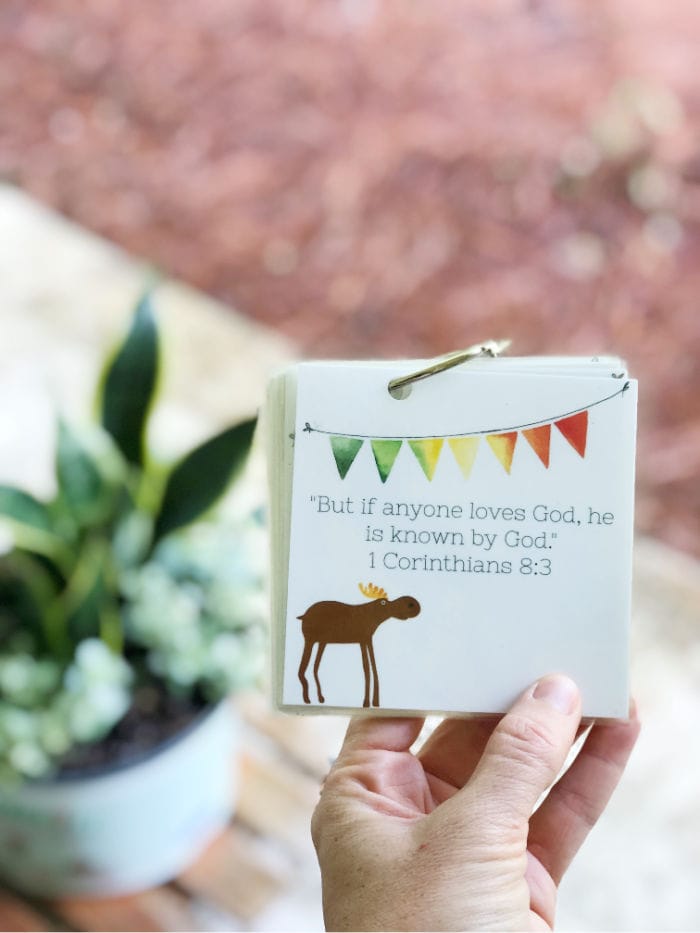 "Now you are the body of Christ and individually members of it." 1 Corinthians 12:27
* "Therefore, if anyone is in Christ, he is a new creation. The old has passed away; behold, the new has come." 2 Corinthians 5:17
"For our sake he made him to be sin who knew no sin, so that in him we might become the righteousness of God." 2 Corinthians 5:21
*"I have been crucified with Christ. It is no longer I who live, but Christ who lives in me." Galatians 2:20
"There is neither Jew nor Greek, there is neither slave nor free, there is no male and female, for you are all one in Christ Jesus." Galatians 3:28
"And because you are sons, God has sent the Spirit of his Son into our hearts, crying, "Abba! Father!" So you are no longer a slave, but a son, and if a son, then an heir through God." Galatians 4:6-7
"For by grace you have been saved through faith. And this is not your own doing; it is the gift of God, not a result of works, so that no one may boast. For we are his workmanship, created in Christ Jesus for good works, which God prepared beforehand, that we should walk in them." Ephesians 2:8-10
"But our citizenship is in heaven, and from it we await a Savior, the Lord Jesus Christ, who will transform our lowly body to be like his glorious body, by the power that enables him even to subject all things to himself." Philippians 3:20-21
* "I can do all things through him who strengthens me." Philippians 4:13
"Set your minds on things that are above, not on things that are on earth. For you have died, and your life is hidden with Christ in God." Colossians 3:2-3
* "For you are all children of light, children of the day. We are not of the night or of the darkness." 1 Thessalonians 5:5
"All Scripture is breathed out by God and profitable for teaching, for reproof, for correction, and for training in righteousness, that the man of God may be complete, equipped for every good work." 2 Timothy 3:16-17
"But you are a chosen race, a royal priesthood, a holy nation, a people for his own possession, that you may proclaim the excellencies of him who called you out of darkness into his marvelous light." 1 Peter 2:9
"See what kind of love the Father has given to us, that we should be called children of God; and so we are. The reason why the world does not know us is that it did not know him." 1 John 3:1
* "Little children, you are from God and have overcome them, for he who is in you is greater than he who is in the world." 1 John 4:4
Ideas for Teaching Bible Verses for Kids
There are many ways to teach children the word of God. Children are little sponges, absorbing everything around them. You know how quickly they learn how to use a smart phone, tablet, or other electronics? That same tech savvy minds are capable of memorizing substantial sections of the word of God.
However, just like you, my life is busy and I struggle to find the time to speak scripture over my children. One thing that has worked for me, however, is to keep eye-catching laminated bible verses cards in my card to read to my children while we are driving. For us it's been a fun and simple way to redeem some of the time that is spent in the car.
"And these words that I command you today shall be on your heart. You shall teach them diligently to your children, and shall talk of them when you sit in your house, and when you walk by the way, and when you lie down, and when you rise. You shall bind them as a sign on your hand, and they shall be as frontlets between your eyes. You shall write them on the doorposts of your house and on your gates." Deuteronomy 6:6-9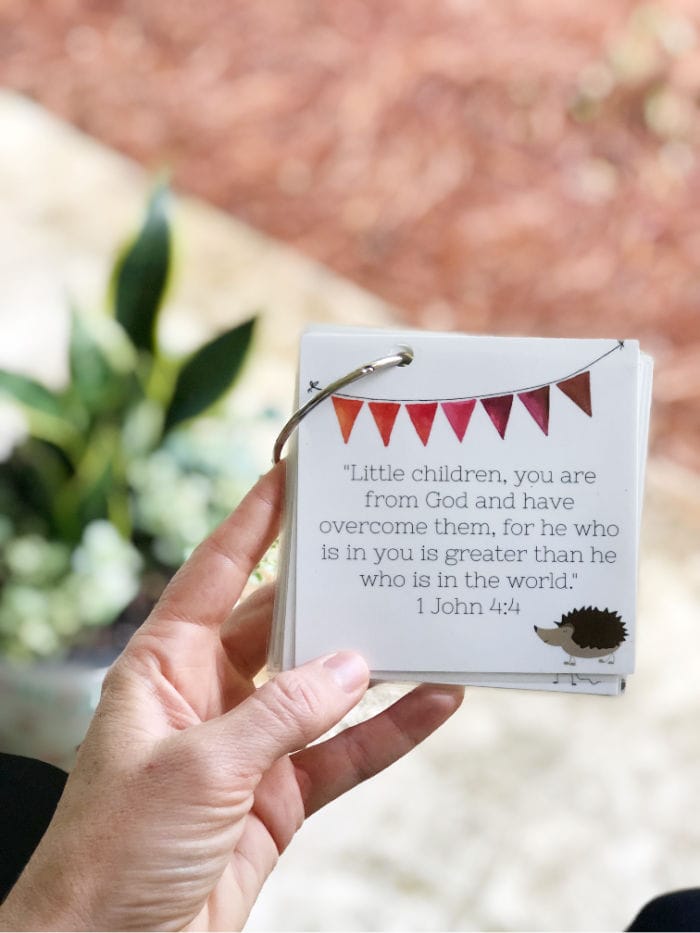 If that doesn't verse clearly say read scripture to your kids when you're driving I don't know what does. 😉
First, hand all laminated bible verses to a child. (This is where a book ring comes in handy.)
Next, have them to pick their favorite bible verse, or favorite animal if they are very young and can't read.
For young children, read the bible verse to them. For older ones, have them read it aloud.
It's that simple!
The more you do this, the more they'll remember the verses (and corresponding animals!). You'll find that they may pick the same verses over and over again. That's ok! Kids love having the freedom to pick whatever verse they desire. Parents love reading scripture to engaged children. It's a win-win.
Printable Bible Verses for Kids
If you're wanting to read scripture to your children, try using Mother Rising's digital printable bible verses for kids to make it fun and exciting!
You could print them at home, but I like printing them like regular photos at drugstores like Walgreens. It's cheap, good quality, and fast.
Also, you could use them as is, but I'm a fan of laminating things that my kids will repeatedly touch. Laminators aren't that expensive and will help keep the printable's in good condition!
I also really like hole punching the finished product and putting them on a book ring. This way the printables will stay together even when I pass them around the car to my kiddos.