Sporting cute fall pregnancy shirts is a fun way to keep the challenges of pregnancy in check. Not everything needs to be so serious! Whether you're looking for a halloween maternity shirt, fall pregnancy shirt, or a Thanksgiving maternity shirt, there's one for you – or even your partner – shipped right to your front door.
17 Super Cute Fall Pregnancy Shirts You'll Love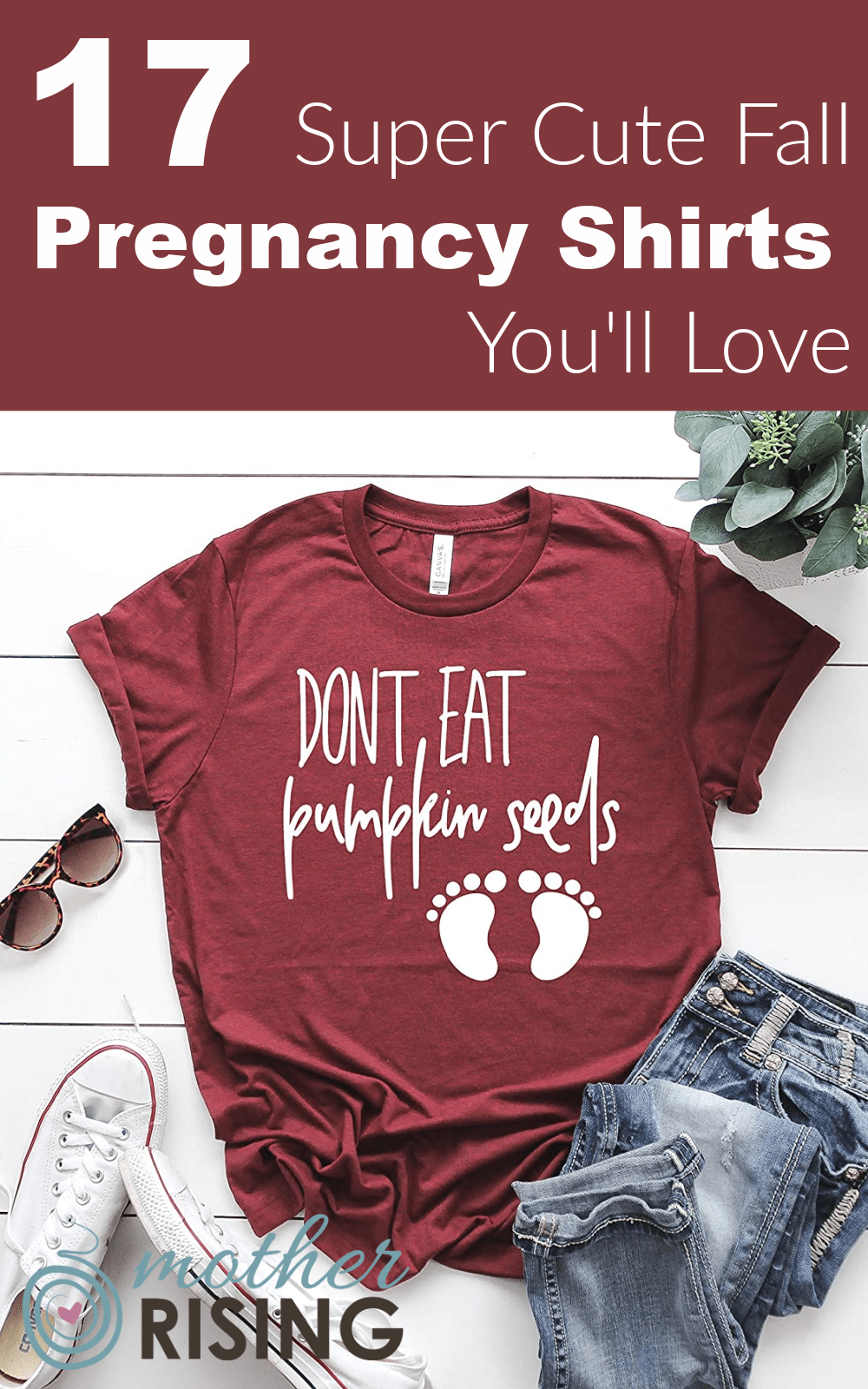 Matching Thanksgiving Maternity Shirts
Just so we're super clear about what's going on…
Even More Thankful This Year
Sweet and to the point.
Already Stuffed
Look at that cute little turkey holding a balloon!
I'm Just Here for the Pie
This shirt cracks me up!
The Turkey Ain't the Only Thing in the Oven
No? Is it stuffing? 😉
Little Turkey in the Oven
Very cute, Thanksgiving maternity shirt. Perfect for those weeks around the holiday!
Not a Food Baby
Ladies, this is the moment we've been waiting for. Own it.
Growing a Little Pumpkin
Perfect for a fall themed pregnancy announcement or a trip to the grocery store.
Pumpkin Smuggler
Ha! A fun spin-off of the "watermelon smuggler" shirts of summer.
Lil Pumpkin
Awwwww

Don't Eat Pumpkin Seeds
I think this is one of my favorite fall pregnancy shirts. It's a fun spinoff of the watermelon seeds of the summer.
Witch or Wizard Brewing
Hogwarts in your future? This shirt is for you!
Something Good is Brewing
"Winnie, I smell a child"
If you know, you know. #hocuspocus
Skeleton Mom/Baby Tank
This fall pregnancy shirt would be ideal for those in hot climates. (My sympathies!)
Skeleton Mom/Baby Long Sleeve
If you need a long sleep halloween maternity shirt, this fits the bill. Gotta love how baby is just chillin'.
Kick or Treat
Does this mean mom will kick you if you don't give her candy? 😉
Orange Pumpkin Long Sleeve
One of the most classic fall pregnancy shirts. Perfect for October or in lieu of a pregnant halloween costume!
17 Super Cute Fall Pregnancy Shirts You'll Love
There you have it! What do you think? Found any good ones not on this list? Leave a comment and let us know!