Looking for in-person birthing classes in Tallahassee? Lindsey of Mother Rising's classes go beyond what typical childbirth classes offer. In addition to learning practical, evidence based information, parents deepen their intuitive knowing through thought-provoking dialogues, memorable birth videos, and fun hands-on exercises.
Also, Lindsey spends considerable time teaching pain coping practices which are helpful for any type of birth, but especially for those considering or planning for an unmedicated childbirth.
"If you don't know your options, you don't have any."
Many new parents believe that childbirth education isn't necessary because our bodies were designed to give birth and therefore knows exactly what to do. It is true that our body intuitively knows how to have a baby, but there are additional skills and knowledge needed to successfully navigate having a baby in our birthing culture. (Did you know that Tallahassee's cesarean rates are 35% and 41%?)
Lindsey's birthing classes are perfect for parents wanting to explore their options during pregnancy, and learn how to advocate for themselves throughout the childbirth.
Tallahassee Birthing classes prepare parents to give birth whether they're planning on birthing at home, in a birth center, tipi, taxi, or hospital!
More Information About Birthing Classes in Tallahassee
Lindsey is a Lamaze Certified Childbirth Educator (LCCE) and trained for many years with Birthing From Within. You can expect her classes to be evidence based and holistic.
As a childbirth educator Lindsey does not not lecture, fill heads with facts and figures, or teach parents how to breathe. Her role is to gently guide you into an understanding of your own expectations, assumptions, strengths, and bring you to the point of being ready to birth in awareness.
Your birthing classes in Tallahassee will be:
a balance of practical, useful information and creative, experiential exercises
personalized to your needs and interests
not narrowly focused on a particular type of birth
stimulating, lively discussions and interesting exercises
learning, not just about birth, but also about yourselves
In your childbirth class, you will learn how to:
Build a pain-coping mindset
Navigate the stages of labor with confidence
Increase confidence in yourself and your partner
Create a birth space that encourages labor progress
Address your birth fears
Push your baby out
Welcome your baby
Care for your newborn
Continue to do the "next best thing" even during a Cesarean birth, while using pain medication, or with medical support
2023 Class Schedule
Lindsey VanAlstyne, one of Tallahassee's favorite childbirth educators, is excited to announce her 2023 Tallahassee childbirth class dates!
Unless otherwise indicated, all classes meet on Thursday evenings from 6:30 to 8:30 for six consecutive weeks at the Birth Cottage or Verity Health Center (Midtown).
January/February 2023 Childbirth Class
Class 1 January 12th
Class 2 January 19th
Class 3 January 26th
Class 4 February 2nd
Class 5 February 9th
Class 6 February 16th
March/April 2023 Weekend Class
Friday, March 31st 5pm – 9pm
Saturday, April 1st 9am – 4pm
April/May 2023 Childbirth Class
Class 1 April 20th
Class 2 April 27th
Class 3 May 4th
Class 4 May 11th
Class 5 May 18th
Class 6 May 25th
Summer 2023 Childbirth Class
Class 1 June 20th
Class 2 June 21st
Class 3 July 5th
Class 4 July 6th
Class 5 July 18th
Class 6 July 19th
Summer 2023 Weekend Class
Friday, August 4th 5pm – 9pm
Saturday, August 5th 9am – 4pm
August/September 2023 Childbirth Class
Class 1 August 17th
Class 2 August 24th
Class 3 August 31st
Class 4 September 7th
Class 5 September 14th
Class 6 September 21st
Fall 2023 Weekend Class
Friday, October 13th 5pm – 9pm
Saturday, October 14th 9am – 4pm
Fall 2023 Childbirth Class
Class 1 September 28th
Class 2 October 5th
Class 3 October 12th
Class 4 October 19th
Class 5 October 26th
Class 6 November 2nd
December 2023 Weekend Class
Friday, December 8th 5pm – 9pm
Saturday, December 9th 9am – 4pm
November/December 2023 Childbirth Class
Class 1 November 9th
Class 2 November 16th
Class 3 November 30th
Class 4 December 7th
Class 5 December 14th
Class 6 December 21st
Class Pricing
$250 6 Week (12 hours)
$250 2 Day Weekend Intensive (10 hours)
$200 4 Week Birthin' Again (8 hours)
$600 Private (8 hours)
Fees Include: All class materials for you and your partner, and a copy of a book of Lindsey's choosing (it's usually Birthing From Within or The Birth Partner). Classes meet in-person and/or on zoom depending on the needs of each class.
Childbirth Class Registration
Space is extremely limited in group classes! A $50 deposit will hold your spot.
For more information and/or to register for class, please contact Lindsey. She will send you a PayPal link where you will have the option to pay a $50 deposit to hold your spot. Lindsey also takes cash or checks made payable to "Mother Rising".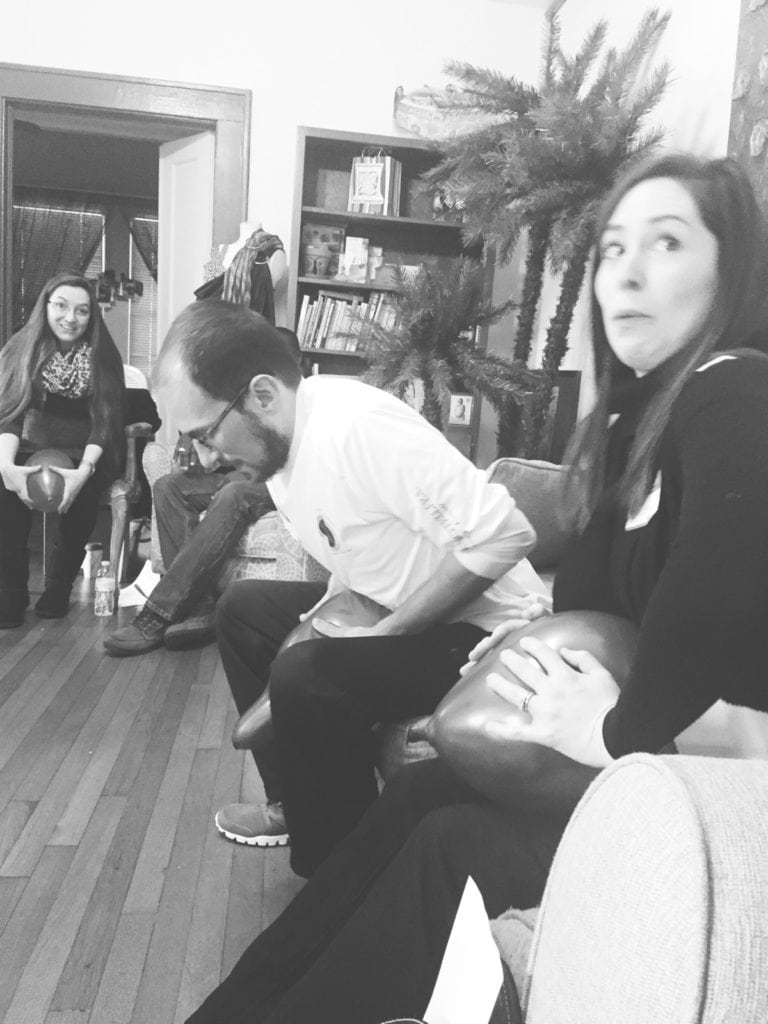 ---
Reviews and What Others Are Saying
"I am so happy to have participated in Lindsey's birthing classes in Tallahassee while pregnant with my daughter. Lindsey is a great facilitator of discussion and activities, and at the end of the classes I felt not only prepared to go through the birthing experience (and, it turns out I was
) but also welcomed into a community of mothering."
~Elizabeth
"Lindsey's birthing classes in Tallahassee were an excellent balance of the technical knowledge my husband (and first time dad) required and the holistic experience I was seeking to prepare for my first hospital birth (following a homebirth twelve years ago). She did a stellar job of teaching pain management skills, labor support techniques, and helping us navigate the challenges of birth together. When we were faced with an unexpected induction decision, my husband and I used the tools we learned in Lindsey's class to make the right choice for our family. I highly recommend her class to all expectant parents, both new and experienced!"
~Vikki
"I am really grateful to Lindsey for sharing her knowledge with my husband and I. I delivered by C-section with my first child and wanted to try VBAC with my second. Lindsey supported our decision which gave us confidence to ask the right questions of the doctors and nurses at the hospital. Thanks so much Lindsey for all you…your birthing class was so helpful to us."
~Heather
"It's hard to put into words how thankful I am to God for leading me to Lindsey. One of my friends from my breastfeeding group had used her classes and highly recommend them because the pain coping she learned from her she actually remembered and used! My husband and I loved the laid back and sometimes unconventional way learning the art of birth…well distraction from birth. I can honestly say I used every pain coping skill taught and am so grateful for how the classes taught my husband how to read my cues! I know he was more prepared because of what we learned and he was such an amazing help to me. However, I did not end up with the birth I had dreamed of. My water broke on a Saturday night and my sweet Zoe Abigail Esther was brought into this world via emergency c-section on a Monday night. I tried my very best to have a natural birth and stay home for as long as was safe but by Monday we new she just wasn't coming without help. So we went to the hospital and got on pitocin which lasted about 5 minutes before my little princess' heart decided that she was having none of it. I still had an overwhelming peace that I know only comes from God and what He had already prepared me for. I am so thankful that even though my classes were focused on natural birth that Lindsey took time out to show us how to use non focused awareness to cope with a c-section delivery. Man did I need it and it helped me greatly during and after with my rough recovery. My awesome doula was able to convince my surgeon to deliver the placenta at the same time as my sweet angel to allow for her to receive all the cord blood before it was cut. They even let my husband cut the cord which was the first in the history of the hospital for the father to cut the cord at a cesarean birth. Also, because of Lindsey's guidance I made a very specific birth plan section in case of a cesarean and they followed it to a tee! They brought my baby too me in the recovery room instead of me having to wait hours! I feel so blessed to have learned all that I did and I know that I owe a lot of how well it went to these classes! I highly recommend them and they are worth every penny! Thank you Lindsey!"
~M.W.
"Lindsey's birthing classes in Tallahassee helped me so much to prepare for our baby girl's birth! She helped by answering so many unknowns and by helping me to paint a picture of how I hoped the birth would go…I was connected to Todd and present. I felt prepared to feel the pain and breathe through it and had an awesome birth experience and thank Lindsey for assisting in that!"
~Anne Hempel
"I really enjoyed Lindsey's course – so much, that I took it twice: once alone and once with my husband. The dynamics of the course changed to suit the group and it was an intimate and engaging experience. When taking the course alone, I still felt fully included in each activity. When I took the course with my husband, I felt that it helped us build the sort of trust and bonding necessary for a well-supported childbirth. I ultimately did not have the birth experience I longed for and had prepared for due to health complications. Nevertheless, the skills I learned in Lindsey's class and the information she shared helped me cope tremendously well. As a result, I was well prepared for the surprise ending to my pregnancy and was still able to have a positive birth experience."
~Carly
"I took Lindsey's childbirth class, used her for my doula, and had her encapsulate my placenta. Her class was very helpful and fun! She's so laid back and funny and my husband actually enjoyed the class too. You learn not only about the birth process and coping mechanisms, but also about how you can handle different situations that you may encounter during the whole process, things I may have otherwise not even thought about.
As a doula, she was wonderful! She was there for both me and my husband, suggesting different things I should try and communicating with the nurses for me. She made us feel more comfortable about everything that was happening and was there for us when we needed her to be but also let us be. I don't know if I would have made it through natural unmedicated labor without her!"
~Jennifer J.
"I found Lindsey's childbirth class to be immensely helpful in preparation for my home birth. We also hired her to encapsulate my placenta and she did a great (and swift!) job. I highly recommend working with her!"
~Sarah V.
"We took Lindsey's natural labor childbirth class and learned so much!! Highly recommend being prepared if your hope is to have a natural birth:)"
~MacKenzie F.
"Lindsey has such a wonderful, calm energy about her. She was just what I needed in the frenzy of contractions. I had her as my doula for both of my births in Florida, and, sadly, had to go without her for my last one in California. Having Lindsay as my Doula is one of the main reasons that I was able to have the unmedicated birth I had hoped for. She gave
me right words of encouragement at the right time.
She did placenta encapsulation for my second birth and I wish that I had done it for both. Childbirth is her passion and she will be a wonderful advocate for your wellness (and that of the baby) in the process."
Adelaide M.
"Lindsey was a great instructor for the birth class we took prior to baby #1. Time well spent- gained take aways that have stuck with me. Great info on her blog too."
~Sharyn M.
"I took Lindsey's birth course and I cannot say enough good things! Me and my husband both left the class feeling well informed and most importantly, ready to face the challenges and uncertainties of the birth process. I really wanted a natural birth and with the help of many of the calming techniques Lindsey taught in her class, I was able to achieve the birth experience I hoped for. If you are thinking of taking her course, do not hesitate!"
~Melonie W.
"I truly believe this 6 week course is what set my family up for such an amazing birth and postpartum story. Even though many things my husband and I wanted didn't go as planned, we were as prepared as we possibly could be thanks to Lindsey. She covered a wide array of topics, each helpful and applicable in its own way. I can't imagine our birth story and postpartum experience without Lindsey, and I wouldn't want to. I highly recommend this course!"
~Amy N.
"My husband and I took a weekend birthing class with Lindsey when we were expecting our first child…we loved her class! For me, it was more about learning how to create the birth experience I wanted while rolling with the punches. For my husband, he learned so much about childbirth and how to be the support that I needed, and I believe this is a major reason why he was so helpful during labor. We lived in another town a few hours away from Lindsey, and I remember feeling sad that I couldn't hire her as my doula – I would have loved having her at the birth. I wouldn't hesitate to recommend her services!"
~Kayla T.
"Lindsey's class was incredibly helpful. We had our "dream" natural birth all planned out. I ended up going 2 weeks over my due date and gave birth via cesarean. Lindsey provided a wealth of information about our options for cesarean birth during her birth class. I would've sacrificed many of the moments I will savor for the rest of my life had I not been educated by Lindsey. I highly recommend her class. Very informative!"
~ L. Merrick
"Thank you so much for helping us prepare for the birth of our second little girl! With a tough first experience under our belts, you helped us release that experience and helped me find the strength to embrace this new one. Your encouragement to find a doula was priceless! And I was able to gain self confidence to be open and real about my preferences with my doctor. It was an amazing birth – I feel we would've been ready even if it hadn't gone as we planned. Thank YOU!!!
~ Allison B.
"Lindsey's birth class was wonderful and we are so glad that we were able to learn from her extensive knowledge and experience! My husband and I can't recommend her class enough. She taught us invaluable pain coping techniques, helped us prepare for multiple scenarios that we might have encountered during the birth experience, helped us make informed decisions about our wishes, options, and rights for our daughter's birth, and most importantly helped to alleviate a lot of the fear of the unknown as first time parents. She covered a broad spectrum of information and resources to assist us in preparing for our daughter's birth as well as recovery and new born care. Her support helped empower me to believe in myself and my body's ability to give birth naturally. And she did all of this with a wonderful balance of care, sincerity, and a great sense of humor! We love Lindsey and would take a refresher course again from her with future pregnancies. She played an essential role in helping us to achieve our desired birth experience and you won't regret taking her class!"
~ Shannon W.
"My husband and I took Lindsey's class prior to the birth of both of our sons. We were the only ones in our class planning a hospital birth, and I was afraid we'd feel out of place, or even judged for our decision. Instead, Lindsey's class was inviting, warm, and informative on all fronts. We were provided with a wealth of information that prepared us both physically and emotionally for our birthing experiences, and in an environment that didn't even feel like a class, but a just group of friends talking. Thanks, Lindsey!"
~ Leah R.
"My husband and I had a great experience and learned a lot about different techniques for pain distraction, which proved to be helpful. We only have one child and, being our first, we were very anxious about many aspects of the childbirth process. I think my husband learned a lot especially and this is a great class for dads. I love that Lindsay empowers all childbirth, and how the class talks about still being empowered and proud even if you have to end up with a c-section or epidural or whatever may come. It forced me to consider those possibilities and the decisions I would need to make, even though I was fortunate enough to not have to go that route. Overall, a very informative and pleasant experience!!"
~ Patricia B.
"Lindsey did an amazing job at providing a class that was well-rounded and educational. I really valued that, although the majority of our class was there to learn how to have a successful natural childbirth, she still reviewed everything from epidurals to c-sections so that we were prepared if our "plan" went awry. She gave us great exercises and techniques for pain coping and I was able to apply them to the unmedicated birth of my son. Overall, my husband and I just felt prepared not only what to expect for the birth but how to communicate to the hospital nurses, OB, and midwife. Plus, Lindsey has a great sense of humor so we had fun too! We looked forward to the class each week."
~ Mary M.
"Lindsey is amazing! We loved her birth class and she also was an amazing doula at the birth of our son! We highly recommend taking her class and doula services! It helped us to be prepared for our home birth. She provided information, humor, and grounding for us as new parents! For us as first time parents, she was also a lifesaver for us as we hired her for after birth in home support!! I could not have made it through those first few months or the 6 hours of pushing without her!"
~ Melanie K.
"My husband and I took Lindsey's childbirth class and we both really enjoyed it. I thought it was a whole lot of fun and informative. I really enjoyed the activities that got me thinking more deeply about my birth and also the interactions and discussions that popped up in the group. My birth class group still gets together with all our babies and it's just so great. Thanks, Lindsey!!"
~ Jessie W.
"Lindsey's class was very informative and FUN! One of the biggest take aways I took from this class was the "next best thing" which (without spoiling it for anyone) helped me make more concrete birth plans and decisions. During my home birth, as much as I could, I used techniques from her class and they helped me tremendously. I would highly recommend this class to anyone who is expecting!"
~ Kristina J.
"Lindsey's childbirth class was so helpful! I went into the class with so many fears and uncertainties but she took the time to address them! I loved that her class was not cookie-cutter and was catered to the students she has in front of her. She is a fantastic teacher and does a great job of making everyone feel comfortable in the class setting without taking everything too seriously. I can't recommend her classes highly enough!"
~ Melanie L.
"Not only was Lindsey's birth class informative and practical, but it was fun! We entered into our first birth with insight and knowledge that aided in a smooth, natural hospital birth. She was also our doula, so it was neat to see aspects of her birth class come to life! She rocks!"
~ Kelsey K.
"My husband and I took Lindsey's class last year in preparation for the birth of our first baby. Lindsey used multiple teaching formats like videos, lecture style teaching, art activities, group sharing, role plays and skills practice to help us learn and retain the information. Lindsey didn't just us provide information, she led us on a journey to emotionally prepare us for the birthing experience. I most benefitted from the information on informed decision making and doula services during my hospital birth. My husband most benefitted from the session on what to expect postpartum. I had unforseen complications but was able to have an awesome birth experience thanks to Lindsey's class. I also treasure the friendships we developed with the other families from our class."
~ Julie M.
"I was a first time Mom and my husband was a third time Dad, who had never attended any type of class prior to this. We both weren't sure what to expect, so we were a little wary of attending. But we were both SO GLAD we did! We learned pain coping mechanisms, how the birth process works, things that can happen, things that can help, and all sorts of other helpful information. After taking Lindsey's class, I knew I could do it the way I planned. And I DID!"
~ Kelly G.
"I was so blessed to find Lindsey's class! It was just the type of hands on, body/mind/spirit training I was searching for. I felt very empowered and can't describe the gratitude that filled my heart that I not only had access to such a perfect class but that it was local. I highly recommend Lindsey's childbirth course, especially if you're looking for a bit more natural and woman centered birth experience!"
~ Kristy M.