When I say this is the Best Playdough Recipe ever, I'm honestly not exaggerating.
You will love it!
I got it from a kids cooking book I've had since I was a very young called Kids Cooking. It brought back a lot of fun memories for me and my son loved making it! He had no idea what we were doing, other than making a mess, so it was great fun.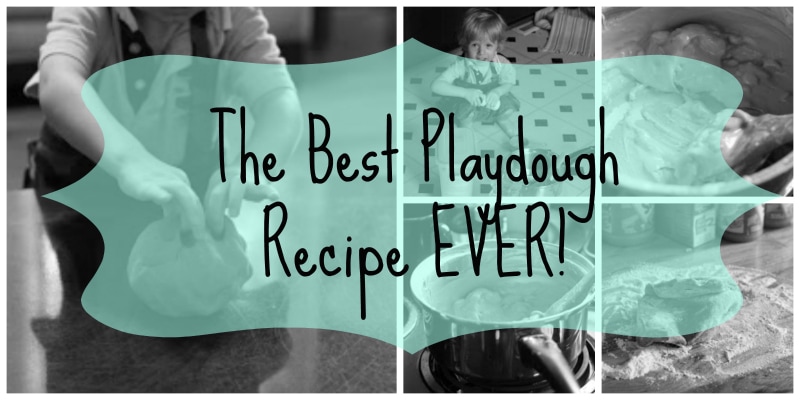 The Best Playdough Recipe EVER!
SHELF LIFE:
This recipe should last for weeks if not longer. Add a few drops of lavender or tea tree essential oils and you'll have no problems with a short shelf life. To be honest, in the past I've only thrown this stuff out when it was not sealed properly (and it dried out).
It's the best playdough recipe ever!
INGREDIENTS:
1 cup of flour
1/4 cup of salt
2 Tbs cream of tartar
1 cup of water
food coloring (optional)
a few drops of tea tree essential oil (optional)
1 Tbs of vegetable oil
medium pot
airtight container
DIRECTIONS:
Mix the flour, salt and cream of tartar together in the pot. Add water, food coloring (make the color that you want!), and oil.
Next add the essential oils. Just a few drops should be adequate.
Place the pot on the stove and stir over medium heat for 3-5 minutes.
When the mixture forms a ball in the center of the pot, take it out and put it on a floured surface.
Knead it for a few minutes until it is the perfect consistency.
Horray! You did it! Now make a batch with another color. #makeallthecolors
TIP: Make this with your kids and not by yourself, because a little mess with a little bit of adventure makes memories.
If you're a DIY mama and are looking for other great recipes, check out my facial cleanser recipe, a recipe for tea that's just like Aveda's, DIY vanilla extract and my laundry detergent recipe that uses Dr. Bronner's soap.