A Blessingway
Before each of my children were born, my dearest friends celebrated with me by throwing me a Blessingway (also called a Mother Blessing). After my blessingway I left feeling supported, encouraged and excited for what was to come.
I felt that my well being and how well I transitioned to motherhood (or not) mattered. A blessingway solidified that I did indeed, have a support system.
In this post I will share with you
What a blessingway is
Special and memorable blessingways ideas
Resources to plan your own blessingway and
(of course!) photos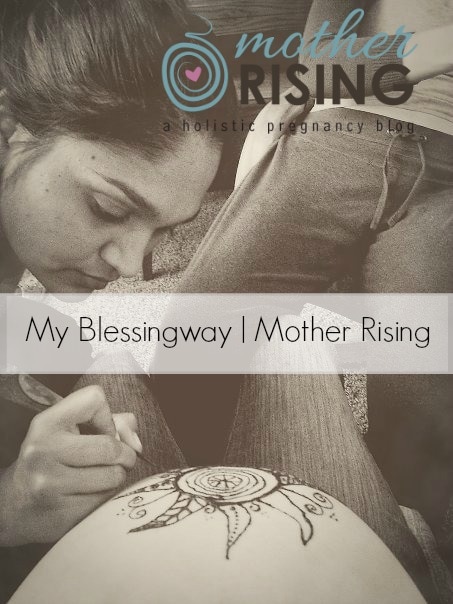 What is a Blessingway?
A blessingway is an alternative to a baby shower that is mother centered and focused on supporting her through the transition. The typical American baby shower is focused on the new baby, playing baby games, baby presents… baby, baby, baby!
If you are looking for something different or maybe it's not your first baby but you still want to get together with your friends, a blessingway is for you.
My Favorite Parts
Each blessingway will be unique as it will be centered around the mother-to-be. Some women will be comfortable with putting henna on their bellies, others will not. Some spaces and time will allow a foot soak with rose petals, others or not.
With your special people, circumstances and constraints, you will be able to create a perfect blessingway for a special mama that she will love! Here were my favorite parts of my blessingways.
My Favorite People
My favorite thing about a blessingway is that some of my most favorite and dear people in the whole world, just for a moment, were in one room all together.
A few times I stopped, looked around and smiled. It was incredibly exciting to be so supported and loved. The proof of the support and love was their presence in the room.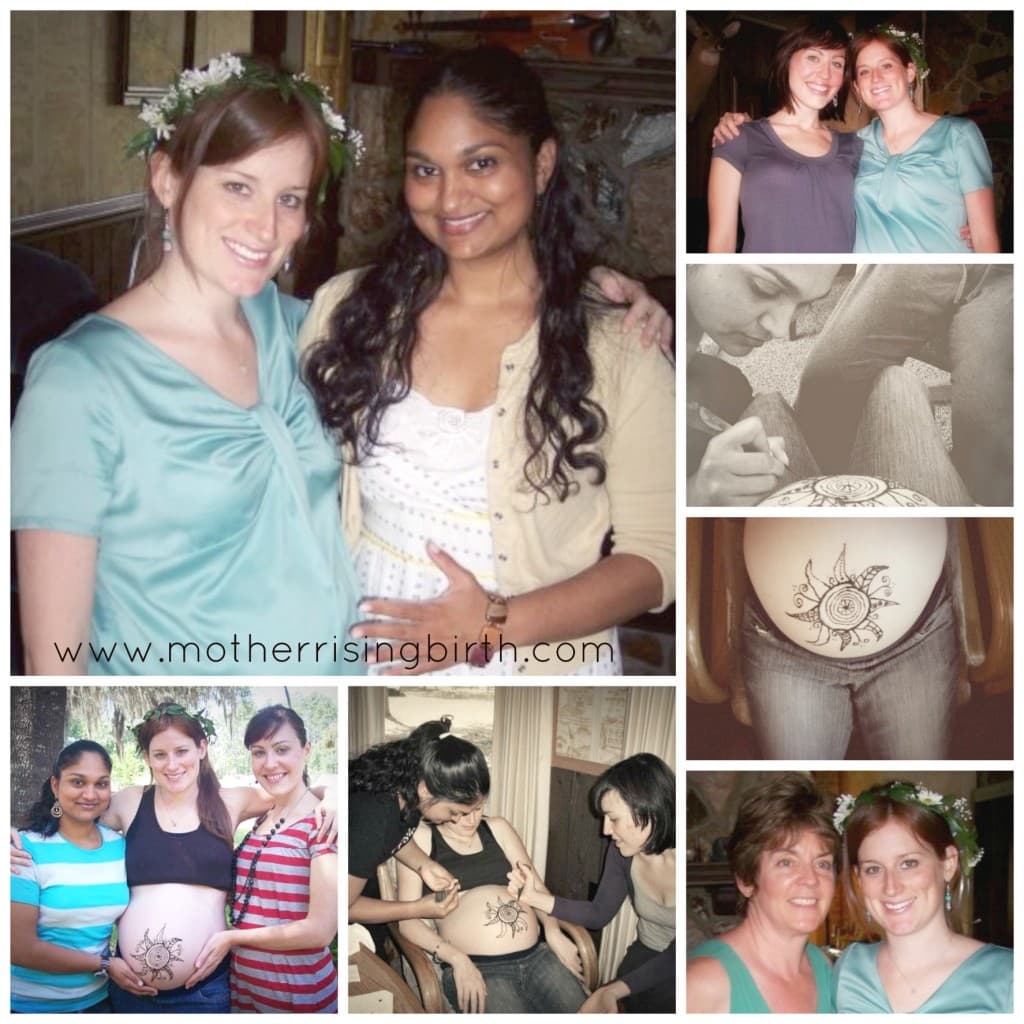 Blessingway Bead Necklace and Bracelet
At both my blessingways I left with a funky looking bracelet that reminded me of the love and support I had from my friends and family. I even wore my bracelet while I was giving birth to my son! (Scroll down to the photo of me pushing and you can see my bracelet) I still have both and they are very special to me.
Before the blessingway, the host contacted the people who were coming and told them to bring a symbolic bead to help create a necklace (or a bracelet in my circumstances).
Whoever was able brought a bead and later everybody went around the room and told me the symbolic meaning to each bead. It was beautiful, encouraging and deeply touching.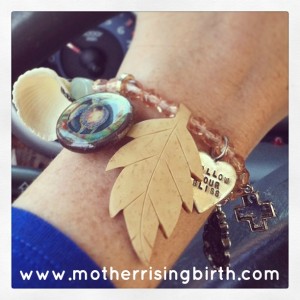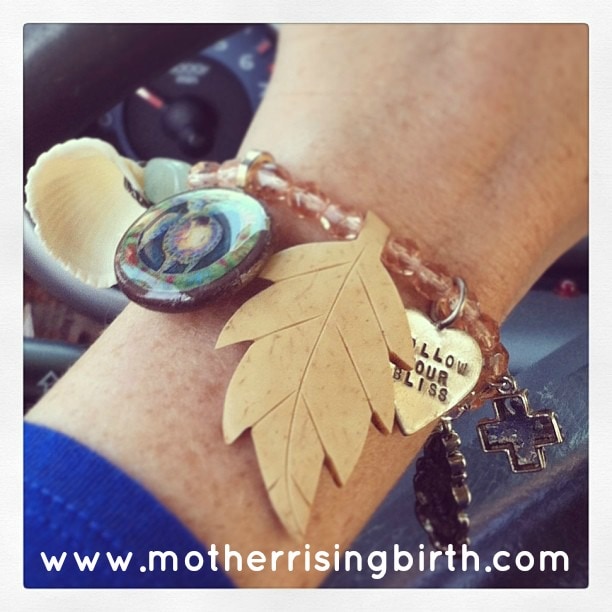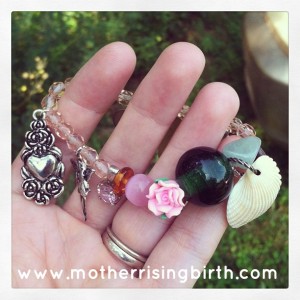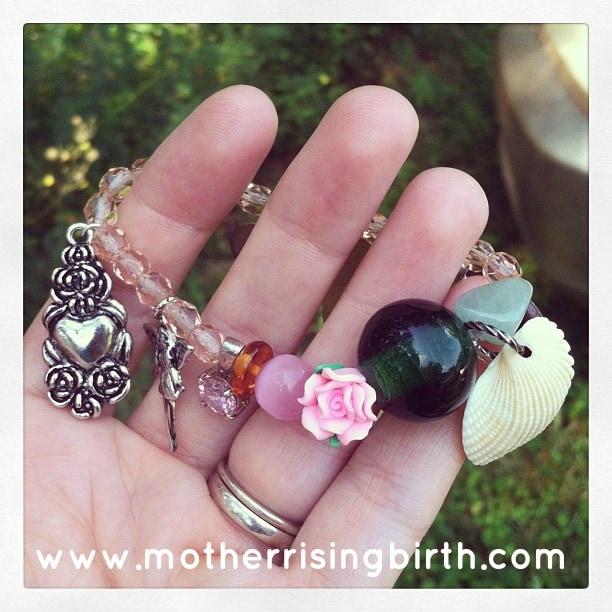 Blessingway Poems and Quotes
This poem, by Audre Lorde, was read to me during my first Mother Blessing back in 2009. It so deeply resonated with me at the time, but I think I like it even more now that I am a mother.
Now That I Am Forever with Child
by Audre Lorde
How the days went
while you were blooming within me
I remember each upon each–
the sweilling changed planes of my body
and how you first fluttered, then jumped
and I thought it was my heart.
How the days wound down
and the turning of winter
I recall, with you growing heavy
against the wind. I thought
now her hands
are formed, and her hair
has started to curl
now her teeth are done
now she sneezes.
Then the seed opened
I bore you one morning just before spring
My head rang like a fiery piston
my legs were towers between which
A new world was passing.
Since then
I can only distinguish
one thread within running hours
You, flowing through selves
toward You.
(This is one of many beautiful pregnancy poems. I don't think I completely grasped its entire meaning until I gave birth and was mother to a baby. Those sleepless nights, groggy days… Yeah, know I understand the "one thread" and "you, flowing through selves".)
Blessingway Resources
If you're looking for more quotes, poems and resources for Mother Blessings or a Blessingway these three books are a great place to start.
Blessingway Henna
At my first blessingway my two college roommates (and I) henna'd my belly. It was so fun! I was very comfortable baring my belly, so it didn't make me feel self-conscious. If anything I felt like letting my friends touch my belly made the whole thing more real to them and therefore more connected to what was actually happening (I was becoming a mother!). Check out amazon to buy some tubes of henna. It's affordable and makes great memories.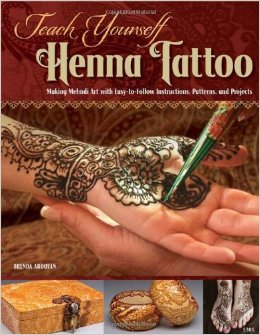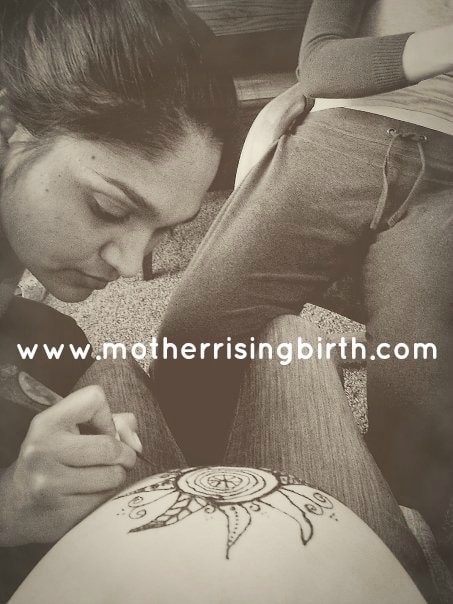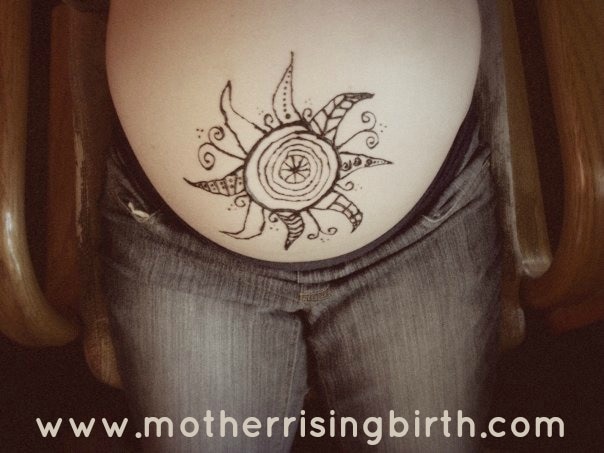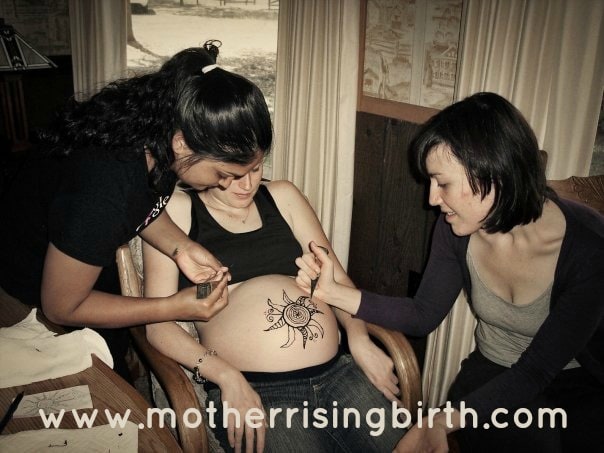 Blessingway Prayers
Before my first blessingway was over my friends and family prayed over me. I can't remember what they prayed for exactly, but I remember feeling very loved and cared about.
Blessingway Presents
Just because it's a Mother Blessing doesn't mean there are no presents! My sweet friends and family gave me the cutest things. Many handmade items were given to me as well which are treasured even today.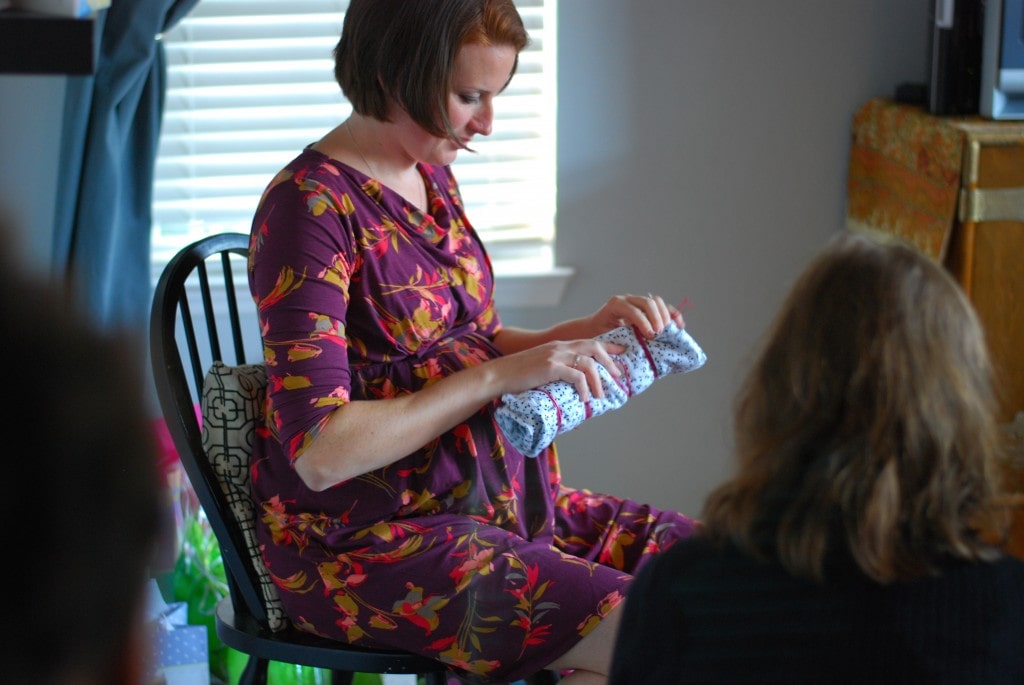 pictures courtesy of Stephanie Cornais
Blessingway Candle Circle
Right before everybody left my first blessingway each person was given a small candle which they were to light while I was in labor. While I was in labor I would light my candle which would be a focal point for pain coping but also help me remember each person, their love and support.
Sad to say, the call was never made to my candle circle to light their candles! Make sure to have a plan in place to make it happen!
Photos of a Blessingway
Here are more photos of my two blessing ways. As you can see, each were different, special and perfect for each pregnancy.