Best Natural Pregnancy Books
Here are the top 10 Natural Pregnancy Books of 2015. By reading these books and implementing the information you are guaranteed to have a more natural and healthy pregnancy, birth and postpartum.
*8 out of these 10 books are BRAND NEW. 1 is a new edition and 1 is a new kindle edition. 1 can be listened to on audible and 1 can be read for free on Kindle Unlimited. Details below.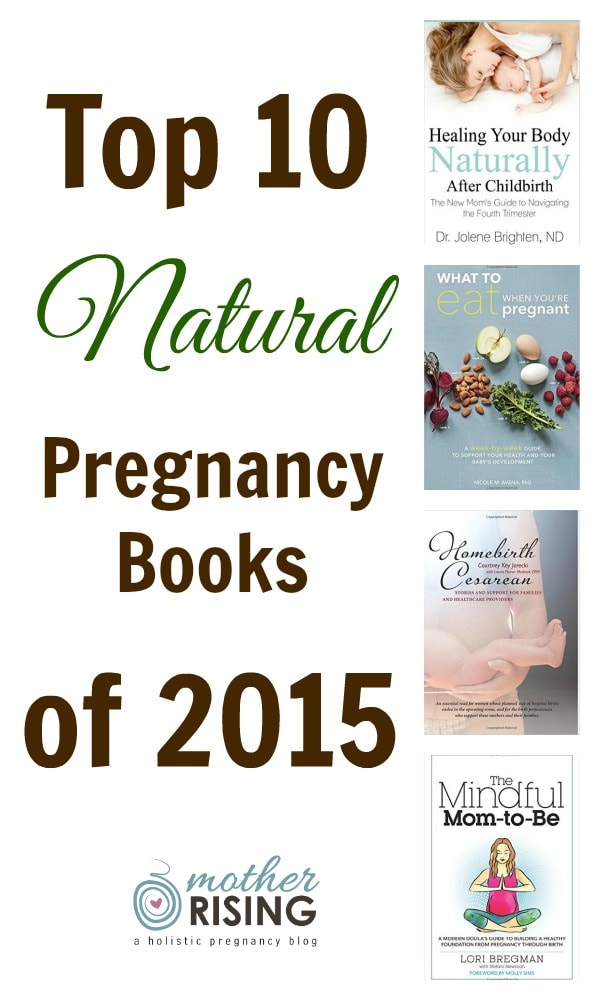 A Keepsake Pregnancy Journal
by Amelia Riedler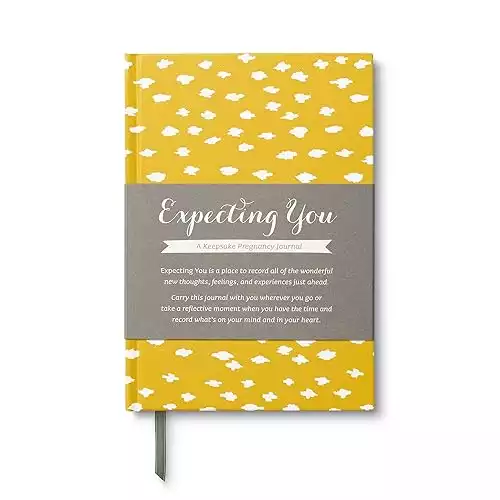 Summary: Finally. A pregnancy journal that doesn't look like it was decorated by Winnie-The-Pooh and the 90's. This modern pregnancy journal is a beautiful mustard yellow that you will be proud to be seen with. Expecting You contains the perfect balance of writing prompts and blank space leaving you with an amazing keepsake of one of the most transformative times of your life. Small enough to fit in your purse, you can definitely expect to complete this journal for any baby – your first, third or fifth!
The Definitive Guide to Natural Birth Control, Pregnancy Achievement, and Reproductive Health
by Toni Weschler
Summary: Taking Charge of Your Fertility is not new, but a new edition was released in 2015. I love this book. This book literally changed my life. I learned so much from it – about my body and fertility – which left me feeling knowledgeable and empowered. Through this book I learned the Fertility Awareness Method, and used it effectively for years and years. When people come to me asking questions about their fertility (for example, trying to become pregnant) the first thing I do is ask them if they've read this book. This book is the first line of defense when faced with infertility. But it's so much more than that too! I think this should be required reading in high school – it's that important.
And Have a Healthy Pregnancy after 30
by Christa Orecchio and Willow Buckley
Summary: A woman's life choices don't always line up with her window of fertility. Despite what the show 16 and Pregnant portrays, many women don't become pregnant for the first time in their teens or even their 20s. How to Conceive Naturally is different because it emphasizes becoming healthy, digging to the root of health problems BEFORE becoming pregnant. It calls that pre-pregnancy preparation time, the fifth trimester. If you are interested in nutrition, cleanses and whole body health, this book is for you. (Funny thing is, many of the women who hire me as their doula and take my childbirth class are my age and older. And they all have one thing in common – they are very concerned of the health and well-being of their entire family. I think it's because they don't take anything for granted. Often times their pregnancy was very intentional and a long journey to become pregnant. I think the wise mamas in their 30s and 40s will love this book.) This book is on audible. Click here for a 30-day FREE trial.
Over 125 Nutritious Recipes for a Healthy Pregnancy
by Sonali Ruder
Summary: One thing that popped out in the description was this, "There's something for everyone in this book, including quick and easy meals, slow cooker dishes, freezer-friendly meals and plenty of vegetarian options. There are milder dishes for the days when you're feeling a little queasy, and full-flavored dishes for the days when you're loving food." Perfect. Natural Pregnancy Cookbook is divided into two sections, the first is information on how nutrition is key for growing a healthy mama and baby. The second is the recipes. One thing that's great is before every recipe there's a section that explains why this meal in particular is good for a pregnant woman. There's even a section with ideas/recipes to help with morning sickness.
A Week-by-Week Guide to Support Your Health and Your Baby's Development
by Dr. Nicole M. Avena
Summary: What to Eat When You're Pregnant has less recipes than the book above, Natural Pregnancy Cookbook, but more information about nutrition and your baby's development. Some readers found it to be fear-based, however, I think this information need to be understood. Bad things can happen if you have poor nutrition! Nutrition is SO important and it will impact you, your baby, and your birth. For example, did you know that by eating milk based probiotics daily during pregnancy can greatly reduce the risk of developing preeclampsia?
by Miranda Castro
Summary: No, this book is not new, however, it's now on Kindle! As of 2015 Homeopathy for Pregnancy, Birth and Your Baby's First Year is on Kindle. If you haven't read this book, you're missing out. Homeopathy is a safe and extremely effective way to treat the whole family, especially pregnancy, birth and postpartum. For example, this very week I used homeopathic arnica with my three year old after she sprained her wrist. As a result she had very little bruising and is fully recovered a few days later. We almost took her to the ER, that's how injured she was. This book should be on every natural mama's reference shelf.
by Demetria Clark
Summary: For a very thorough and detailed review of Aromatherapy and Herbal Remedies for Pregnancy, Birth, and Breastfeeding, head on over here. (One thing I LOVE about this book, is that it doesn't mention doterra or young living, which to me makes the author, Demetria Clark, more credible.).
A Modern Doula's Guide to Building a Healthy Foundation from Pregnancy Through Birth
by Lori Bregman
Summary: As a doula, I am so excited that a fellow doula wrote one of the best natural pregnancy books of 2015. I love how The Mindful Mom-to-Be does not disconnect the body/mind/spirit of the mother. In each chapter you might find visualization guides, breathing techniques, nutrition tips and recipes that all build a healthy foundation for your birth and new baby. There is a chapter for each month of pregnancy and another for labor, birth and beyond. Chapter titles include "Healthy Mom, Healthy Baby", "Mothering Yourself", "Cultivate Your Intuition", "Being Present" and "Living in Joy". There is also a section on birth plans. For any natural mama, this is a must read!
The New Mom's Guide to Navigating the Fourth Trimester
by Jolene Brighten
Summary: Of all the new books on this list Healing Your Body Naturally After Childbirth is my favorite, hands down. Postpartum is an overlooked time in a new mom's life and this book helps remedy this conundrum. This book delivers exactly what it promises: how to heal your body naturally after childbirth. Topics include pelvic organ prolapse, vaginal wind (lol!), using bone broth and gelatin (among other things) for a cesarean recovery, recipes like "Prune Chia Seed Pudding" to alleviate constipation, a pelvic pain sitz bath, using passionflower to help with anxiety and SO MUCH MORE. My one complaint is that the author recommends kegels for pelvic toning, despite more and more evidence showing that they actually make the problem worse. Thankfully, in her appendix she redeems herself. This book can be read for free on Kindle Unlimited. Seriously, you have no excuse to NOT read this book.
Stories and Support for Families and Healthcare Providers
by Courtney Key Jarecki, Laurie Perron Mednick CPM and Claudia Baskind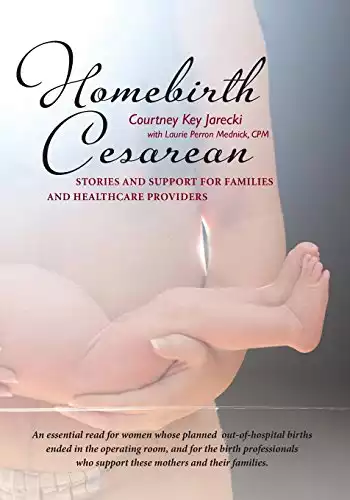 Summary: I love how the author has brought this topic to the table for discussion. Finally. Many women plan for a homebirth, but for whatever reason, have a cesarean birth instead. Their journey then becomes a complicated, tangled ball of yarn, but this book helps to unwind each strand. If you have experienced or been apart of a homebirth cesarean, Homebirth Cesarean is for you. Mother, birth professional, partner… you will find it a valuable tool to help relate to what happened. This book is extremely validating because a healthy baby is not all that matters. ♥