One of the things my kids and I enjoy drinking during the summer are smoothies and these freezer smoothie packs make it EASY. I like easy. Also, I got a root canal done today so having these freezer smoothie packs on hand were very helpful with my temporary liquid diet. But enough about me.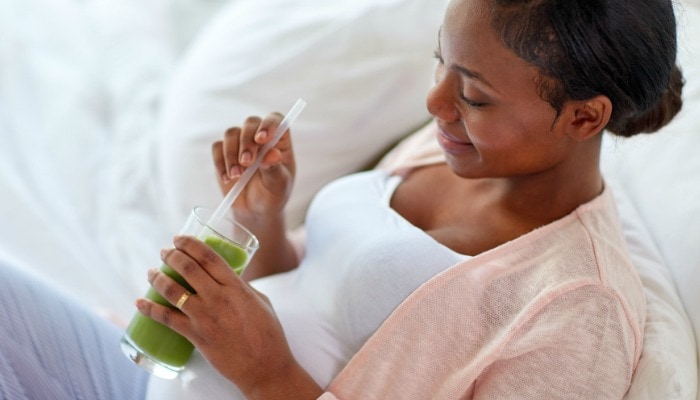 Easy Freezer Smoothie Packs for New Moms
Whether you're about to go into labor, or looking for something tasty (and easy) for those first few weeks postpartum, these freezer smoothie packs are for you! The best thing about these freezer smoothie packs is that you can make as many as you want ahead of time and then reap the rewards when life gets a little bit more challenging and extra time is scarce (i.e. mother and fatherhood).
Remember, it's important to value taking care of yourself – body, mind, and spirit, just as much as you value caring for your little one(s). Place your oxygen mask on yourself before assisting those around you!
If you like this recipe, make sure to try my other smoothies too!
Grocery List: Easy Freezer Smoothie Packs
Whenever possible, I try to pack as many pregnancy superfoods into my recipes as possible. This particular freezer smoothie pack grocery list contains bananas, pineapple, spinach, and chia seeds which are pregnancy superfoods. Awesome!
Grocery List to Assemble 7 Freezer Smoothie Packs (1 week of smoothies!)
NOTE: Everyone always asks what kind of cup and straw I use so that's why they're on the grocery list. Of course, feel free to use whatever kind of cup and straw you have on hand. Or hey, I suppose you could just drink your smoothie out of the blender. Whatever works. 😉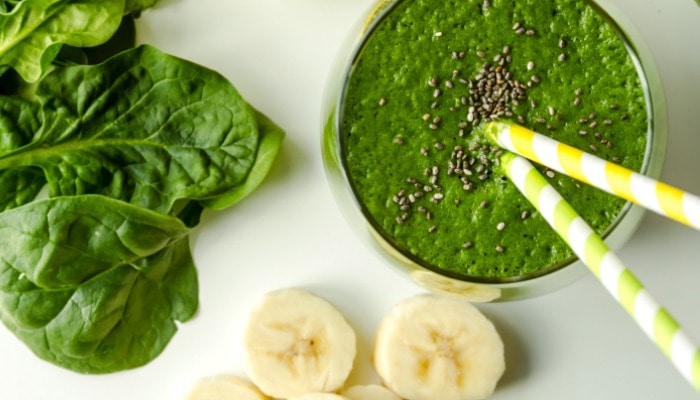 Freezer Smoothie Packs Assembly Instructions
Each Freezer Smoothie Pack Should Contain
1 Sliced Banana
1 TBS Chia Seeds
1/4 c Blueberries
1/2 c Frozen Pineapple
1 c Packed Fresh Spinach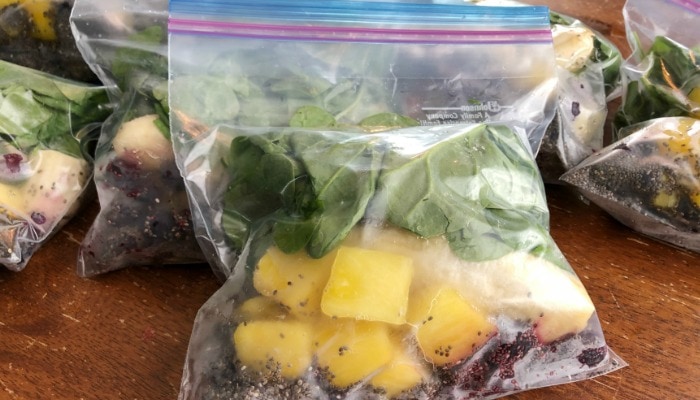 First, pull out 7 quart sized freezer ziploc bags. Open them up and roll down the top a couple of inches so that the bags stay open during assembly.
Next, slice all seven bananas, but keep each banana separate from each other so assembly will be quick.
After that, place ingredients in freezer bags placing the spinach in last so it's on top.
Finally, while closing each bag squeeze as much air as possible (reduces freezer burn).
Ta da! You did it! Send these beautiful 7 bags full of pregnancy superfood goodness to the freezer. Your future self will thank you later!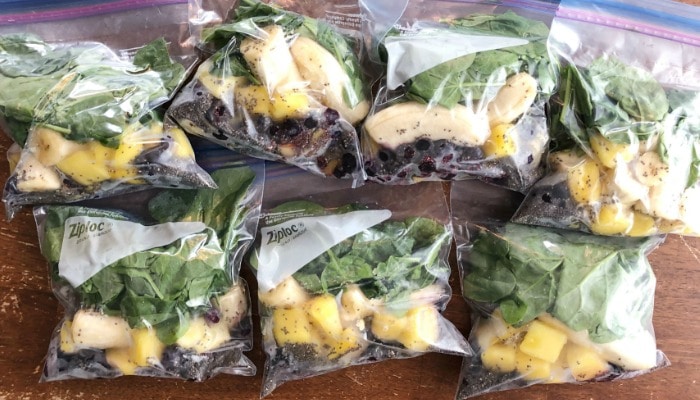 Tips for Smoothie Day!
The following are some smoothie tips I've learned… the hard way. Learn from my mistakes!
When first blending your freezer smoothie, before you do anything, pour one cup of water into the blender.
The spinach is on top of each bag so that you can blend it with the water first, before adding anything else.
If you do it this way, even if you have a less powerful blender than I, everything will blend well. You can do it!
You can substitute spinach with kale – both are wonderful!
Once you've blended the water with the greens and it's a soup-like texture, then it's time to add the other ingredients.
Make sure to slice the bananas. Keeping them whole is difficult for any blender, even my super fabulous one.
If you have a bunch of kids you could double the contents in each bag, in hopes that you'll get some too. (Remember, if you double the recipe you'll need to double the amount of water in the blender.)
If you want a smoothie with less sugar, substitute the pineapple and/or banana with berries. Berries are MUCH lower in sugar than bananas and pineapple (which are HIGH in sugar).
If you want your smoothie to be a bright vibrant green leave out the blueberries. If you have picky kids, this may be necessary. (My kids were a little weirded out by this murky green smoothie I put before them, but they quickly got over it and pounded theirs.)
Easy Freezer Smoothie Packs for New Moms
I hope you enjoyed this easy freezer smoothie pack recipe and assembly instructions. If you've tried it, leave a comment and let me know how it went for you! Did you substitute anything? What did you change and what did you leave alone?
Leave a comment and let me know. I'd love to hear from you!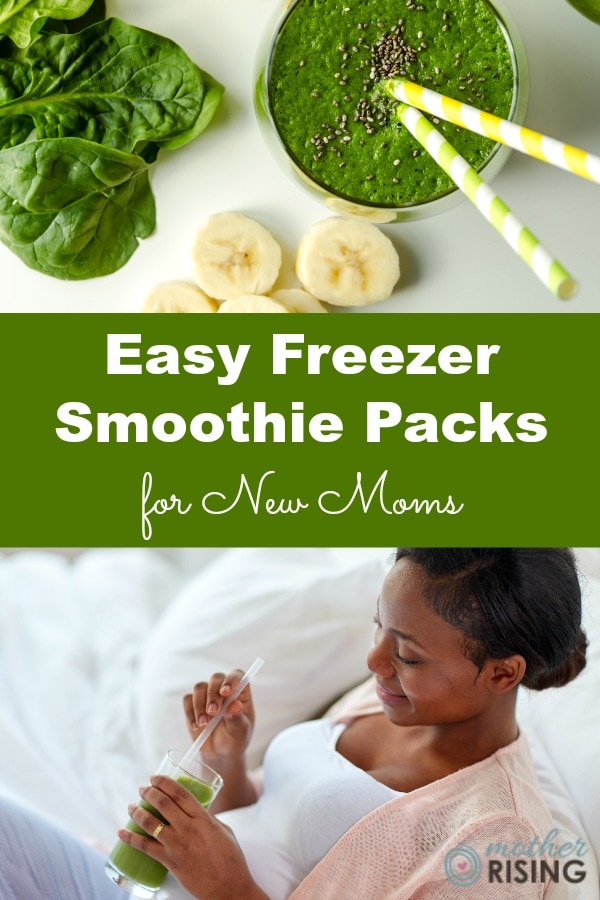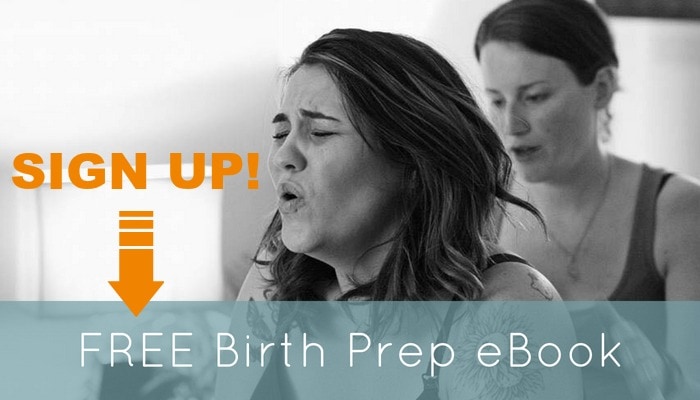 Check out my NEWEST eBook: A Simple Guide to the Hard Parts of Labor! What's inside? ---->> ALL of my best information about getting through the hard parts of labor. Want a copy? Simply click the image above, follow the prompts, and it will be delivered to you today!