Here's the story of my cervix in early pregnancy. Because this is big news and it must be shared.
If you are one of my diehard readers and keep up with all my miscellaneous posts you will know that a review of the DivaCup a few years ago was a major bust because my cervix enjoys hanging out about an inch or less (depending on its mood) above the opening of my vagina and rejects all objects that sit below it like menstrual cups and tampons. At first I was embarrassed by the change in my anatomy (a change that happened after giving birth) but I'm slowly starting to embrace my anatomical quirks. Hey, I even joke about it during pap smears to help relieve my tension about the procedure. I'm laughing anyways.
Also, if you follow my posts you may remember the one about how I check my cervix during pregnancy and how you can do. Thanks to Toni Weschler and her book Taking Charge of Your Fertility I am a self-proclaimed cervix checker my friends! I should make a tshirt that says just that.
The cervix in early pregnancy should be closed and have some length to it, which is what my midwife confirmed after I came in to her office at 4 weeks freaking out because a) I was unexpectedly pregnant and b) bleeding (always bleeding!!). At 8 weeks I was still bleeding/spotting and assuming the worst (this is common if you've had early losses like myself) so they gave me an ultrasound which showed that my cervix was still closed and long despite the spotting and bleeding (UGH I hate bleeding during pregnancy!).
During these weeks of assuming the worst, waiting and then realizing that I was still indeed pregnant (maybe I would have a baby after all?), I continued to check my cervix just to see what was going on and if anything were changing. I figured that if I had a general idea of how things were, going forward if anything changed I would know (what I would do with that information I wasn't quite sure).
Nothing changed with my cervix during the first trimester. It continued to be low, but it was closed and long. Despite it being closed and long it felt gushy.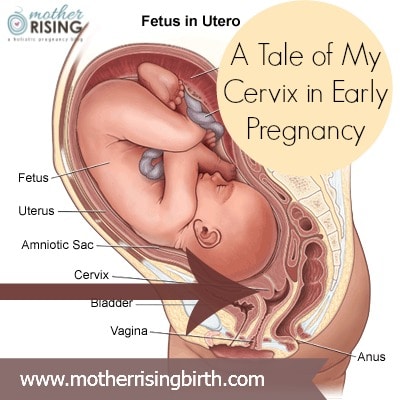 Enter the second trimester and I started to notice some changes. Positive changes I might add!
One thing that I started to notice at about 14, 15 and 16 weeks was that my cervix had started to move more posterior, that is, towards my back. As pregnancy progresses it is normal for this movement of the cervix to happen. In fact, one of the goals of labor/contractions is to bring the cervix back to the front (anterior) so allow for dilation to happen.
Another change I have noticed in the second trimester of pregnancy is that my cervix is slightly less gushy and more firm.
I think that the combination of a firm and posterior cervix helps support the weight that is to come from a normally progressing pregnancy. If you think about it, if my cervix remained low and anterior as my pregnancy progressed my uterus would fall out of my vagina! Or at least that's what I imagine would happen. Firming up and removing the cervix from "the exit" makes so much sense to me.
This completes the tale of my cervix in early pregnancy. Of course, I will keep you abreast of any changes in my anatomy as this pregnancy progresses. Because it's that important.
If you enjoy these tales of my anatomy, you will probably enjoy this post: A Tale of My Tilted Uterus.
~Lindsey