I just got done having a very fun evening with some friends and family. We had a very relaxed and small gender reveal dinner! I'm sure you just want to scroll down and see what sort of baby we're having (it's a Lion!) so go ahead and do that. If you're curious about our dinner keep reading!
Gender Reveal Dinner
This week I was toying with the idea of doing a small get together with some family and friends, but I didn't really decide to do an official gender reveal dinner until this afternoon, just hours before. Basically, I was waiting to see what my family was up for and if I had enough energy to cook a big dinner. I guess we were game because I texted a few people and a few people said they would come. Yay!
Today at my 18 week anatomy scan I had them put the results in an envelope and NOT tell us while we were in the office. They were so sweet to do that for me! All day long I had the big news just sitting casually in my purse but I exercised self-control and didn't peek. Promise!
Gender Reveal Cake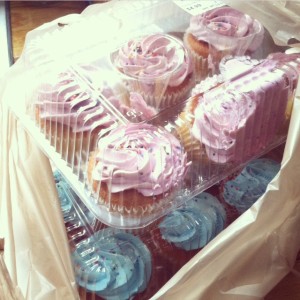 I kept things simple and I picked up six pink and six blue cupcakes from our local grocery store (Publix). I wasn't exactly sure how the cake and the reveal would all work out, but I didn't feel like messing with a bakery and ordering a special cake. While I was driving home I had an idea of how I would coordinate the cupcakes into the gender reveal dinner.
The Gender Reveal Plan
After everybody ate dinner (I had everybody wait to find out until we were all done eating bwuahahahaha) and I cleaned off the table I asked everybody to grab a cupcake according to what they thought the sex of the new baby would be – blue for boy and pink for girl. Side Note: Gabriel couldn't quite figure out why pink was for girls. His favorite color is pink. 😉
Anyways, after everybody had chosen a team/cupcake/gender I had my husband open the envelope and spill the beans.
Guess what?

Yup, we are having another sweet baby GIRL! Just like my 12 week ultrasound gender reveal suspected, it is totally a girl! I am totally excited!!
I love looking at our expressions in the photos, especially my son Gabriel's! He's so funny.
This wasn't quite as elaborate as my gender reveal photoshoot I had done last time, but I am so glad we did this and made some sweet memories. Thanks for all who came! It was fun!
Now… to pick out a name.
Talk to you soon,
Lindsey