Using essential oils for morning sickness is one of my favorite natural pregnancy remedies. Aromatherapy can be a safe, simple and very effective remedy for feeling better RIGHT NOW. Sometimes when dealing with morning sickness it's imperative to feel better RIGHT NOW.
(If you have come looking for morning sickness remedies, you've come to the right place. Not only have I written an eBook called Morning Sickness Remedies, I also have many articles all about morning sickness remedies. For all the information you need in one place, hop on over to Amazon to get your copy of Morning Sickness Remedies.)
——->>>>>>> link to Amazon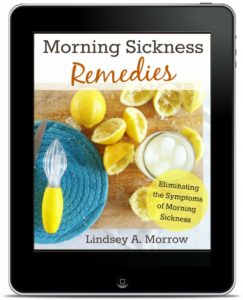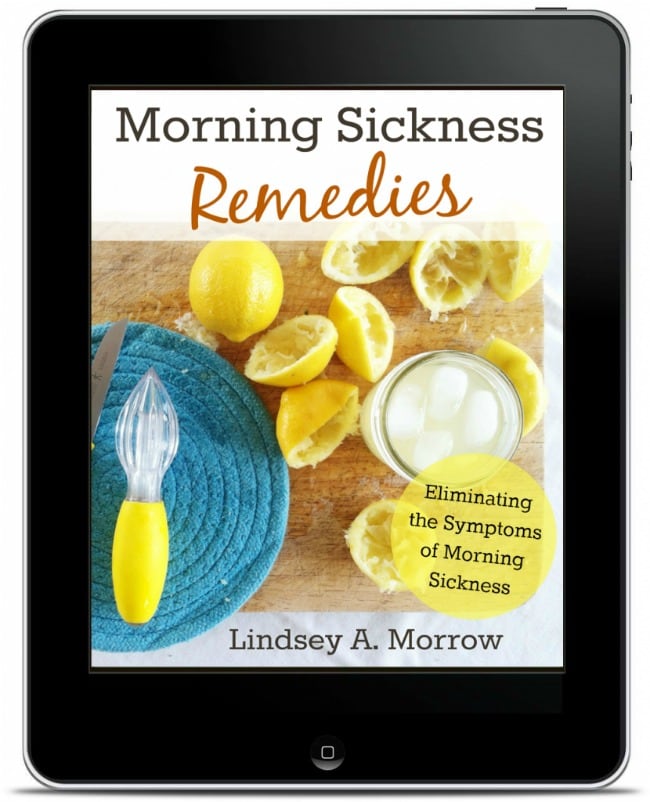 When to Use Essential Oils for Morning Sickness
I have memories sitting on my bed, feeling awful from morning sickness. However, it was feeling more like all day sickness to me.
It was one of those days that I didn't eat well, or often enough. I felt desperate. I needed something RIGHT NOW so I could get moving. Essential oils helped me INSTANTLY so that I could walk to the kitchen and cook myself some food.
Another time I was driving and I thought to myself that surely, I was about to lose it. I really didn't want to throw up in my car. I needed a solution RIGHT NOW. Essential oils "took the edge off" and gave me some much needed time so I could find the solution to what I really needed (which for me was getting out of the car and breathing fresh air).
Another time I was at a birth. I hadn't eaten well in awhile (that's what doulas do lol) and birth has smells, you know? Using essential oils for morning sickness helped me not to start gagging on around my doula client. It helped me IMMEDIATELY.
Using essential oils for morning sickness is helpful when cooking, or opening a refrigerator.
Essential oils for morning sickness can be helpful when changing an older child's diaper, or heaven forbid, someone else's child's diaper.
When I was feeling really terrible using essential oils gave me instant relief.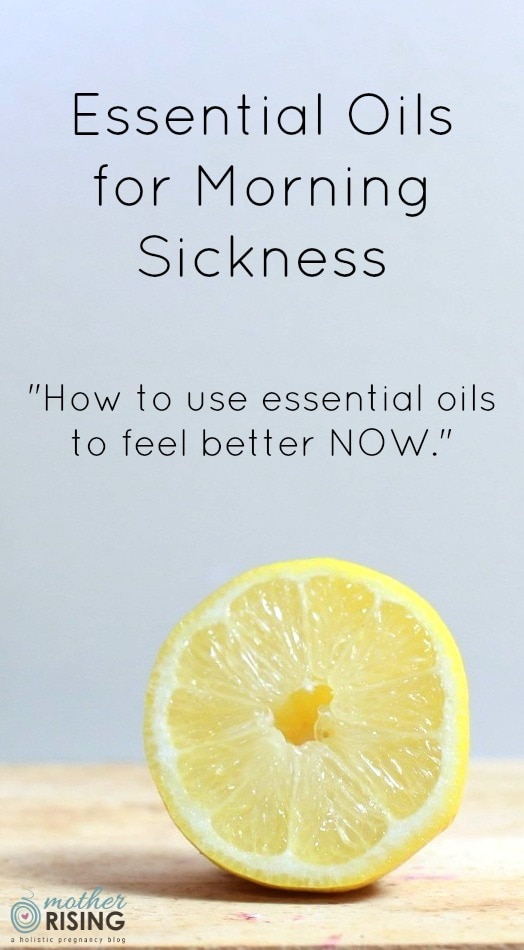 How to Use Essential Oils for Morning Sickness
Smelling an essential oil right out of the bottle is the easiest way of using essential oils. It doesn't have to be complicated!
This is what I would do. As soon as I thought I needed some help RIGHT NOW, I would pull out my essential oil, uncap it and breathe in through my hose. I typically held the bottle about an inch away from my nose, being careful not to let the oil come into contact with my skin. Immediately, I was helped!
Carrying essential oils in your purse or diaper bag will ensure you have your oils even when on the go.
If you find an oil that is working for you, you might look into purchasing a diffuser as an easy way to keep the aroma wafting throughout your home or workspace. A diffuser does this by creating vapor out of a mixture of essential oils and water.
What Essential Oils for Morning Sickness are Helpful?
Some essential oils that I found helpful were lemon and wild orange. Sometimes peppermint. But lemon, I have to say, was the most helpful. I was never without my bottle of lemon essential oils.
An easy way to start using essential oils for morning sickness is by purchasing the dōTERRA Introductory Kit because in it you will receive a 5 ml bottle of lemon, peppermint and lavender essential oils. All three of these were helpful for me in fighting morning sickness!
dōTERRA essential oils and accessories can be found through Amazon.
Essential Oil Diffuser Blends
The following are two simple and effective essential oil diffuser blends that are perfect for warding off nausea during pregnancy.
Instructions: Fill your diffuser with water (follow the instructions for your specific diffuser) and put essential oil drops in water… and enjoy!
Mother Rising Peaceful Blend
6 drops of Wild Orange
2 drops of Lavender
Mother Rising Steady Blend
4 drops of Peppermint
4 drops of Lemon
*Please note that I am not an aromatherapist. Consult with your care provider if you have any medical related questions about essential oils. I realize there is a lot of misinformation on the internet about essential oils. Despite the information you may read on other websites, I do not advocate pregnant women to apply essential oils directly or diluted onto the skin, unless under the care of a certified aromatherapist. This is especially true for those in the first trimester.
Conclusion
Using essential oils for morning sickness is fast, easy and effective. Remember – DON'T LEAVE HOME WITHOUT YOUR LEMON ESSENTIAL OIL!