The first week postpartum can be really tough.  Parents are transitioning to taking care of a baby, the postpartum body is recuperating from quite the physical journey, there's sleep deprivation and breastfeeding… basically it's a little nutty.  Despite the chaos, mom's two priorities are taking care of herself (going to the bathroom, taking the occasional shower, accepting food and drinks from friends family) and taking care of baby.  Everything else, is not mom's concern.
After spending a week with my adorable new baby, and plenty of visits to the bathroom, for whatever reason I really wanted to share with you what I would consider a postpartum survival kit, in regards to our tender lady bits that is.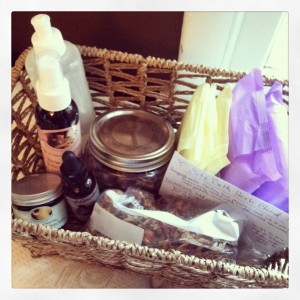 To the right is a picture of my basket that I leave in my bathroom that has everything I need for postpartum care.  Especially for first time moms, I thought this might be helpful to know and to give an idea of what to expect.
What did you have in your "basket"? Now that you have taken care of your "lady bits" don't forget to feed you and your family! And, of course, few photos for fun…