Planning a VBAC (Vaginal Birth After Cesarean) is a significant journey that requires forethought, planning, a woman to find her voice and have it be heard. If you are planning for a VBAC (vaginal birth after cesarean) the following 10 proven tips for a successful VBAC will help you to feel more prepared, confident and emotionally present as you enter your birth experience.
10 Proven Tips for a Successful VBAC

Read the Best VBAC Books
The first of 10 tips for a successful VBAC is to start reading the best VBAC books. After reading these books you will…
feel more confident and relaxed about your upcoming birth
gain the tools needed to navigate the VBAC terrain
Check out my post about the best VBAC books!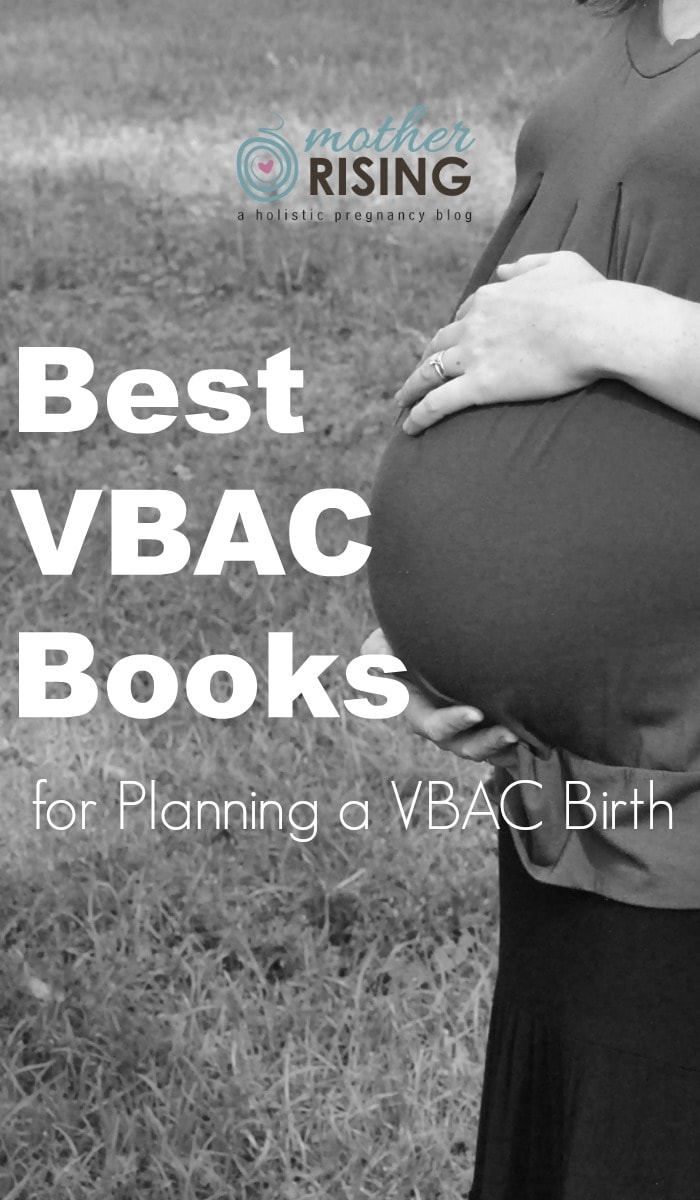 Take a Quality Childbirth Class
The second of 10 tips for a successful VBAC is to take a quality childbirth class. If you cannot find a quality childbirth class in your area, don't waste your money. I teach Birthing From Within and find that my classes are PERFECT for someone planning a VBAC.
Email a few local doulas and pick their brain about the classes in your area. Doulas are a great resource for more than just births!
Hire an Excellent Care Provider
Next on the list of tips for a successful VBAC is to hire an excellent care provider. Qualities of a good OBGYN may include:
A good listener
Natural birth advocate
Appreciative of doulas and other birth companions
Patient
Follows ACOG guidelines and other evidence based practices
Backup physicians align with the same philosophy
Other women in the community using the same OBGYN have had successful VBACs
Be Willing to Switch Care Providers
Of course, just as there is no perfect mother, woman or family, there are no perfect care providers. Some personality traits can be easily overlooked, but sometimes instead of trying to change a care provider to align with a certain way of thinking, it's simpler to switch care providers.
Here is one story of how a woman listened to her gut and switched care providers late in her third trimester.
Master the Art of B.R.A.I.N.
One of the most empowering tools expectant parents can learn is the acronym B.R.A.I.N. By learning and applying B.R.A.I.N., parents will learn how to navigate the patient/care provider relationship, gather information and make decisions with their care providers.
Research has shown that the more a woman is part of the decision-making process during birth, she will be happier about the outcome, no matter what happens.
"It is also suggested that active involvement of pregnant woman in decision-making process for the delivery method will increase the rate of vaginal birth after c-section and decrease c-section rate and improve the degree of maternal satisfaction after delivery."
Plain and simple, if a woman is ignored she will be unhappy about her experience giving birth, which can have long lasting consequences in the way she mothers, her self-esteem and future pregnancies (among other things).
Plan for a Natural Birth
Next in the series of tips for a successful VBAC, and in my opinion one of the most important, is to plan for a natural, unmedicated birth. In my experience when drugs, epidurals, pitocin, etc., are used, the more likely a cesarean birth is to happen.
If this is something you would previously have not considered, start doing some research! One idea is to watch the documentary The Business of Being Born. Many women have found that film to be encouraging and motivational to have an unmedicated birth.
Read good pregnancy books and other articles about how to develop a mindset for unmedicated birth.
You can do it!
Hire a Doula
A doula can be an invaluable asset when planning a VBAC.
A doula can help
relieve fears during pregnancy and birth
prepare for and achieve a natural birth
provide and sift through information
navigate any confusion when signs of labor start
determine when to go to the hospital for labor
keep a level head while navigating the ups and downs of a VBAC and
so much more!
Do a google search, find a handful of doulas and interview each one to get a sense of what a doula can do for you.
Labor at Home as Long as Possible
Laboring at home as long as possible before heading to the hospital when attempting a VBAC (vaginal birth after cesarean) is another one of many great tips for a successful VBAC. This may seem like odd advice, however, even my local hospital midwives tell their patients that "their best bet for a successful VBAC is to show up at 39 weeks ready to push".
VBAC patients are monitored more closely and therefore have more opportunity for interventions, which unfortunately increases the possibility of other complications (this is called the cascade of interventions). For example, many care providers require constant internal fetal monitoring during a VBAC. Sounds reasonable, right?
Well… with constant internal fetal monitoring comes breaking the water (amniotic sac) and laboring in bed. By doing these two interventions the risk of infection has increased and also the need for an epidural (because her range of pain coping has decreased by limiting her movement).
Therefore, under the careful guidance of a trusted care provider, know how far apart contractions should be before going to the hospital and labor at home as long as possible is a key component to achieving a VBAC.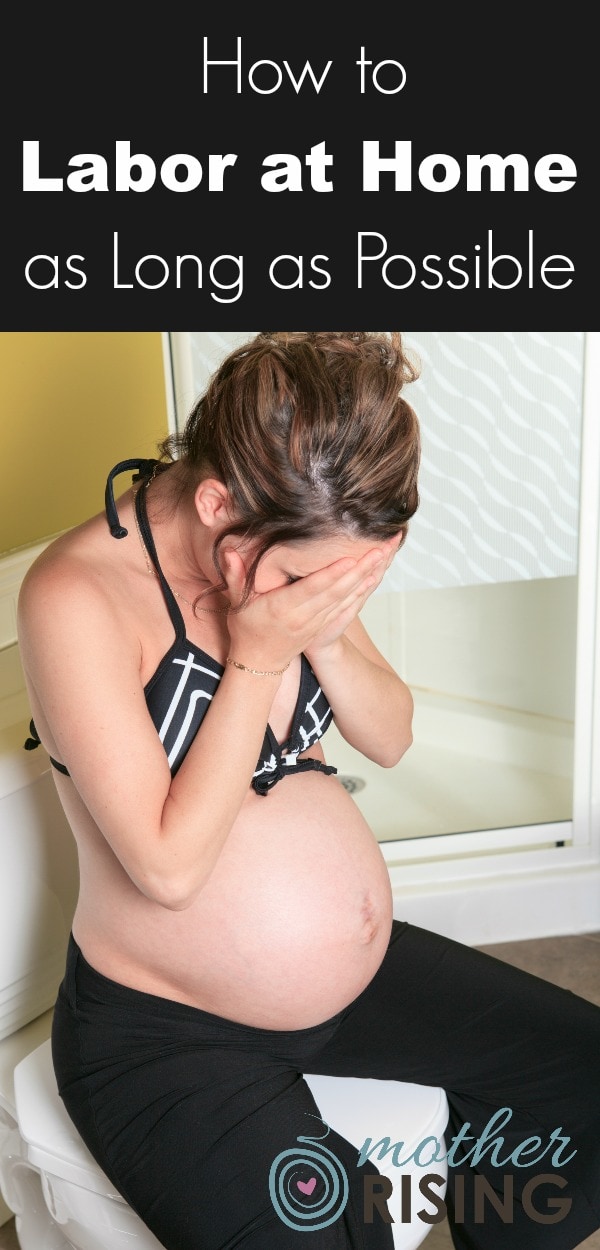 Prepare for a Cesarean Without Expecting One
As you very well may know, most women who give birth by cesarean do not plan to give birth by cesarean. To say they were caught off guard is an understatement.
A necessary part of planning for a VBAC is to also prepare for a cesarean without expecting one.
Since you've already had a cesarean, I'm sure you have opinions about what went well and what didn't. What you liked and didn't like. What you would repeat and what you would never, ever do again. Use that experience and channel it into something productive like creating a cesarean birth plan.
If for whatever reason your next best thing becomes a repeat cesarean, it is best to be prepared and know what you want so you can help create a better birth experience for you, your baby and family.
Check out my post on How to Prepare for a Cesarean Without Expecting One.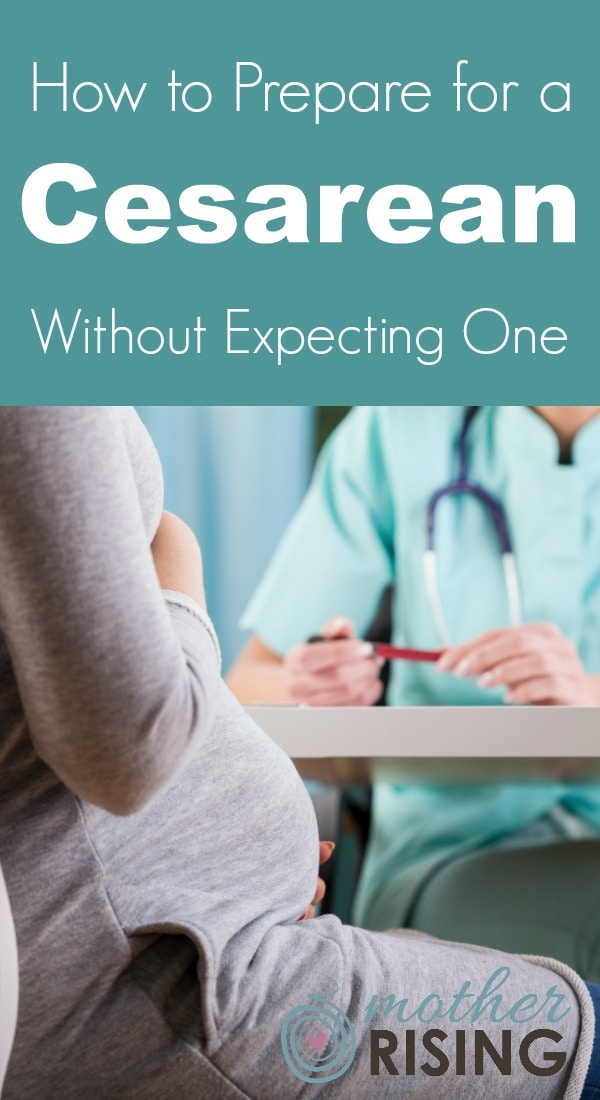 Work Through Birth Fears
One of the previous tips for a successful VBAC was to create a cesarean birth plan. Did that idea evoke anxiety, fear, dread or other uncomfortable feelings? If so, you likely have a few birth fears, which is expected and normal.
In fact, if I meet a woman that is pregnant and DOES NOT have birth fears, that worries me even more.
It is important to acknowledge and deal with birth fears so that you and your baby are not living in a constant state of fear, but instead can approach birth with a determined spirit, ready for whatever comes your way.
In Birthing From Within childbirth classes I teach parents how to work through birth fears. At the end of that particular exercise they are so relieved to have found a solution to their worries!
10 Proven Tips for a Successful VBAC
To recap, here are the 10 proven tips for a successful VBAC.
Hire an Excellent Care Provider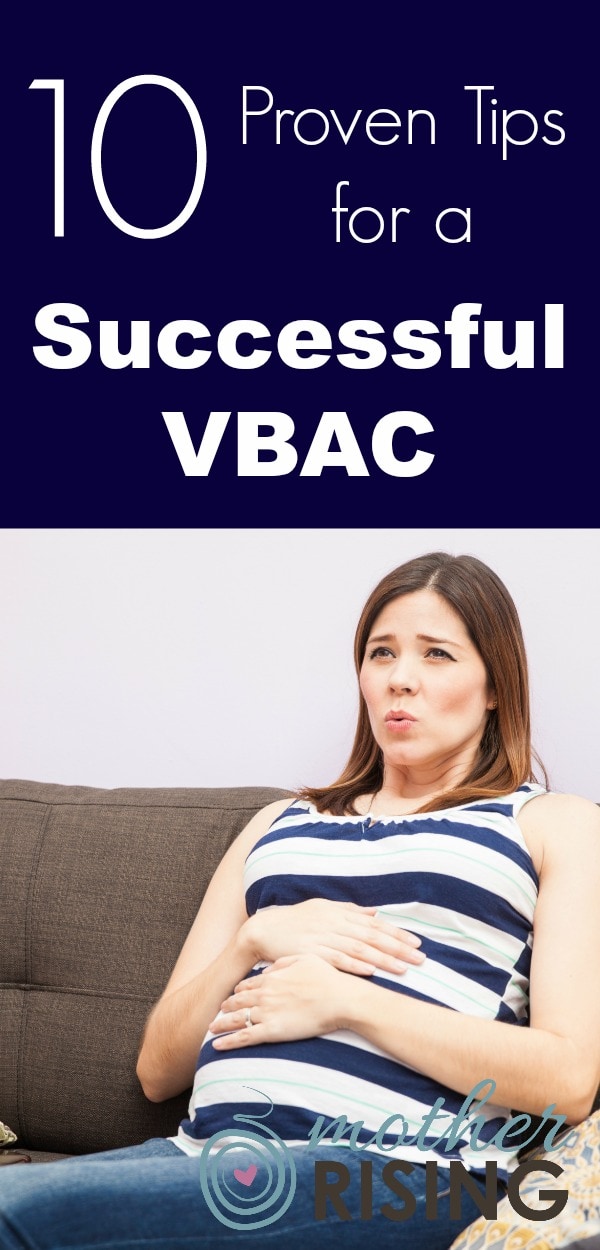 Leave a Comment
How are you preparing for a VBAC? What worked for you? Leave me a comment and let me know what you think. Thanks!