Wondering how to make fruit salad? Use this fruit salad recipe for get-togethers, parties, a side dish for grilling out, or a snack on the go. (Pssst – it's basically a Chick-fil-A copycat fruit cup… but 1,000 times cheaper.)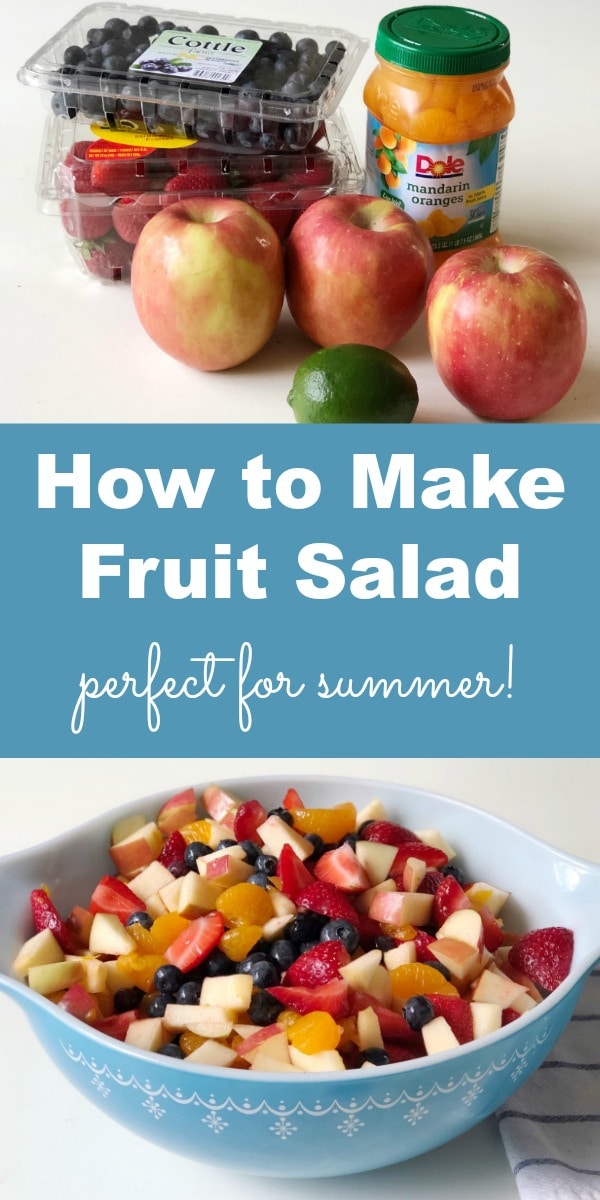 How To Make
Fruit Salad That's
Perfect
For
Summer
Step 1: Gather ingredients. You will need apples, oranges, blueberries, strawberries, and a lime.
The lime is used to prevent the cut apples from turning brown. It's super important!
Apples are tasty, but also much less expensive than its counterparts. They're a perfect as a tasty filler for this salad!
I've used jarred mandarin oranges in this recipe, only because kids LOVE them. Feel free to substitute your favorite fresh citrus!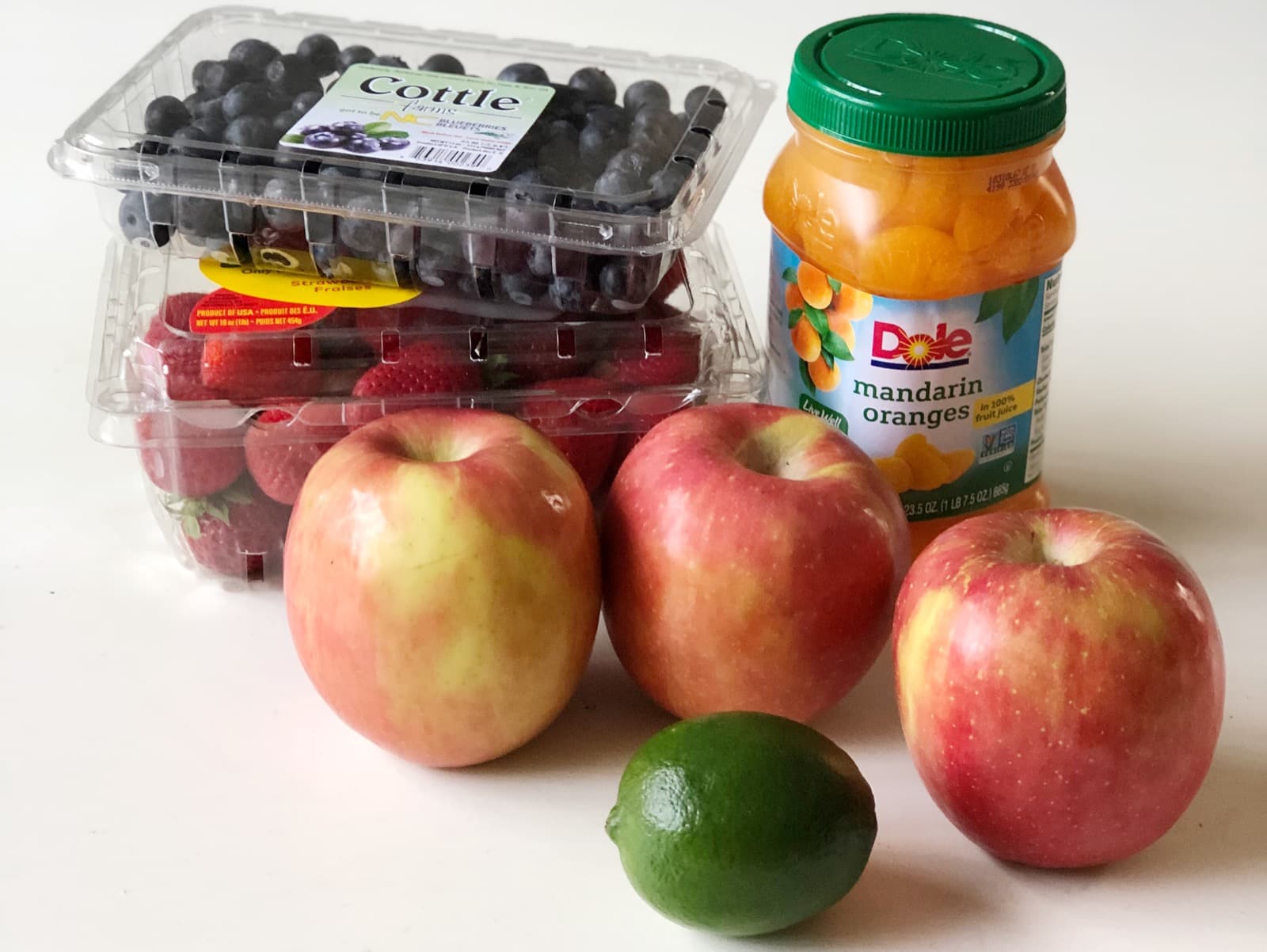 Step 2: Wash produce.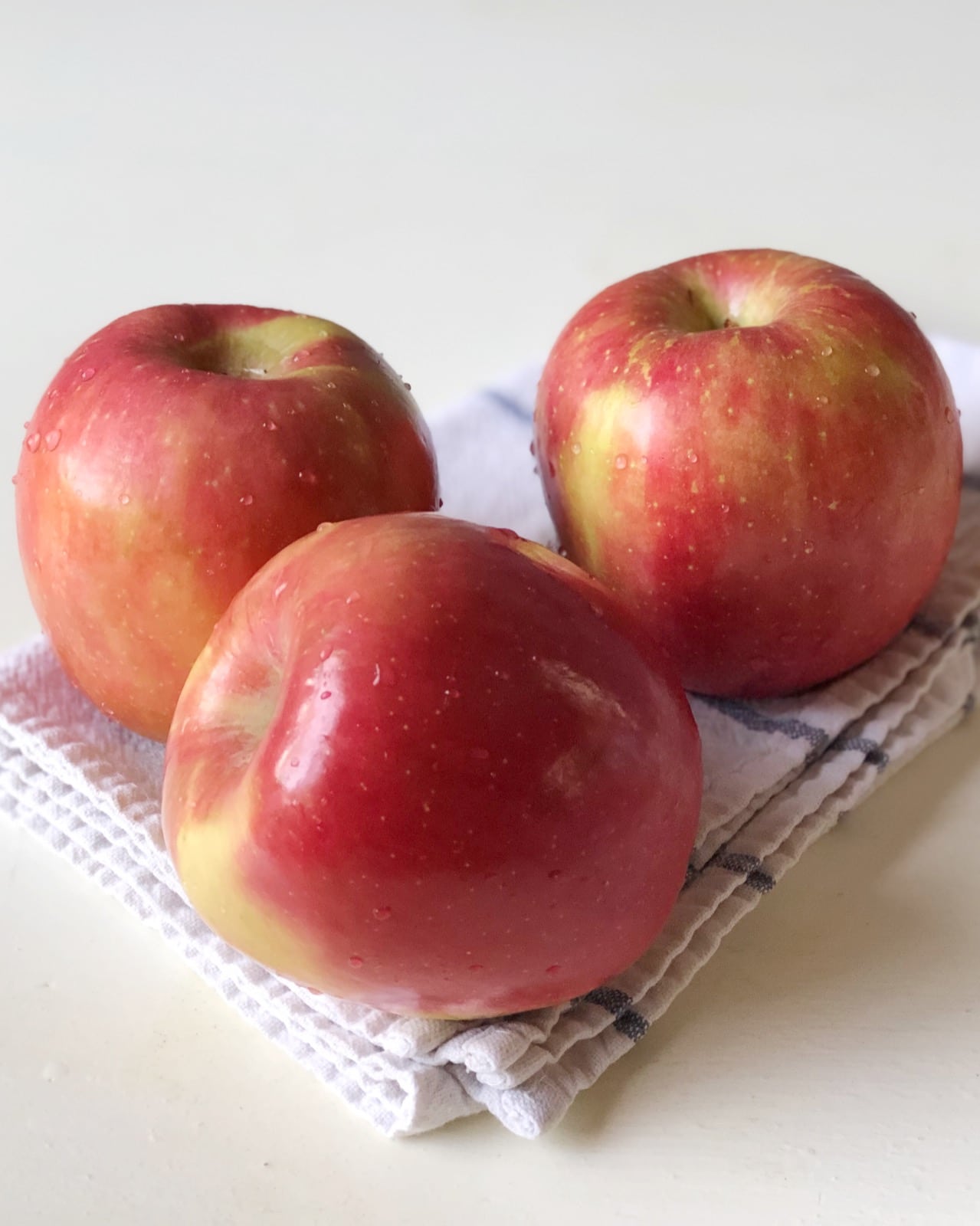 Step 3: Quarter and core apples.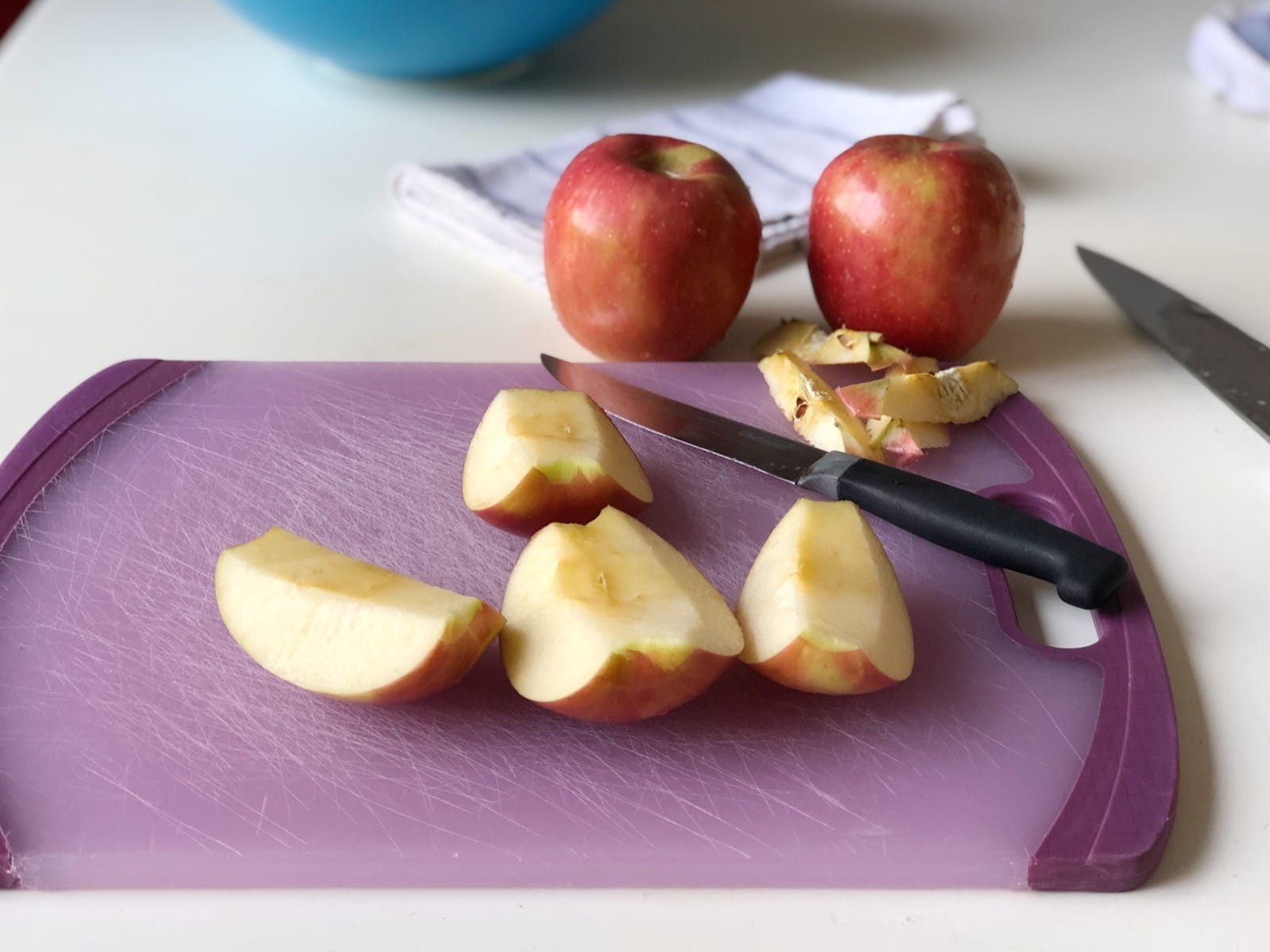 Step 4: Slice quartered apples.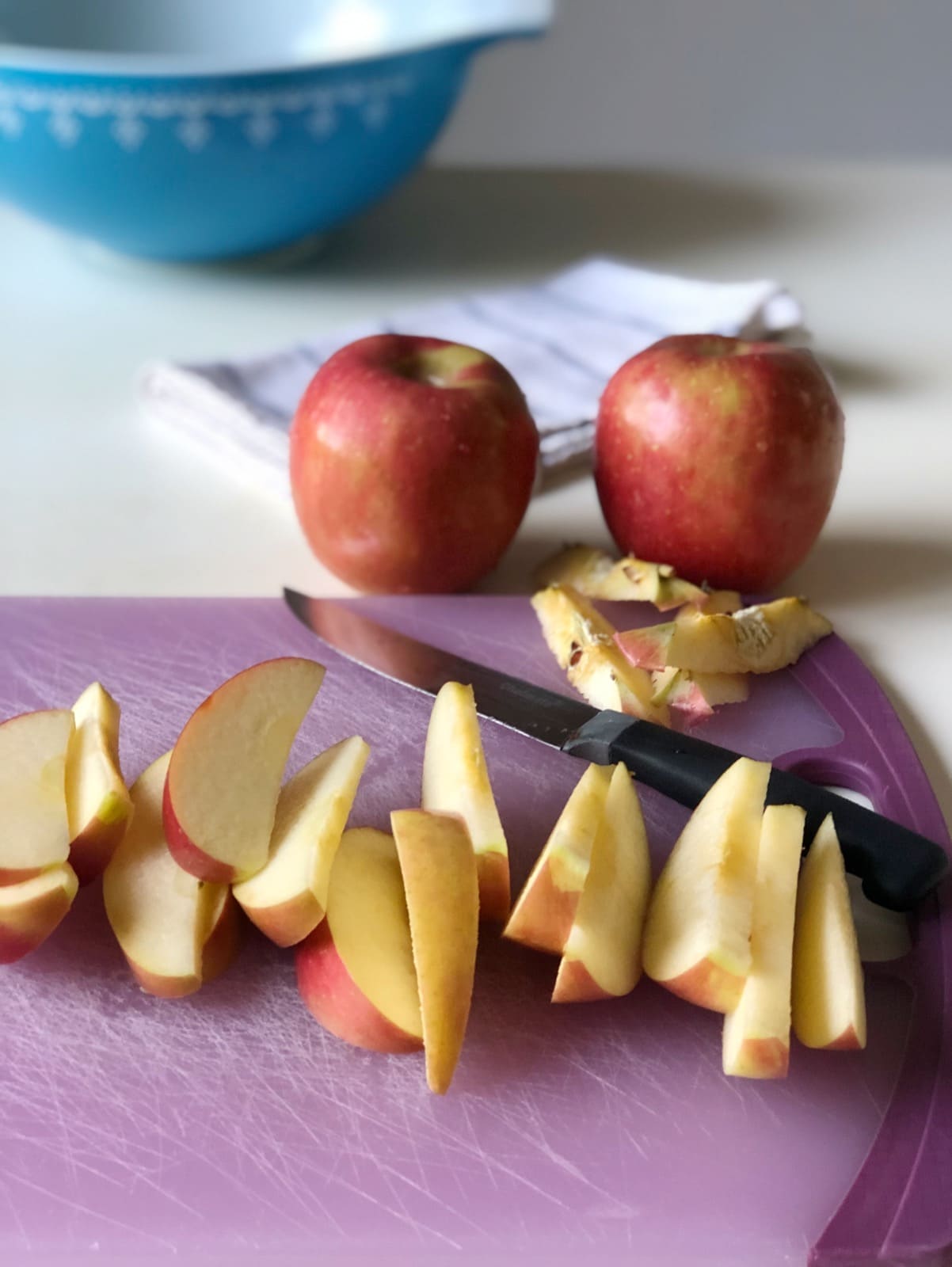 Step 5: Chopped sliced apples into small pieces.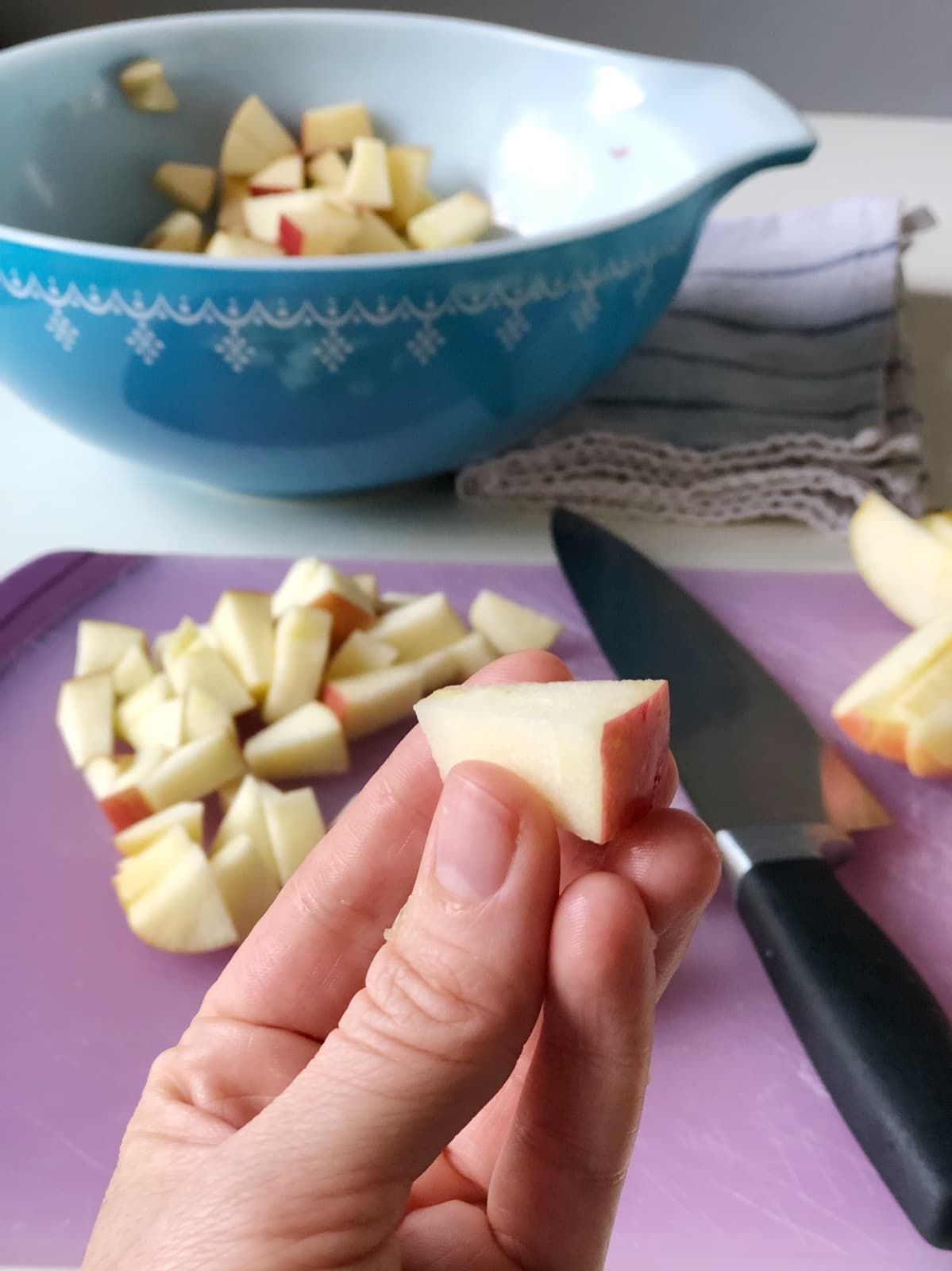 Step 6: Juice one lime and pour over apples.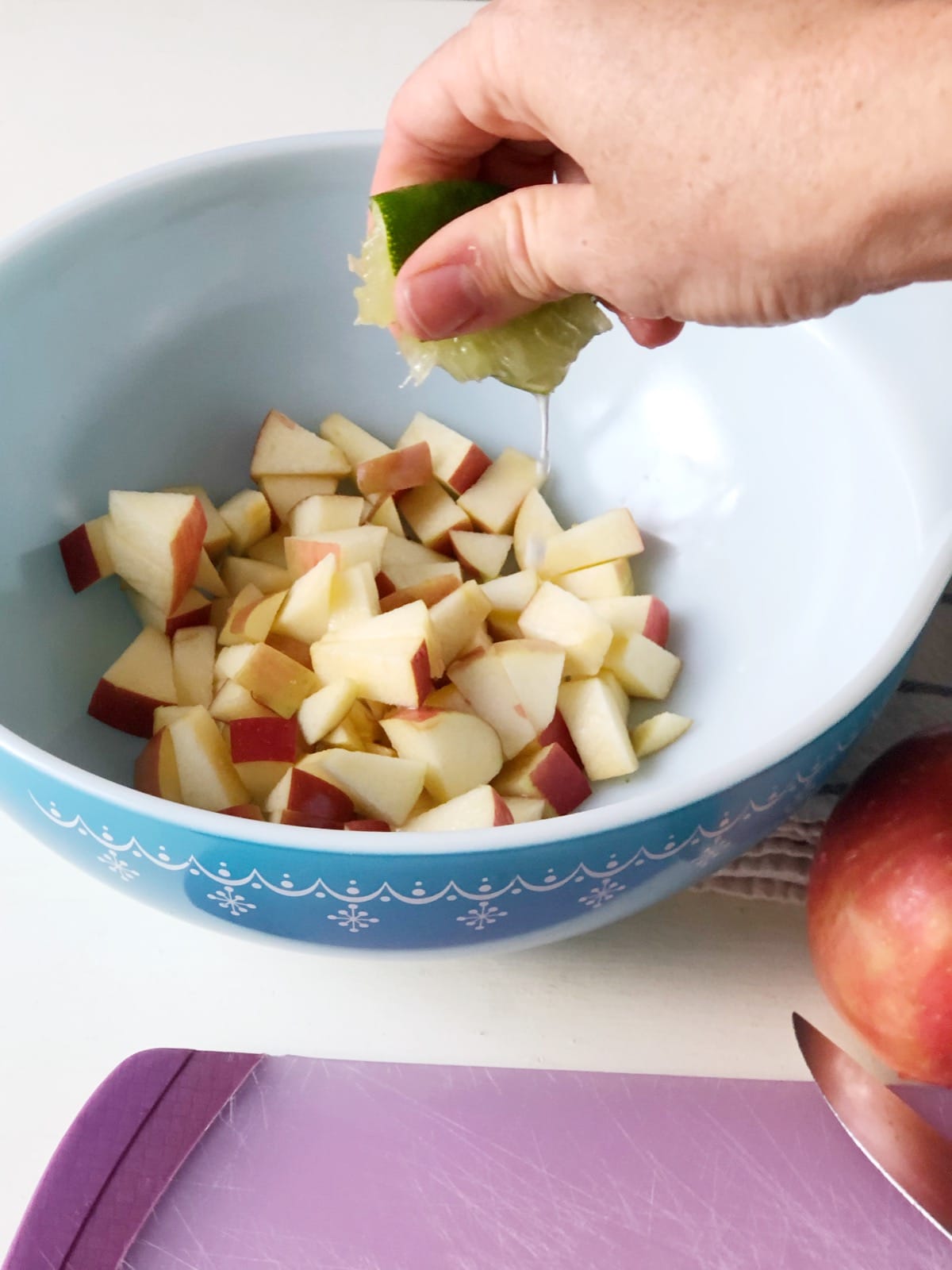 Step 7: Stir.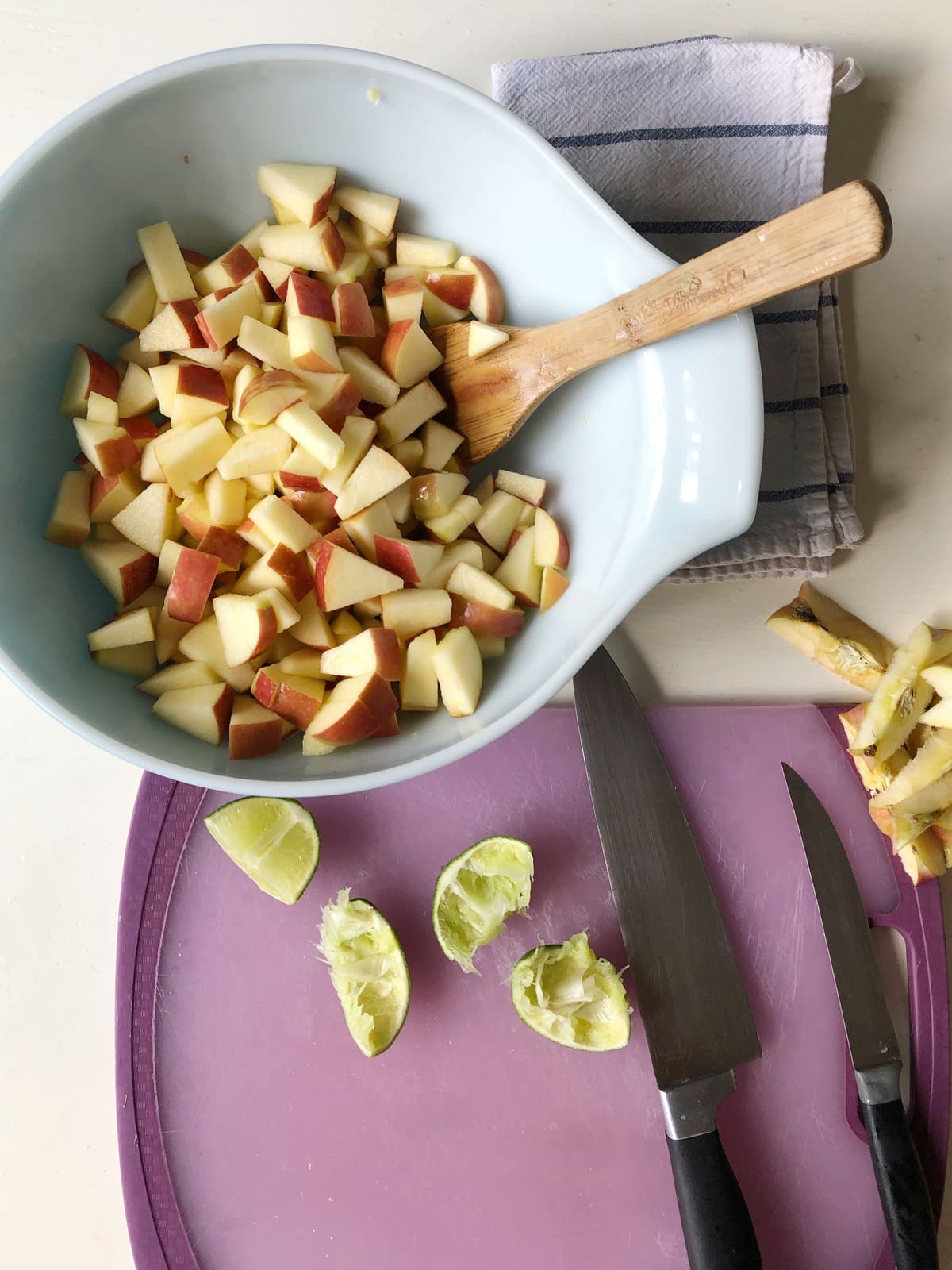 Step 8: Hull strawberries.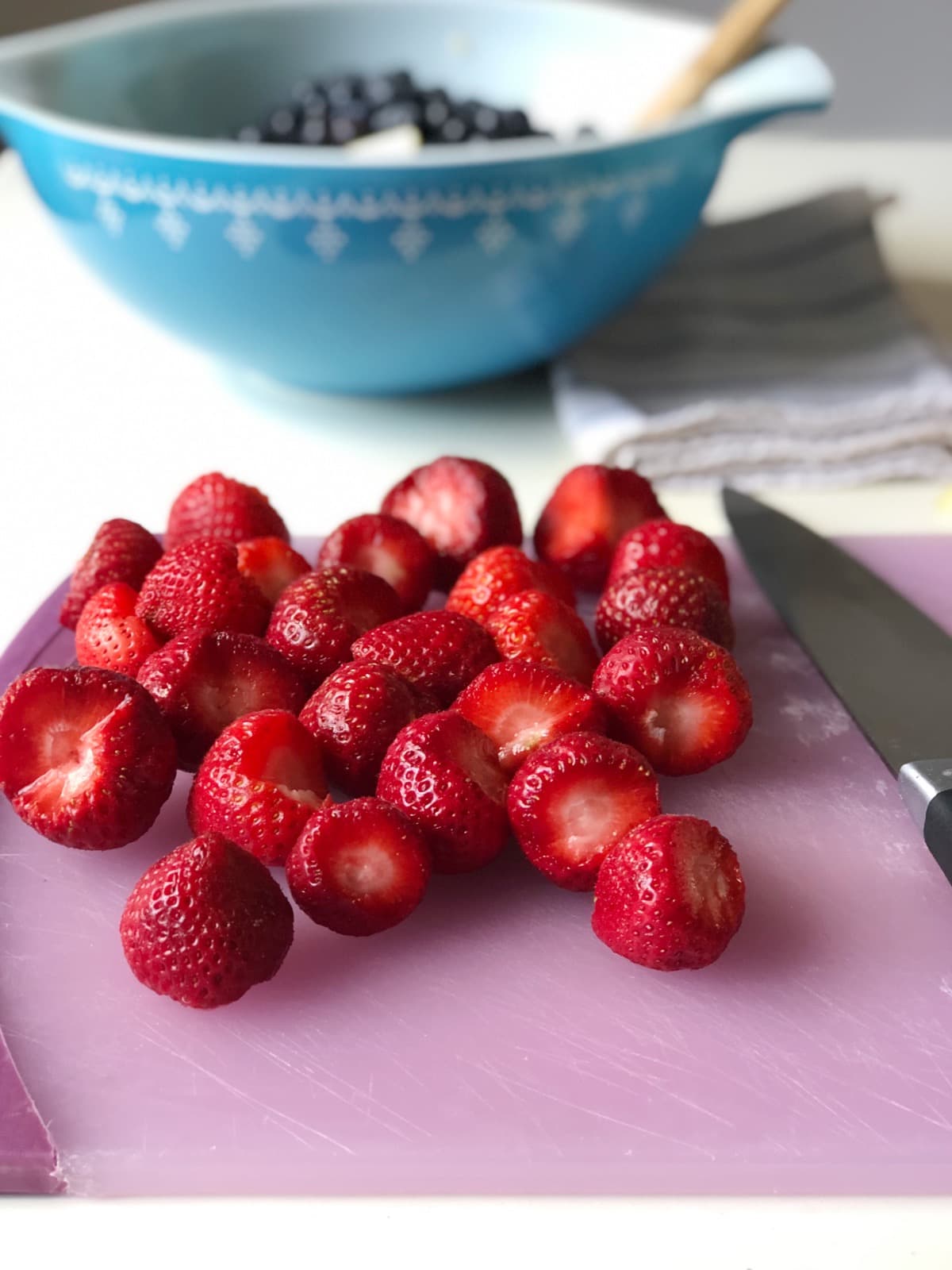 Step 9: Cut and quarter strawberries.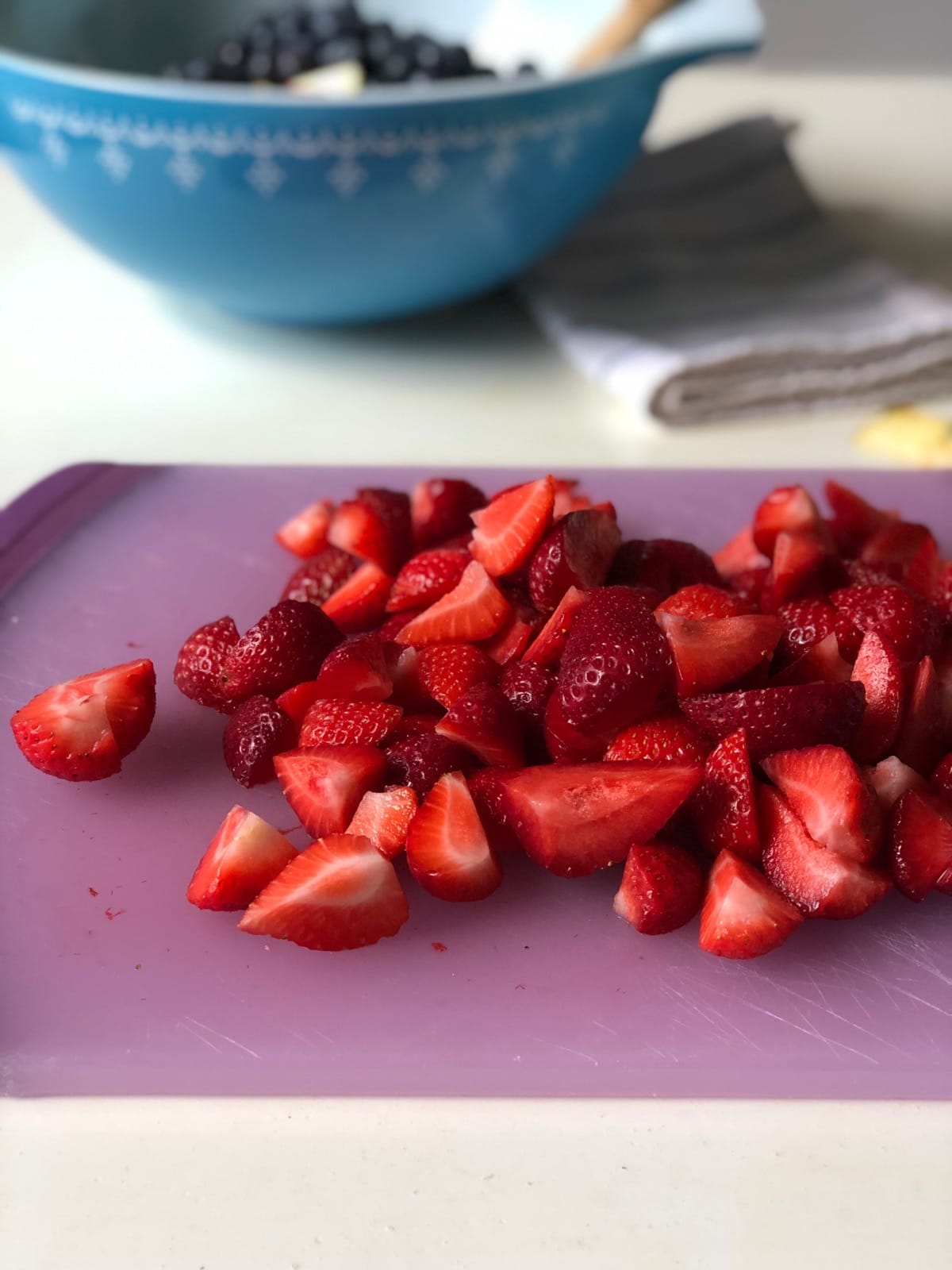 Step 10: Drain mandarin oranges.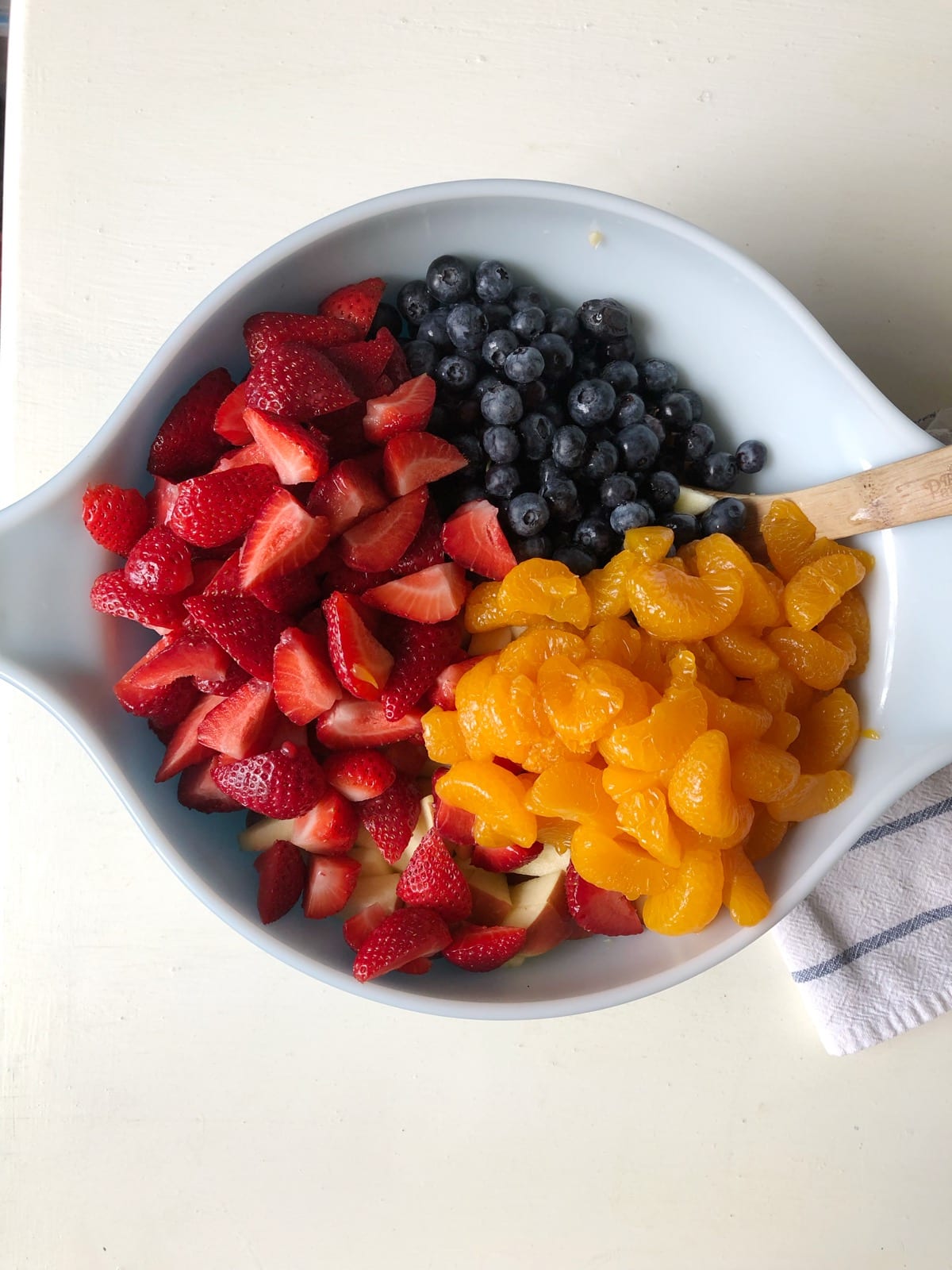 Step 11: Place all fruit in bowl with apples.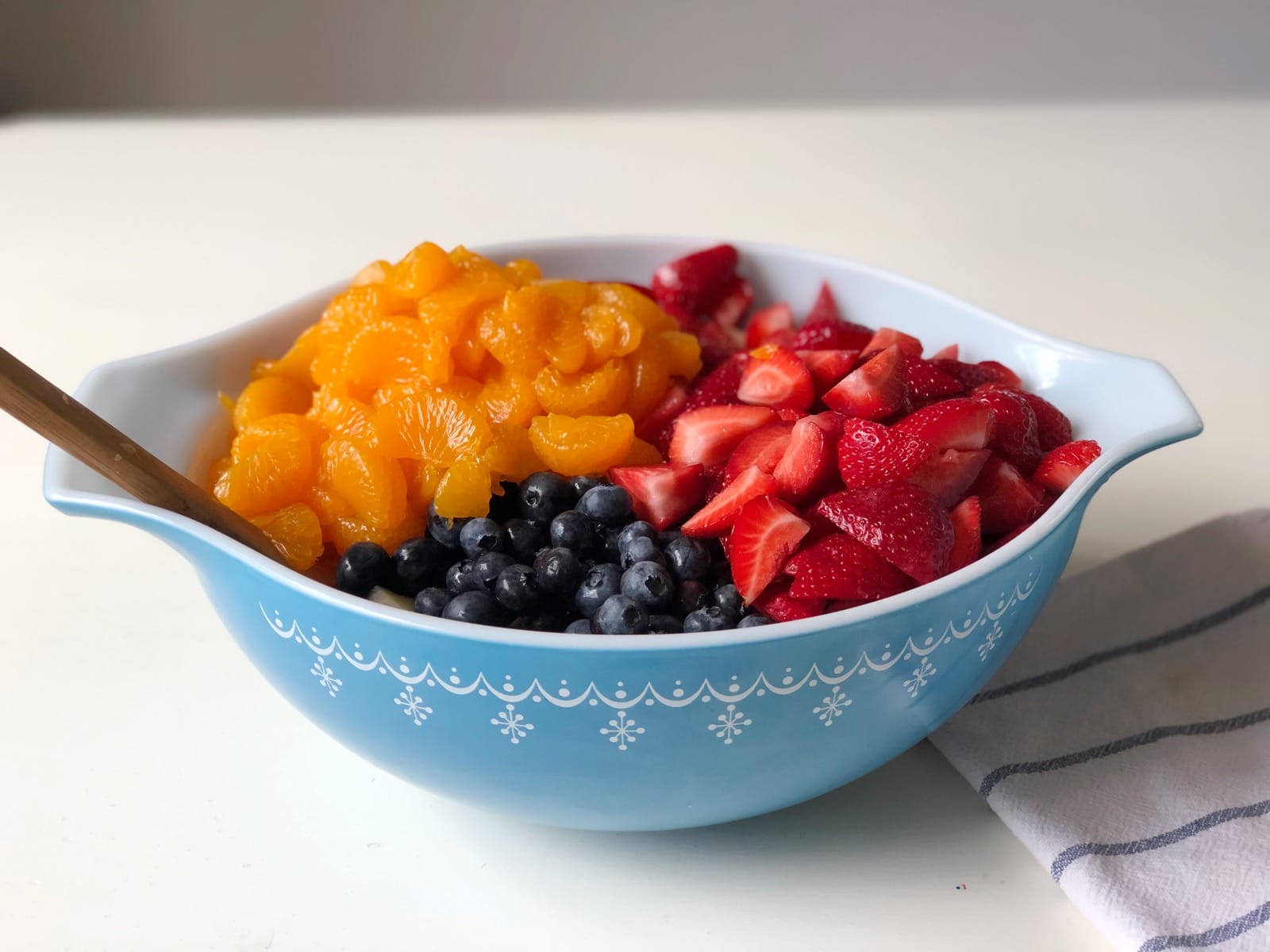 Step 12: Mix fruit salad. Serve immediately or refrigerate until ready to eat.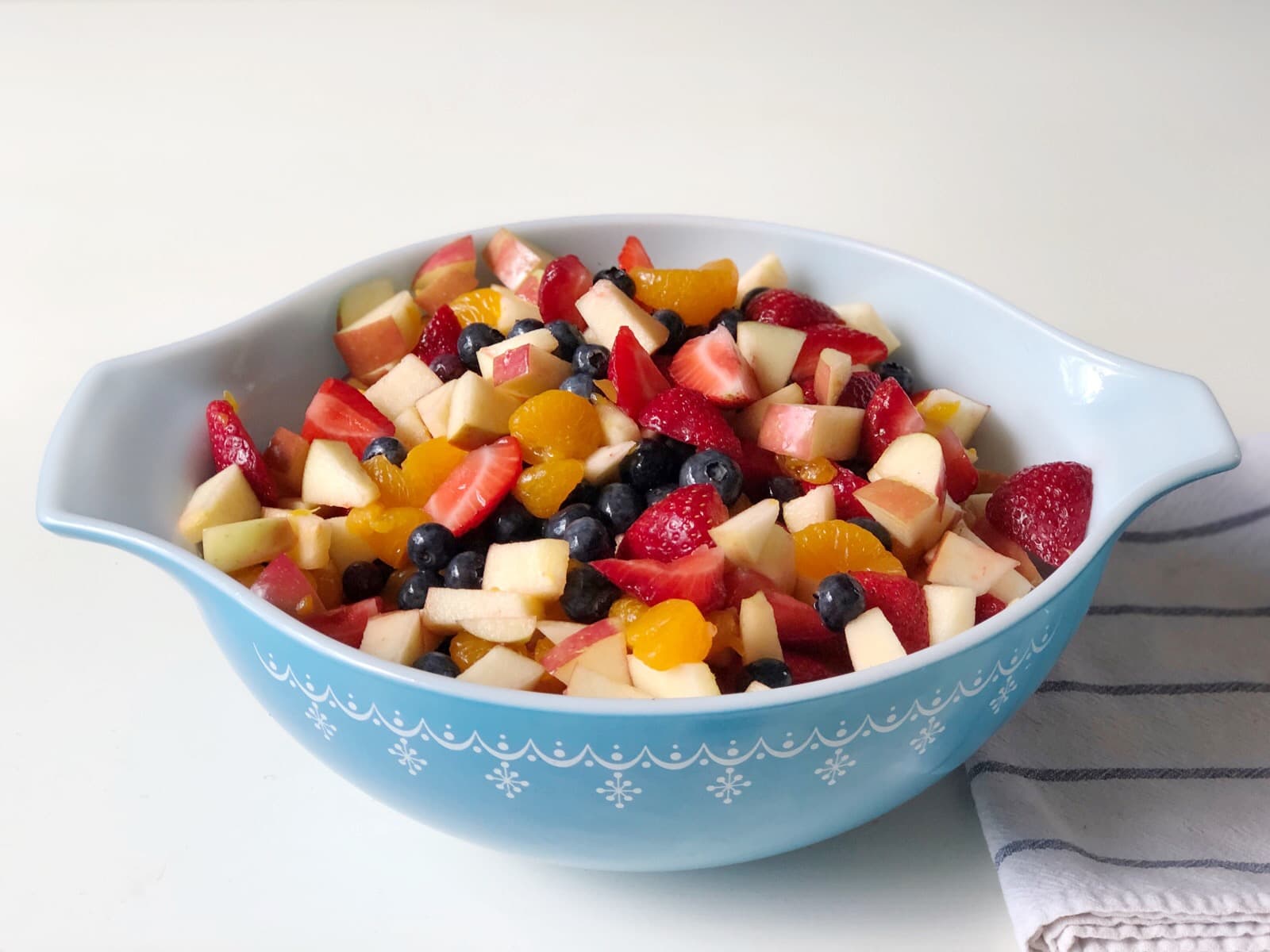 Healthy Fruit Salad Recipe
One of the reasons I love this fruit salad recipe is because it's healthy. In my home things most foods need to be gluten and dairy free for my son and this recipe is perfect for us, especially because he loves fruit.
This is a great side dish to bring to get-to-gethers, especially when kids are involved. Kids love this fruit salad (it's tested and approved at Chick-fil-A!) but it's also allergy friendly, meaning most kids can eat it.
Of course, this recipe is also wonderful for all stages of pregnancy and postpartum. To lower the sugar content (hello gestational diabetes, substitute fresh oranges for the jarred mandarin oranges, and stick to Granny Smith apples. Make sure to pair it with some protein so as to not spike your blood sugar levels!
Also, fruit is always helpful to manage morning sickness. If you feel nauseated in the morning, eat some of this fruit salad, and as soon as you can, pair it with protein. (For more morning sickness remedies, head on over here.)
For some of my other kid-friendly recipes, check out…
SIDE NOTE: Did you notice that most of my recipes include coconut oil? Unrefined coconut oil so good for you. Check out this link to learn how coconut oil makes breastmilk even better!
Fresh Fruit Salad Recipe
If you're looking for a fresh fruit salad recipe, you have arrived! This recipe doesn't call for any extra sugar, yogurt, whipped cream, gelatin, or any of that weird stuff people add to fruit. In my opinion, less is more!
Strawberries grow well down here in Florida, from around December through March. Florida blueberry season is in the summer, right around Father's Day. For peak flavor, make this recipe when ingredients are fresh, in season, and local.
For a more colorful salad, use green apples. Granny Smith apples are some of my family's favorites!
Fruit Salad Recipe
Without further ado, here's my favorite fruit salad recipe!
Yield: serves 10
How To Make Fruit Salad That's Perfect For Summer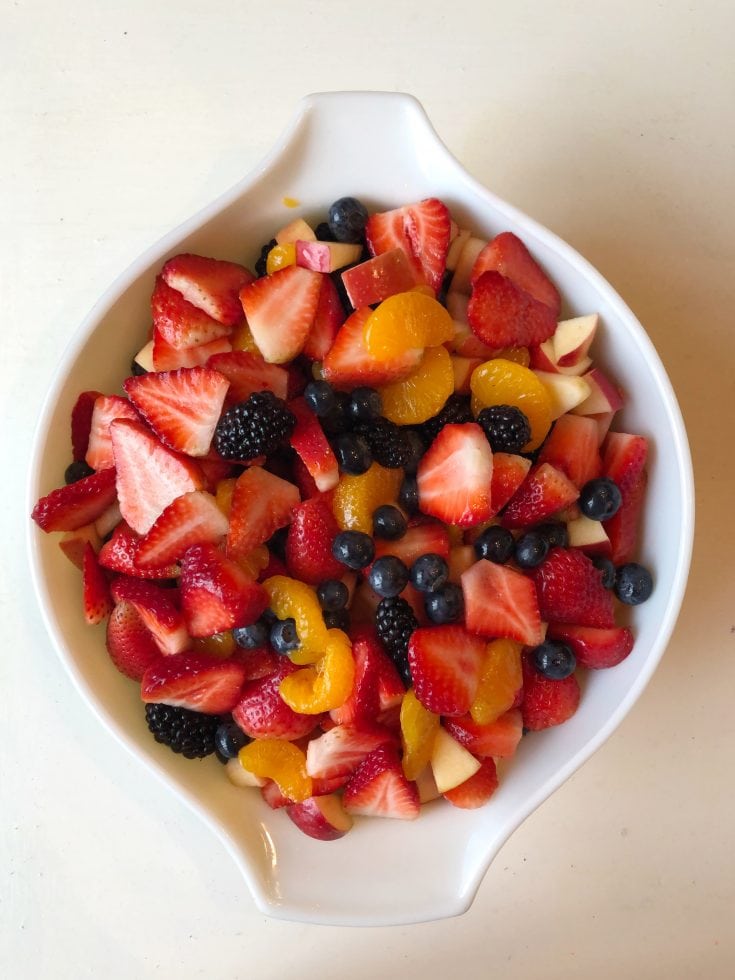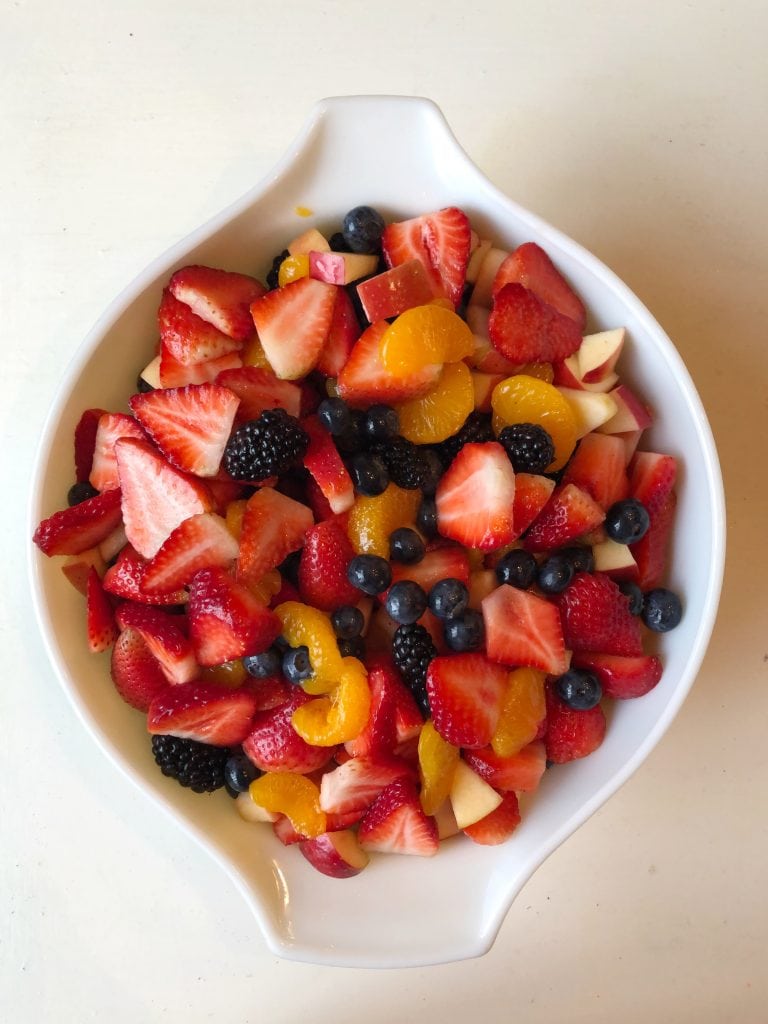 Wondering how to make fruit salad? Use this fruit salad recipe for get-togethers, parties, a side dish for grilling out, or a snack on the go.
Ingredients
3 large apples
16 oz (1lb) strawberries
11 oz blueberries
23.5 oz mandarin oranges, drained
juice of one lime
Instructions
wash produce
quarter, then core apples
slice each quarter into 3-4 slices
chop slices into small pieces
pour lime juice over apple pieces and stir
cut tops off strawberries, then cut into quarters
drain mandarin oranges
mix oranges, blueberries, strawberries into apple pieces
Notes
You can substitute fresh oranges for the jarred mandarin oranges.
Recommended Products
As an Amazon Associate and member of other affiliate programs, I earn from qualifying purchases.
Nutrition Information:
Yield:
10
Serving Size:
10
Amount Per Serving:
Calories:

89
Total Fat:

0g
Saturated Fat:

0g
Trans Fat:

0g
Unsaturated Fat:

0g
Cholesterol:

0mg
Sodium:

2mg
Carbohydrates:

23g
Fiber:

4g
Sugar:

17g
Protein:

1g